Option1: Why Gifting Handmade Bangles To Your Loved Ones Would Be The Wisest Decision? Option 2: Gift Something Thoughtful Like Handmade Bangles To The Bride-To-Be To Make Her Feel Loved and Important! (Headline score -84)
Bangles are a deeply traditional accessory worn by both dainty girls and married women in India. These clinking trinkets - from precious metals to plastic, glass and more, adorn wrists and add their quirk to arms with ease. Especially if they're handmade bangles.
However, have you also considered it as a wedding gift? Sounds cheap? I mean who gifts bangles as wedding gifts, you say? But hey, gifting handmade bangles can turn out to be such a thoughtful wedding gift. Just imagine when she will be having all those readymade bangles and your set of handmade bangles would be the most unique gift she would receive.
Just think how would she feel? Well, if you're already convinced to get one for your special woman, let's dive into all the different kinds of handmade bangles you can choose from - take notes people!
Handmade Bangles in India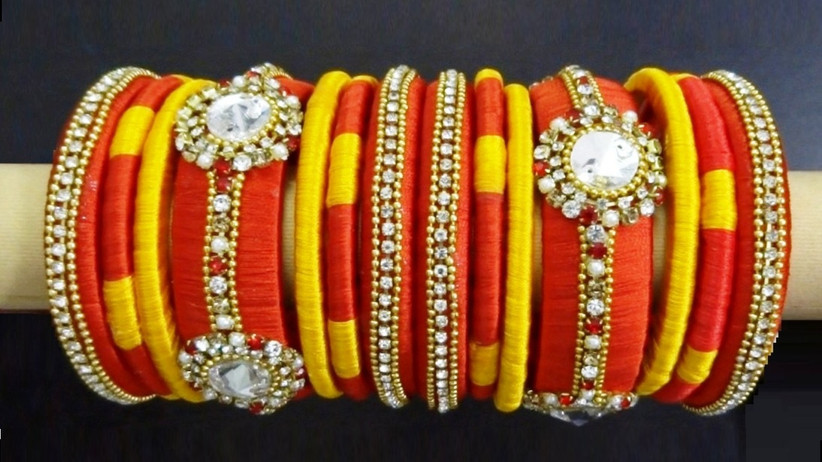 Image courtesy: Paper Craft
There is no doubt that the market is full of bride-oriented gifts, but for special people, we look for special gifts. Don't we? We understand that we all want to gift something different and thoughtful so that it can our loved ones feel more loved and important. Well, we have made your work a little less worrisome.
Handmade bangles are such a unique gift that you can gift to your best friend, daughter, daughter-in-law, sister and fiancé! Let's check out what all type of handmade bangles is available in the market!
1. Thread Work Handmade Bangles
Thread work handmade bangles don't look all tacky like other overly glittered bangles. These look so elegant and would be the perfect gift for the wedding of your best friend. We bet she would love your effort in finding such a unique gift for her.
This type of beautiful thread work handmade bangles can cost you as cheap as ₹280 to ₹1000 and more. The cost of these bangles totally depends on the quality of thread work you choose!
2. Beaded Handmade Bangles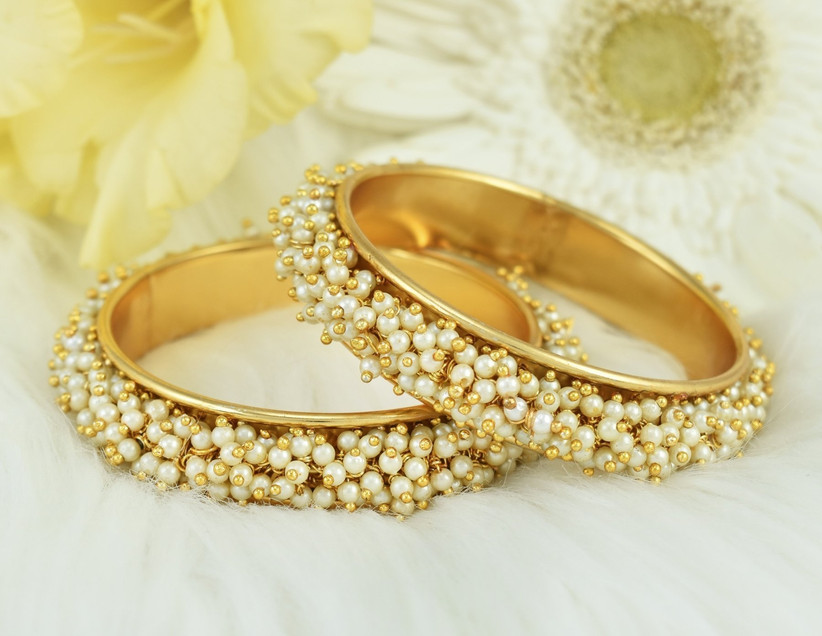 Image courtesy: Griham.com
Beads as embellishments work for them which are more liked by young girls. These handmade bangles can be a suitable gift for sisters, friends, or even your fiancé.
Adding a stylish and youthful appeal, these bangles come with varying kinds of embellishments.
Their price can also vary accordingly. Generally, you can grab a set of these handmade bangles between ₹250 per set to ₹750!
3. Mirror Work Handmade Bangles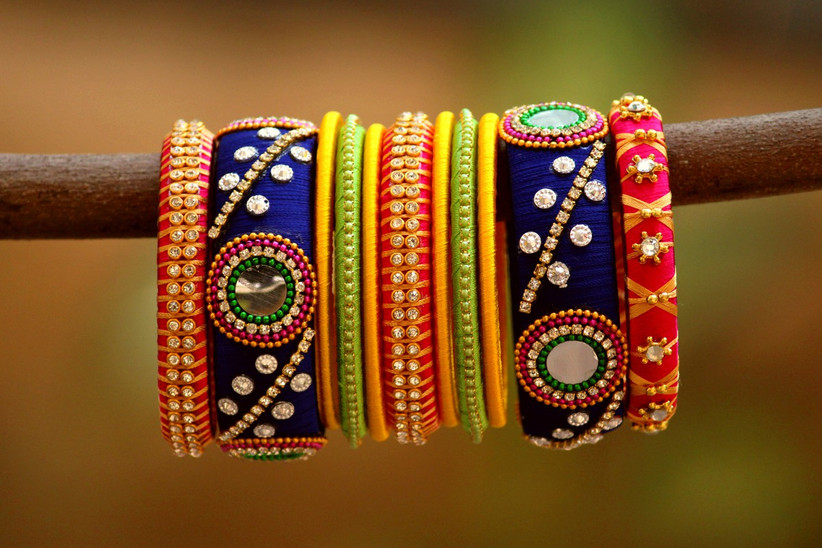 Image courtesy: The AspireHire
Mirrorwork handmade bangles are the most unique wedding gift you can give to any newlywed bride. We all know how many after marriage ceremonies, a bride has to attend where she prefers to wear simple jewellery but at the same time, she has to look like a newlywed.
Well, these gorgeous handmade bangles are the perfect type of hand accessories that she can receive as a gift. These type of bangles would make her look more elegant and who she would thank for that? Tell, tell? Again, the cost for these bangles varies from vendor to vendor and basically depends on the quality that you choose. It can cost you as cheap as ₹200 to 1200 per set!
4. Multi-coloured Handmade Bangles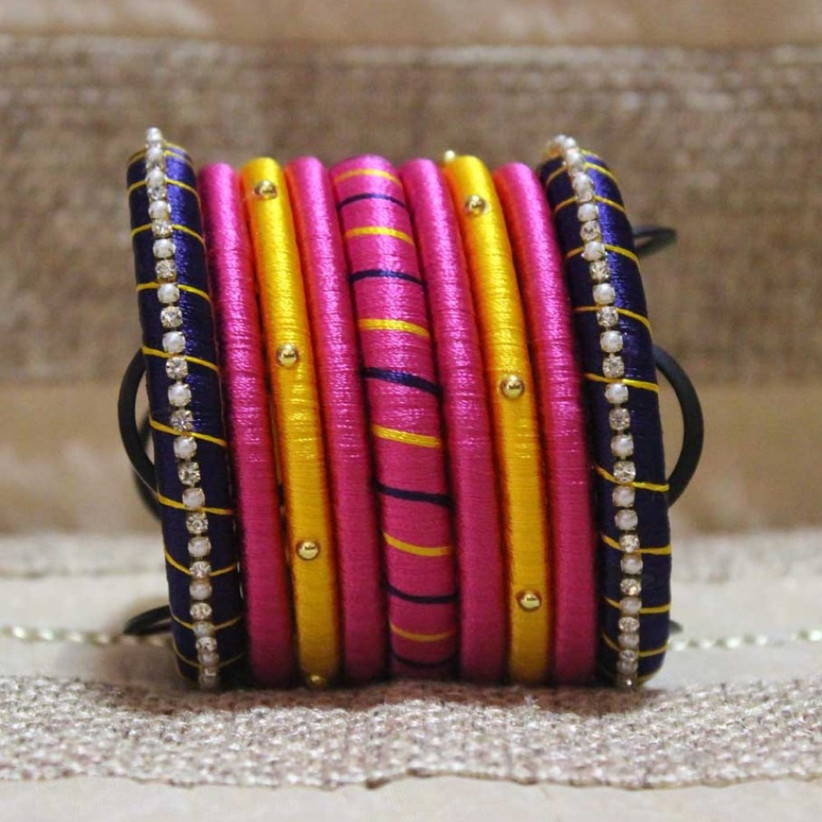 Image courtesy: Deluxora
Now, if you're not able to make your mind, you can with no doubt go for multi-coloured handmade bangles. You can gift this type of handmade bangles to your mother, mother in law or a friend who recently got married.
Married women love wearing colourful and bright bangles, so what else can be a better gift than these? These beautiful set of multicoloured handmade bangles are the cheapest handmade bangles. So if you're on a budget, you can go for these. These can cost you minimum ₹100 to ₹500 maximum on various online shops.
5. Zardosi Work Handmade Bangles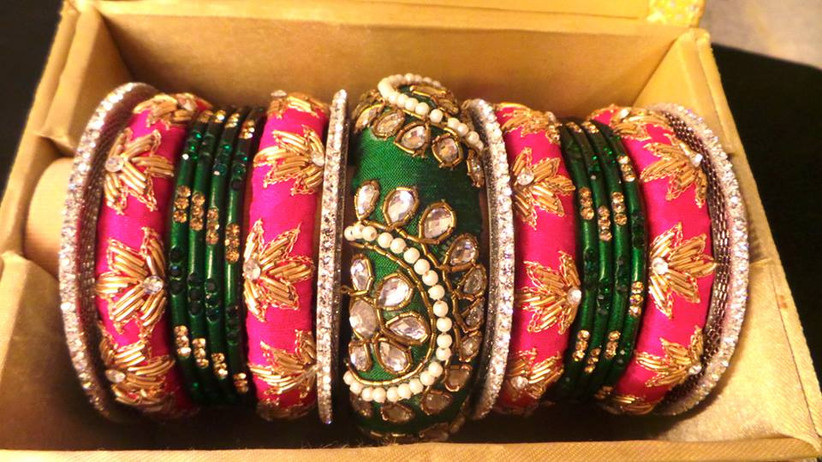 Image courtesy: Boutique designer jewellery
This is one of the most unique and royal wedding picks. Zardosi work doesn't need any introduction. We all know how much royalty this embroidery comes with. This type of handmade bangles can be given to your wife, newly-wed bride and any woman for that matter.
After all who doesn't love elegant bangles? Since these bangles have zardosi work, these may cost you a bit more but then again, a little research can get you discount on these handmade bangles. The zardosi bangles normally cost min ₹500 to ₹2000, depending on the quality you choose.
Oh wow. Look at you how much relaxed you seem now! But hey, work isn't finished yet. We have done our work but now it's you who needs to get going.
You can find these bangles in local bridal jewellery stores as well but if you want to get them at cheaper rates, look for various online stores where a lot of offers are given which can give your amazing discounts on these bangles. Buy these bangles using your brain and gift these with all your heart!
Which handmade bangle style did you choose? Did she like it? What was her reaction? Let us know too!
Written by Vineeta Dangla