Wedding Venues Pune
Wedding Venues in Pune: Check prices, request quotes and check availability for all types of wedding venues including banquet halls, hotels, palaces, farmhouses, tent houses and marriage halls. For all of your event space rental requirements for the ceremony, reception, sangeet, mehndi and much more, look no further than finding your perfect vendor in our directory of thousands of businesses around India.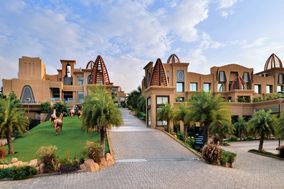 The Corinthians Resort & Club
· Hotels, NIBM Road, Pune
The Corinthians Resort & Club, established in 2009, is located in Mohammadwadi which is situated in the city of Pune. It is a pleasing combination of luxury and elegant comfort, created with a vision of refined appreciation for everything superior and splendid. The Corinthians Resort & Club is... (Reception venue Pune)
Price Per Plate
From ₹1,250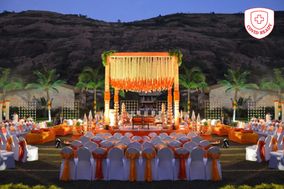 Della Resorts
· Resorts & Destination Weddings, Lonavala, Pune
Della Resorts, the ideal wedding destination, is set in a beautiful valley in Khandala, Lonavala. With breath-taking views and contemporary facilities and impeccable services, enhanced by multiple indoor and outdoor venues for events, no wonder this location blessed with serenity and stunning vistas... (Wedding reception Pune)
Price Per Plate
From ₹3,000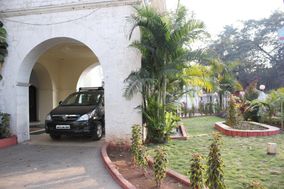 Hotel Ritz
Banquet Halls, Camp Area, Pune
Hotel Ritz Inn is located in the city of Ahmedabad and offers its banquet as an event space for your special occasions. Selecting a perfect venue for the celebration of your wedding and its other related events is an exhausting task, where you need to choose a venue keeping in mind all the factors... (Cheap reception venues Pune)
Price Per Plate
From ₹450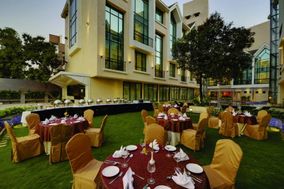 Picaddle Resort by Meritas
Banquet Halls, Lonavala, Pune
Picaddle Resort by Meritas is a boutique resort offering you a venue space in Lonavala, which has a pleasant and relaxed getaway feel and ambience. Picaddle Resort by Meritas has a great atmosphere, which adds to your stay and experience with the resort. The management and staff of Picaddle Resort... (Venues Pune)
Price Per Plate
From ₹999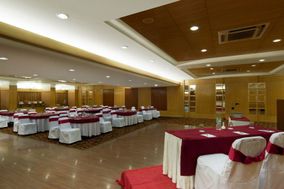 Hotel Aurora Towers
Hotel Aurora Towers is one of the most stylish boutique hotels located on the Moledina Road which is situated in the east of Pune. It makes a complete wedding venue as it offers a perfect combination of both, indoor and outdoor spaces to celebrate your wedding festivities. If what you are looking... (Venues Pune)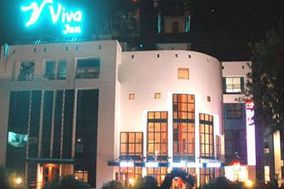 Hotel Viva Inn
Hotel Viva Inn is located in Bavdhan, Pune. It is designed to provide its customers with maximum comfort and great ambiance. For hosting delightful events, Hotel Viva Inn now offers a brand new banquet hall, named, Sahayadri. It aims to offer you a perfect location for conducting a wedding that will... (Venues Pune)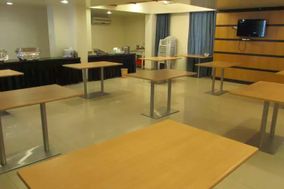 Hotel Basera
Banquet Halls, Shaniwar Peth, Pune
Based out of Pune, Hotel Basera is a venue available for hosting your wedding and other nuptial ceremonies. You cannot merely choose a place as your ideal venue because it looks pretty, because it also that one place where you will host your guests comfortably and hence, it needs to have proper... (Venue for hire Pune)
Price Per Plate
From ₹600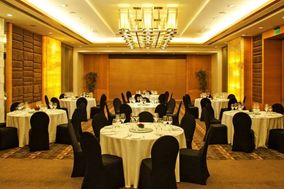 Radisson Blu Hotel, Pune
Radisson Blu Hotel in Pune Kharadi is a very renowned hotel. Spread worldwide Radisson Hotel is a perfect destination place for celebrating your nuptial ceremonies and wedding day. Offering the ideal blend of comfort and convenience this hotel is well-equipped with all the modern amenities and is a... (Venues Pune)
Price Per Plate
From ₹1,300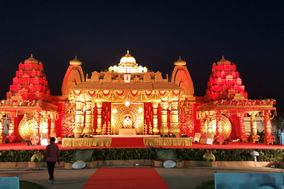 Sameer Lawns
Wedding Lawns & Farmhouses, Ravet, Pune
Sameer Lawns is a farmhouse located in Pune. Weddings in India are celebrated with utmost satisfaction and traditions and the most amazing thing which makes a wedding successful and memorable is an exquisite location. If you are looking for a grand venue which can offer you tonnes of services and... (Wedding venues Pune)
Price Per Plate
From ₹1,350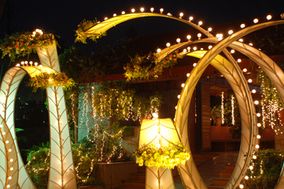 Deccan Harvest
Banquet Halls, Magarpatta, Pune
Located in Magarpatta in Pune, Deccan Harvest is a venue available for you to host your wedding. The venue is the one place where you take your vows with your perfect other half and mark the beginning of a new journey of togetherness. As you unravel this magical romance you would want everything to... (Wedding venues Pune)
Price Per Plate
From ₹800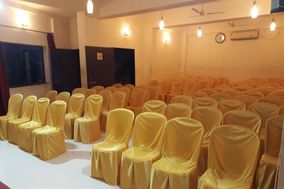 Symphony Hall, Pune
Banquet Halls, Hadapsar, Pune
Symphony Hall is a venue based in the city of Hadapsar in Pune that is available for you to host your wedding ceremonies. Their welcoming services and warm fervent nature will ensure that your wedding is transformed into an exceptional celebration for all to watch and participate. As your friends... (Venue for hire Pune)
Price Per Plate
From ₹350
Pune is not only the Queen of the Deccan that is enriched with the culture of the Marathas, but it is also a beautiful wedding destination. The wedding venues in Pune will make your wedding one of a kind and an unforgettable one. While looking for the best wedding venues in Pune, you might come across a lot of options that will make your hearts flutter in excitement. The wedding venues in Pune are indeed alluring event spaces that will make your dream wedding turn into reality.
Wedding planning is a hectic task that needs you to pay heed to the multi-faceted details to make sure that your wedding is impeccable. That being said, millennial couples, as well as their families, have breathed a sigh of relief by planning their wedding with WeddingWire India. The WeddingWire India App brings together more than 60000 professionals on board with the necessary details in one place to help you plan your dream wedding flawlessly. You sure have landed in the right place if you are on the search for the best wedding venues in Pune where you can also host your pre and post-wedding ceremonies in full swing.
Out of more than 8000 venues at WeddingWire India, about 300 wedding venues are solely in Pune. These venues are not only available for you to get hitched at, but there are some spaces that are also available for you to host your pre-wedding ceremonies like the Haldi, the magical mehndi ceremony along with some more wedding party venues in Pune as well as wedding reception venues in Pune. Using the multitude of filtering options that WeddingWire India has to offer, you can shortlist the best wedding venues in Pune that not only fit your budget but also fulfill all your requirements to make your wedding celebration a flawless one. Be it a banquet hall in Pune
,
farmhouse
or a temple wedding venues - Pune has an array of 5 star wedding venues to offer.
How to find the best Wedding Venues in Pune from WeddingWire India?
The Filters available on WeddingWire India are the key to finding your ideal wedding venue in Pune. Once you have picked the region as Pune under Maharashtra, you will find more than 280 wedding venues displayed on your screen. Right from 5-star wedding venues in Pune to temple wedding venues in Pune - you will be spoilt for choice with the numerous options. You have the option to further narrow your location to particular cities in Pune like Aundh, Baner, Bavdhan, etc.
One of the first things that a couple/family needs to decide is what type of wedding are the couples planning to host. Outdoor wedding venues in Pune must have open-air spaces as opposed to indoor ones and therefore your venue choice is largely dependent on the type of wedding you want.
Once the previous step is sorted, you can then allot a certain amount of your wedding budget to the venue. Couples have preferred to use our Budget Tool in the past to make this task a breeze where a certain percentage is assigned to your wedding venue automatically once you enter the whole amount of your wedding budget.
Based on this budget you can click the nearest relevant price range under the Price Per Plate filter. These price filters start at Under 500 and the prices are as affordable as INR 140 and can even go up to INR 5,000 or more. Once you pick the filter of your choice, only those wedding venues in Pune will be displayed that fall under your price range.
Further, you can pick the type of wedding venue you want to pick from the options like banquet halls, hotels, marriage gardens, resorts for destination wedding venues in Pune and so on. Sort your options further using the capacity filter that will be dependent on the number of guests you decide to host. In case you want to host an intimate wedding in Pune, you can pick one of the best small wedding venues in Pune.
You must read the Reviews of the different wedding venues in Pune on our portal before finalising one. These reviews are provided by real couples and families who have availed of the services of a particular venue and if you plan on booking the same venue, their reviews act as a word of mouth and their shared experiences will help you make an informed decision. Some of the top wedding venues in Pune that couples have picked for getting hitched are Swaraj Palace, Hyatt Place, Ekaant The Retreat, Aamby Valley City and so on.
How to find budget wedding venues in Pune?
Each of these unique wedding venues Pune has to offer has a Price per Plate list as mentioned above along with a separate per-day rental value of the property. You must consider both of these aspects to make sure you avoid any spillover of the decided budget.
The Price Per Plate filter allows you to sort the wedding venues in Pune that are within your budget but at the same time, we suggest you visit the storefront of the venue and check the per-day rental of each venue that you shortlist. Some of these venues offer tailor-made packages and you can click on the Request Pricing tab on the WeddingWire India app/website for accurate details from the venue.
The wedding venue in Pune packages depends on a lot of other factors like the location of the venue, other amenities being provided at the venue apart from the space like in-house catering, wedding decor, planner and so on. A venue with these facilities included might be more expensive compared to a venue that will only give you the event space and furniture.
There are luxury wedding venues in Pune that provide premium services to add to your wedding's luxe like Seven Heaven, Aundh Retreat, Fort JadhavGadh and so on. Along with these, you can also check offbeat wedding venues in Pune if you want a unique wedding venue experience in Pune.
What to consider as you look for the best wedding venues in Pune?
Location is a very significant factor when you are looking for the top wedding venues in Pune. A centrally located wedding venue tends to be more popular as opposed to offbeat wedding venues in Pune. However, if you are looking for a destination wedding venue in Pune you might want to check wedding venues near Pune to avoid the hustle-bustle of the city. If you have one of the best wedding venues in Pune already decided, you must check the wedding dates and the venue availability as many popular wedding venues tend to sell-out on Saya dates. You can try locations like Bund Garden Road, Hadapsar, Hinjawadi, Koregaon Park, Lonavala, Pimpri and so on.
What are some unique wedding venues in Pune?
Every wedding venue in Pune has something unique to offer. Be it the in-house facilities, accommodation, bridal room, extra parking space or a breathtaking view of the Deccan. Depending on your choice of the wedding style you can pick a unique wedding venue in Pune.
Are there outdoor wedding venues in Pune?
Most hotels in Pune and banquet halls offer indoor as well as outdoor spaces like lawns, gardens and so on. You can check out the FAQs on the venue storefronts for accurate details. We suggest getting in touch with the venue and plan a visit before finalising it.