The Intimate Maharashtrian Wedding of Aditi & Shrinidhi at Home
The intimate wedding of Aditi & Shrinidhi hosted at their homes is a heartwarming story of a lockdown wedding. Here are the details for inspo!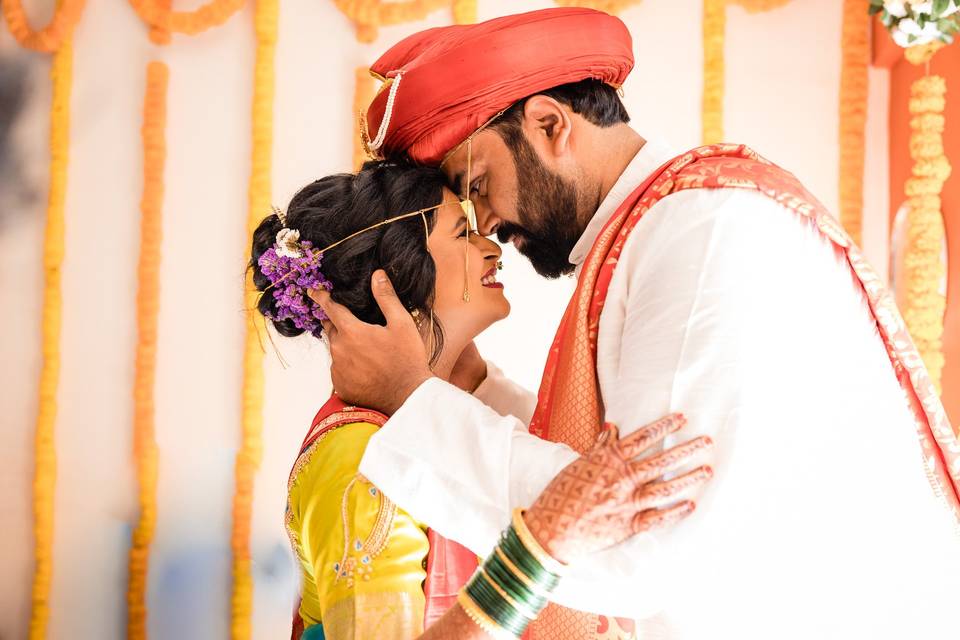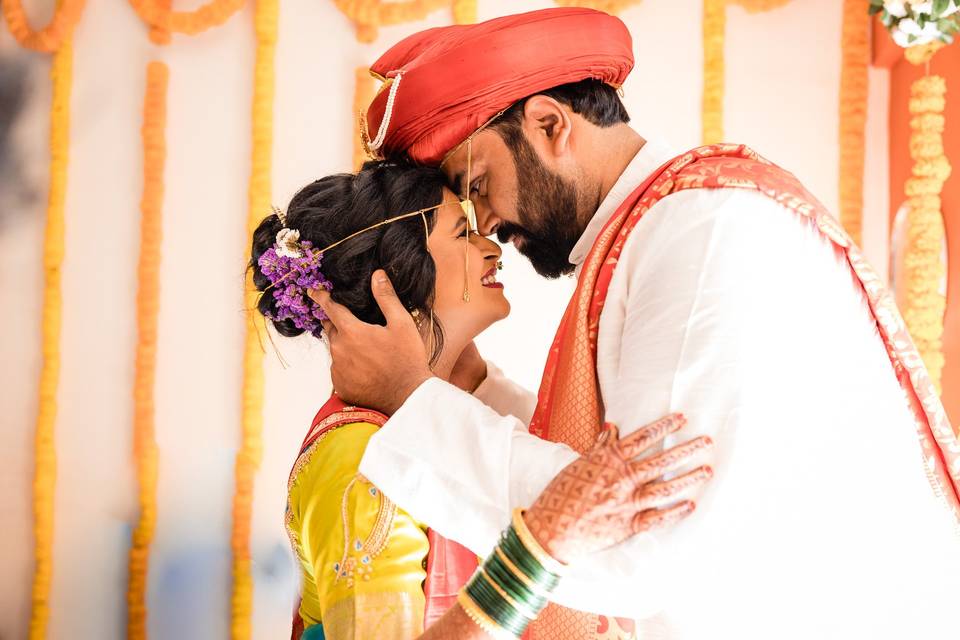 Weddings have experienced a 180 degree flip in India when it comes to the length of the guest list. With the increasing number of intimate weddings that have been hosted ever since the lockdown was declared is impeccable. These beautiful celebrations reinstate our belief in love and that there is no set time for celebrating the love you share with your partner. Intimate weddings have become the talk of the town and to hop on the bandwagon we have Aditi and Shrinidhi.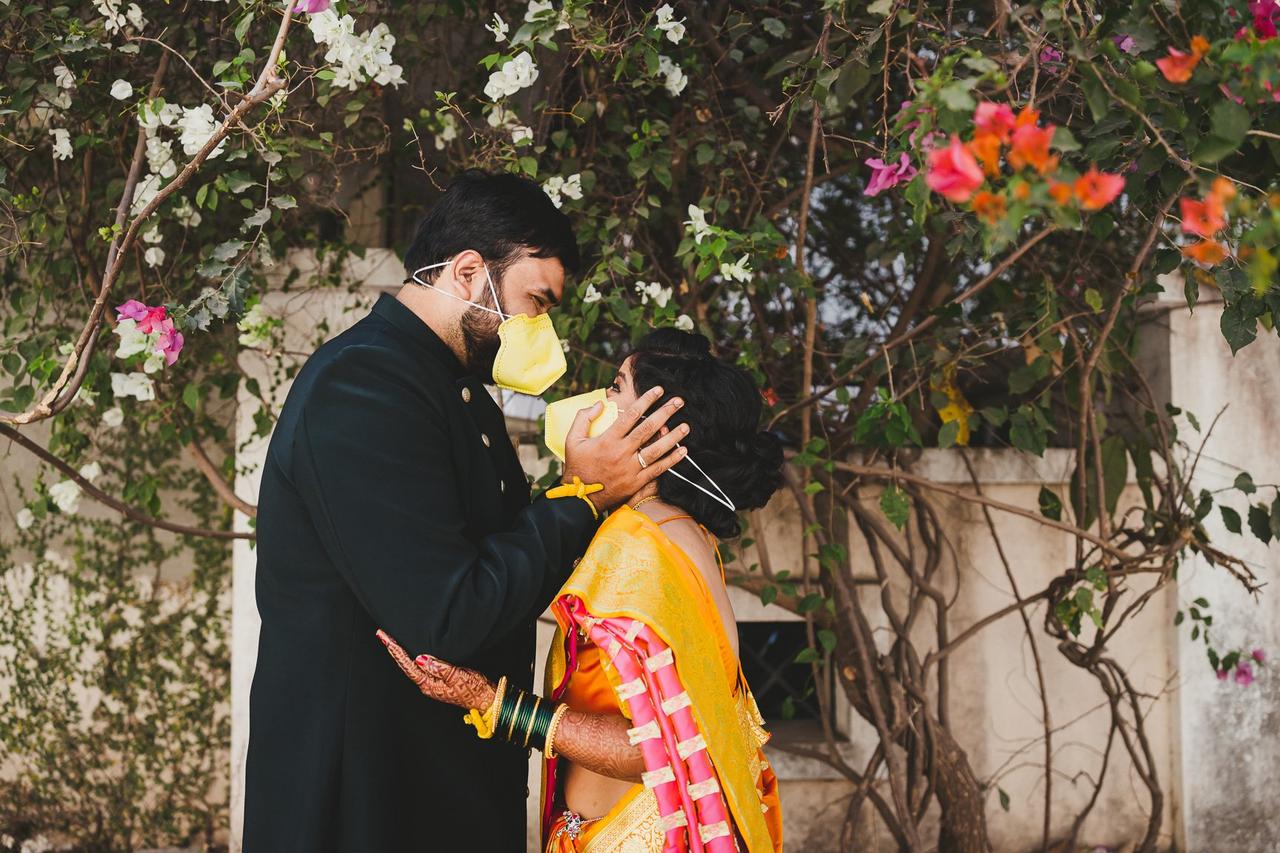 Some stories start at cute cafes, some at libraries, some are college romances and sometimes all it takes is a click or a swipe on your screen to find your soulmate. Raising the bars of met through matchmaking, Aditi and Shrinidhi tell us their heartwarming story and we cannot help but adore them.
The couple is based out of Pune and they hosted their intimate wedding during the lockdown against all odds and this is the exact inspiration that the to-be-wed couples need right now! Read on to know more.
Aditi & Shrinidhi met on a Matrimony Agency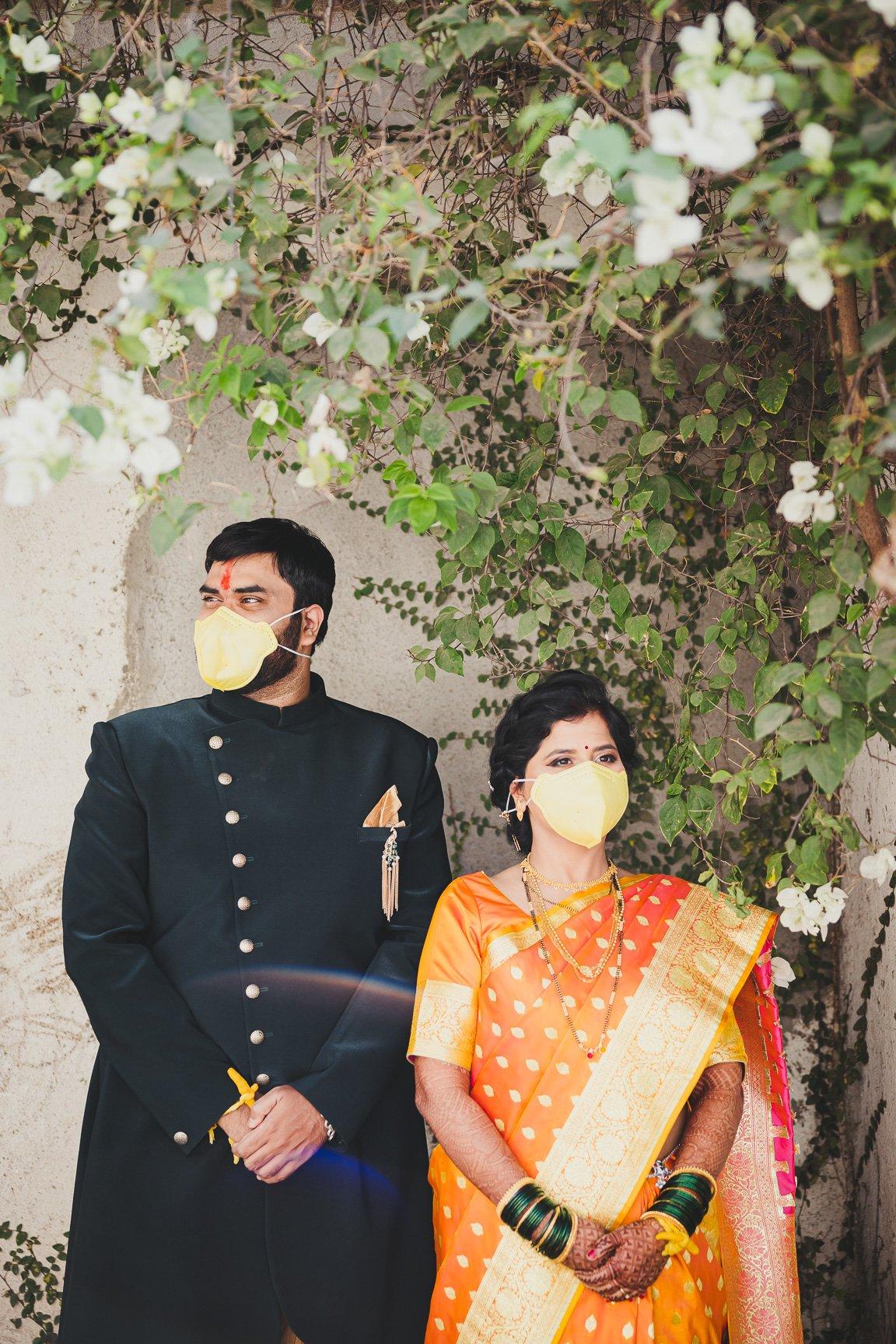 Aditi says, "We met through a matrimony agency called Anuroop. We met first for a coffee date after work on a Friday evening and most surprisingly met again right the next day at this beautiful rock-cut temple called Patalesvar, a silent place tucked up along the busy Jangli Maharaj road. And then we kept meeting for 6 months before we 'Met the Parents'."
Their Wedding Story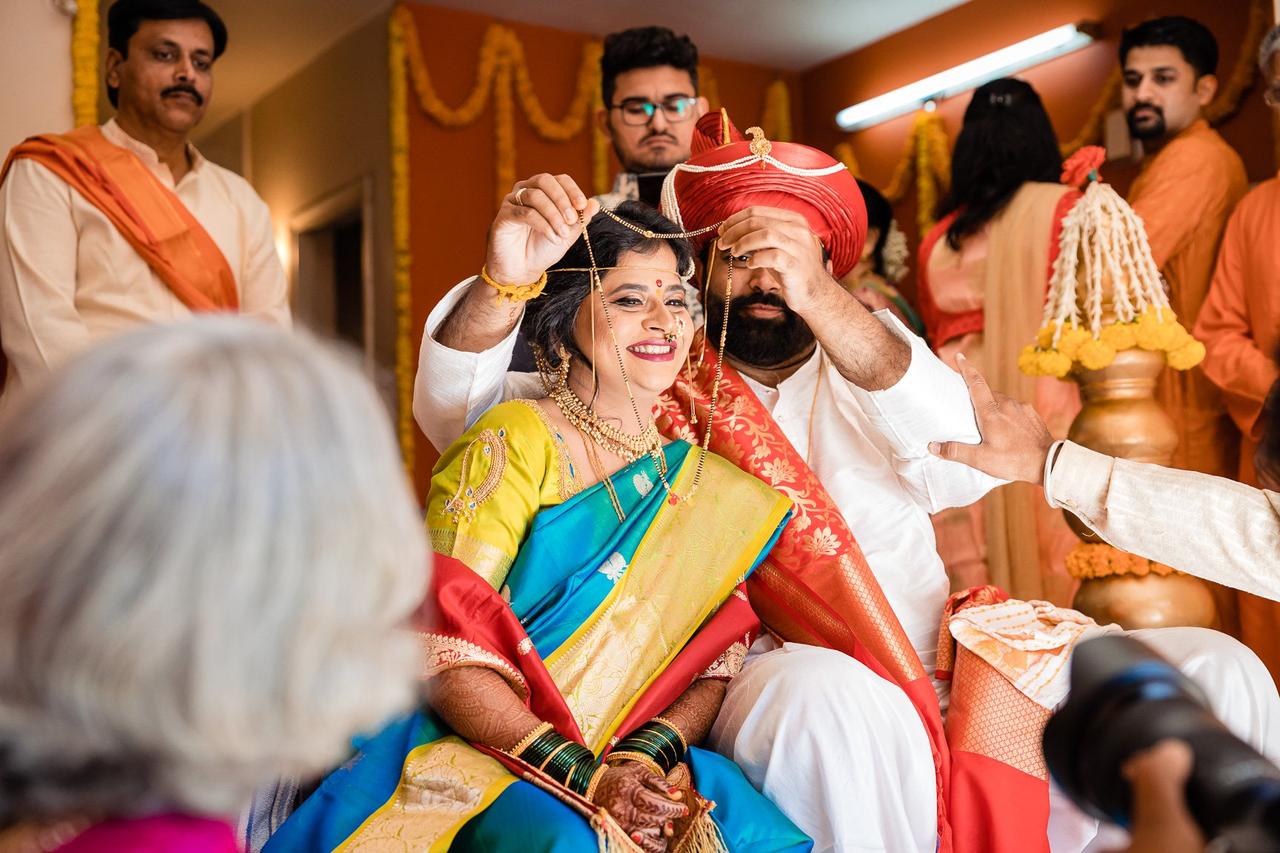 The pandemic has been the reason behind the postponement of many wedding celebrations in 2020. First, it was the looming fear and then it was the nationwide lockdown. However, Aditi and Shrinidhi's wedding was celebrated just days before the nation announced a lockdown. Aditi says, "We tied the knot on 19th March 2020, two days before National Lockdown 1.0. On the afternoon of 16th March 2020, we were informed by the wedding organizer about the notification from the government to cancel all public gatherings including weddings. We were preparing to host 600 guests for the occasion. But barring all the circumstances we decided to go ahead with the date as planned since for us a commitment that we had decided to go ahead and commemorate that occasion was more important than the scale of the wedding. So we left the choice of participation to our guests and started improvising the arrangements as per the situation at hand."
The Wedding Venue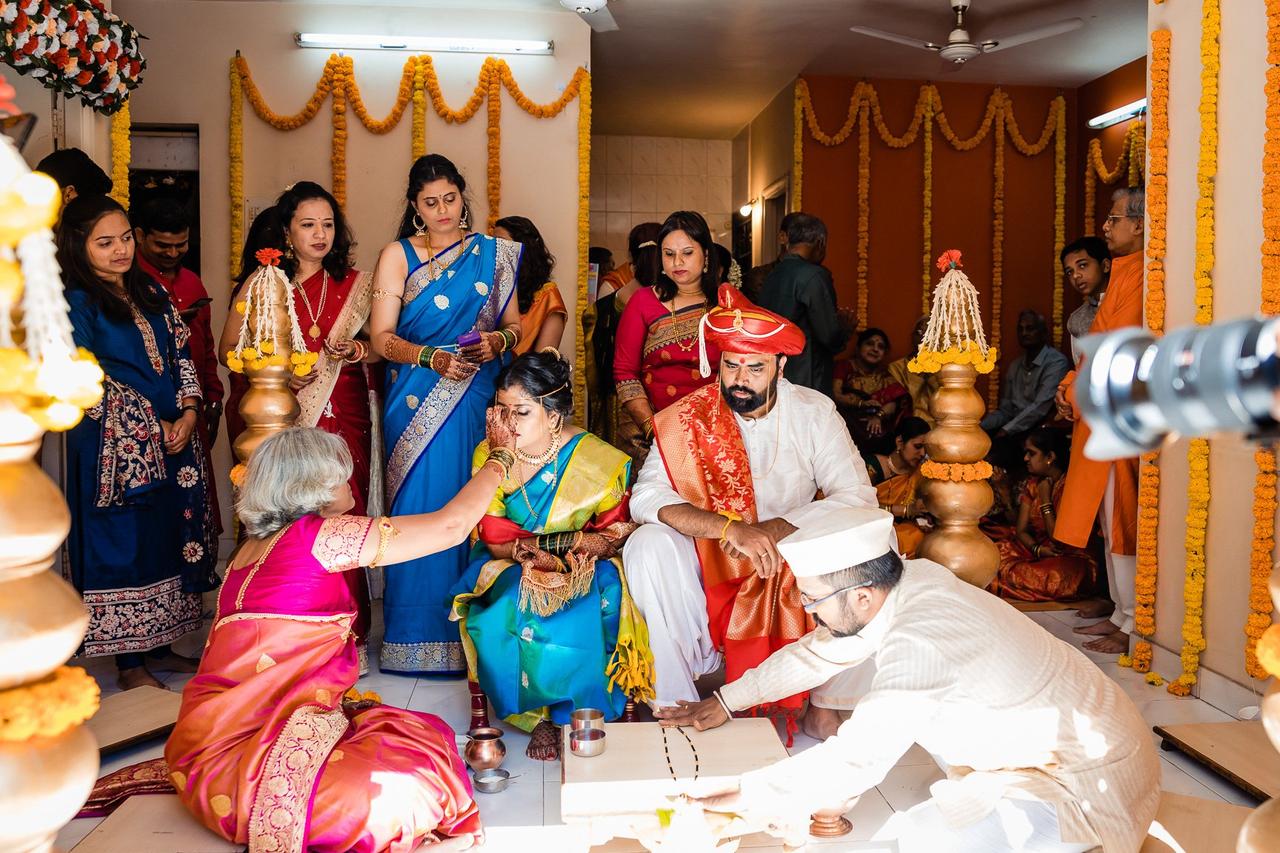 Owing to the fact that the venues were shut down for most parts of the lockdown until recently, many intimate weddings were hosted at home. From farmhouses and destination weddings a striking shift in wedding venues was seen to backyards and living room weddings. Up until the lockdown came into being, Aditi says, "The original venue was at Gharkool lawns, it was supposed to be in a semi-open area facing the beautiful lawn under an elaborate shamiana."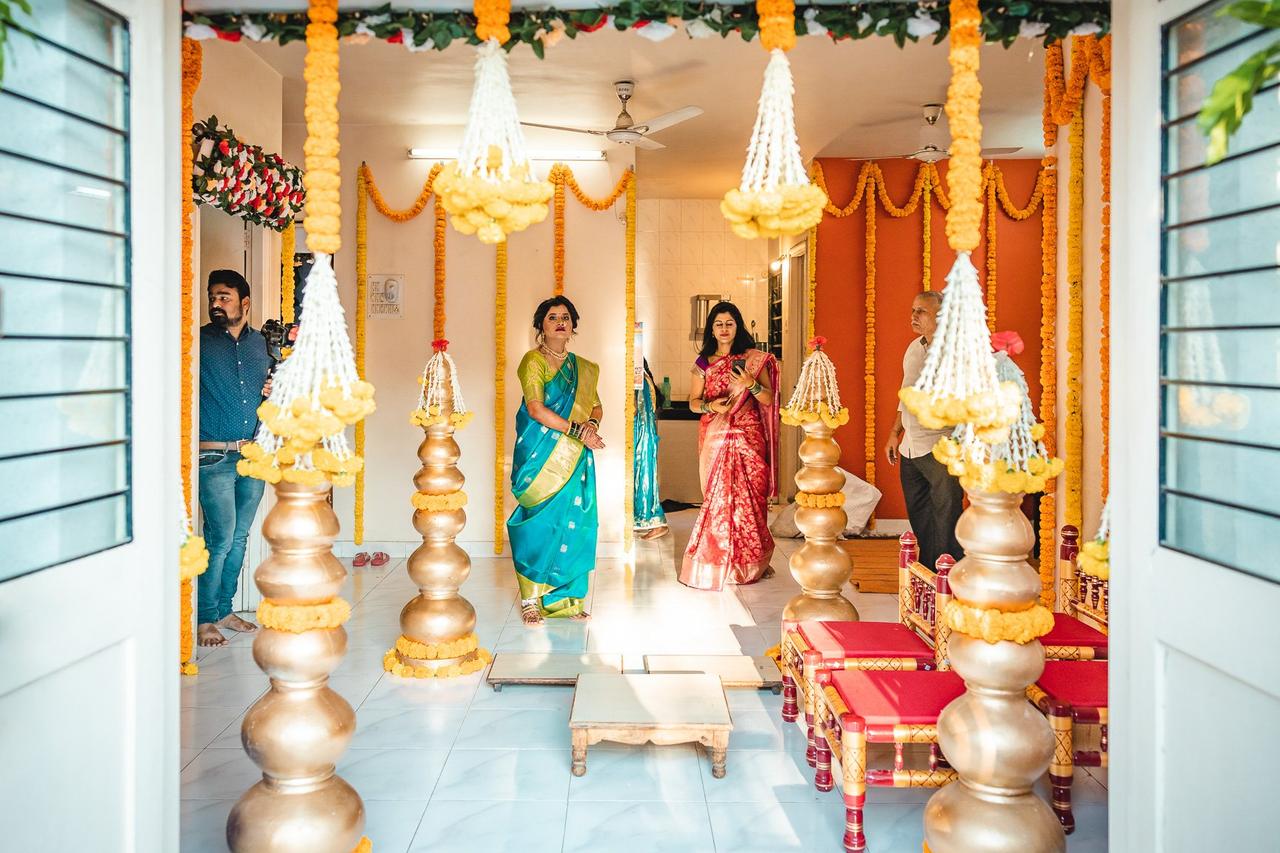 However, Aditi and Shrinidhi also got married at home. She says, "Yes, we got married at not just one but two homes. The ceremony and small reception took place at my place and the food arrangements were at Shrinidhi's place. 5. Planning a wedding during the COVID wave is like treading uncharted waters."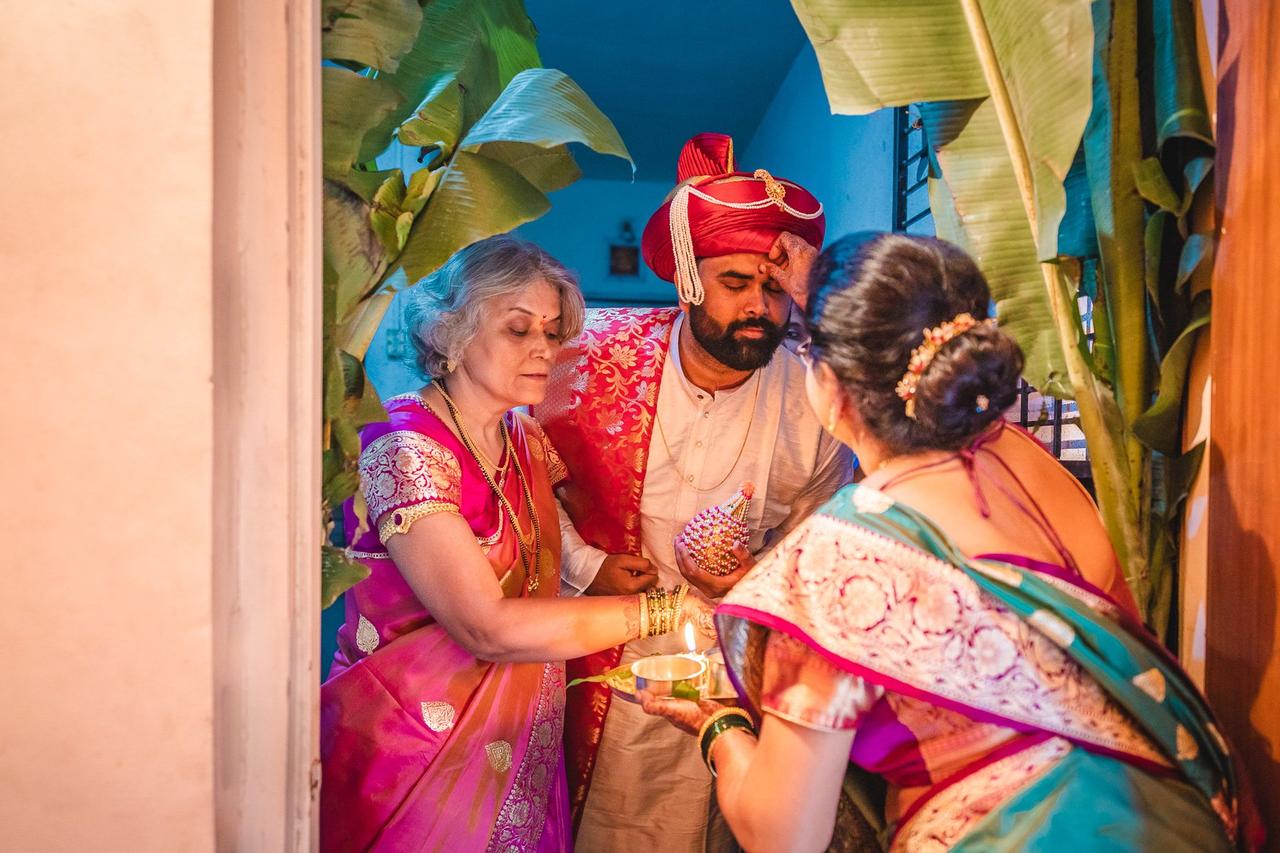 The Wedding Planning & Other Stories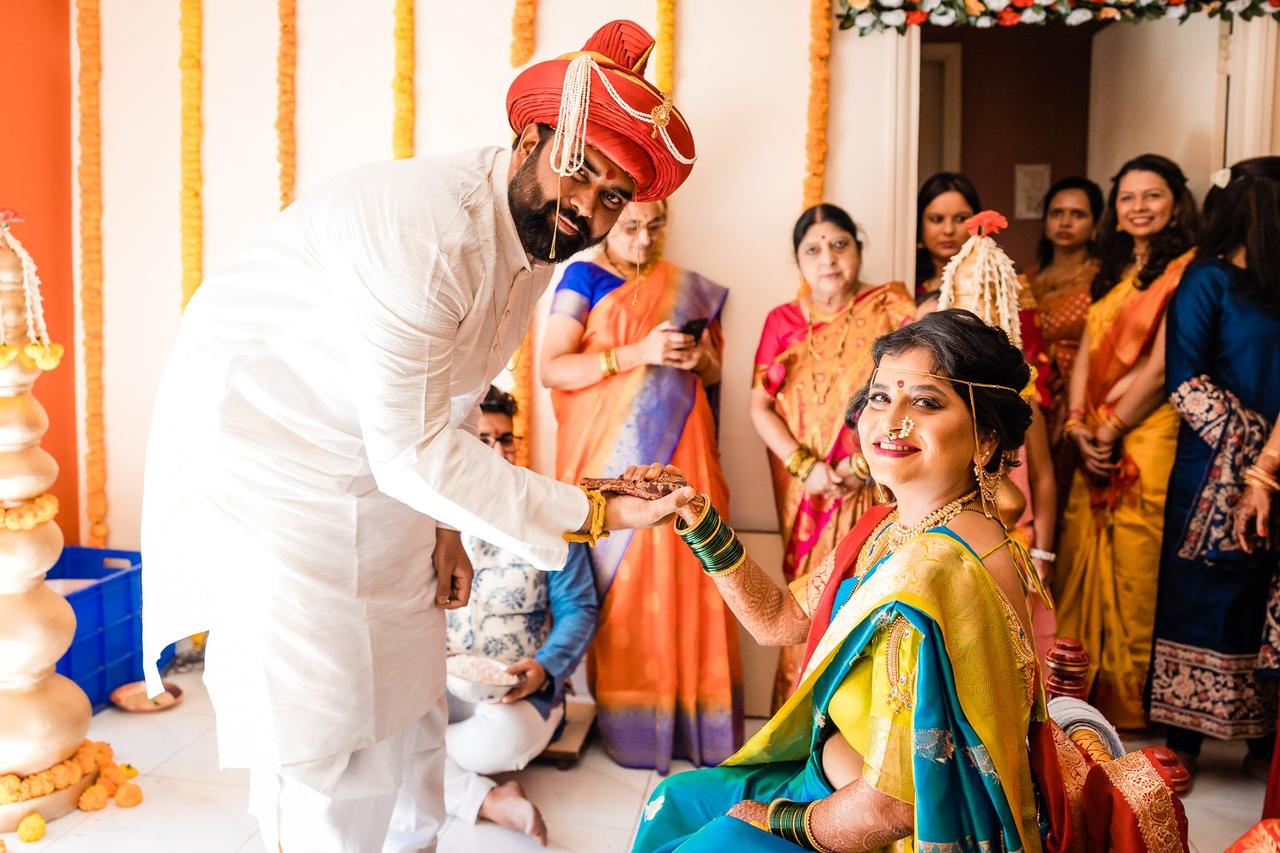 Planning a wedding is a stressful task even if you have a planner in place and the times are normal minus the COVID-19 fear. So when a wedding is planned and executed amidst a pandemic, it is legendary. On similar lines when we asked Aditi how was the experience of planning her wedding and how did it all fall in place, she says, "I'm the youngest girl of the lot from my father's and mother's side. I have attended all the family weddings very closely, so you can imagine my enthusiasm all pumped up for my own day. Shrinidhi showed his own pep by supporting all my ideas. Both the families were closely involved in all the preparations and had personally given out all invitations. So the first challenge was scaling the occasion down. Informing the guests about the unfortunate turn of events. And then the task of planning all the arrangements at home, dividing the guest list so that at one time we could have only 30-40 guests in the house."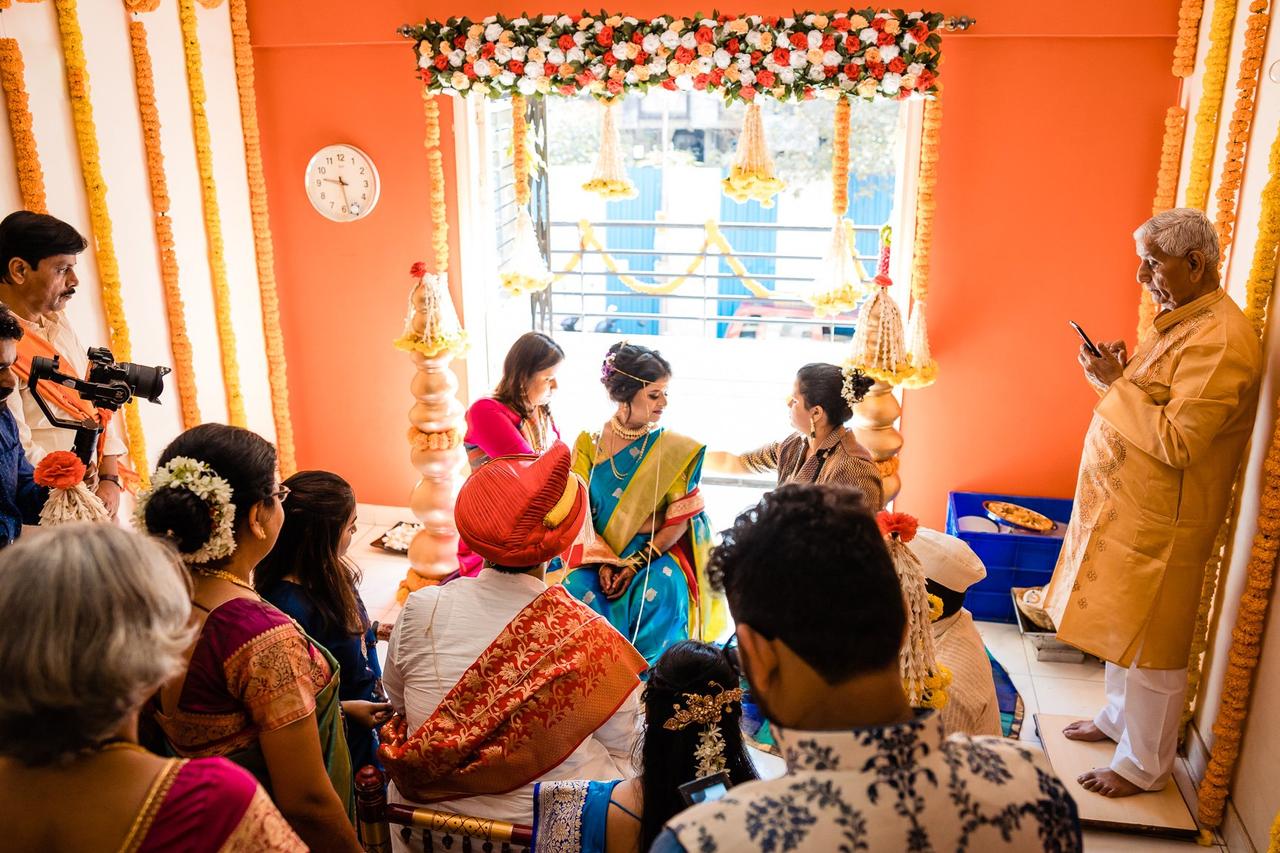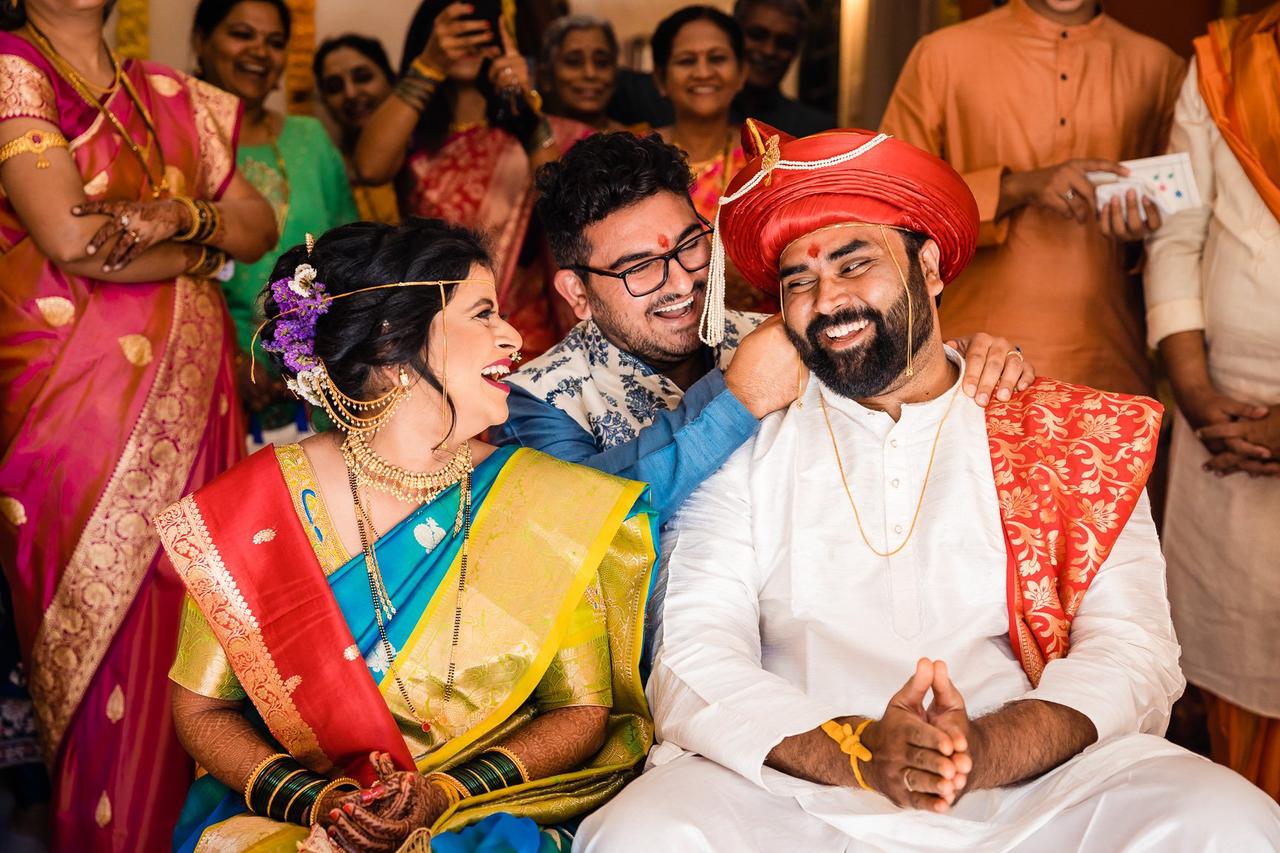 She adds, "We did a small Haldi and Mehndi function at home. This worked well in the context that we could call a few guests then, that did not repeat at the wedding occasion. We didn't continue with the post-wedding event due to the lockdown."
The Team Who Made It Possible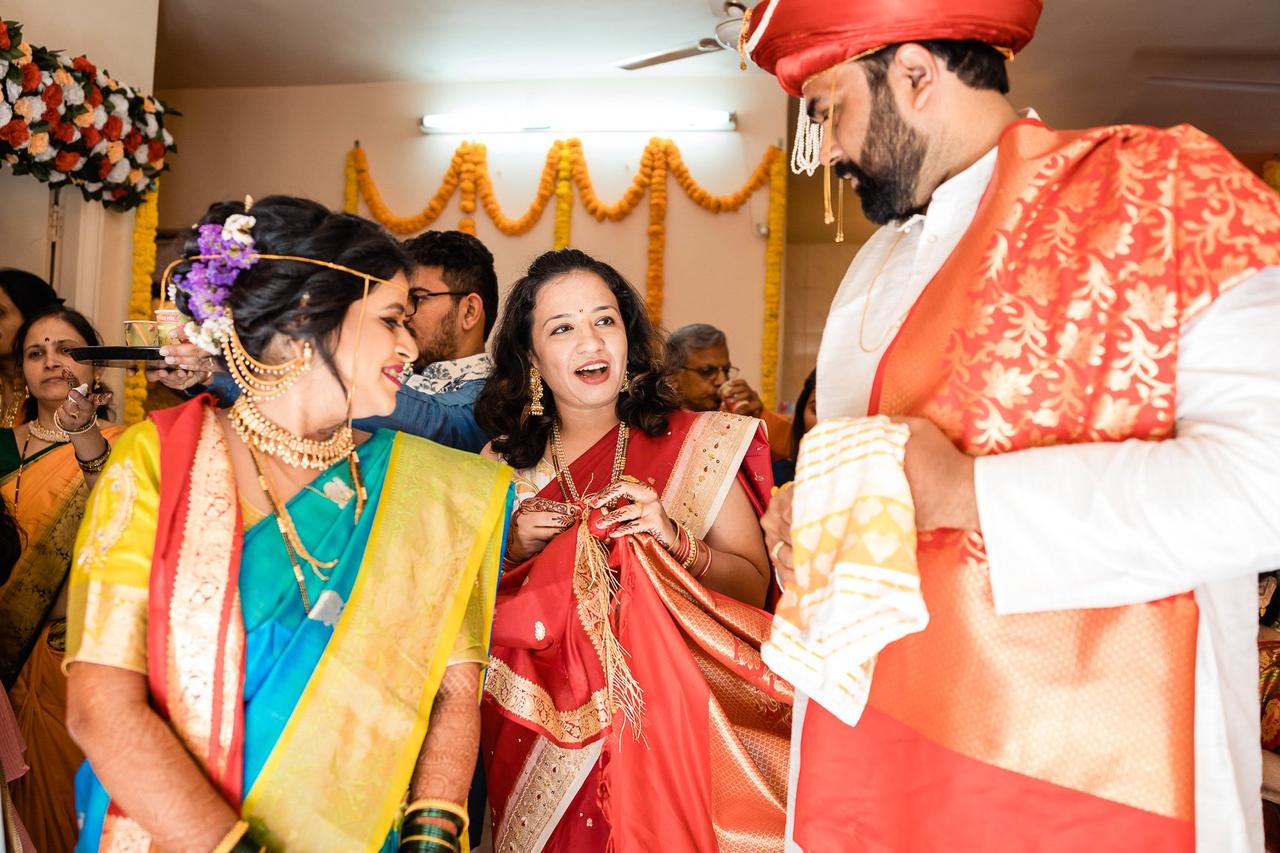 No dream wedding can come to life without a team of extremely talented professionals who are available at your beck and call. Their enthusiasm has to match yours in order to make it happen. That is why having a super team of professionals to work with you is very important. Aditi says, "We had immense support from the wedding organiser and current owner of Gharkul lawns Mr Yatnalkar. They sent their man to scout the venue along with the decorator and plan the food arrangements and any other arrangements. We had got engaged in December 2019 and I had got my make-up done from Sneha Gopalan and photography from Amour Affairs. When I called Taher to inform him about all these last-minute changes, he was more than supportive I would say. Initially, we had decided to not have any videography but seeing the current situation I was keen on capturing everything. So I asked him if it was possible. The team at Amour Affairs made possible. Also my make-up artist Sneha too was absolutely supportive to stick to the look and accessories we had decided and got it all and making me look pretty! I'm so thankful to have such amazing people to collaborate and make the wedding a memorable event for us."
Safety Measures During The Wedding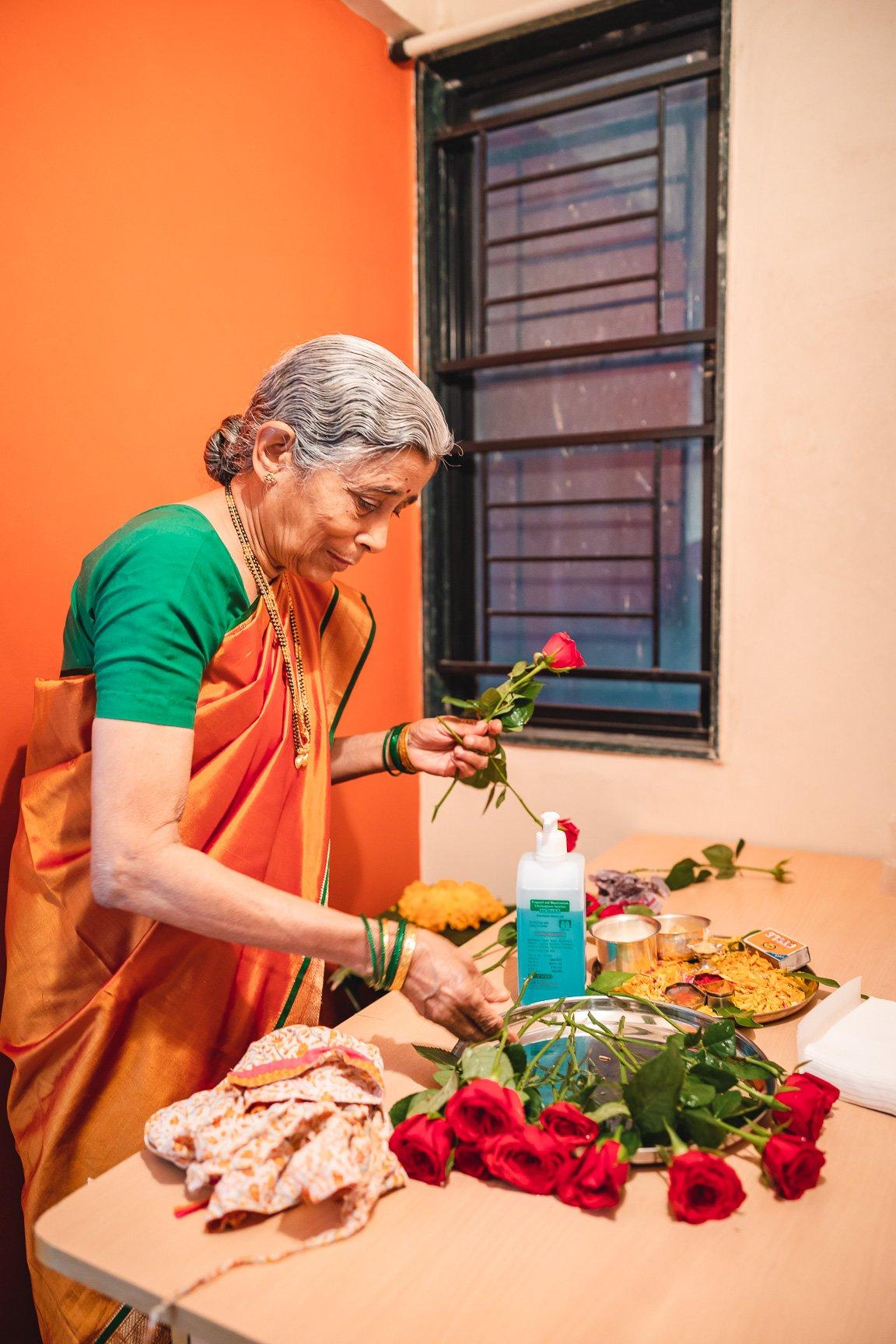 The pandemic might not have been a full-blown scare at the point of time, but it sure stirred a lot of chaos since early February this year. Though the lockdown wedding guidelines from the authorities came much later, there needed to be some safety precautions in place for the families to ensure best safety measure. Aditi says, "Every guest was requested to sanitise their hands and wash them before they entered the place. Apart from that, we tried to optimise the number of people in the house by dividing the guest list into batches. Also all guest above 75, our grandparents were only got in for the rituals they were to take part in and taken back their home immediately to avoid contact with other guests."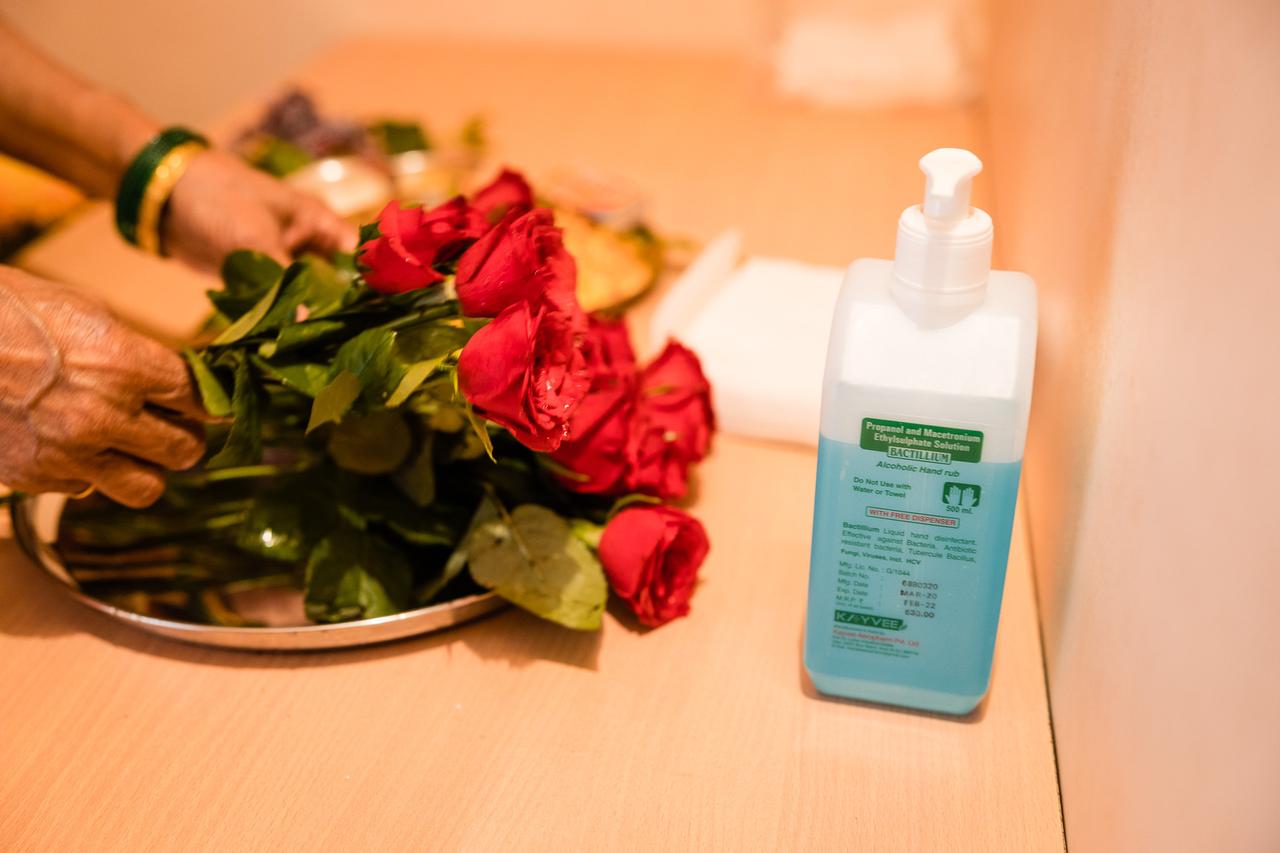 She also adds, "So we had one photographer and one videographer in the team. To ensure the minimum number of professionals required for the wedding, Amour Affairs prioritised the safety without compromising on the work."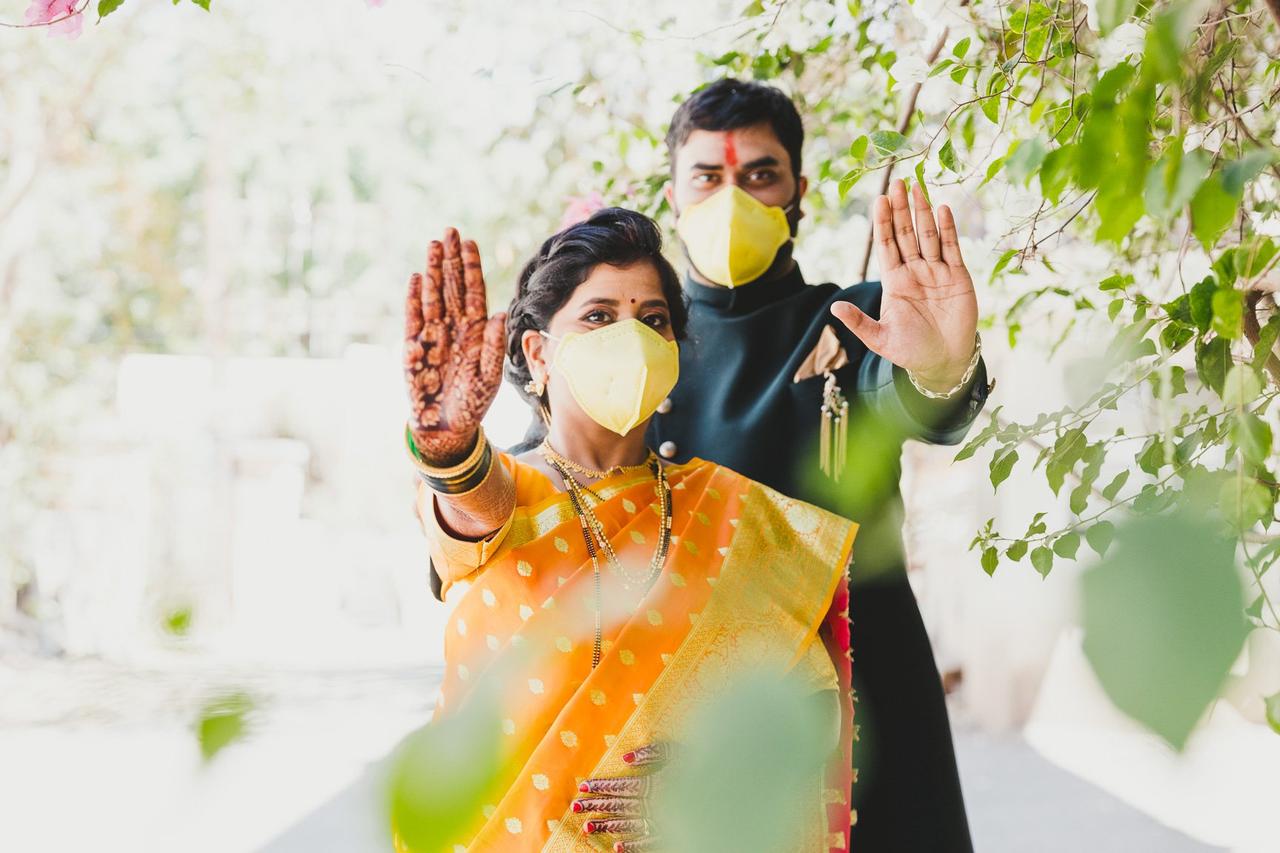 Speaking about the number of guests who attended the wedding, Aditi says, "We had 50 guests attend the wedding in batches of 15-20 and about 25 guests attending online."
What They Wore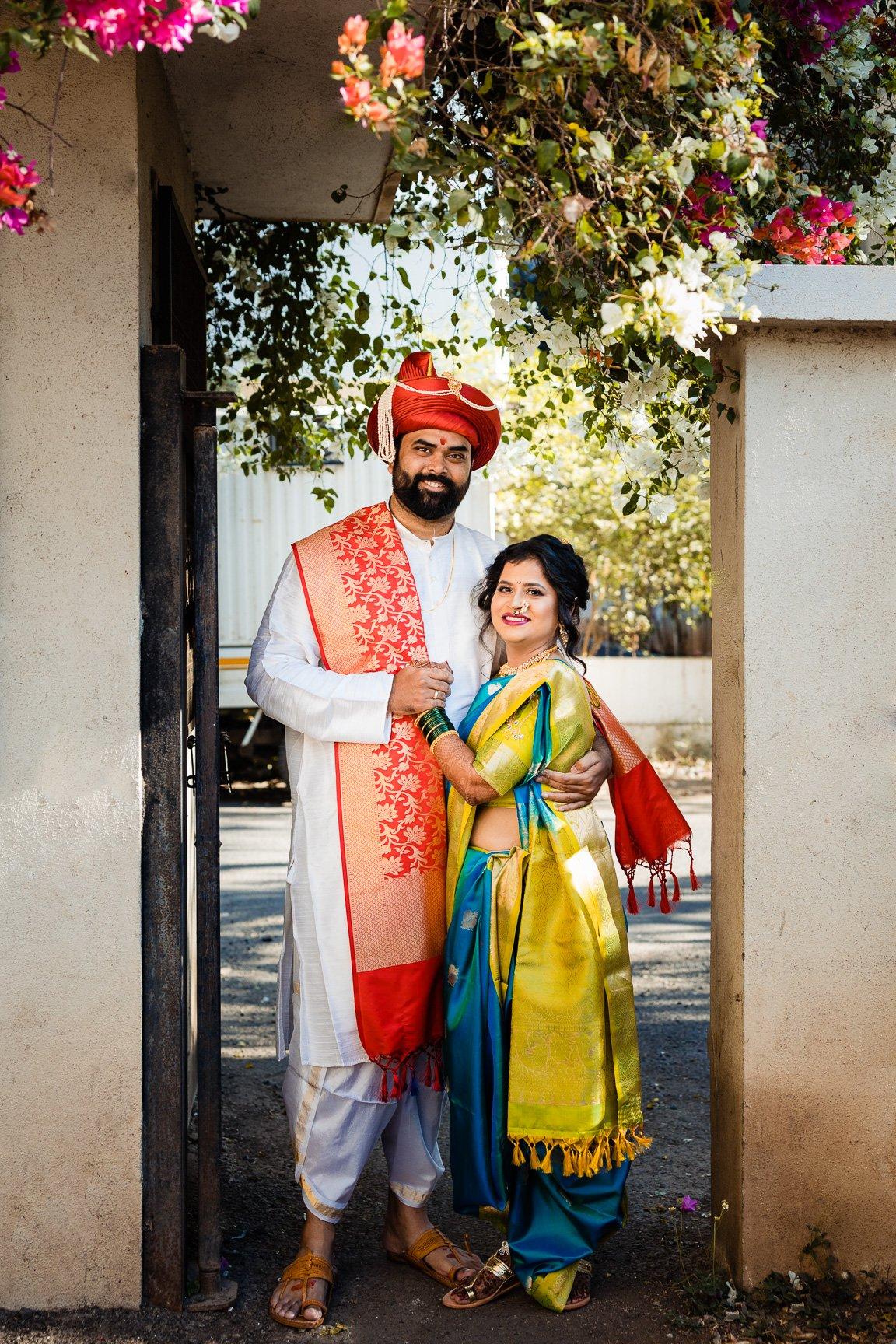 Intimate wedding wardrobes are very different from any other wedding looks. On similar lines, Aditi says, "We were both keen on keeping the outfits quite traditional. For the main rituals, we had a pakka Maharashtrian theme of Nauvari with peacock motifs and Dhotar, Angarkha and uparna with a Peshwai Pagdi. For the reception, I choose a bright yellow Benarasi weave balanced by Shrinidhi's bottle-green Indo-western Sherwani."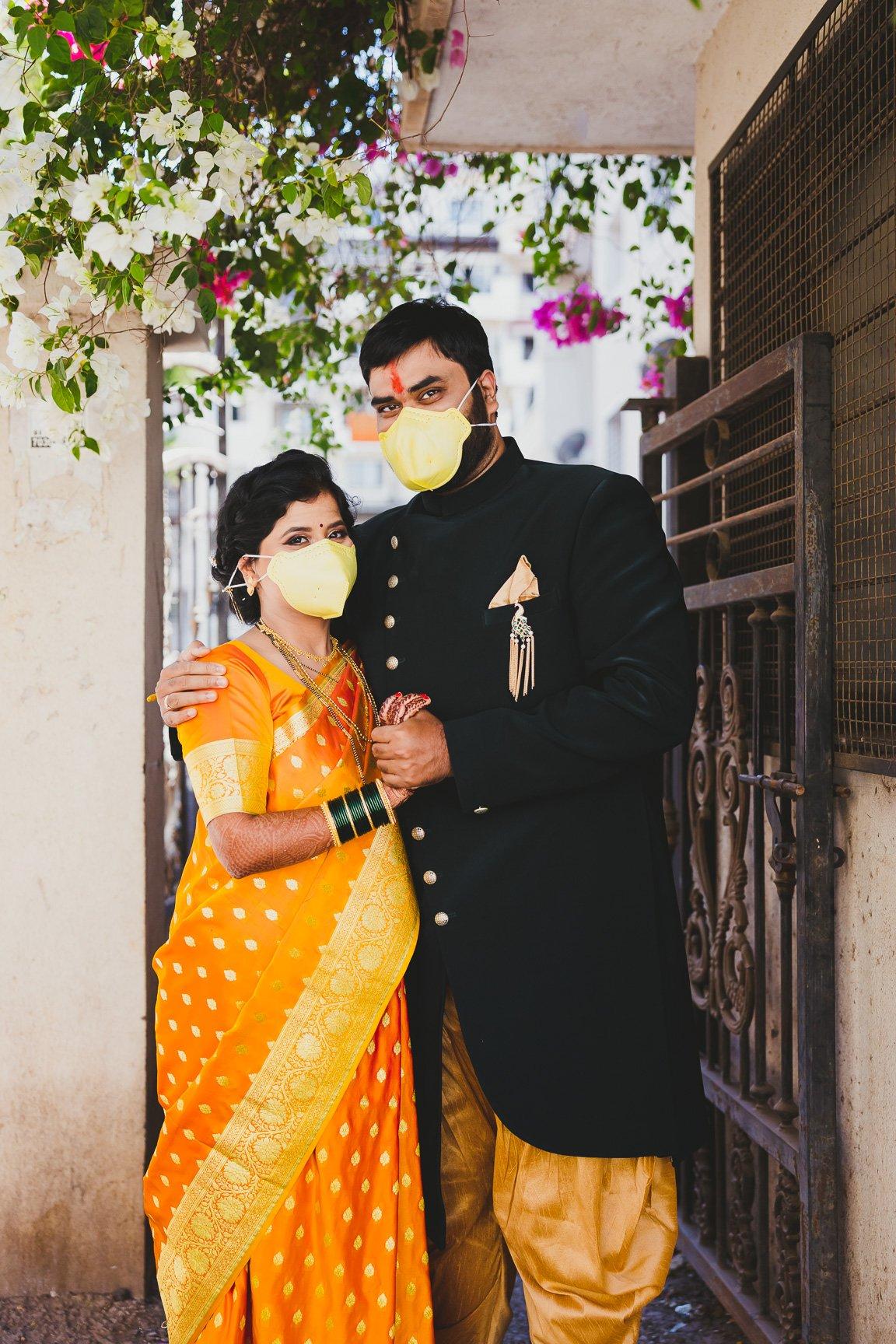 Wedding shopping in the Times of Corona is a whole new dimension. However, lockdown shopping did not affect Aditi and Shrinidhi's wedding. Every wedding's shopping is done at least 3 months prior to the main wedding day in order to keep enough time in hand for alterations and so on. Aditi agrees to that and says, "Actually we were done with our wedding shopping for all main occasions by January 2020."
Catering & Food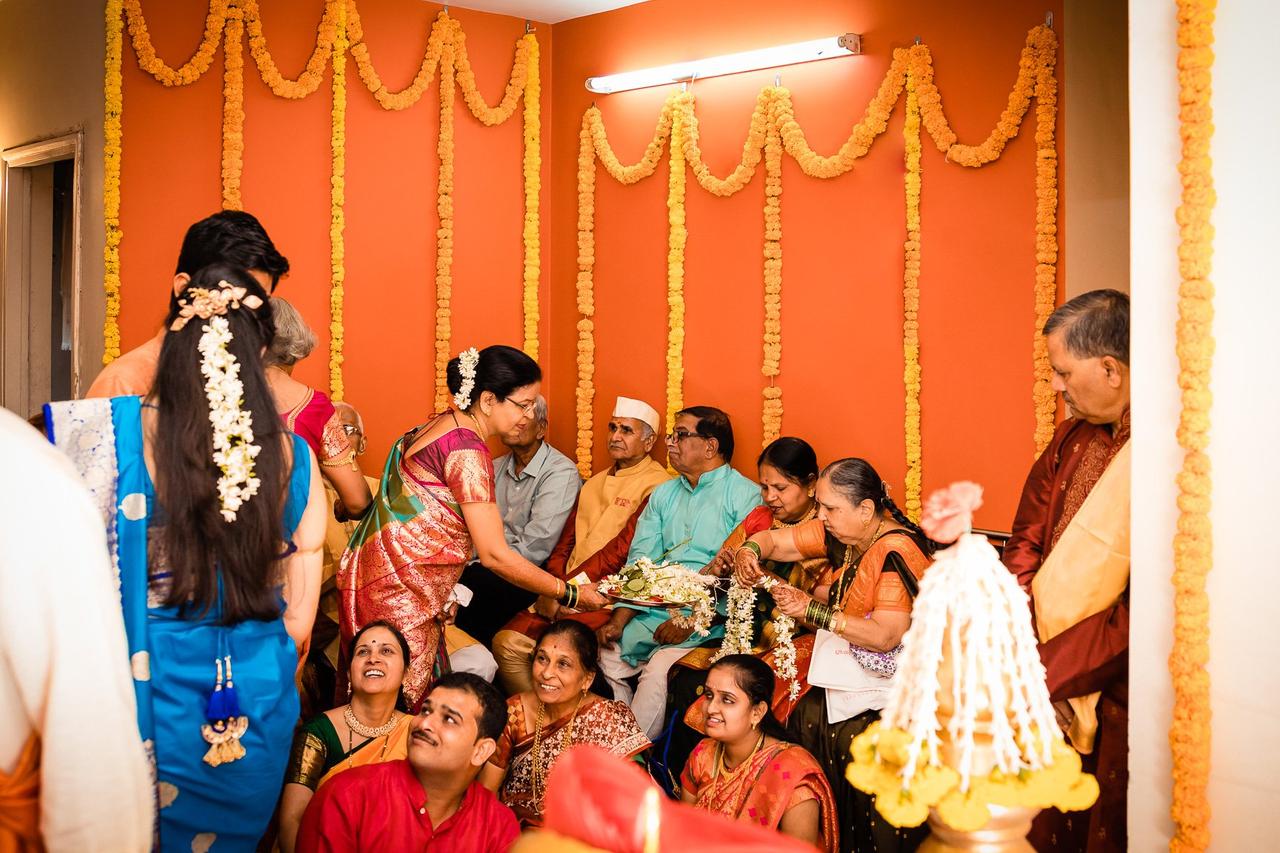 Along with the shopping and wardrobe trends shift that the pandemic has been instrumental in triggering, there has also been a shift in the catering trends at weddings these days. However, the onset of the pandemic did not alter the catering plans that Aditi and Shrinidhi's wedding had. Aditi says, "So, the wedding organisers at Gharkul did all the catering as well and it was a combination of seated arrangement and buffet. We had finalised our wedding menu 2 months before the wedding, and even in the wake of the pandemic, not a single food item was compromised in taste and quality. It was an absolute delight to see our guests enjoy the food."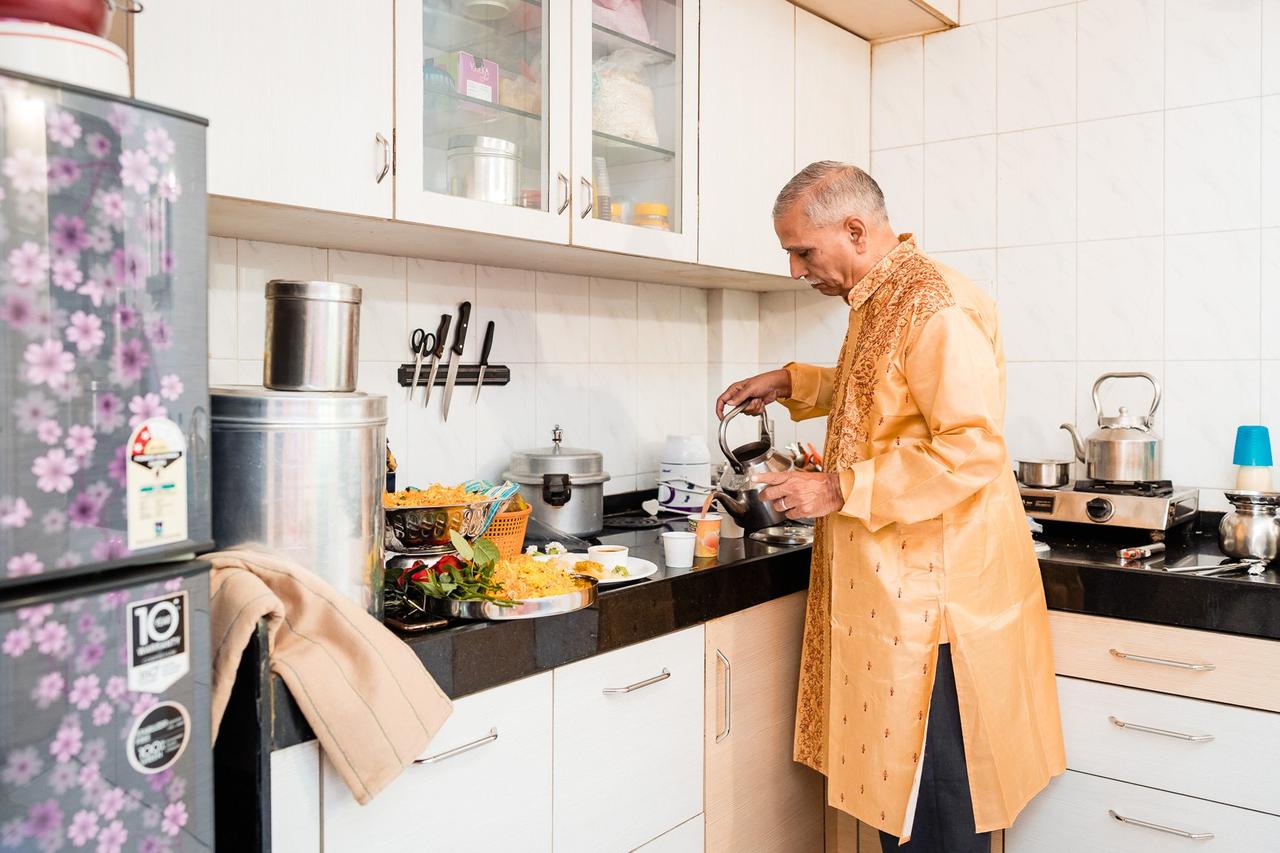 Many millennial brides are absolutely in love with the idea of intimate weddings even minus the COVID-19 threat hovering around. The couple did not always plan to have an intimate wedding. They had a big fat Indian wedding on mind ever since they started planning their wedding. However, the onset of the coronavirus pandemic took their wedding plans for a different ride. In conversation with Aditi about their key takeaways from the initial wedding plans and then hosting an intimate wedding, she says, "No, we weren't planning an intimate wedding initially. For me, the most important take away was having all the close family and friends around all through the ceremony, which makes it more joyful, happy and warm. The whole idea of a wedding is to celebrate the start of our journey with people who matter to you the most and that's what we got!"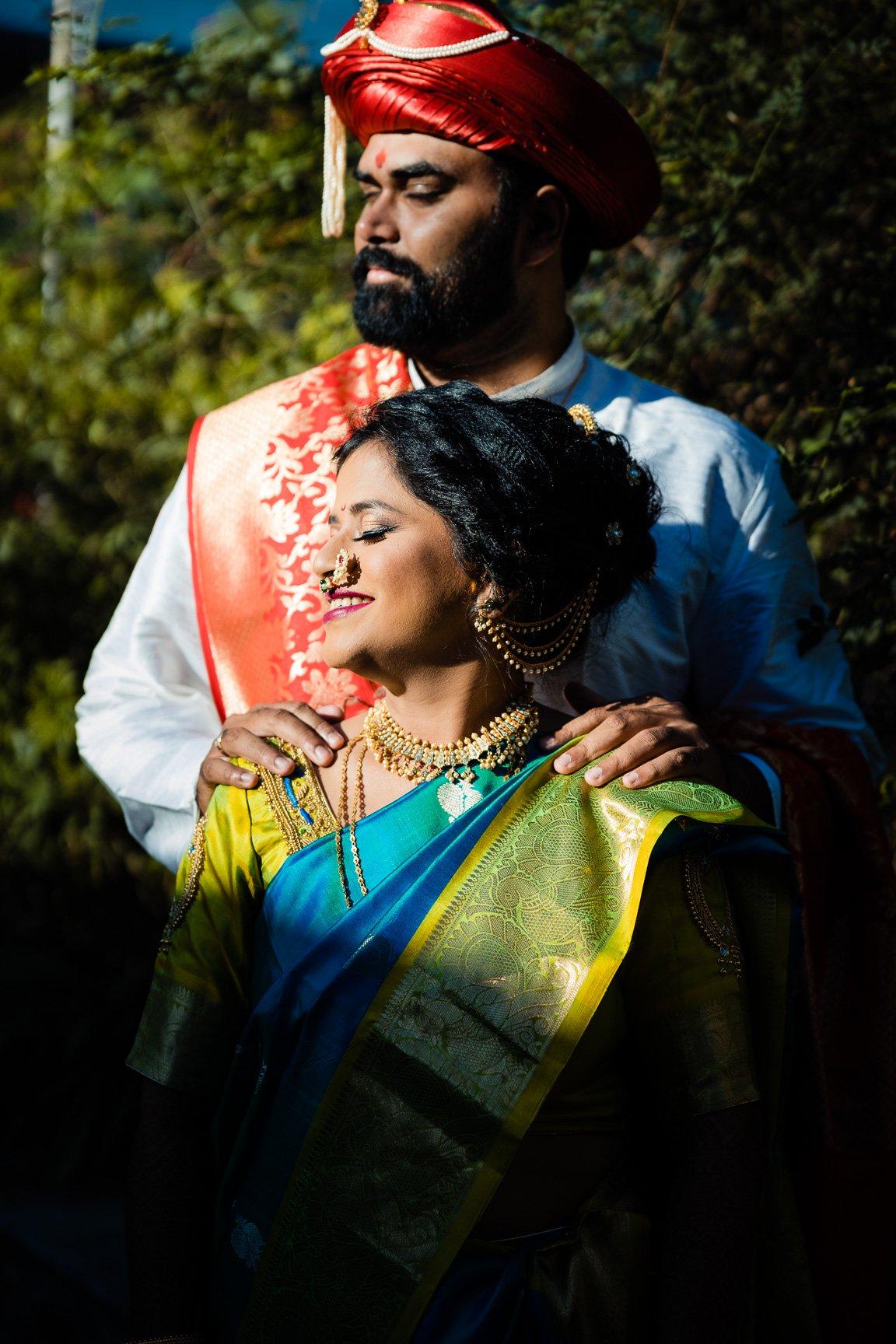 The belief that the guest list does not determine the way one celebrates their wedding is coming to be a popular belief especially with so many intimate weddings hosted during the lockdown. Aditi has to say, "I would rather say that a wedding is made through the participation of those close family and friends. In an intimate wedding that connects with them is one on one everyone is right there at absolute earshot, jokes and laughs reciprocate and most important everyone feels a part of it."
The wedding that Aditi and Shrinidhi had planned, took place in full fervour without any major changes. However one is sure to miss the initial plans of a big fat wedding in some way and Aditi agrees. She says, "Like I said the wedding that we had planned on having, took place as we wanted it and it was something very wonderful. What we missed out was the event a day before the wedding, the Sangeet party. We were practising for the dances from past three months meeting on weekends, choreographing songs and all age groups from families were super excited for it."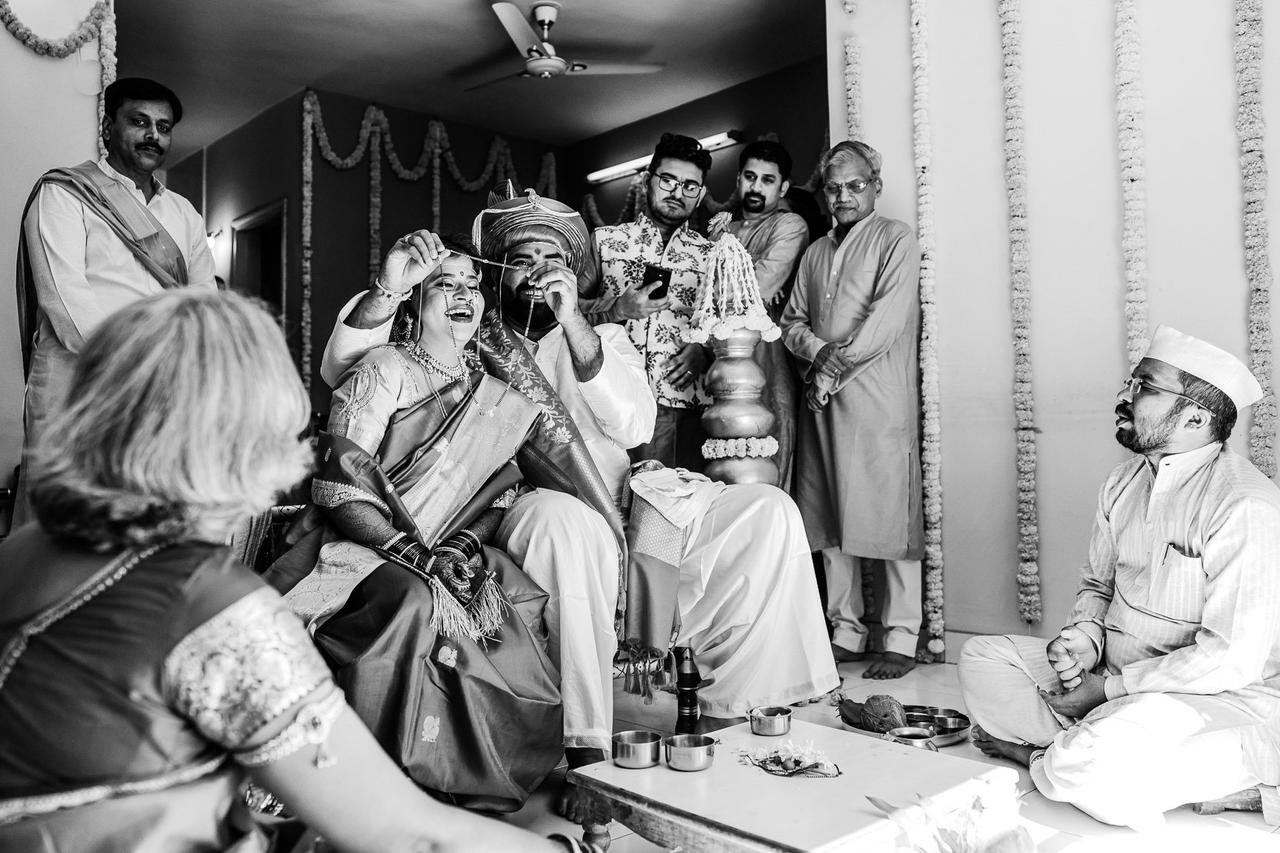 They sure have a bigger reception planned to make up for the missed big fat wedding that they had on mind. Aditi says, "We have a reception in mind for later. But that's all in the distant future still."
The pandemic might have pushed your big fat wedding plans to later, but that does not mean you cannot celebrate your wedding in the most beautiful ways ever. 600 people or 60, Aditi and Shrinidhi's wedding is living proof that a wedding is just as special and meaningful.
Keep the party for later, celebrate the love now! You can plan an intimate wedding ceremony on the date you had originally planned your wedding on and if not, you can commemorate the original date of your wedding to make it special.
If you are planning to host your intimate wedding, here are some places you can pick from to host it. The ace professionals on board with us are here to assist you in your journey to make it unforgettable.
The dream wedding team:
Wedding Planners & Catering: Gharkul Lawns
Photographer & Videographer: Amour Affairs
Make-up Artist: Sneha Gopalan