Milind Soman Wedding: Why They Wore Ivory and Gold for an Eco-Friendly Ceremony
Discover all the insider details that went into the making of the much-talked-about wedding attire of Milind Soman and Ankita Konwar in a chat with their designer Madhu Jain.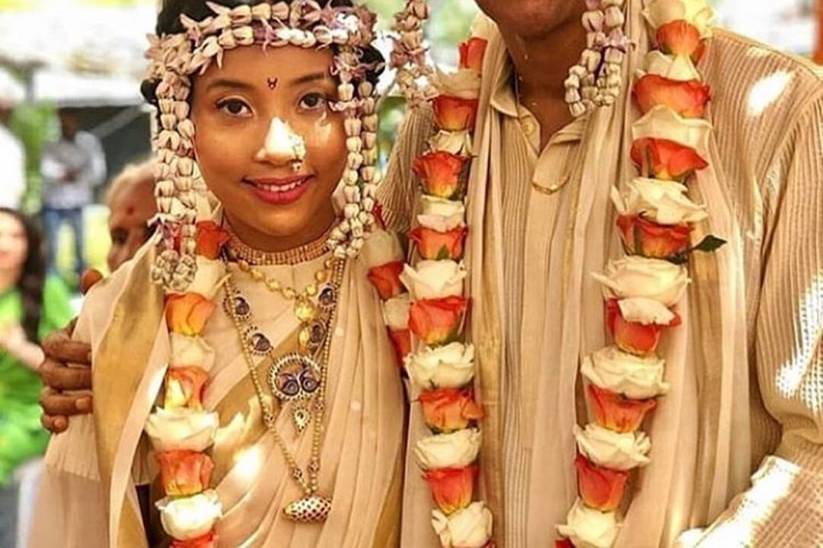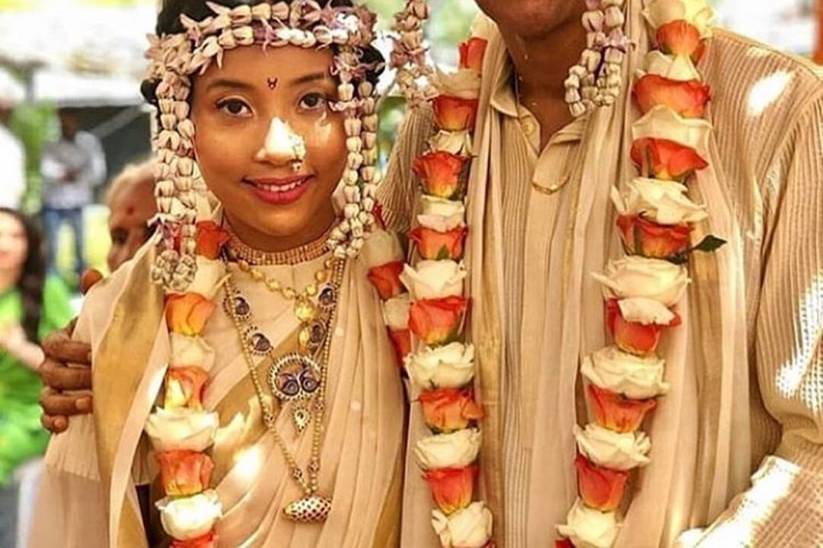 Photo Courtesy: Madhu Jain
Bollywood star and fitness enthusiast Milind Soman tied the knot with Ankita Konwar on Earth Day. And dressing them up for the occasion was designer Madhu Jain. Known for her futuristic approach and revolutionary eco-friendly creations, she is a celebrated veteran Delhi-based fashion designer. From celebrities, beauty pageants, NGOs and contributing majorly to CSR activities, she has been an active textile conservationist refining the fashion industry. A candid chat with her revealed that the couple prefers 'understated sophistication'. The Milind Soman wedding was one of the most talked about celebrity weddings for multiple reasons. From their eco-friendly wedding apparel choice to their minimalistic celebrations, the Milind Soman wedding was a simple yet elegant affair. Read our exclusive piece on The Milind Soman wedding to find out the reason as to why they chose to travel the road less travelled!
1. You and Milind Soman go back a long way. Could you shed some light on the association? How did it happen and what was it like working with him? What were the reasons for winding up that brand?
Oh yes, we go back a couple of decades! I've known Milind professionally since 2002, and before that, in the 1990s, during his modelling days. We launched "Projekt M" in 2003 in order to catapult handmade Indian textiles and craft onto the world map and to breathe new life into this dying industry. It was all about working on special and unusual projects. Our brand hasn't wound up. It's just that we haven't had inspiring projects come our way after "Tree of Knowledge" at the Commonwealth Games Opening Ceremony in New Delhi in 2010.
2. What all did you keep in mind when designing for this wedding?
I didn't get a brief from Milind, for we are both in tune and I am familiar with his personal sensibilities. He is a man who likes to keep things simple and non-fussy, and so do I. Keeping in mind that the wedding was held on Earth Day, I used my signature bamboo-silk textile, which is not only organic but is handwoven and 100% biodegradable. Since Ankita is from Assam, the bamboo textile honours her home state, where bamboo is an extremely valued plant as it generates livelihoods and is a way of life. I kept the colour palette ivory and gold, which is what Assamese brides wear. The Milind Soman wedding, therefore, was like a gem for the couple and for their fans alike.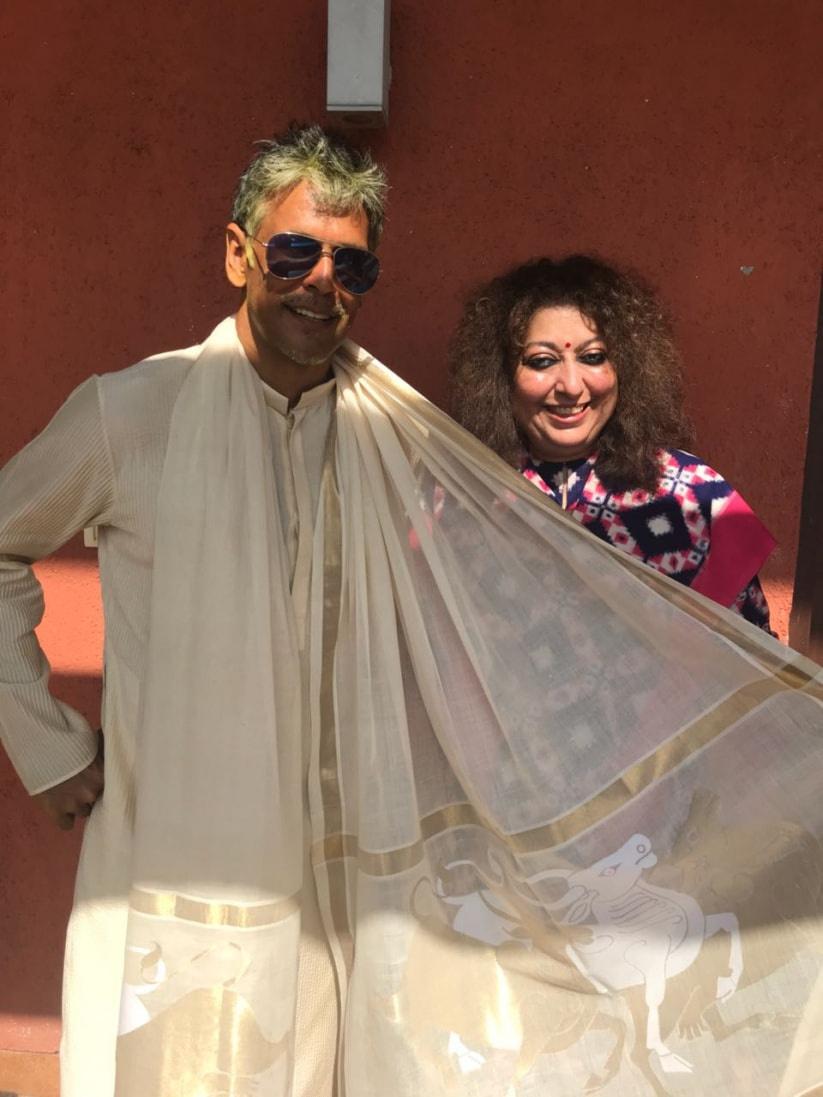 Photo Courtesy: Madhu Jain
3. Since you are in tune with the groom, what were the things he wanted for himself and his wife?
Milind wanted simplicity and elegance and has a deep fascination with unusual handwoven textiles. And that's exactly what I gave him! He has always had total faith in what I do. I was pleasantly surprised to know that even Ankita likes understated sophistication, so it was a delight to design their wedding outfits. I kept the look timeless and stylish yet quintessentially Indian.
4. While we have been reading stories of Assamese and Maharashtrian blends in their lives, did you also blend some elements from the two states in the clothing?
I wanted the Maharashtrian-Assamese combination to be a winning one. Which is why I chose to have a nine-yard sari specially woven for Ankita, which was requested by Milind as well. The bamboo textile is a nod to eco-friendly and Assam, while the Nauvari sari is quintessentially Maharashtrian. It's not easy to drape this sari, and Milind's mother and we were clucking around the bride! Ankita's jewellery was traditionally Assamese while her nose ring was Maharashtrian. A lovely confluence of cultures indeed!
Photo Courtesy: Madhu Jain
5. What were the fabrics and designs that you paid special attention to? What are the couple's favourite colours?
As I've already mentioned, I used the traditional Assamese wedding colours of ivory and gold. I wove Venkatagiri motifs in the gold thread using the Jamdani technique of the West Godavari Region of Andhra Pradesh. We did a similar 'his and her' colour palette and used the motif of running bulls on both the sari pallu and on Milind's stole. This was to suggest a flow between the bride and groom, a mingling of two people into one soul. The bull motifs also celebrate being one with nature, much like the mood and feel of the entire wedding. I used bulls precisely to evoke and elevate the feeling of oneness. Not just that, but bulls also signify abundance, so in a way, the wedding outfits itself were a benediction, my blessings to the couple.
6. Can you share some highlights of the wedding? Why did Milind want to keep it so private?
The guests included the two families and close friends. I don't think there were more than 60-70 people present. This is typical Milind, who desired a private celebration in which he and his wife could let down their hair and just be. Where everybody could interact with each other and celebrate and mingle as in one's home.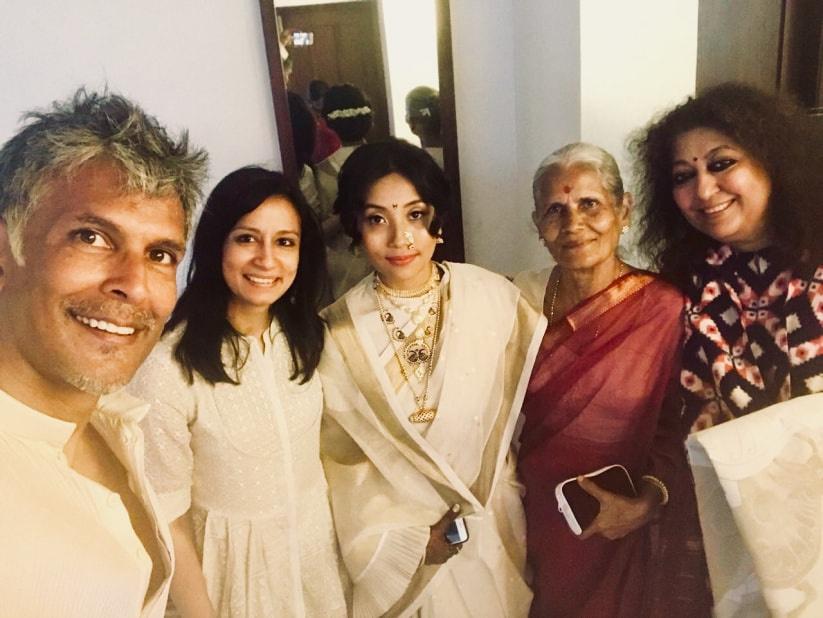 Photo Courtesy: Madhu Jain
7. What was the décor like? Please share some details of the venue.
In keeping with the Nature theme, the décor included marigolds, jasmine garlands, and banana leaves, all of which are locally available and are considered auspicious. Even the jewellery they wore around their heads were made of baby lotuses. Sometime back when I'd gone to the Kashi Vishwanath Temple, we were given baby lotus garlands to offer to Lord Shiva. Milind loved these, and I suggested he use it at his wedding. And he did!
8. What about the food and music? What major ceremonies took place?
The wedding was spread over two days. The mehndi and haldi ceremonies were held on April 21, and the wedding was the next morning. On the 22nd, I was up at 6:30 am, getting the bride and bridegroom ready. Ankita's face and hair were handled by ace makeup artist Ashima Kapoor. The wedding lunch was simple vegetarian Maharashtrian fare, which was unbelievably delicious. There was no alcohol served as per the wishes of Milind's mother.
On the day of the wedding, they had a run at 5:30 am and the guests joined in. For me, the highlight of their wedding was that the couple planted a tree for each wedding guest as a thank you to Mother Nature.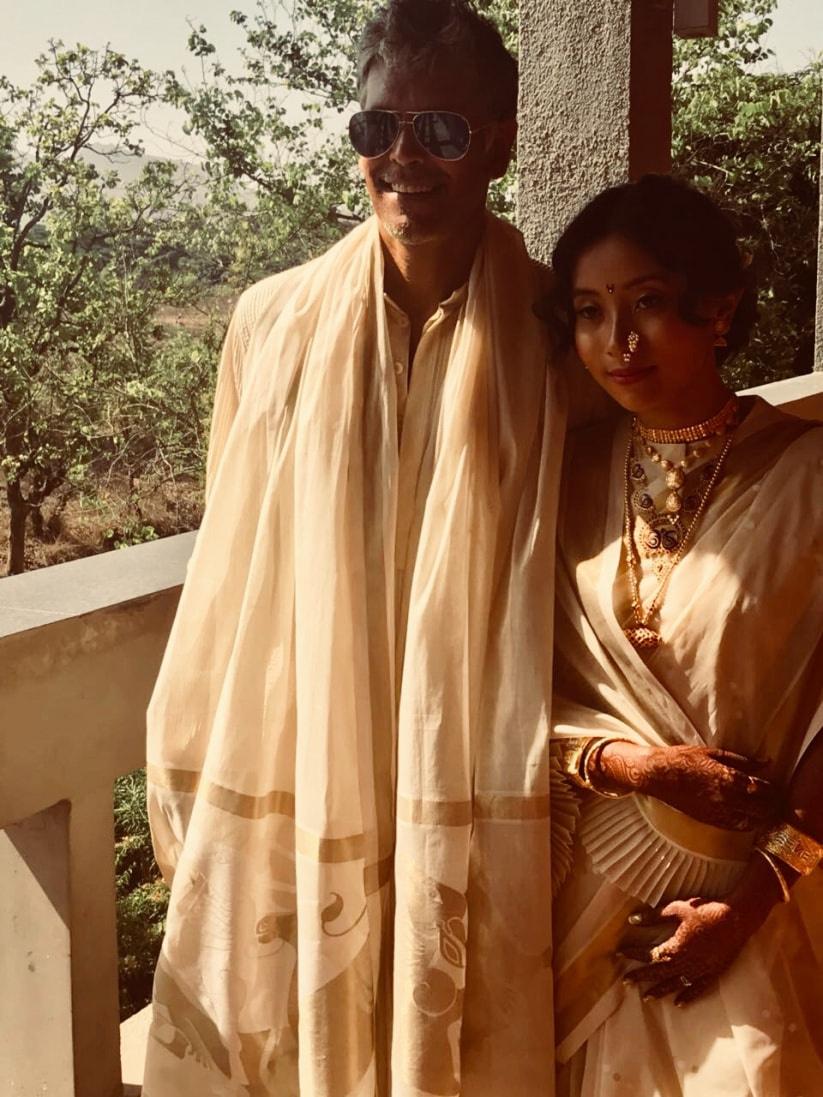 Photo Courtesy: Madhu Jain
9. Both of them are very good looking. Were there any major challenges in making them look even better?
Both are good looking, and I didn't want to detract from that. Keeping it simple, I ensured they looked natural and not overdone, in sync with the natural surroundings. And we did manage to achieve this.
10. Any message that you would like to share with the readers based on the work you did for Milind and Ankita? What can they do to make their wedding day the most memorable one?
In this day and age of opulent weddings, the simplicity of Ankita and Milind's wedding shows you how one can get married with dignity and grace. And still, have fun! The wedding vows of eternity can be said with just the people you care for around you.
- Ambica Gulati, Guest Writer