Check Out These Pakistani Lehengas With Long Kurti & Raise the Bar
A Pakistani lehenga with long kurti is one of the most elegant and gorgeous garments you can wear to a wedding! Check out these images that show the same!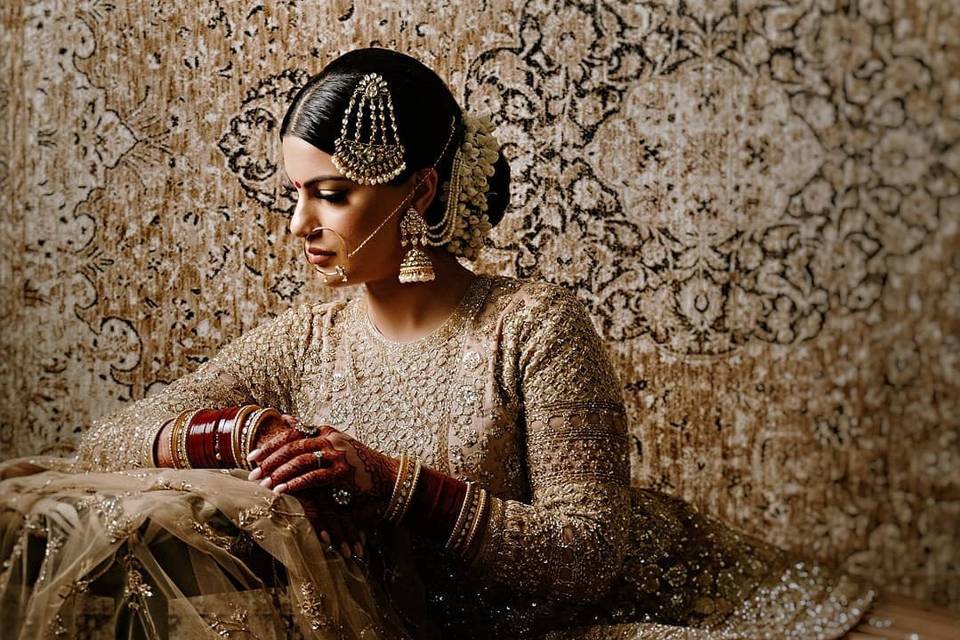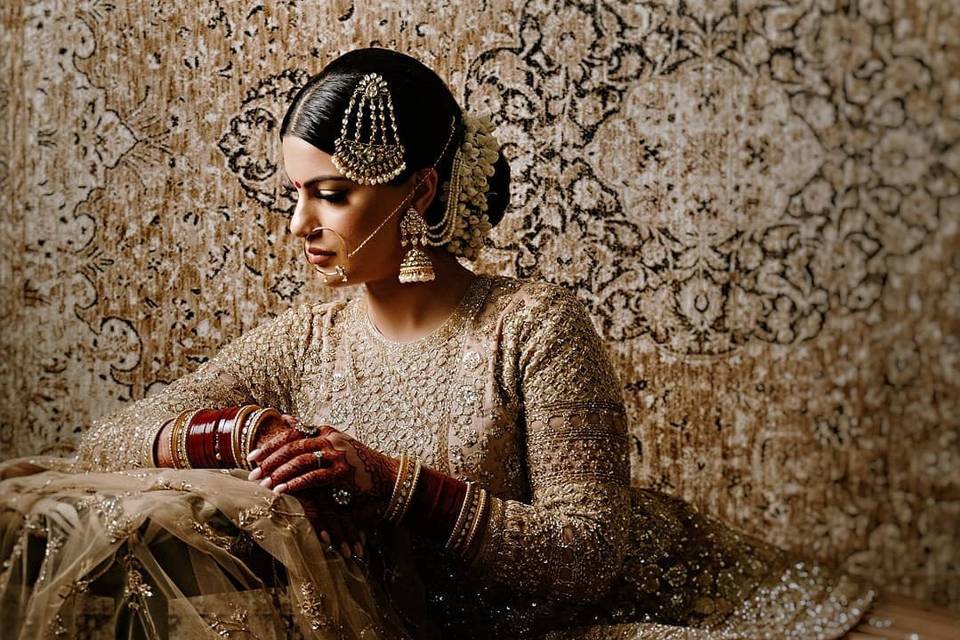 Image Courtesy: Amrit Photography
Lehengas originated way back in the 10th century in the Indian subcontinent, and while we all know and love the Indian variant of this garment, very few know about its Pakistani cousin – Pakistani lehenga with long kurti. As the culture of Pakistan focusses more of preserving women's modesty, this classic attire evolved from the lehenga choli set to the long kurti lehengas, highly similar to the Punjabi wedding lancha. Of course, there are no surprises there are Pakistani fashion is heavily influenced by Punjabi culture (with the language also being very prominent in the country).
If you're looking to wear an ensemble that exudes grace and poise like no other, you cannot go wrong with a Pakistani lehenga with long kurti. The gorgeous feminine silhouette and the heavy embroidery one finds on most pieces make this ensemble a stunning option for any wedding this season. Have a look at a few of these options worn by real brides to see how beautiful this outfit can be:
1. Teal blue lehengas with a nude dupatta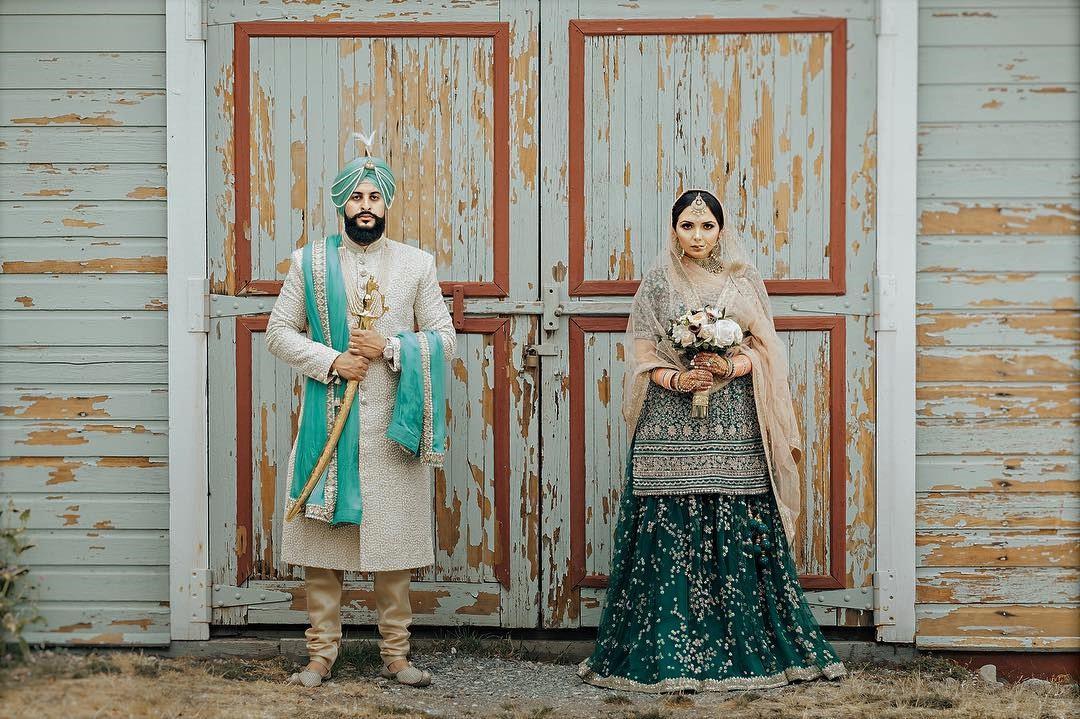 Image Courtesy: Amrit Photography
With brides veering towards quirky colours, this teal blue lehenga offers a great option for women who want to express themselves without ending up with a garment that looks too casual. The embroidery on this ensemble matches the colour of the nude dupatta perfectly, making this outfit a really cohesive one. Such a Pakistani lehenga with long kurti is perfect for the main wedding ceremony where the bride is expected to be super dolled up!
2. Trendy spin on Pakistani lehengas with long kurti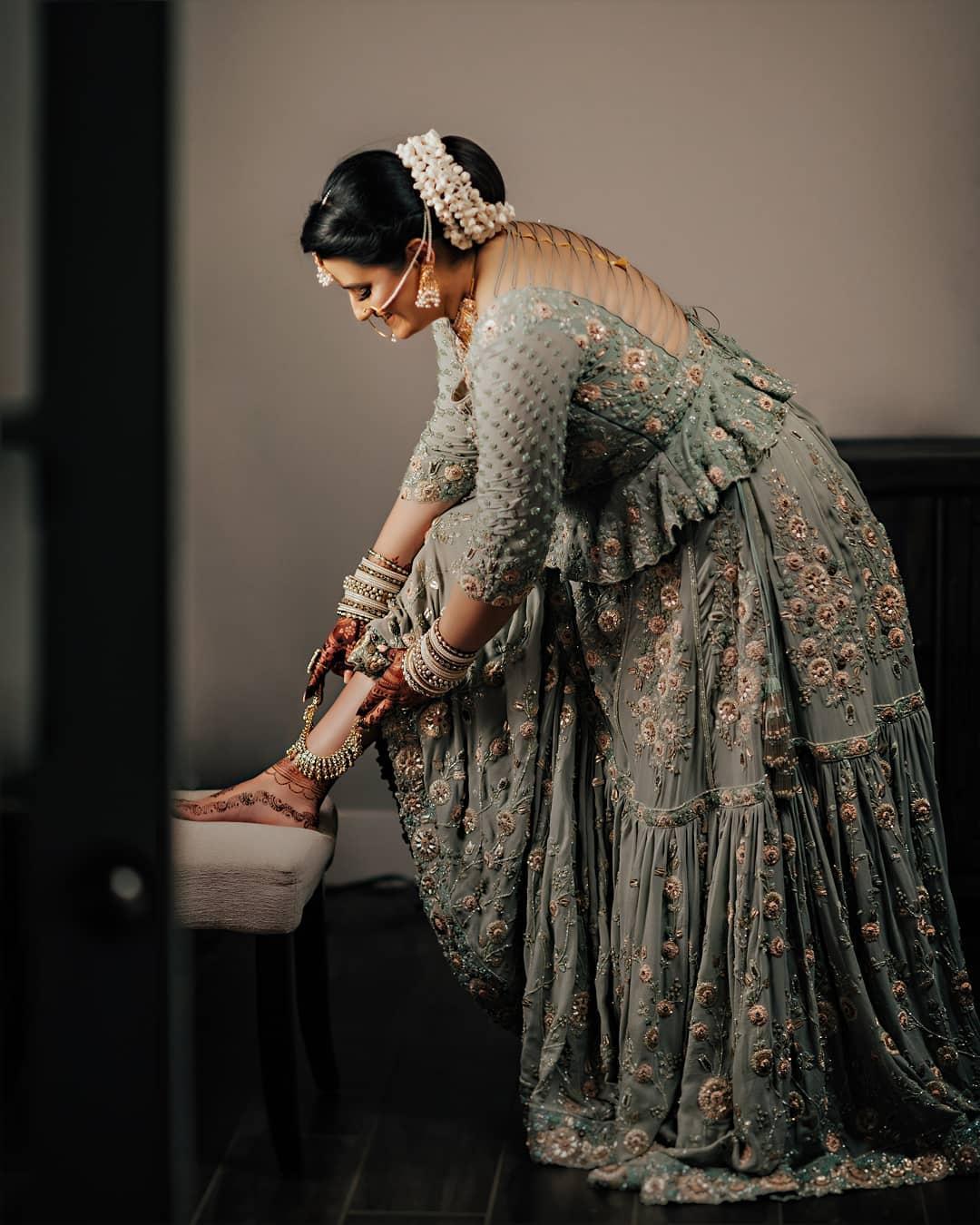 Image Courtesy: Amrit Photography
Pakistani lehenga with long kurti is an extremely versatile garment that can be crafted in multiple ways. Here, the bride's blouse has a peplum silhouette that incorporates frills. The grey-green tone is another element of this ensemble that makes it a very trendy and 'current' look. The beauty of this piece lies in the fact that its light enough for the bride to safety repeat at someone else's wedding function without looking like she's trying to upstage the couple!
3. Pink lehengas for a Gurudwara wedding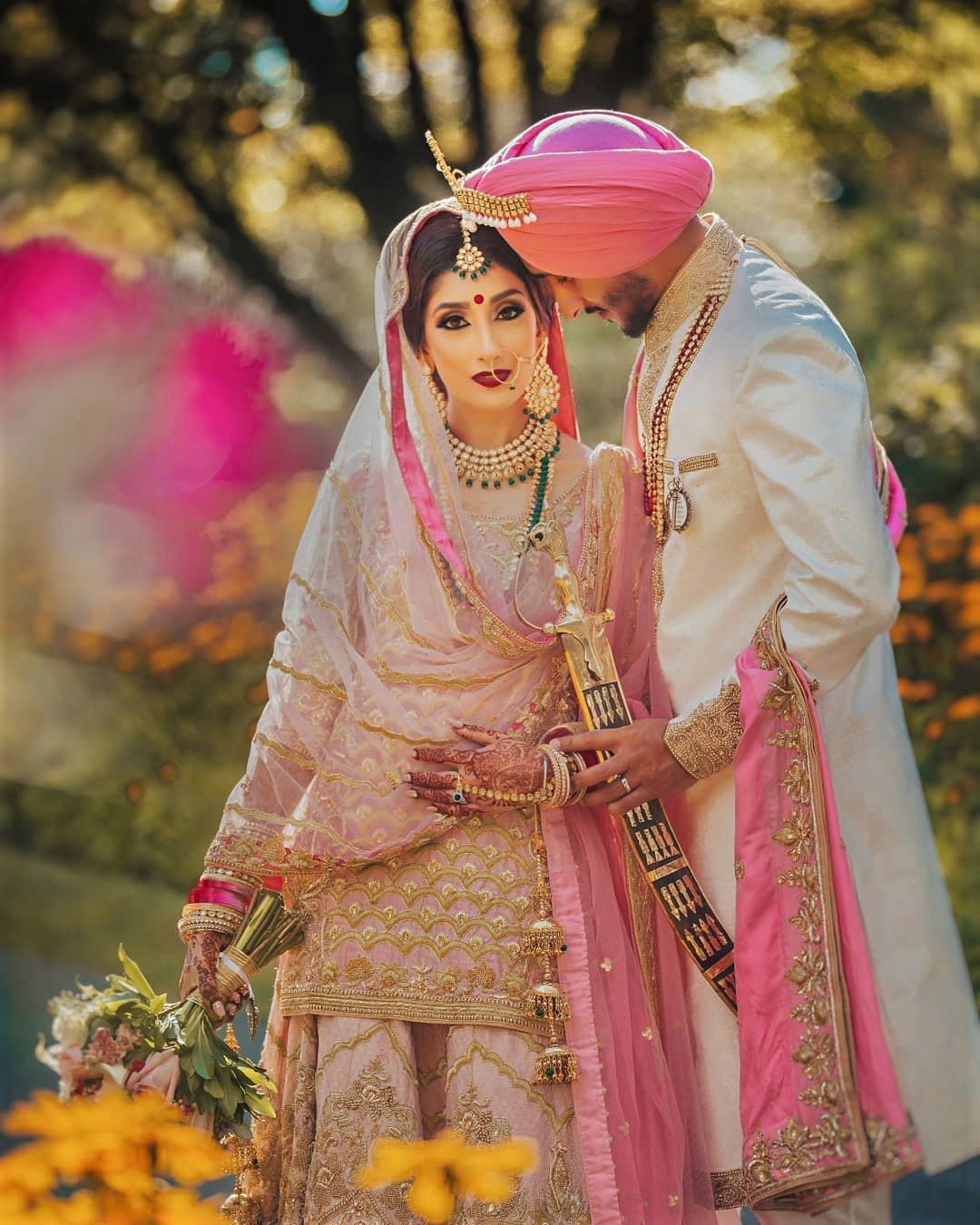 Image Courtesy: Amrit Photography
People often have mixed opinions about what they can wear to a Gurudwara wedding. While some people believe that the attire should be simple, others feel that heavy outfits are more appropriate since it is, after all, a wedding. This pink lehenga is an example of a Pakistani lehenga with long kurti that offer a balance between both schools of thought. While it does have heavy embroidery work on it, the light pastel pink and gaps in the embroidery make it light enough to appease those who prefer simplicity.
4. Sky blue mehndi option!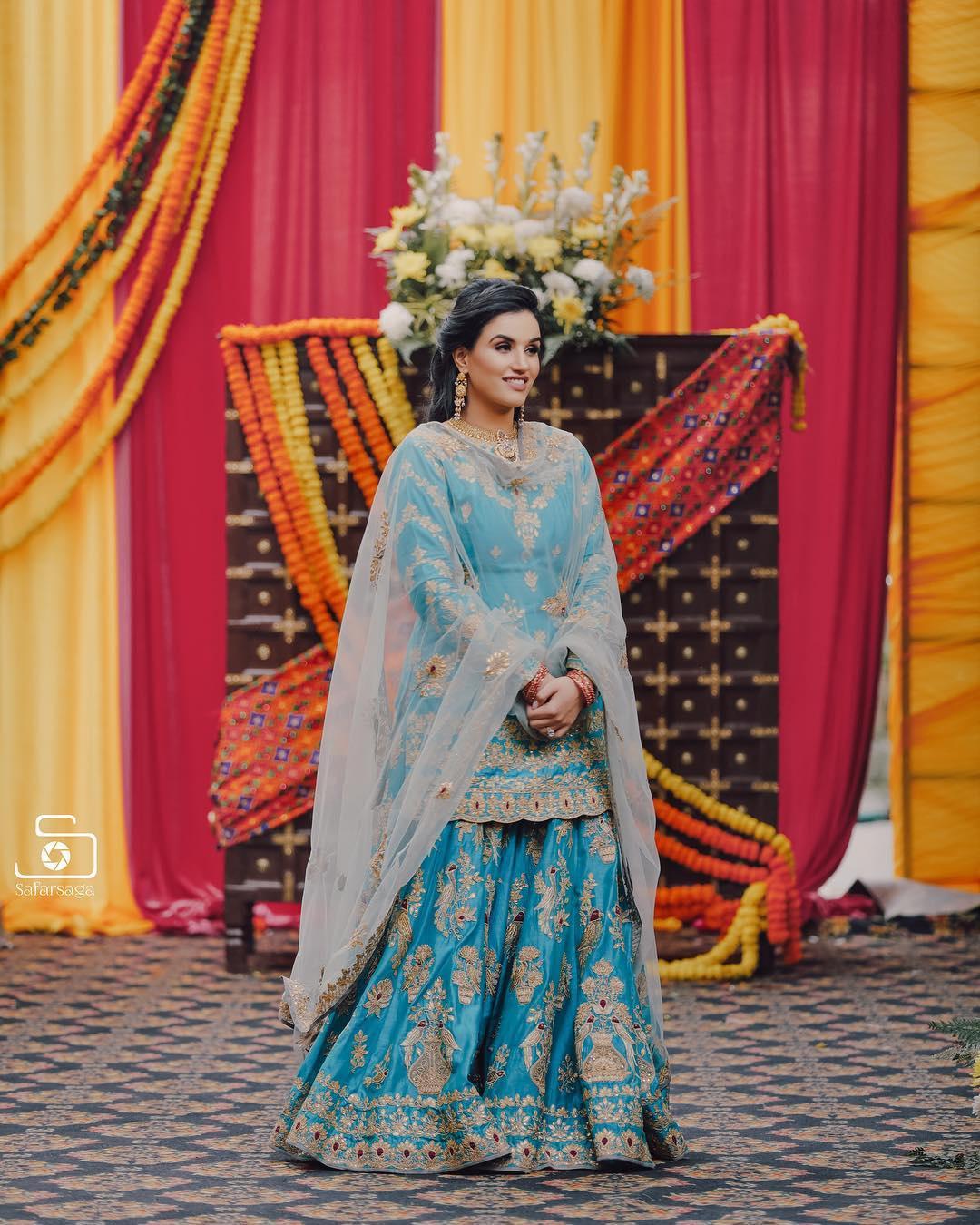 Pakistani lehenga with long kurti often come in gorgeous jewel-toned shades that can look lovely during the day. So, why miss the opportunity to wear it to a friend's Mehndi ceremony? Pick something with a simple silhouette if you're going for a garment that is heavily embroidered. A light gauzy dupatta should help you balance out the look perfectly.
5. Traditional emerald green lehengas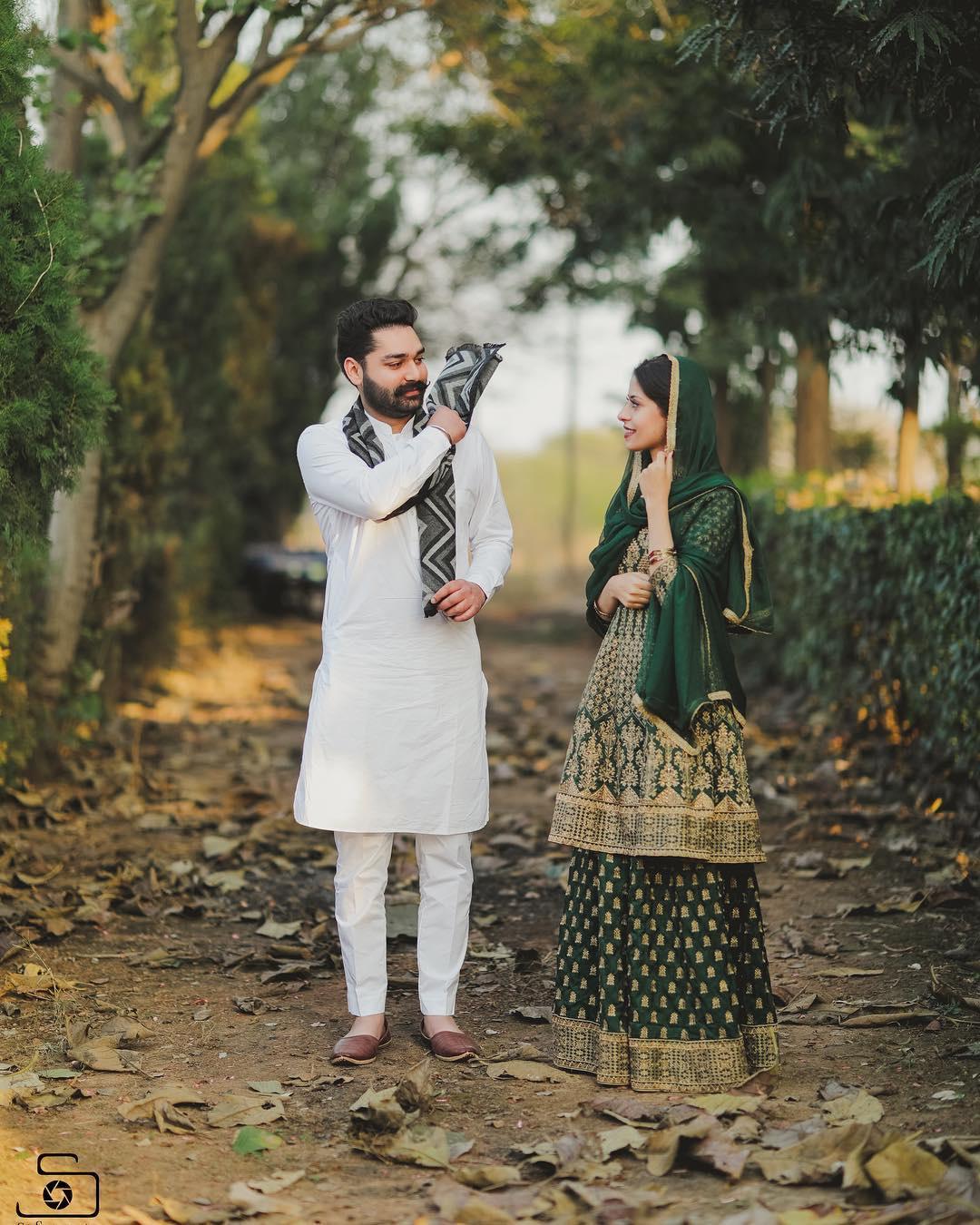 If you are considering wearing Pakistani lehengas with long kurti for your Nikkah, then going for the traditional emerald green colour can be one option to consider. You know that sporting a traditional look can never fail you! However, if you're looking for a trendier take on this hue, pick mint green instead!
6. Nawabi lehengas for guests
As is the case with regular lehenga cholis, you can find Pakistani lehenga with long kurti in lighter designs that are appropriate for guests at a wedding. This grey-toned garment with hints of green has a busier kurti paired with a plain lehenga skirt and a sheer dupatta, making it the perfect fit for someone who wants to look incredibly elegant without feeling too dressed up.
7. Pink Pakistani lehenga with an Anarkali silhouette
Anarkalis and Pakistani culture almost go hand in hand, which is why you're also likely to find a range of options for Pakistani lehenga with long kurti that mimic the silhouette of a traditional Anarkali. This pink one is a prime example of the same. Wear this to a Sangeet or a day event if you are the guest and you'll look stunning!
8. How to accessorise your Pakistani Lehenga with Long Kurti?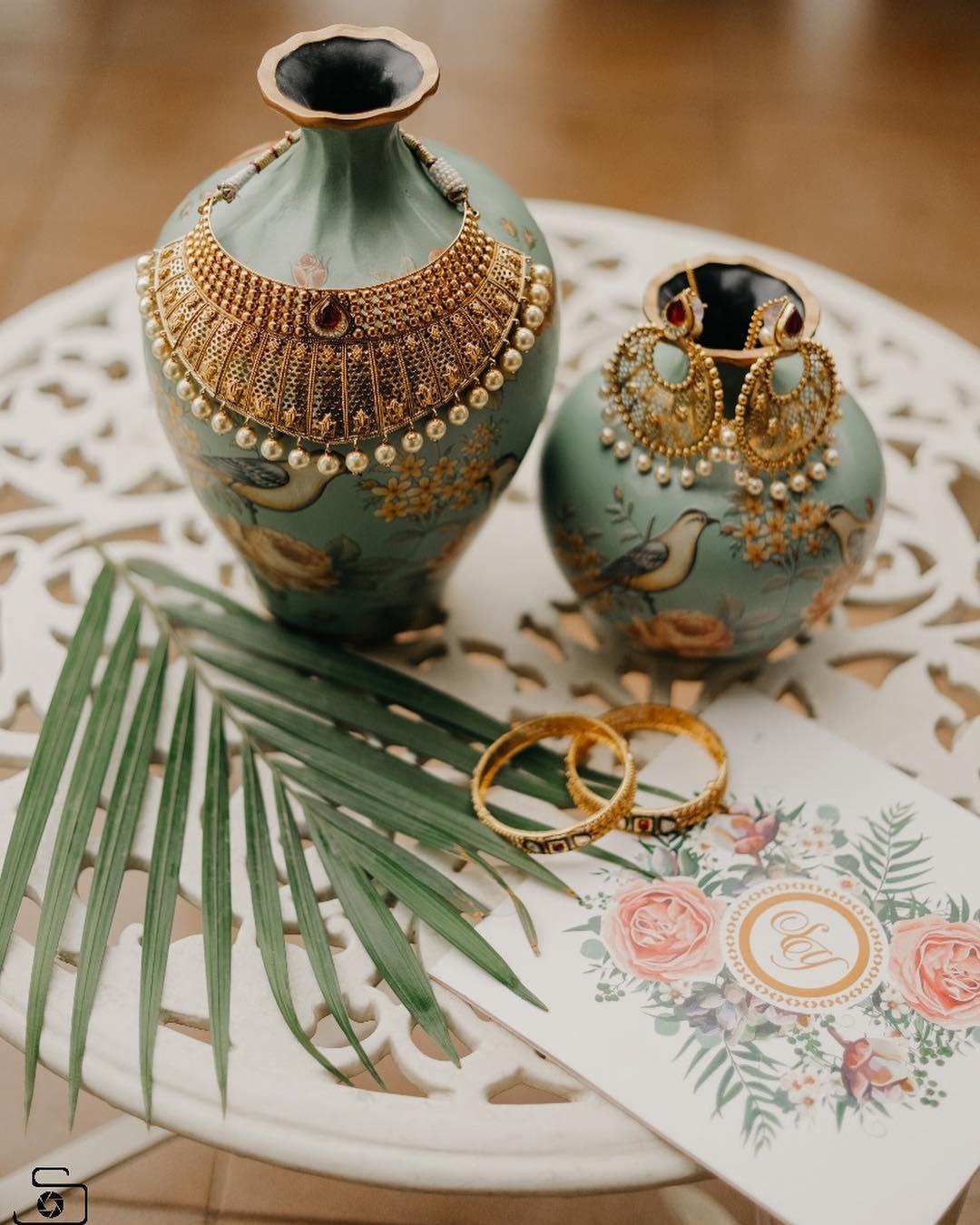 Classic jewellery pieces with tried and tested designs are certainly the way to do when you're wearing such a regal garment. Hyderabadi jewellery will certainly offer the perfect fit when it comes to styling the Pakistani lehenga with long kurti, however, you can also go down the Punjabi route with Kundan pieces. You simply cannot skip out on wearing a Maang Tikka and Jhoomar along with big dangling earrings if you are the bride!
This elegant garment definitely deserves a spot in your bridal trousseau, with the main wedding ceremony being the ideal time to wear it. Go ahead and pick out your ensemble today, and then ask your groom to colour coordinate with your look!
Your look won't be complete without gorgeous accessories. Check out these jewellery stores near you!