10 Mehndi Images Every Bride Should See Before Her Big Day
Mehndi in Indian weddings is symbolic of an auspicious new start and good fortune. Here are 10 mehndi images that can help in your search for the perfect design for you!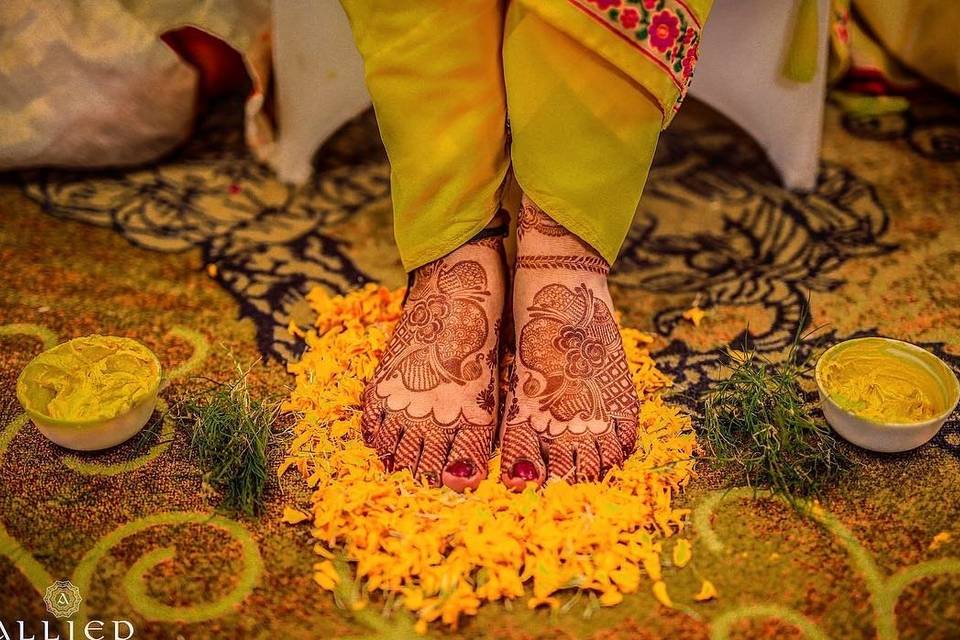 Among many traditions infused into Indian weddings, the Mehndi ceremony is considered to be of utmost importance. From bride-to-be to all the womenfolk of the family, everyone gathers to get elaborate mehndi patterns done on their palms and feet.
Hands adorned with beautiful and intricate mehndi images such as flowers, birds, Dulha-Dulhan, gods and goddesses, etc., are a sight to behold. And it's not just brides, these days grooms too apply a little bit of mehndi on their palms as a mark of good omen.
Mehndi ceremony, signifying a bond of holy matrimony is considered to be a part of the bride's Solah Sringar. Therefore, for her special day, choosing a swoon-worthy design from numerous mehndi images is on every bride's priority list. So, if you are a bride-to-be who is already tired of surfing endless mehndi images on the internet, don't lose hope. Check out our shortlisted patterns of mehndi designs that are sure to grab everyone's attention.
A. 10 Mehndi Images to Choose From For Your D-Day - Simple, Modern and Elaborate - We've Got It All Covered
1. Multi-Patterned Modern Design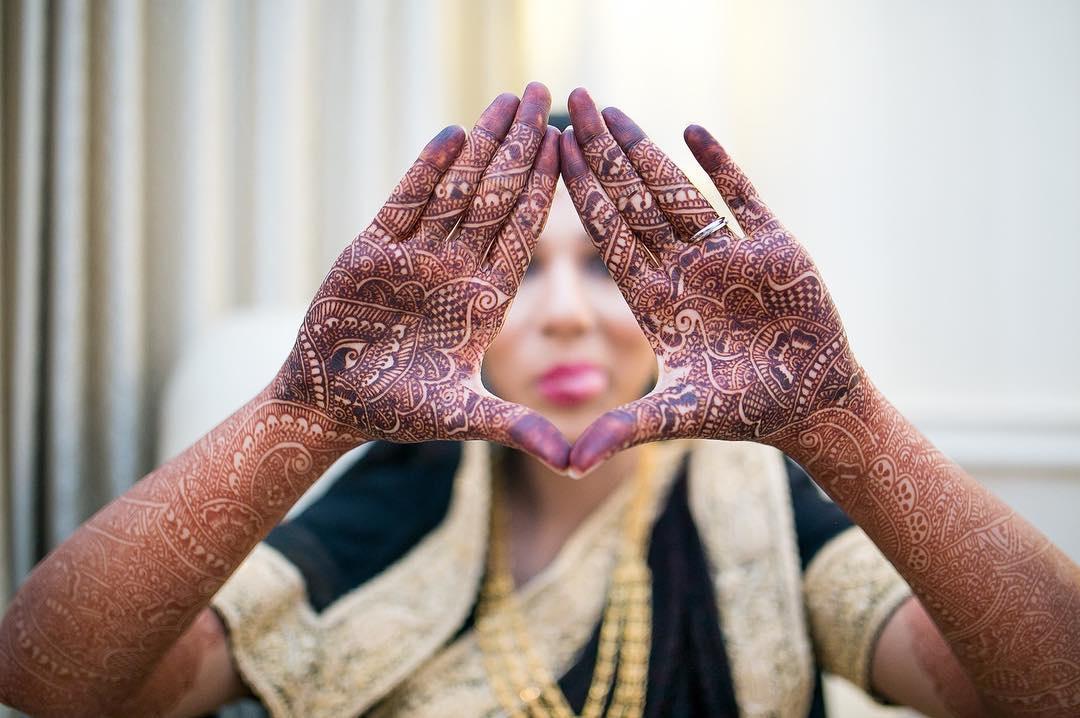 This simple mehndi design is complete in itself. It has different design elements like charismatic peacocks, hearts, flowers, Jaal and Dulha-Dulhan to make it look enticing. This is a perfect pattern for brides who want something that's in-between tradition and modernity.
2. Amazing Abstracts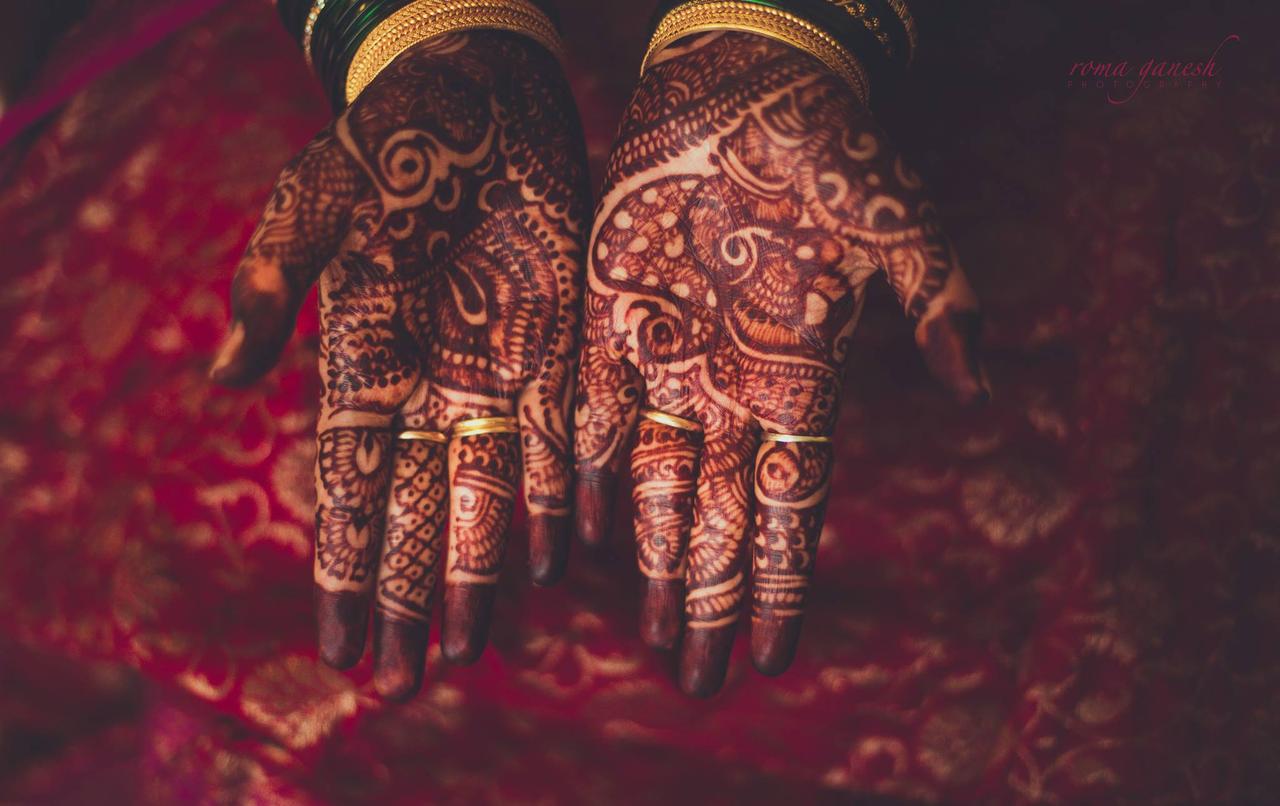 This pattern looks like mix-and-match of multiple mehndi images. The traditional mehndi design has peacock as a central motif which is further surrounded by other elements such as leaves, twirls and dots. Space in-between is covering up for the bold lines and dark colour.
3. Fresh Floral Mehndi Designs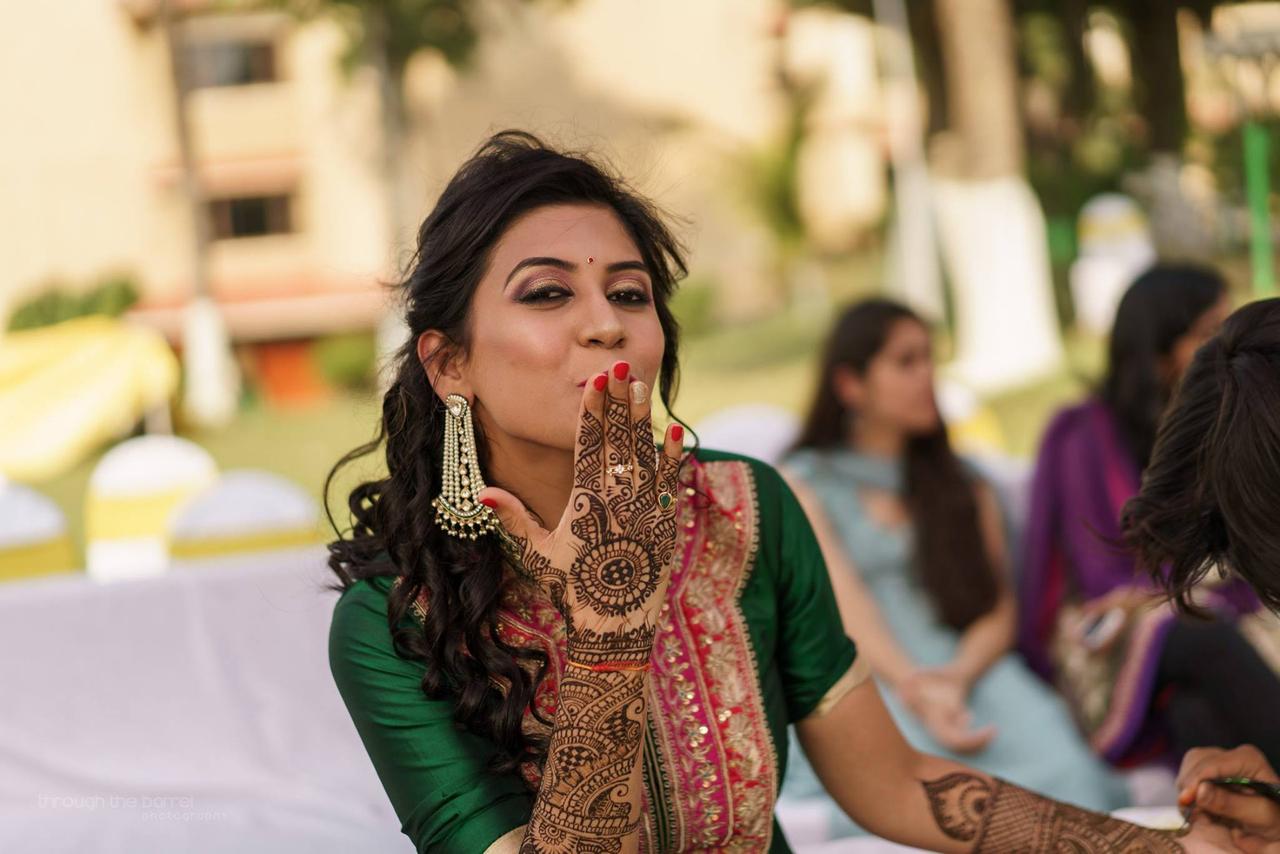 Elegant floral Bootis in the form of trails and curves are an evergreen pattern. This delicate design covers fingers, back palm and forearm extensively along with other elements like checks and leaves. The seamless design looks incredible on a bride's hands.
4. Minimalistic Checkered Pattern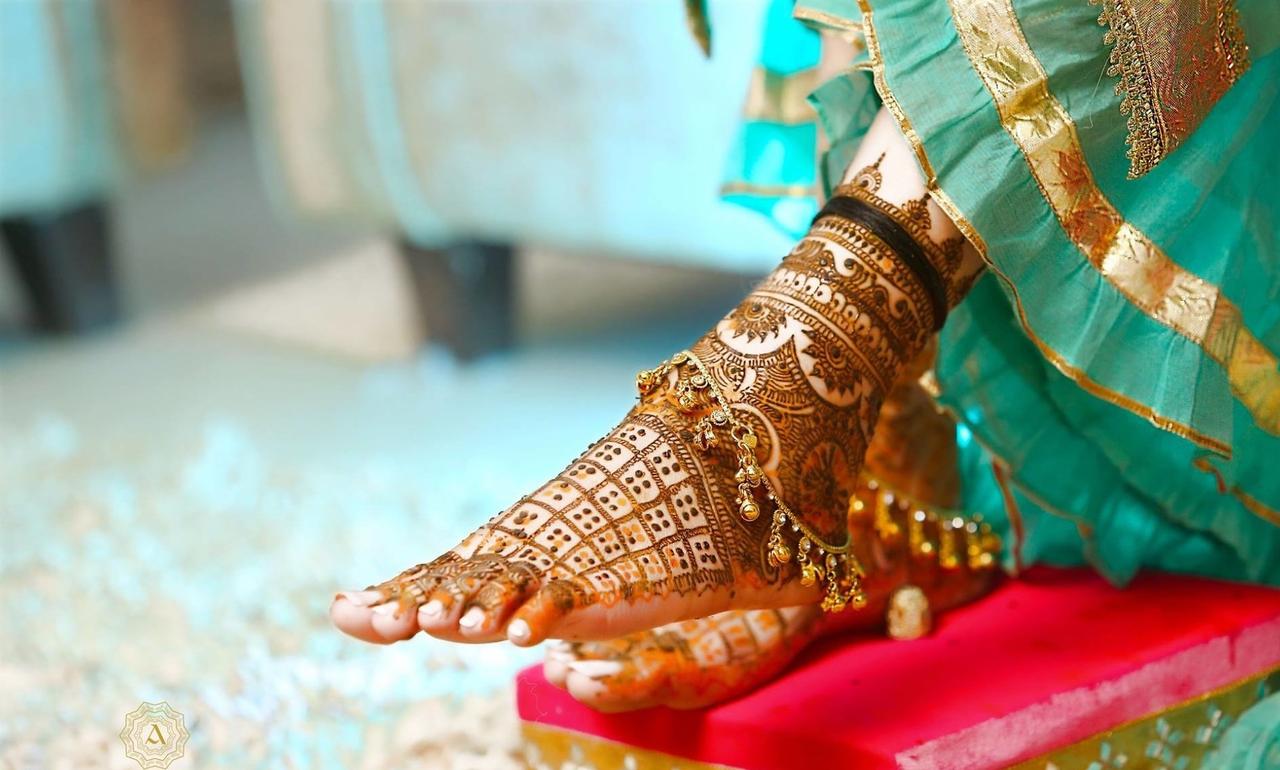 If you are someone who prefers minimalistic mehndi patterns, then this Jaalidar design is best suited for you. This minimal mehndi design with spaces in-between is an epitome of elegance and sophistication.
Apply this design on hands or feet; its sure to grab some eyeballs. Complete the design with dots, lines, criss-cross, leaves or anything that pleases your taste and preference.
5. Perfect Paisley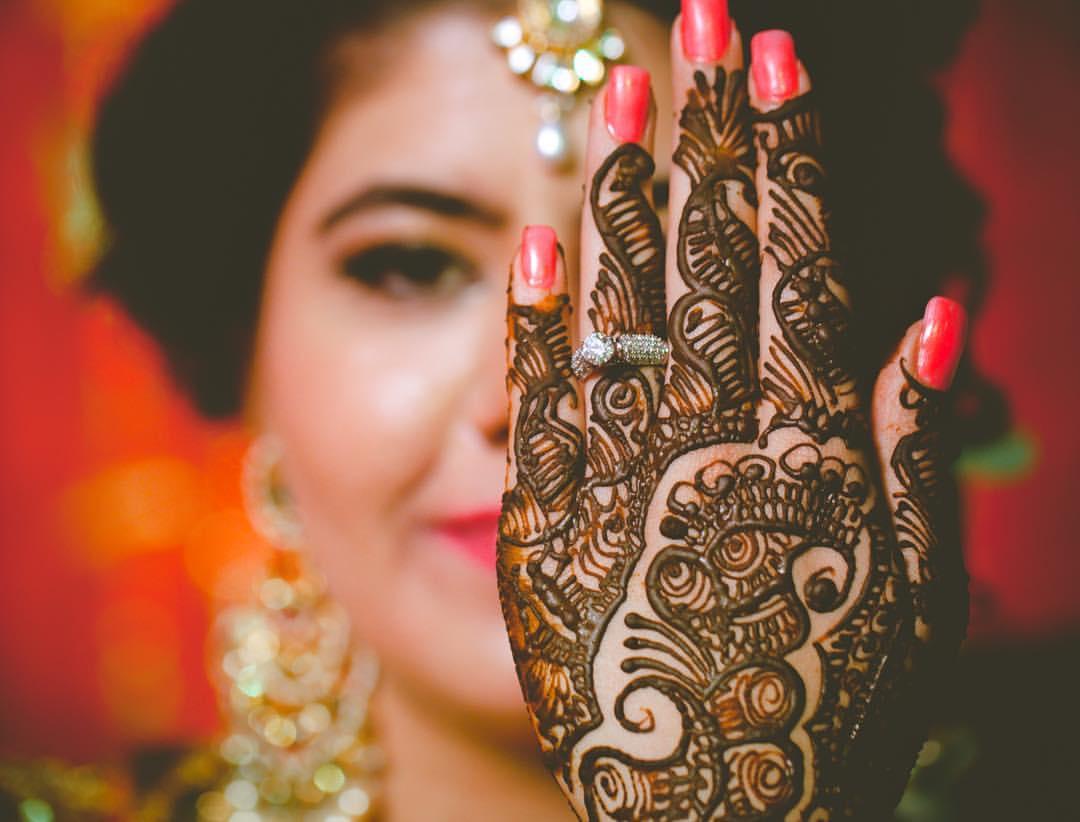 Bridal mehndi designs look totally incomplete without traditional paisley motif. Be it at the centre of the palm, at backhand or at the wrist or forearm - paisley is an instant hit with the millennial brides. You can further highlight the subtle design with intricate detailing and other elements.
6. Auspicious Mandala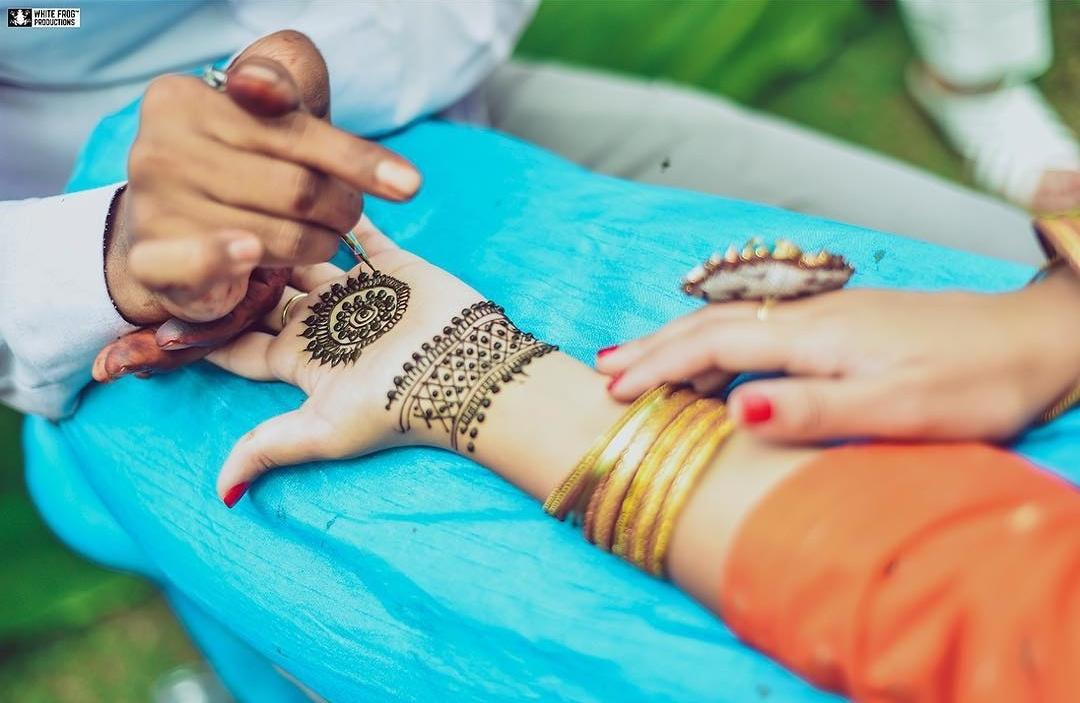 Are you someone who doesn't like hands or feet overdone with mehndi? Well, then this simple yet stylish mandala pattern is perfect for you. The auspicious mandala design is usually mixed with natural elements like flowers and leaves.
Be it at the back of the palm or at feet, well-spaced and the well-detailed circular mehndi patterns are always in vogue!
7. Traditional Raja Rani and Kalash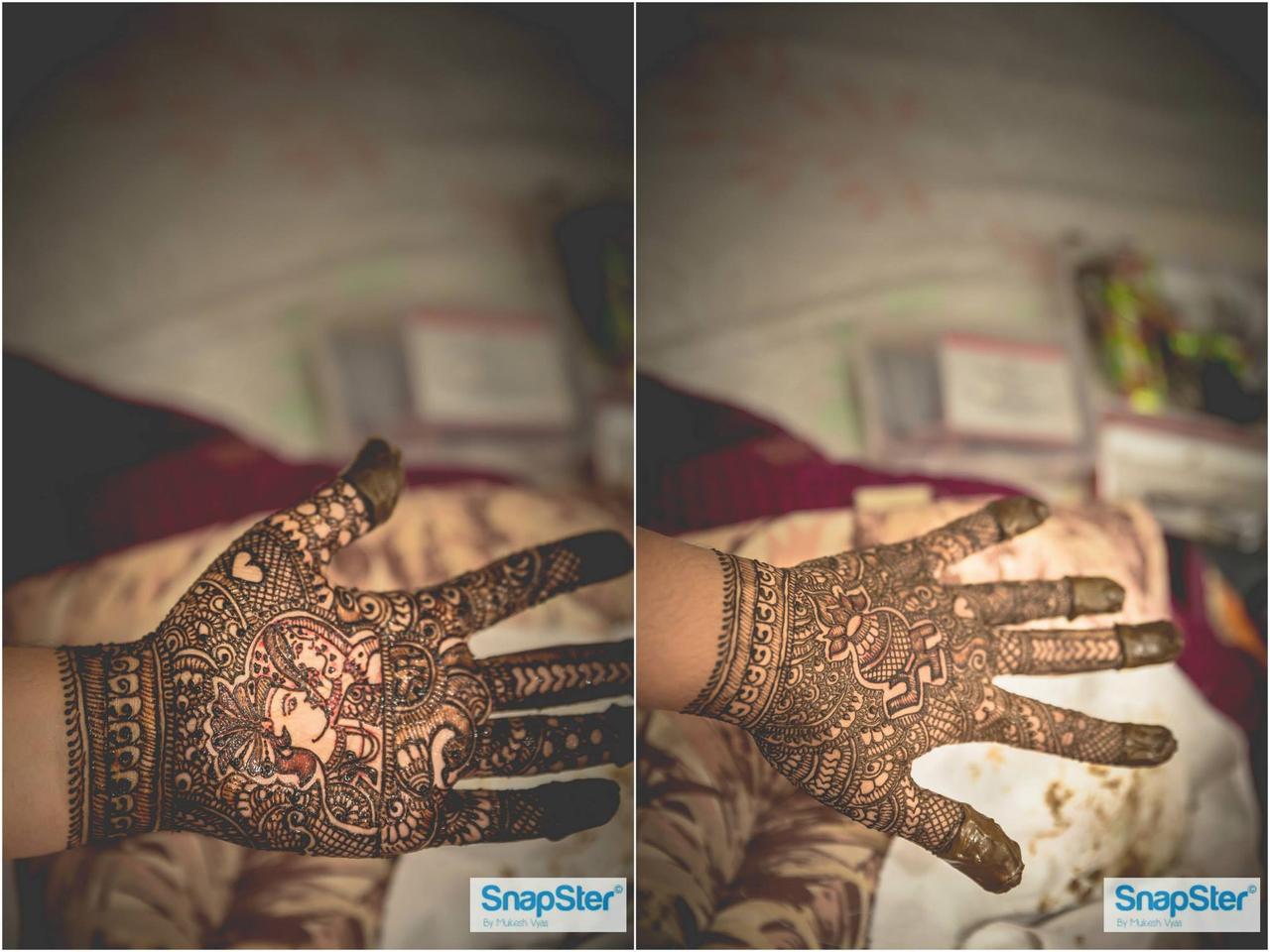 If you are looking for mehndi images which are romantic yet traditional, take a look at this one! This raja rani with hearts and twirls look so apt for something as blissful as the wedding. Besides, this Kalash as a central design looks so unique and auspicious - perfect for the new beginnings.
8. Intricate Strokes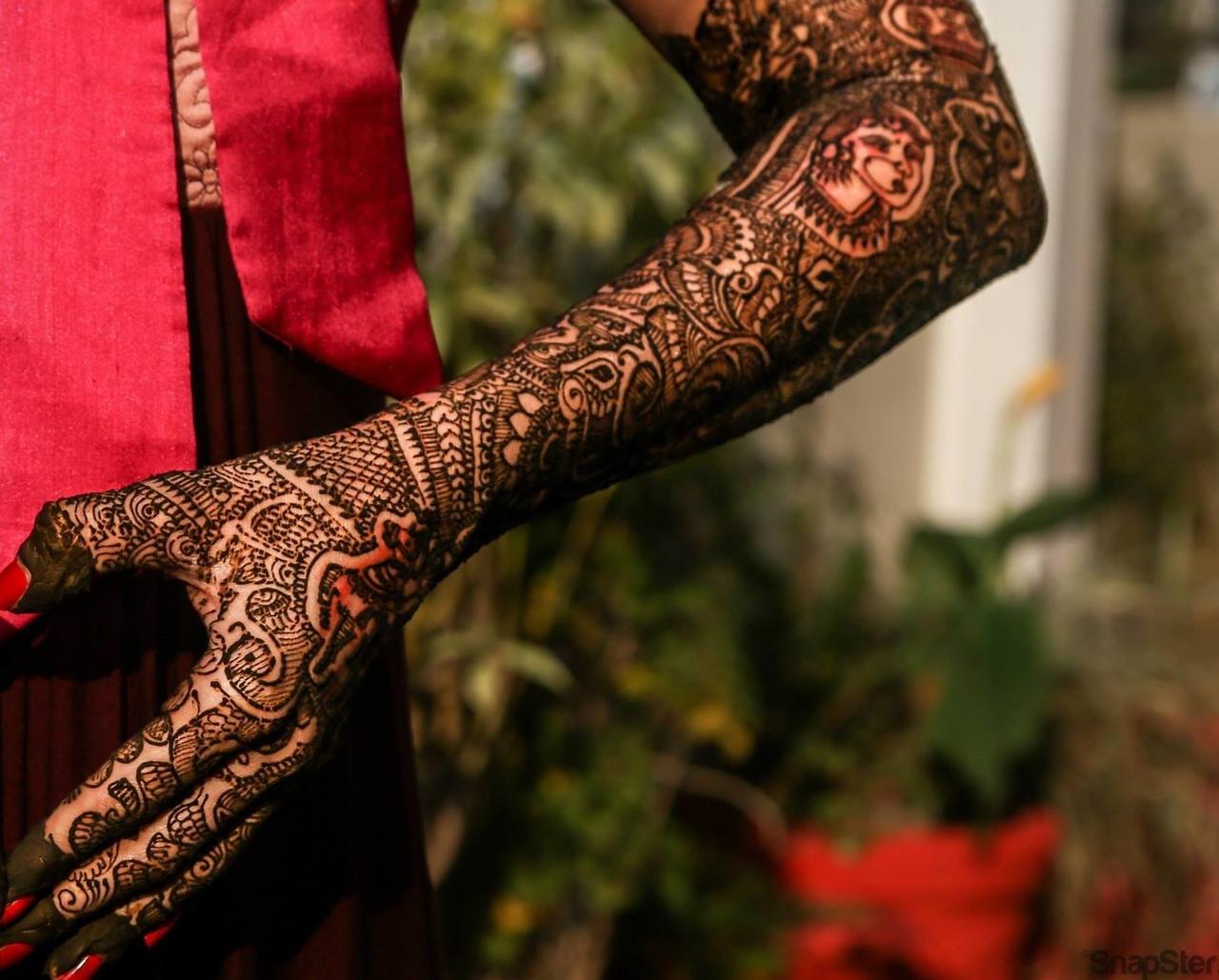 This is the perfect bridal mehndi design for brides-to-be who love elaborate design for their D-day. Intricately done, this design has many patterns, including hearts, diamonds, checks, peacock and even rani highlighting the elbow part.
9. Exquisite Peacock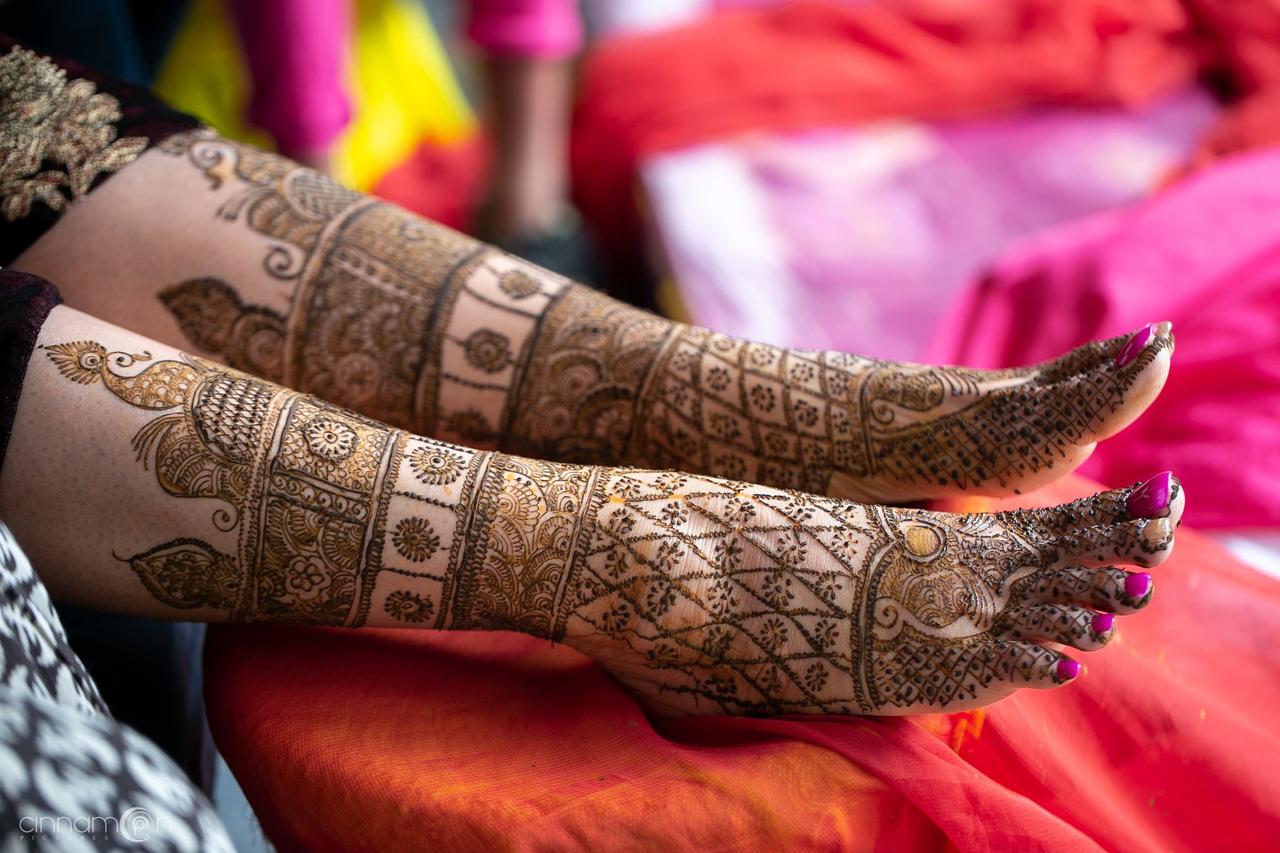 This exquisite peacock motif interspersed with floral pattern looks simply mind-blowing. Don't forget to notice the intricate checkered detailing on the fingers. The design is just perfect for any bride.
10. Bangle-Style Design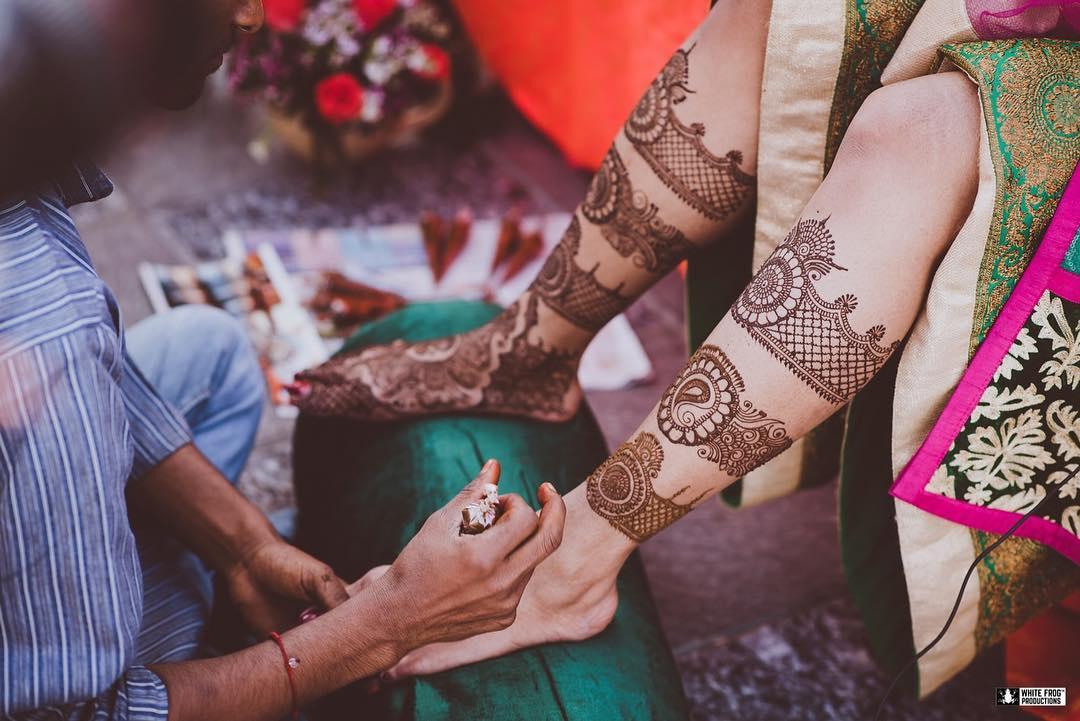 This bangle-style mehndi design adds a modern touch to the traditional mehndi pattern. Unlike the usual style, the design has multiple patterns mixed into one - right from Jaal to paisley, floral and peacocks are enhancing the overall look of this cuff-style mehndi.
B. Top Three Things to Consider When Shortlisting Mehndi Images/Designs
1. Who is Your Bridal Mehndi Artist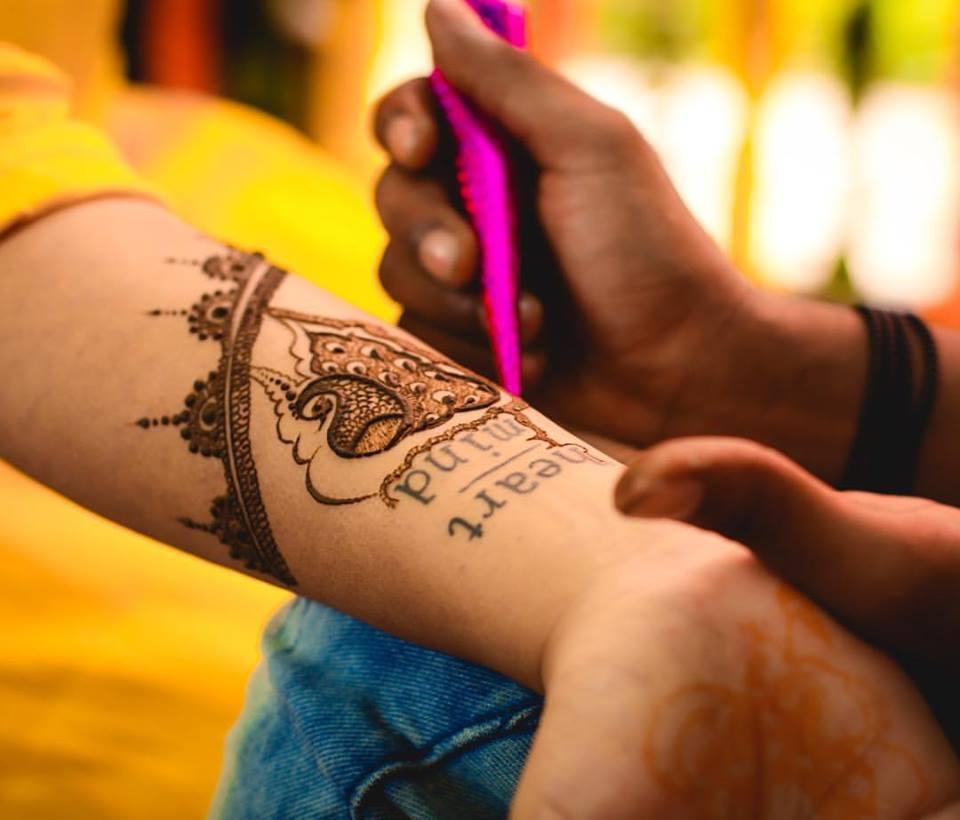 This is an important consideration because every mehndi artist has his/her own forte. An artist who is excellent with motifs such as Raja Rani may not be able to do justice to your floral choice of design. So, before you zero in on a bridal mehndi artist, make sure to see their look book which has a couple of mehndi images. This will give you a fair idea of their work.
2. Quality of Mehndi to be Used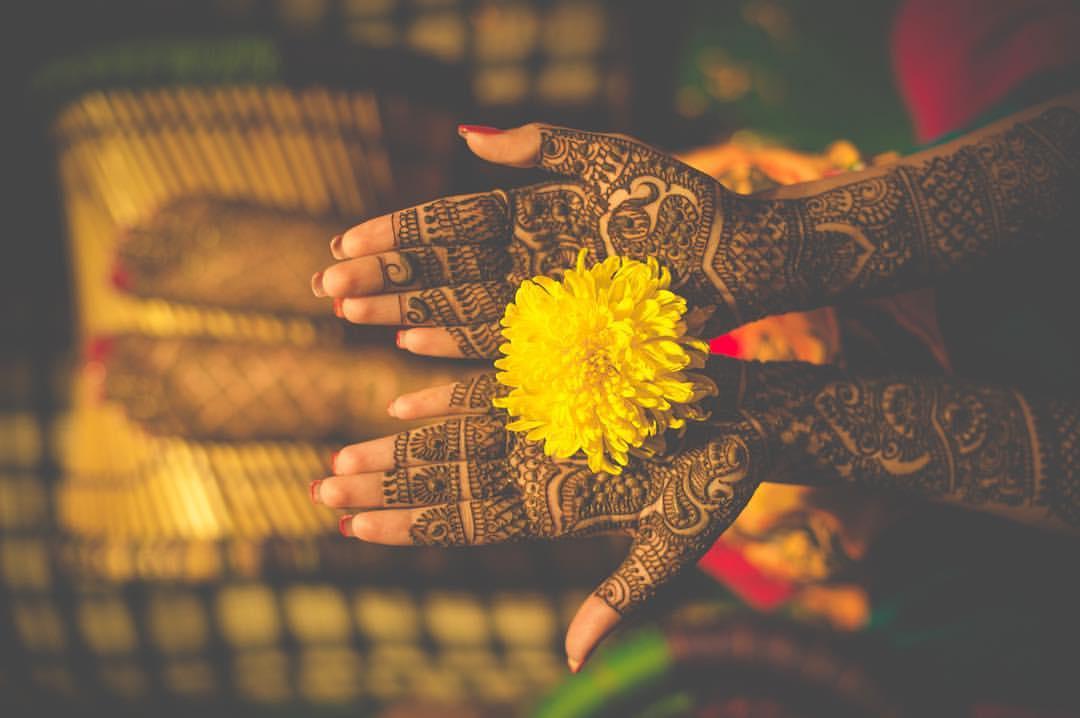 While shortlisting your mehndi artist make sure to emphasise they use only good quality organic mehndi on your Mehndi function. These days people often use bad, adulterated quality which either leaves hands stained with dye kind of patch or make them rough. So better be cautious.
3. The shape of Your Hands and Feet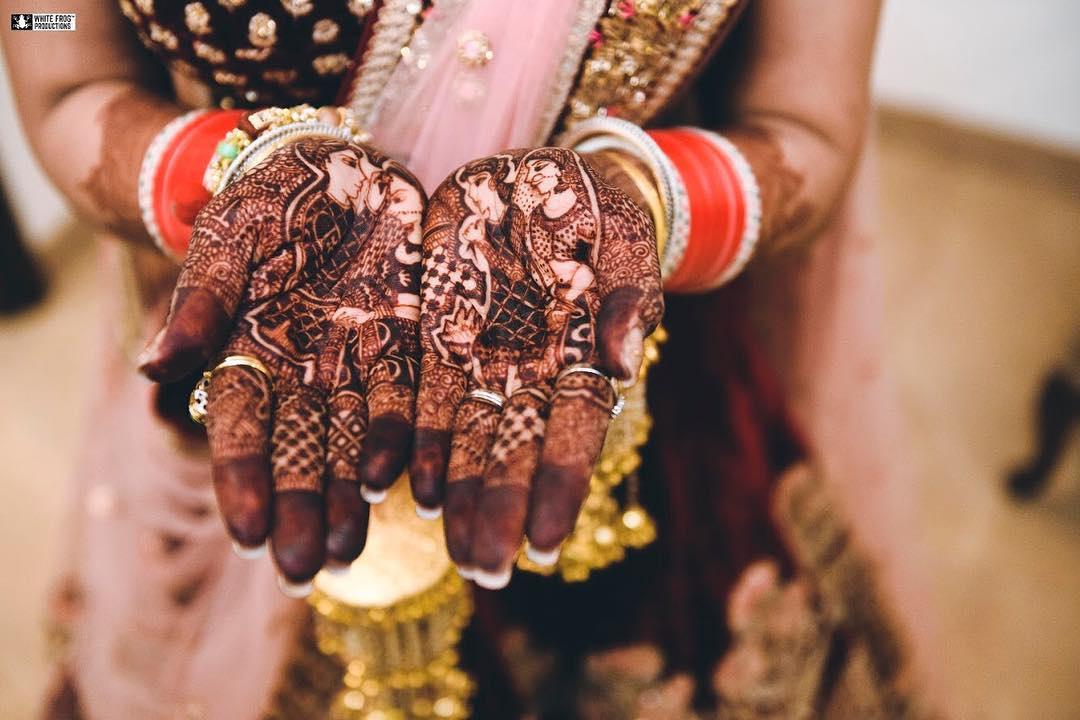 This again, is an important consideration, as people with long and slender hands and feet can go with any design and pattern, however, if your hands are little broad go for some pattern that's elongated.
The Mehndi ceremony is a very important part of the journey that a bride-to-be is about to undertake. We hope that these tips and mehndi designs help you in yours. Above all, don't forget that the most important thing about your mehndi pattern is that you should be happy with what you've chosen.
Hope you found some swoon-worthy mehndi images from our shortlisted designs. If you already had something shortlisted, do share with us in the comments section below.