Marathi Love Songs for Your First Romantic Couple Dance
Looking for Marathi love songs for your first couple dance? We bring to these romantic numbers that not only have beautiful lyrics!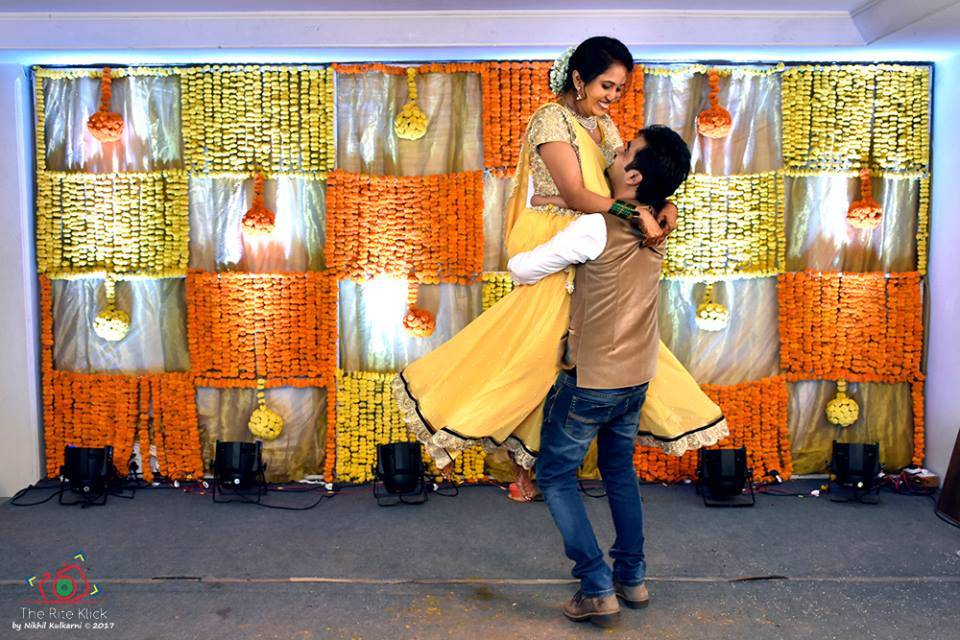 Marathi weddings may be comparatively simpler than North Indian weddings, but, when it comes to dancing, a Marathi couple can give a stiff competition to others. A wedding is considered a celebration in India and couple dances form an integral part of it, whether it's a Punjabi, Bengali, Gujarati or a Marathi wedding.
Romantic songs are mostly played when the couple takes the centre stage and performs on heart melting emotionally charged songs. Would you want to take a look at some of the most popular Marathi love songs that a couple can dance to at their wedding? Enjoy!
1. Tola Tola from the movie Tu Hi Re
If you are a couple who is planning to dance on a very romantic Marathi love song, then this is the song for you. Tola Tola from the film Tu Hi Re is a mushy song perfect to be danced slowly along with your partner. It's sung by the famous singers Bela Shende and Amit Raj. The lyrics of this song have been composed by Guru Thakur and the music direction is given by Amit Raj.
2. Mala Ved Lagale Premache from the movie Timepass
An evergreen romantic Marathi love song, it must find a place at your wedding, especially when you and your better half take a step on the stage for a couple's dance. The song showcases the romantic feelings of teenage couple Dagdu and Prajakta.
Sung by Swapnil Bandodkar and Ketaki Mategaonka, the song is composed by Chinar- Mahesh. A couple can just sway to the beats of this song easily without having to worry about learning the steps. It's an all-time favourite song played at Marathi weddings.
3. Sar Sukhachi Shravani from movie Mangalashtak Once More
Searching for a romantically charged Marathi love song to do justice to your wedding number with your partner? Look no further but pick this extremely melodious song that is ruling the hearts of every newly wedded Marathi couple.
In this song, the emotional journey of a newly wedded couple is captured beautifully along with amazing lyrics. Again sung by the talented Bela Shende and the Indian Idol star Abhijeet Sawant, the song is very pleasing to the ears.
4. Yaar Bas Tu from the movie Urfi
Music of this song is directed by Vikram Pradhan and the lyrics are written by Chinar-Mahesh. The song is very romantic with foot-tapping beats that make it ideal to be danced on weddings.
The melodious music of this song would make newly wedded couples swoon with joy, just like the actors Mitali Mayekar and Prathamesh Parab who are featured here. It's an easy song to dance on.
5. Aabhas Ha from the movie Yanda Kartavya Aahe
Do you wish to make your partner swoon with ecstasy when you hold her close and make her swirl to an extremely romantic Marathi love song? Well, pick the ultimate song Aabhas Ha and see the magic unfold before your eyes. The song depicts the initial wedded life of a newly wedded couple. It's ideal for dancing at weddings. Singers Vaishali Samant and Sonu Nigam have done playback for the lead actors in this song.
6. Olya Saanjveli from the movie Premachi Goshta
Sung beautifully by the enigmatic singer Bela Shende and Swapnil Bandodkar, this Marathi love song is the ultimate track to be danced at weddings by couples. Why? Well, it's melodious to the core and is pretty easy to dance on. It's a delightful song that has to be picked in case you are planning to surprise your guests.
7. Sairat Zaala Ji from the movie Sairat
Play this lovely song for those romantic moments that are shared by young couples in the initial days of their marriage. The beauty of this Marathi love song lies in its innocent lyrics coupled with passionate feelings. Sairat Zaalar Ji is sung melodiously by Chinmayee Sripada and Ajay Gogavale and depicts the love story between the lead actors who have played a couple in the movie. Try this song for your wedding dance and you will never regret.
8. Jara Jara from the movie Ti Saddhya Kay Karte
Deemed as a ballad of love, the song Jara Jara is an all-time favourite Marathi love song played at weddings. There are rhythmic beats that make it easy to dance on this song. Also, refreshing music is very youthful. Singers like Aarya Ambekar and Hrishikesh Ranade have lent their voices to this song. Jara Jara captures the young love between college mates. Pick this song as one can never go wrong with it!
Marathi love songs such as the ones showcased above are ideal for any occasion, and a wedding is one such event where you must play these numbers, especially during a couple's dance on the wedding stage. With their melodious music and rhythmic beats, these songs are sure to make your wedding the most cherished moment of your life.
Which is your favourite Marathi love number? Let us know through comments.