Up Your Look With These Stunning Karwa Chauth Mehndi Designs
Now that you have bought your outfit, bangles, and accessories, it's time you check out our list of Karwa Chauth mehndi designs and pick your favourite!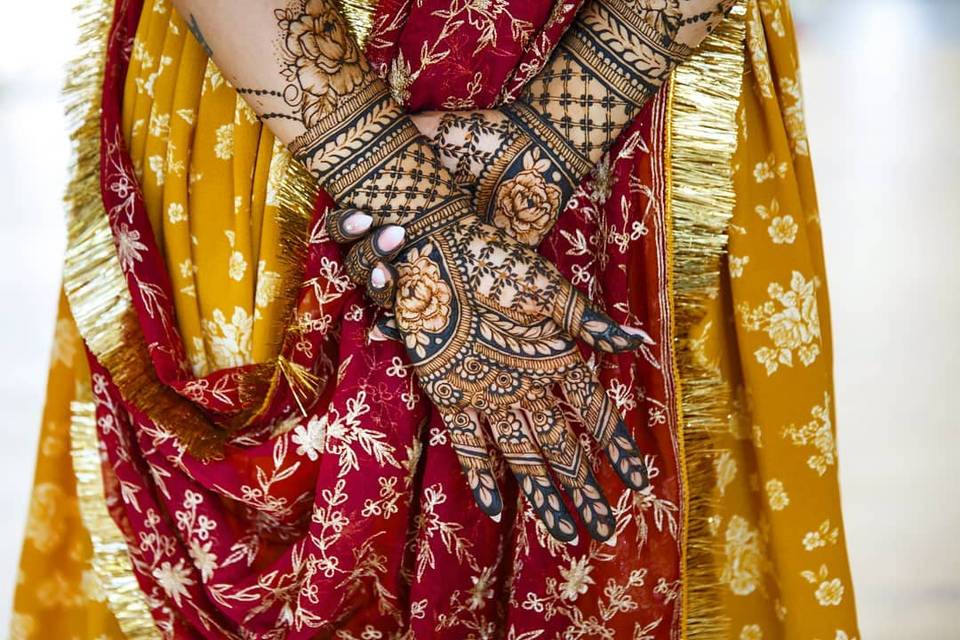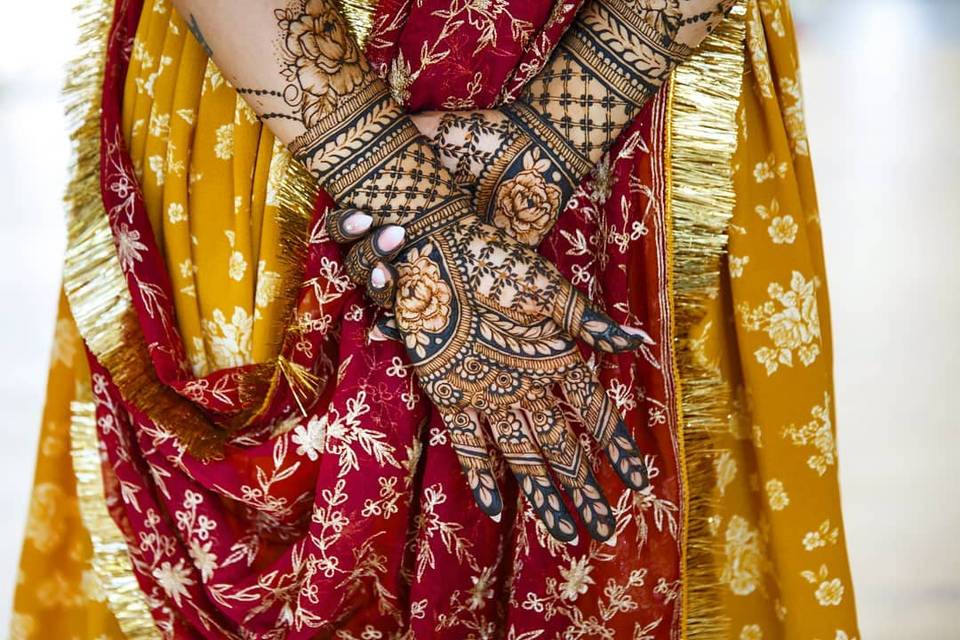 Image Courtesy: The Henna House by Angela
Karwa Chauth is that one auspicious day when all the married women, soon-to-be brides, and even little girls want to dress up and look their absolute best. There is a lot of hustle-bustle around outfit shopping, bangle selection, makeup and hairdo decisions, jewellery identification, and last but not the least, stunning mehndi designs.
And it is because we know how important getting your hands hennaed is, we are happy to share a specially curated list of Karwa Chauth mehndi designs with all your gorgeous ladies. So read on, pick your favourites, and get your hands adorned with breathtaking mehndi design for this super special occasion.
We Can't Get Over The Precision And Detailing Of This Design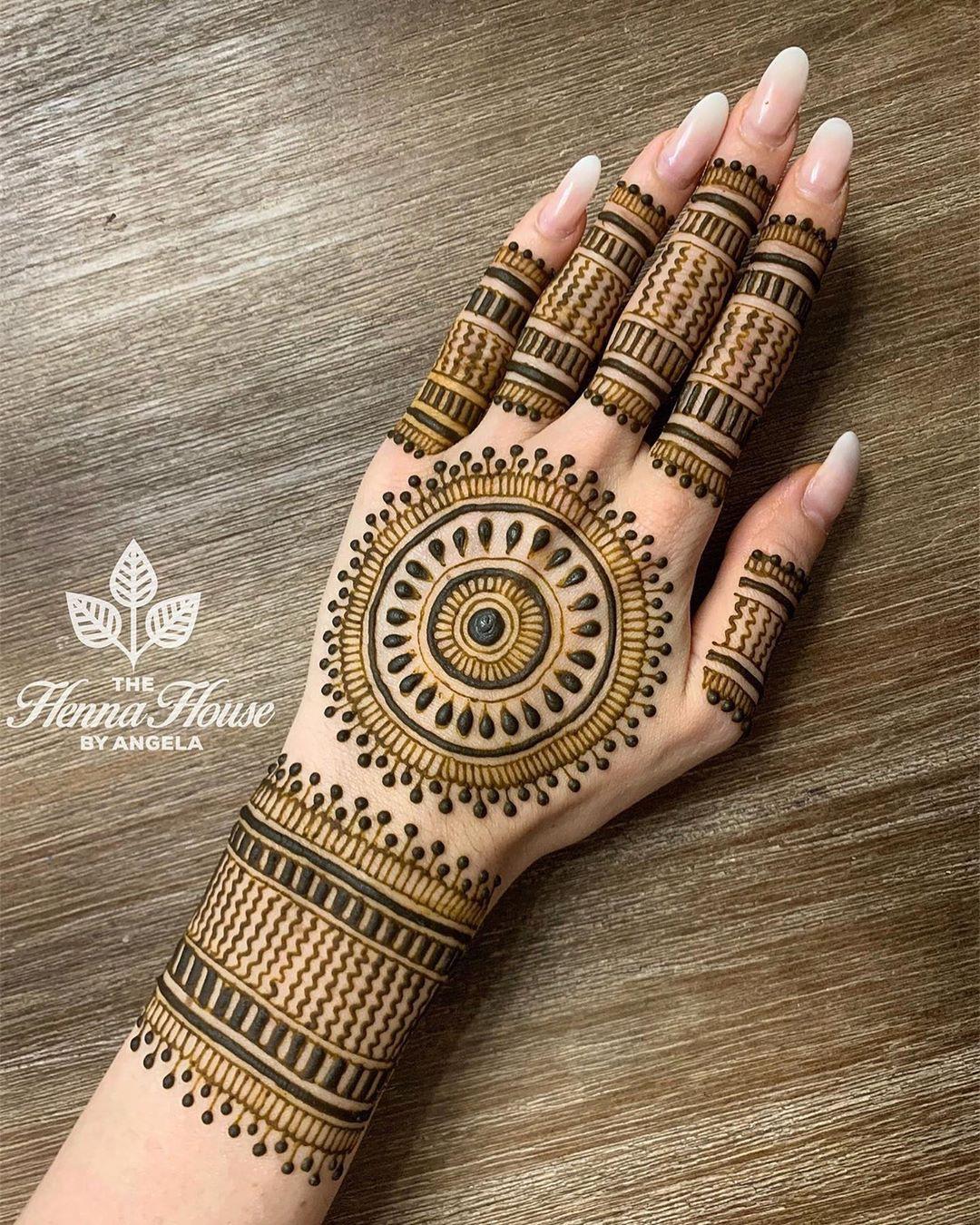 Image Courtesy: The Henna House by Angela
One look at this henna design and you cannot help but notice the symmetry and uniformity of the elements. Whether it is the Mandala pattern in the centre, the thin zig-zag lines or the bold vertical bars, Karwa Chauth mehndi designs like this one are the perfect examples of precise and intricate detailing. What we love the most about this beautiful design is how the same pattern is used not only on all the fingers but also on the wrist.
This creates an overall sense of harmony and balance within the design, which further makes it almost impossible for one to take their eyes off this pretty creation.
The Beauty Of Thin And Delicate Strokes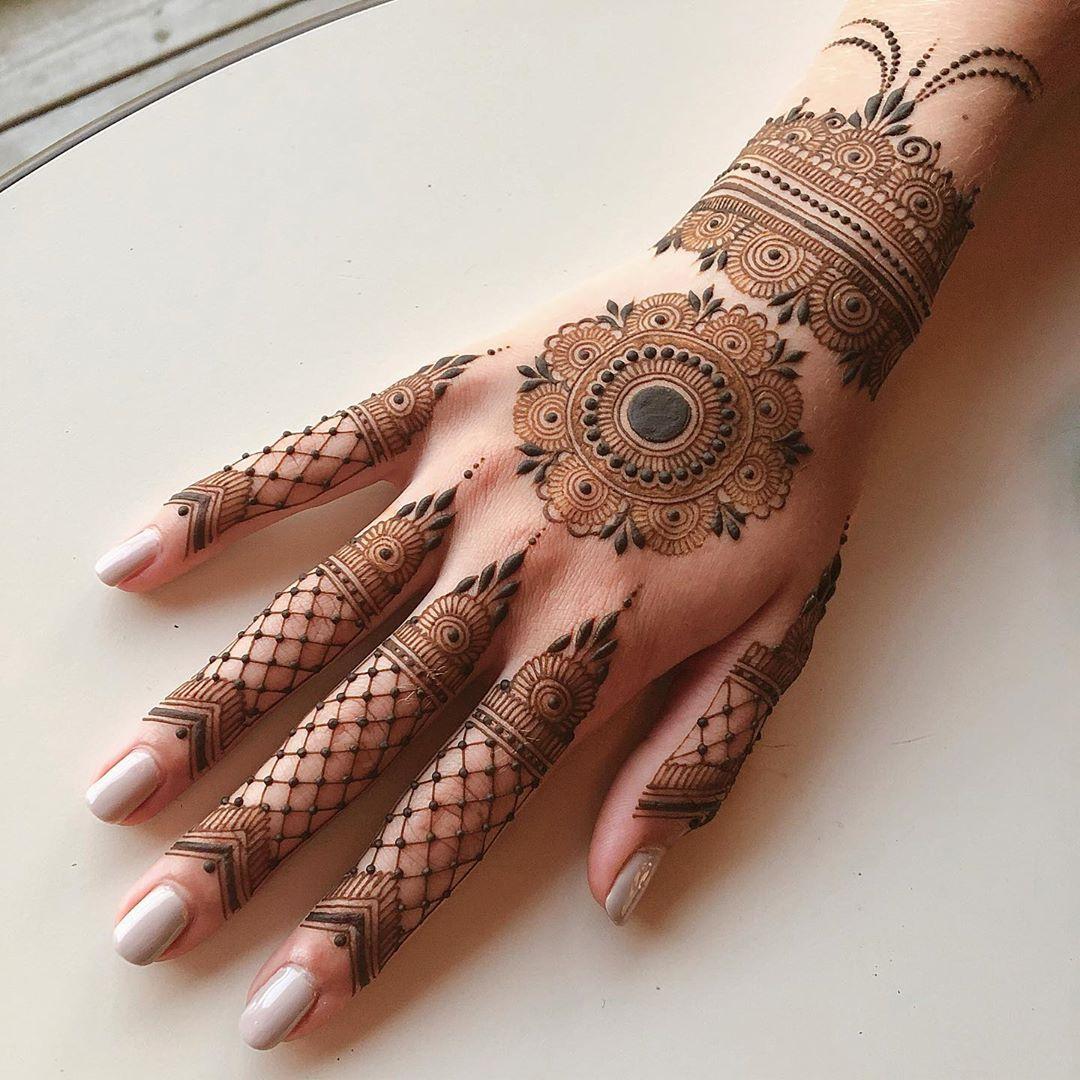 Image Courtesy: Henna By Celina
While most of us are suckers for bold strokes when it comes to henna designs, we cannot deny the beauty of thin and delicate strokes. They can add an extra touch of softness and elegance to even the simplest of the Karwa Chauth mehndi designs. So you can only imagine how pretty a mehndi design with a Mandala pattern and lots of swirls will look when completed with thin strokes.
Karwa Chauth mehndi designs like this make for an ideal choice for all you ladies who want to try their hand at something new or try something new at their hand. (Geddit?)
Wrap It Around Your Hand: An Elaborate Chadar Design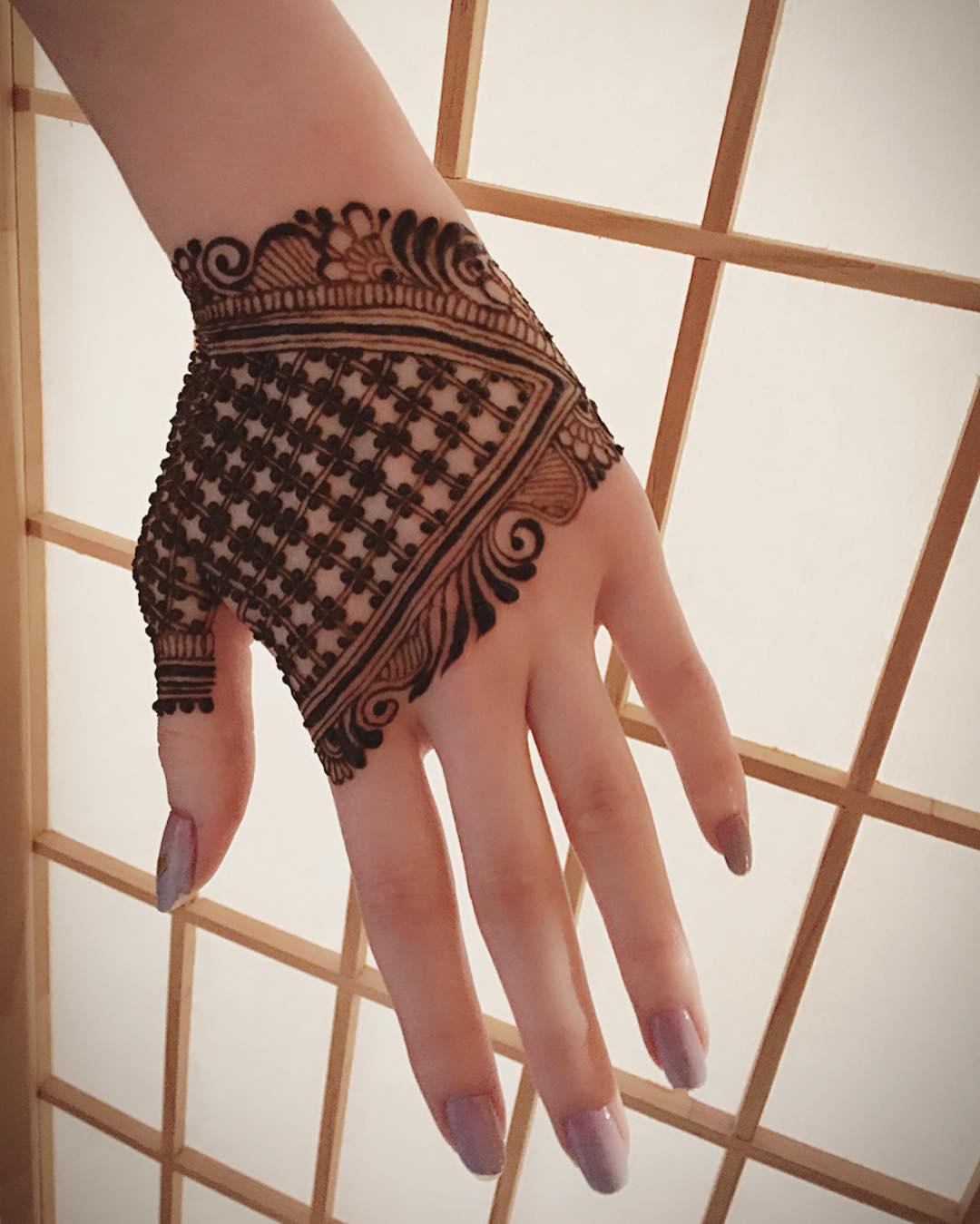 Image Courtesy: Henna By Celina
Not everyone is a fan of full hand mehndi designs, and we understand that. And it is because we get it, we have added Karwa Chauth mehndi designs like this one to our list. This elaborate chadar design surrounded by patterns of swirls and lines wrapped around the wrist and half the hand is beautiful.
Mehndi designs like these are perfect for the women who are all about following the rituals while keeping things effortless and minimalistic. So if you too are one of those, bookmark this design and rock it with your gorgeous outfit this Karwa Chauth.
A Mirror Design With Peacock Motifs? Sign Us Up!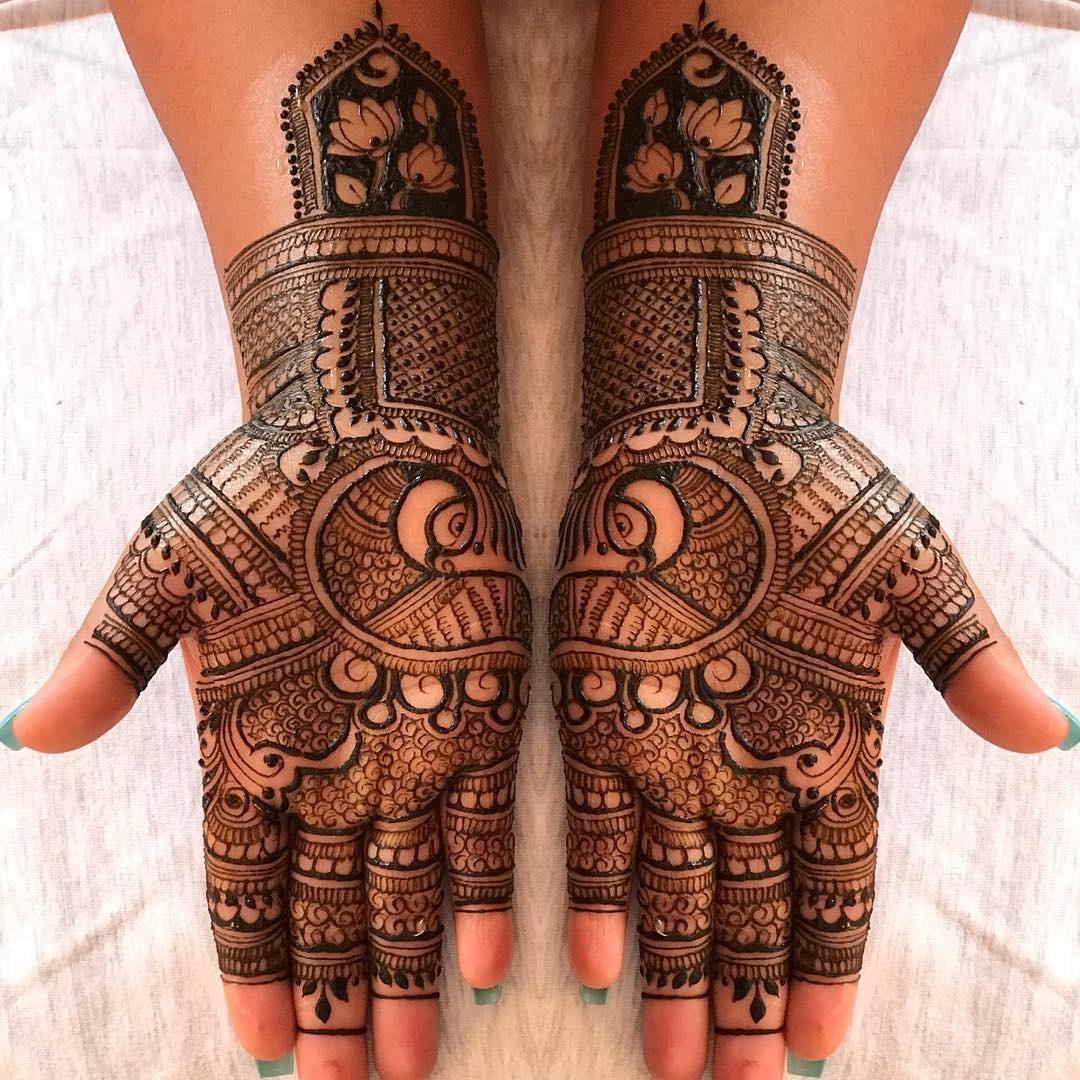 Image Courtesy: Henna By Urvish
Mirror mehndi designs are absolutely stunning. There, we said it. And we say it not only because they make the hennaed hands look beautiful in the photographs, but also because they add a touch of balance and uniformity to the design. It doesn't matter whether you are getting a minimal and chic design done or a full hand intricate pattern, a mirror design will add oomph to it making the final output look prettier (if that is even possible!).
This full hand design from our list of Karwa Chauth mehndi designs has a lot going on simultaneously. With peacock motifs, swirls, teardrop design, lotus motifs, and more, this design is a winner for sure.
A Pretty Design For Your Pretty Hands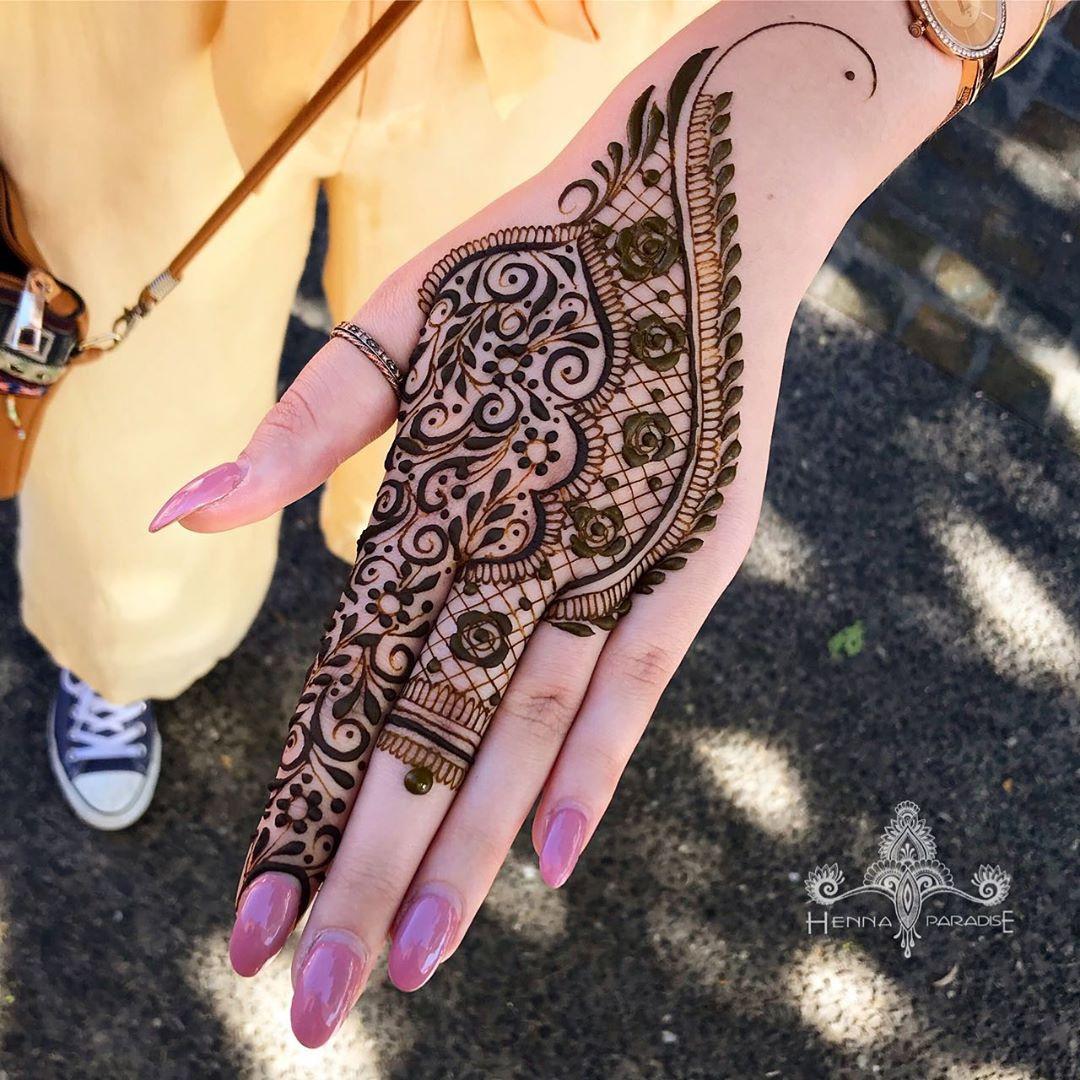 Image Courtesy: Henna Paradise
When you are torn between getting a Jaal design with rose detailing and a chic take on the traditional floral bel design, get both. This exceptional design from a variety of Karwa Chauth mehndi designs is one of our personal favourites. The design looks stunning, modern, and makes for the perfect choice for someone who loves doesn't like to stick to the tried-and-tested and the oh-so-regular designs. And while this design is a blend of two completely different styles, it doesn't take away from either of the pattern's beauty.
Oh, and if you are still left with shopping for the beautiful day of Karwa Chauth and are in a rush to get your hands hennaed, pick this design. It won't take up much of your time and will make your pretty hands look prettier too.
Adorn Your Hands With This Dotted Chain Design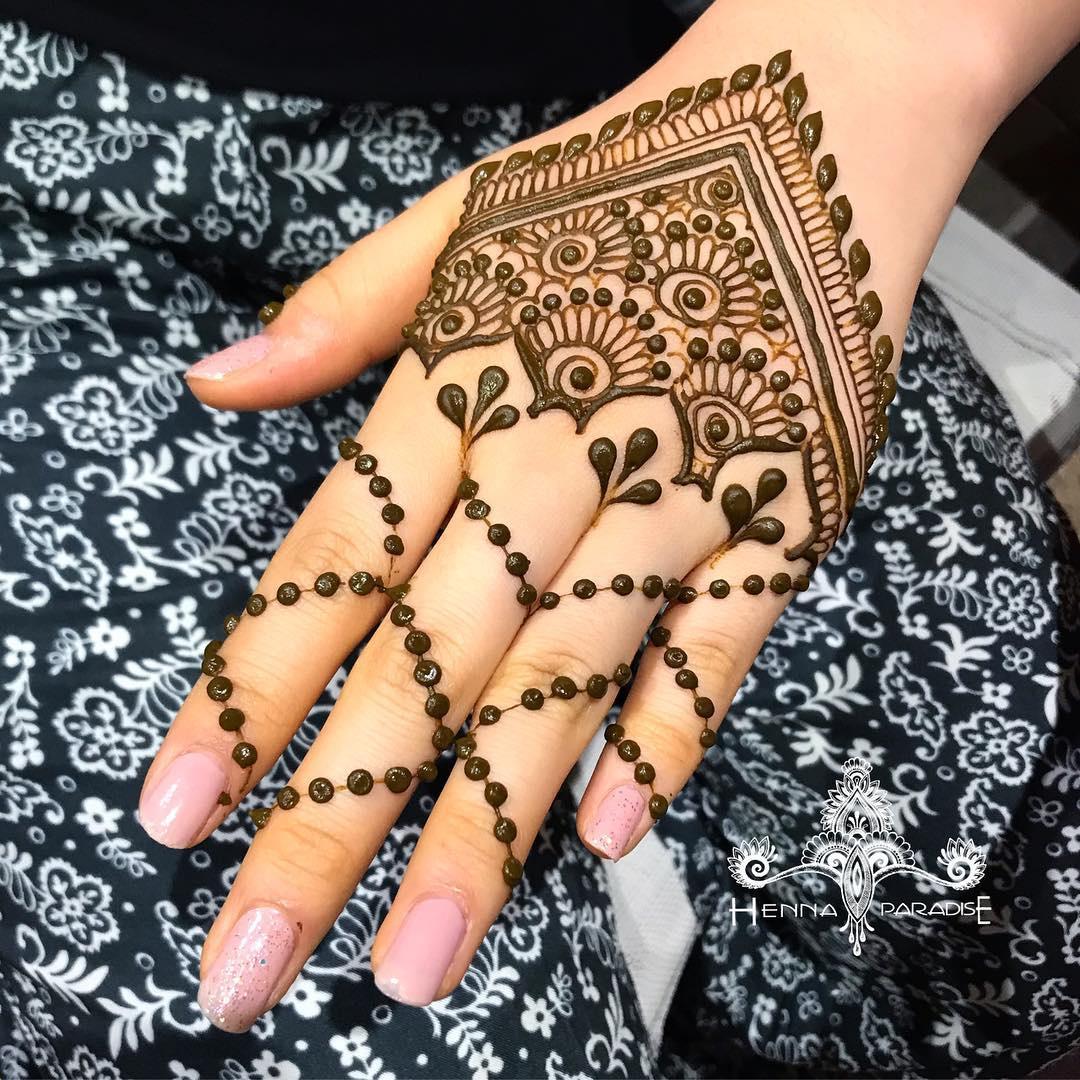 Image Courtesy: Henna Paradise
The fingers adorned with the dotted chain design followed by the swirls and patterns that anchor this minimal henna design is the perfect go-to for the ladies who want "I just like to dabble but not go all the way" style of mehndi. Karwa Chauth mehndi designs such as this one are a great example of the masterpieces that are created when bold strokes and thin lines amalgamate. The triangle-shaped arch decorated with tiny leaf motifs adds symmetry to this whimsical design.
Already took a screenshot? Don't forget to paint your nails a pretty colour and adorn your hands with the bangles that go with your gorgeous suit or saree.
Show Your Love For Full Hand Mehndi Designs With This Intricate Pattern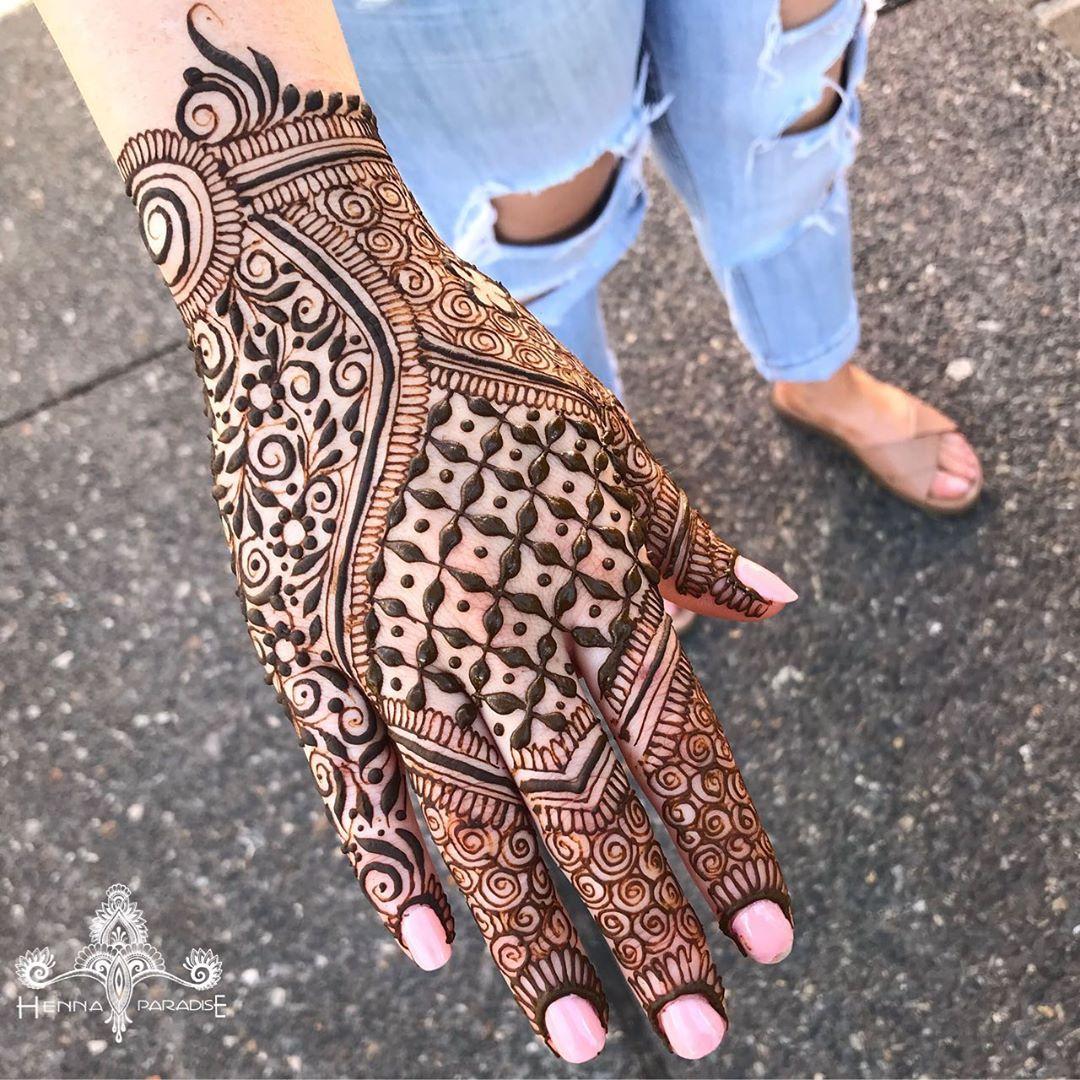 Image Courtesy: Henna Paradise
If you are all about geometric designs and sectional bifurcations, and also giving every little element their due, then we have got just the right design for you. Karwa Chauth mehndi designs like this one that starts with swirls on top of the fingers, an independent yet stunning design on the pinky that meets a unique chadar design in the centre, and finishes with a geometric pattern which wraps around the wrist are a head-turner for sure.
There is a little bit of everything in this design, but they all come together to form a stunning henna design without taking centre-stage individually.
Play Around With Swirls And Dots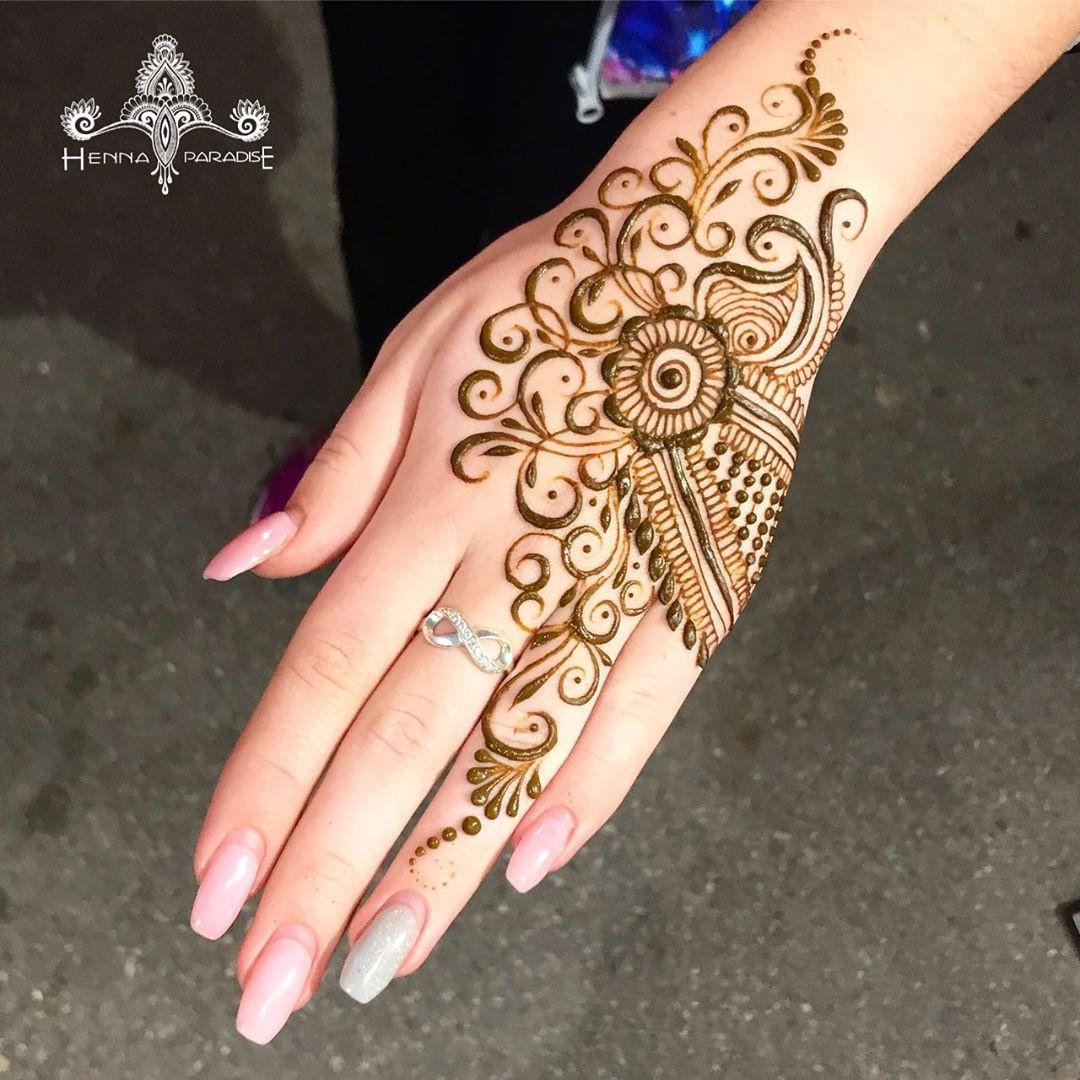 Image Courtesy: Henna Paradise
Yet another absolutely gorgeous henna design from our list of top Karwa Chauth mehndi designs, this pattern is perfect for someone who loves playing with swirls and dots. The beautiful use of bold and light strokes makes this mehndi design all the more interesting.
And we cannot help but agree with the artist's vision of using the swirls in a different manner than what we commonly see in most of the designs. The freehand swirl bel design that starts from the ring finger adds oomph to this already stunning design. The floral motif in the centre brings together this bel and the pattern that covers the edge of the back of the hand beautifully.
The Arch Of Swirls And Sheer Beauty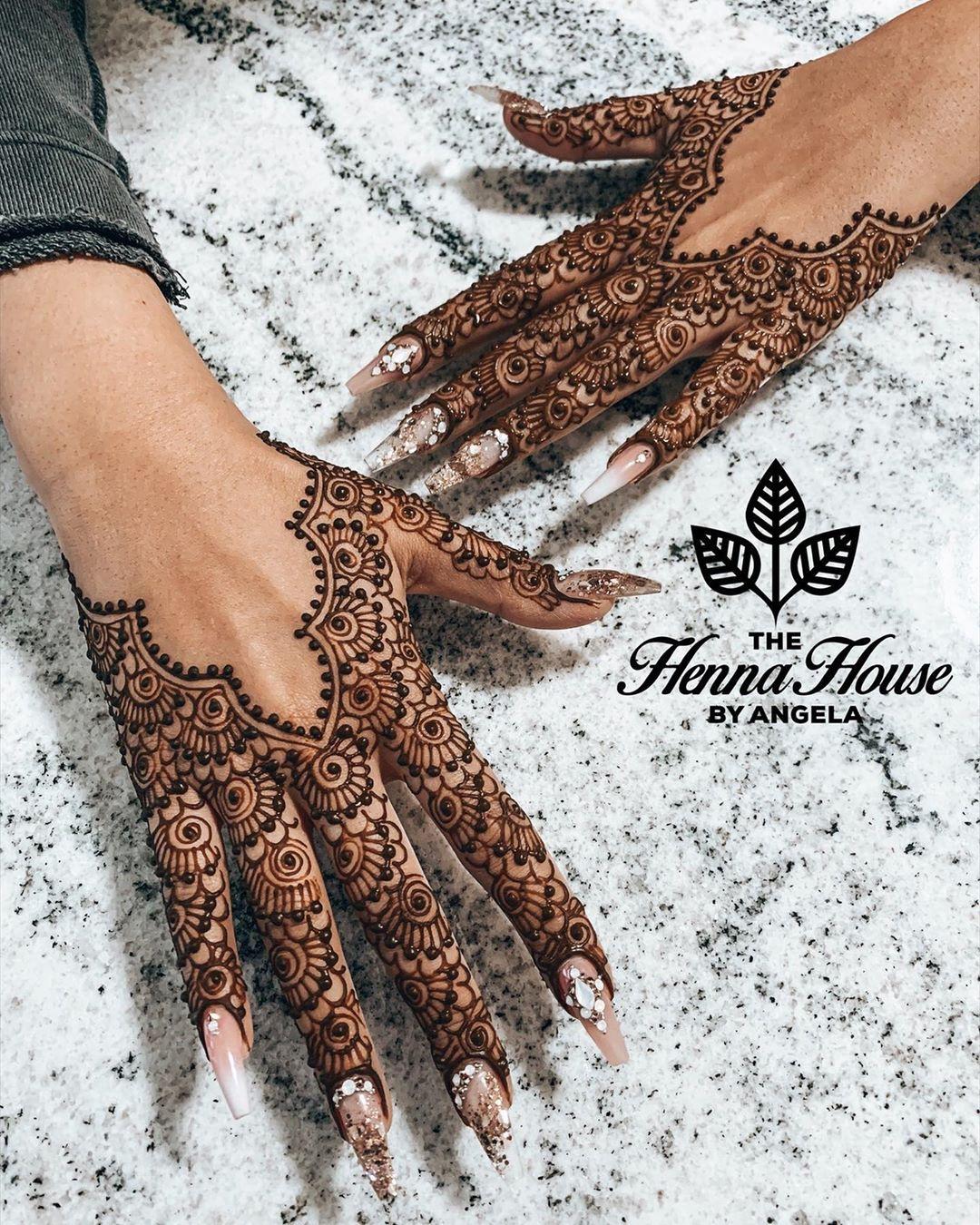 Image Courtesy: The Henna House by Angela
With a plethora of henna designs that focus on arch designs, this one from our list of Karwa Chauth mehndi designs comes with a slight twist. While the usual designs are all about adorning the inside of the arch, this mehndi design has taken an inverted approach and covered the fingers with lots of swirls.
(Seriously, lots of them!) The swirls and dots are the only two elements used over and over again in this design, but instead of making it look boring and repeated, they only add to the sheer beauty of this design.
A perfect example of tradition with a touch of modernity design, this is a great option for the women who want to get something unique done this time. Oh, and the best part is that your bangles and Kadas won't even interfere with the henna design. So go on and add some extra hand accessory.
Henna Rings, Leafy Vines, And A Pretty Design On The Pinky, Need We Say More?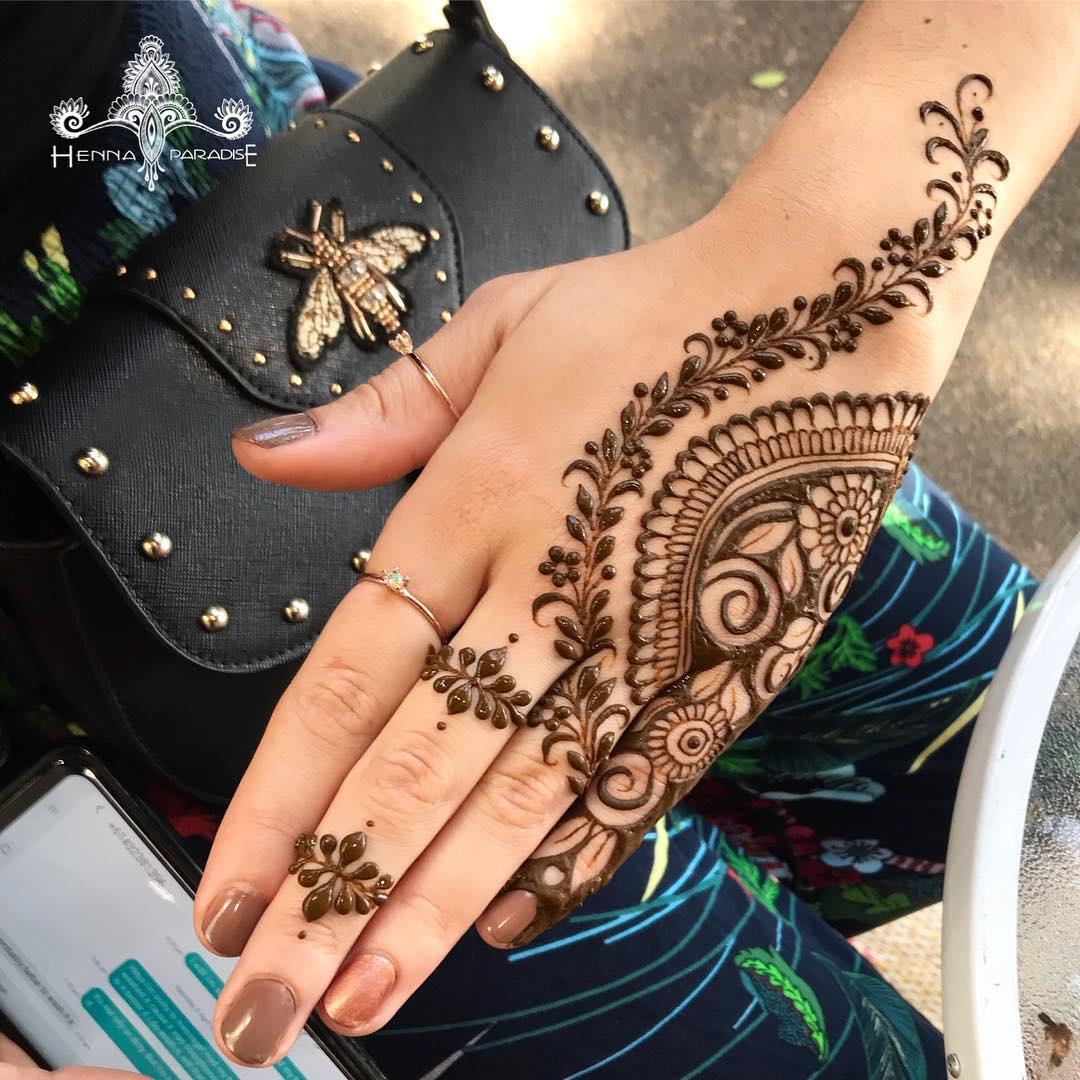 Image Courtesy: Henna Paradise
Your search for stunning yet not as time-consuming as full hand Karwa Chauth mehndi designs ends here. This beautiful henna design has some of our favourite elements - henna rings, leafy vines, and an absolutely pretty design on the pinky finger.
The decision of the artist to design an elaborate pattern on the pinky finger instead of the index finger is what makes this design look even more contemporary and chic. And the incredible use of bold strokes and shading goes perfectly with the design.
It is not news that the mehndi artists will have a chockablock schedule, which can cause stagnation of imagination and dearth of time on their part. And that is exactly where our well-curated list of Karwa Chauth mehndi designs will come handy for you.
Once you have picked out your favourite designs and shown it to the mehndi artist, you will be able to enjoy getting the henna done without worrying about the output. And believe us, the artist will thank you for being sorted with your choices, because hey, this is one of the busiest times of the year of them. So select the design you from a variety of Karwa Chauth mehndi designs and slay, ladies.
Tell us which Karwa Chauth mehndi designs did you like the most? Don't forget to share your pictures with us once you get your hands henna-ed.