Play Some of These Indian Celebrity Wedding Games to Keep Your Parties Super Fun!
As a host, you must do all you can to keep your guests entertained – even when it's your wedding! These Indian celebrity wedding games will help you accomplish exactly that and make way for a wedding that'll stay in your guest's memories forever!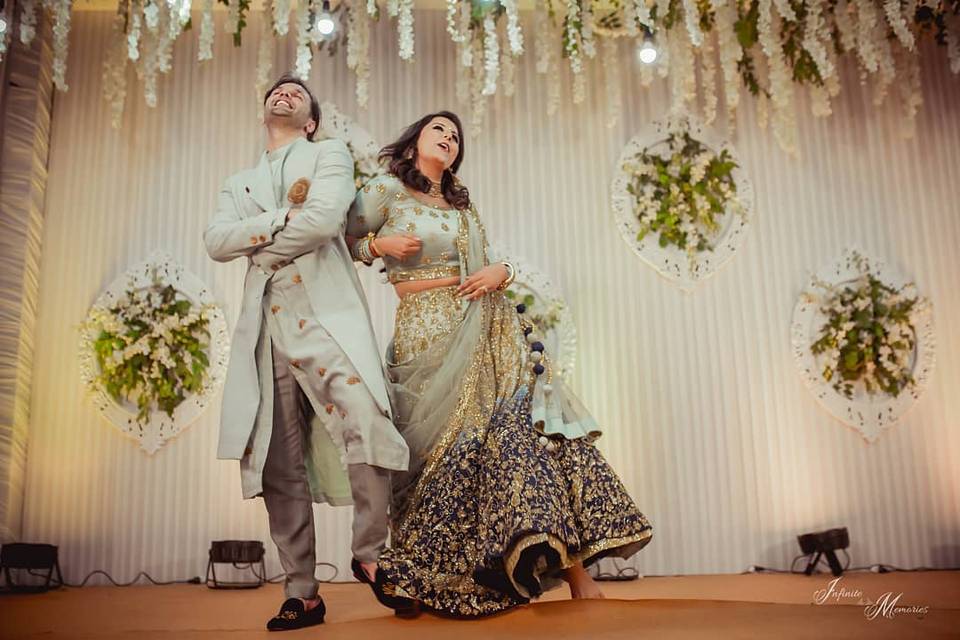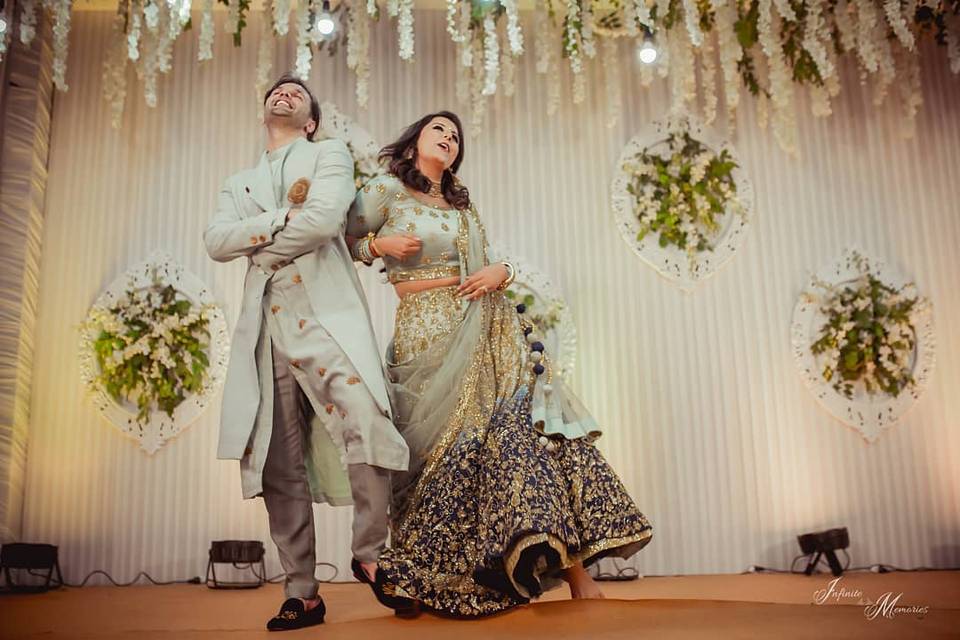 The one thing that is common between an Indian wedding and the Indian film industry is entertainment! So, the best thing for you to do in order to keep your guests entertained is to blend the two! A great way to do that would be to play a few Indian celebrity wedding games.
No matter whether one is a movie buff or not, everyone seems to love their favourite celebrities and holds them in high regard. In fact, most of us remember dialogues from our favourite films and can sing along to popular songs so accurately it's as though we penned them ourselves.
With that in mind, we've come up with the perfect way to keep your guests entertained during all the functions of your wedding – Indian celebrity wedding games! No, we don't mean that you need to ape your favourite celebrity's weddings – though many of us would love to do exactly that. We're talking about taking popular group games and adding a twist that brings Bollywood into the mix.
Not sure what that even means? Keep reading to find out!
1. Antakshari with a twist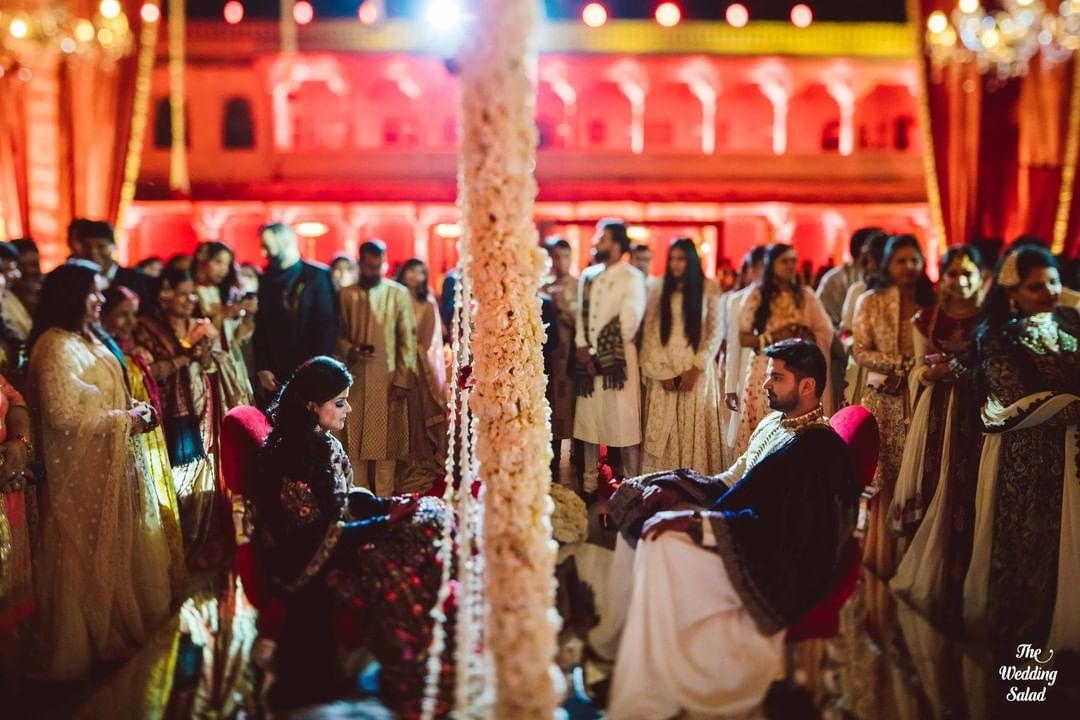 Who does not know how to play Antakshari in India! It is undoubtedly the most popular game in the country. How about adding a twist to it to make the game a bit spicier? Start the game by choosing an actor's name and then sing songs that are related only to that actor's movies. You can keep doing this until one group cannot manage to come up with a song! This small tweak sure does make the game a tad bit difficult and a bit more engaging! This addition surely makes it one of the best Indian celebrity wedding games you can think of.
2. Dialogues se pehchaan kaun?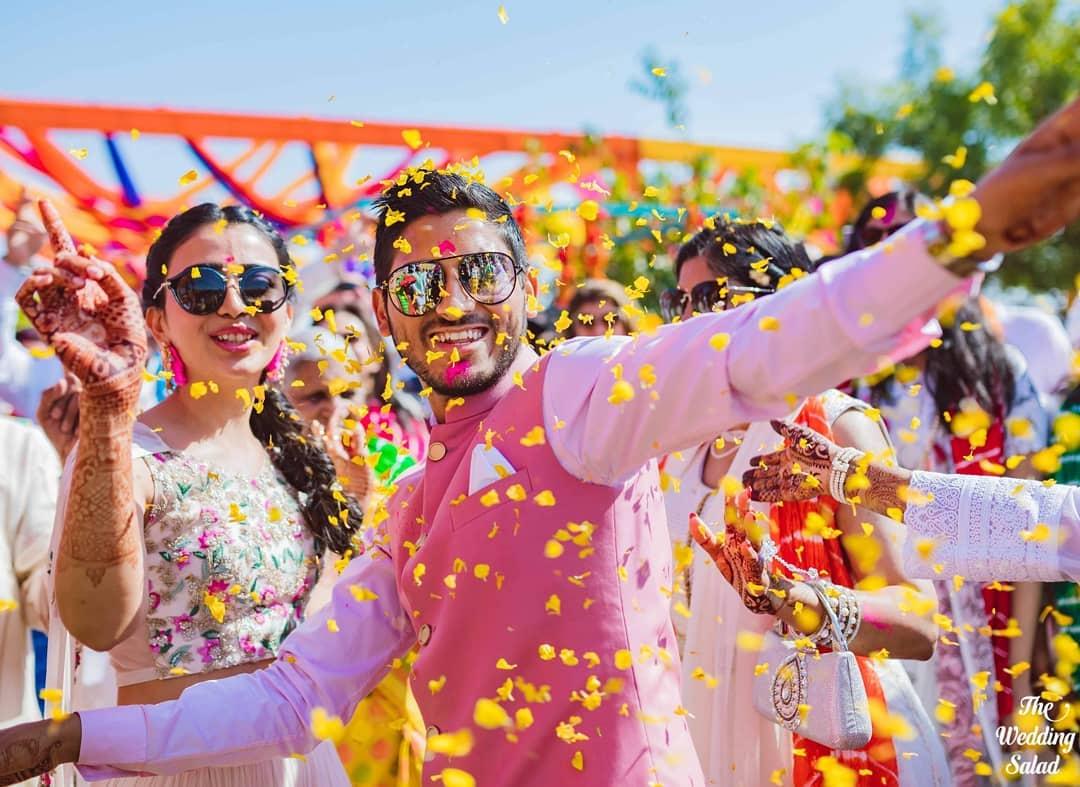 Now comes one of the Indian celebrity wedding games that are designed for the ones who are great with dialogues. It is kind of an easier version of dumb charades. You just need to quote a dialogue to your team and wait for them to guess the name of the actor.
You can also add a similar change to dumb charades by acting out a dialogue instead of a movie name. This should making guessing the right movie even more challenging and fun!
3. Who am I?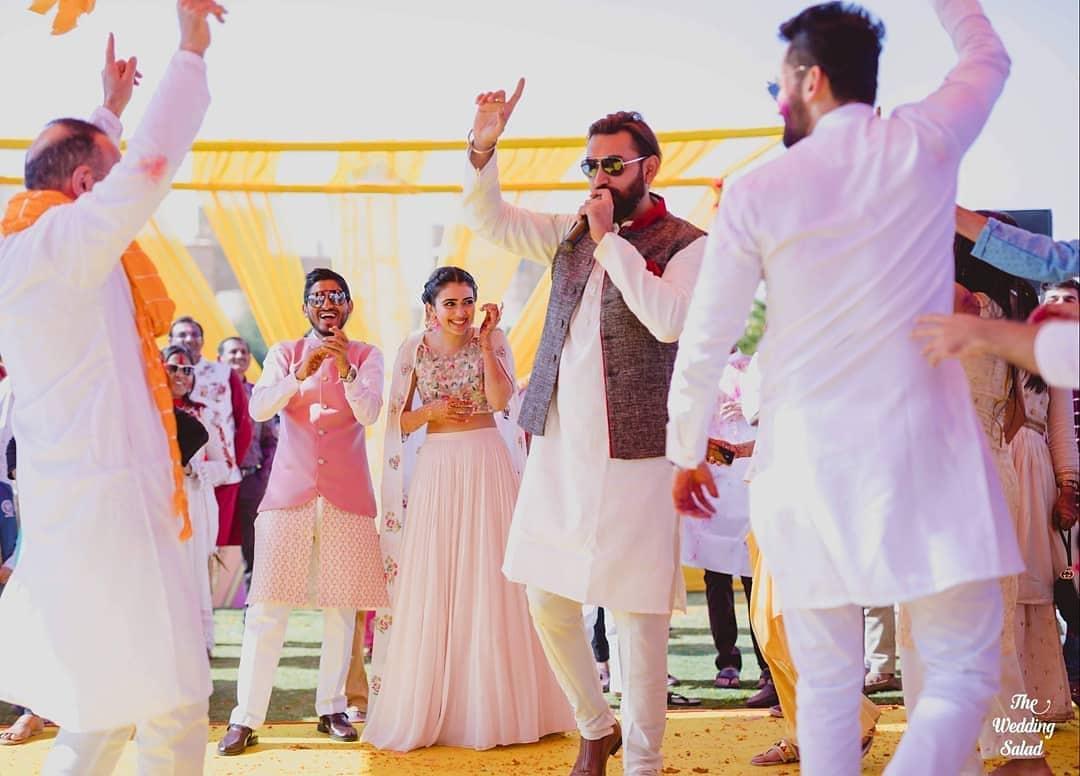 Here's another one of the classic Indian celebrity wedding games where you can enjoy yourselves by guessing who the celebrity is. In this game, all you need to do is strike a pose or make a gesture and then wait for your team to guess who you are pretending to be. To make things difficult, make sure you avoid using the names of the super famous celebs as their names would be too easy to guess.
A variant of this game would be to play 21 Questions – here, your team must ask 21 yes or no questions until they can guess who you are!
4. Fancy Dress Competition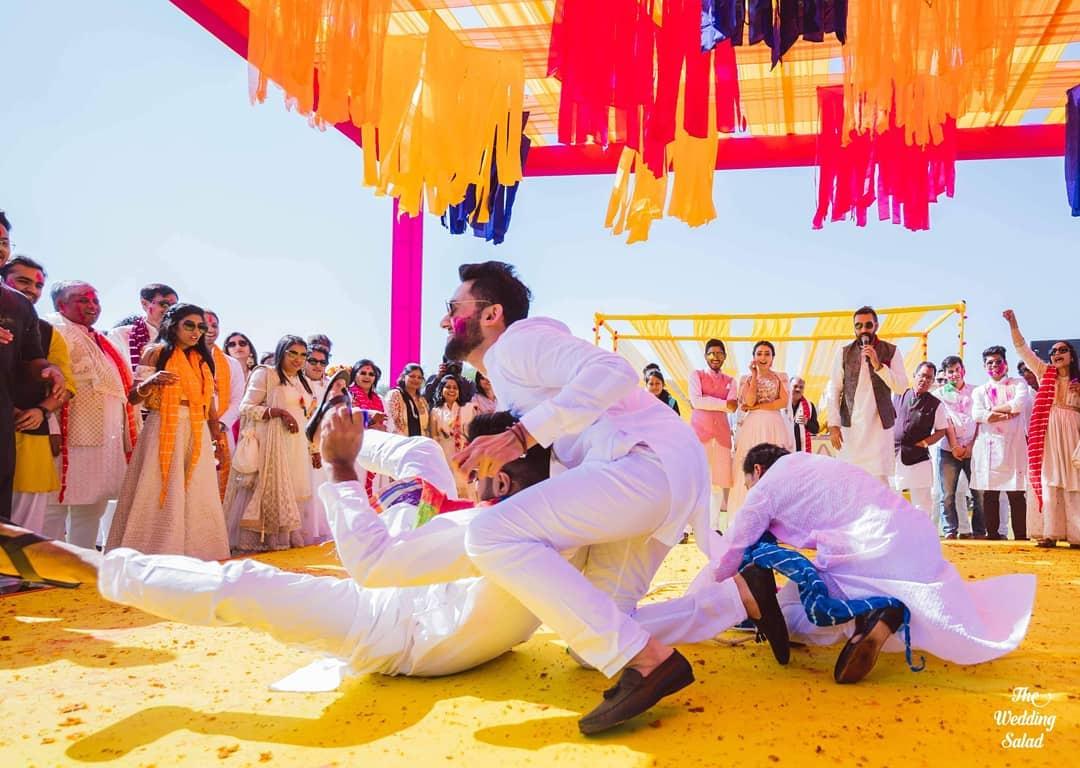 If you want to take Indian celebrity wedding games to a higher level, how about turning it into a competition? Host a fancy dress competition where everyone dresses up as some celebrity and says a dialogue or two on stage. Guess the judges – the Bride and the Groom. Let the newly-weds have a laugh and enjoy these moments with their relatives and close friends trying their hardest to impersonate various celebrities. Be as creative as you can be in this game!
5. Test the couple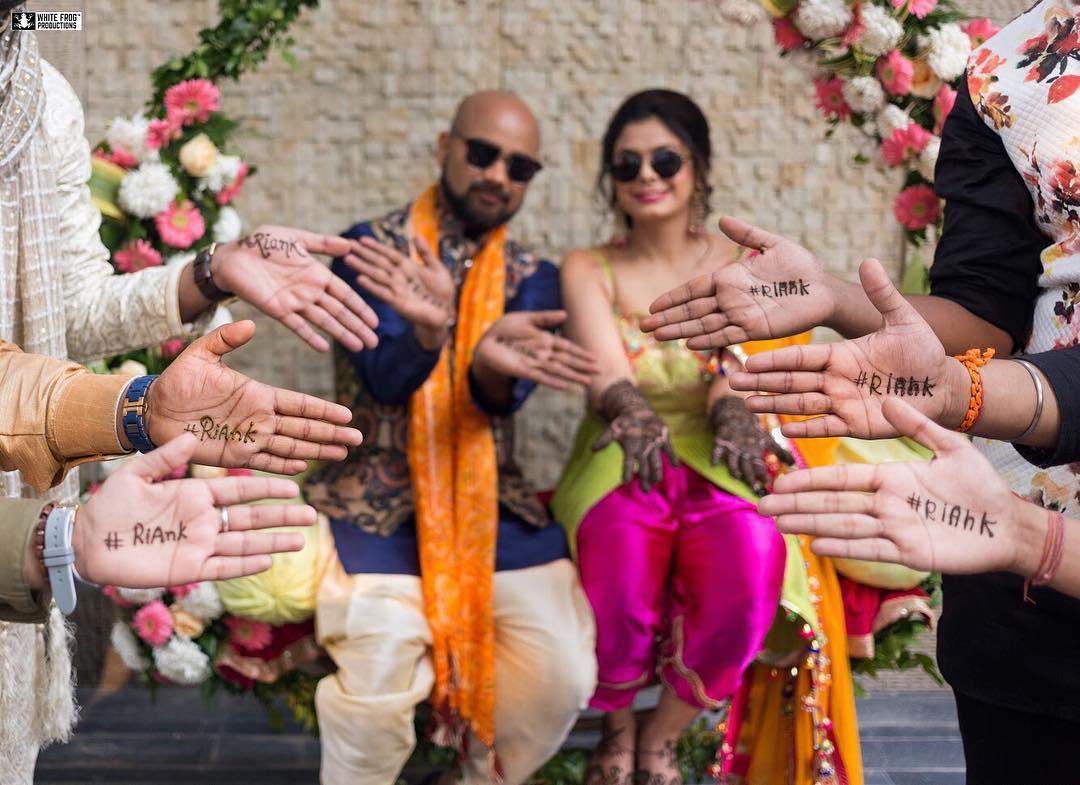 This is an old school game at weddings in which couples must answer questions about each other. In general, it is really entertaining to watch. But how about making the game all about celebrities or the film industry in general? When you ask questions, just make sure that you are asking about each other's preferences in the film industry. It can be best and worst actors, films, songs and what not. This is another example of Indian celebrity wedding games where an old game is played in a fresh way by adding a small twist to it.
6. Bollywood Tambola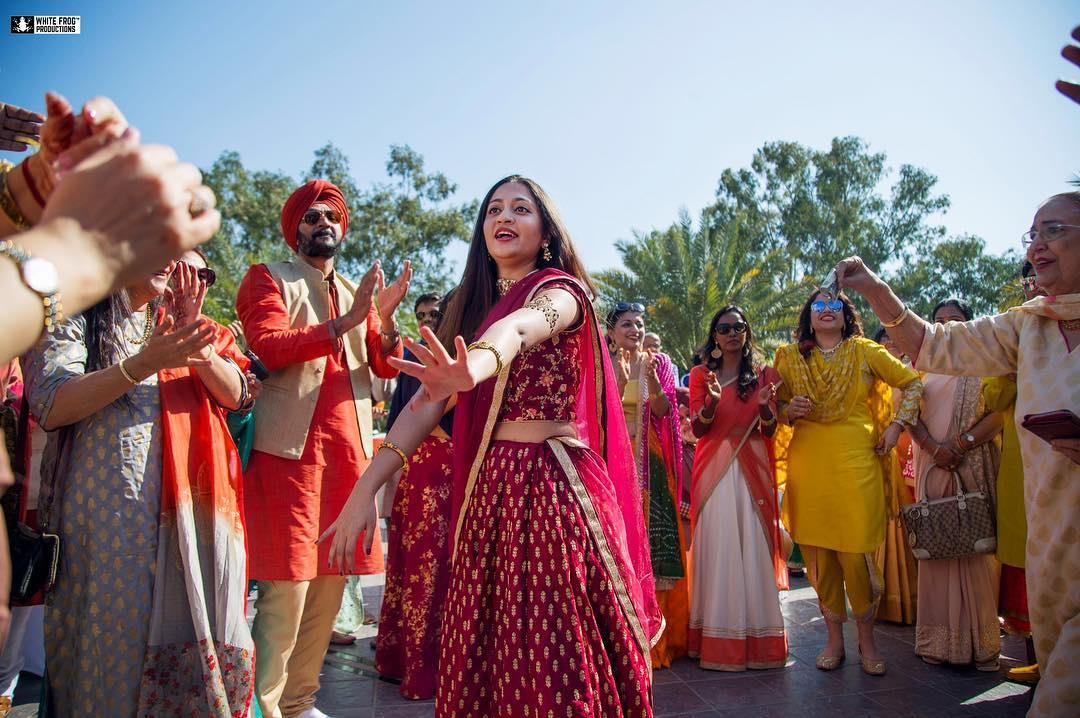 Now, this is a special kind of Tambola that you can play but you need to create your own Tambola card for this. Name each column as Sa, Re, Ga, Ma, Pa, Dha, Nee and Sa. Add the numbers randomly in the columns just like a normal Tambola card. Once a player gets all the numbers in a column, he/she has to sing a song from the same the sound adjacent to it. For example, if the column with 'Ga' gets over, then the winner has to sing a song starting with 'Ga' to win the prize money. The player with a full house has to sing a fresh song from each column. Now, isn't that a great creative tambola idea to make the game turn into an Indian celebrity wedding game?
These games will definitely help you have a great time at each function. How can it not? It combines the two things your guests love the most – Bollywood and you!
Get in touch with our wedding planners for more cool ideas!