Ideas You Need to Thank Your Family for an Amazing Small Wedding
If you wish to express your gratitude to your loved ones for planning a wonderful 50 guest wedding during these trying times, here's all you need to know!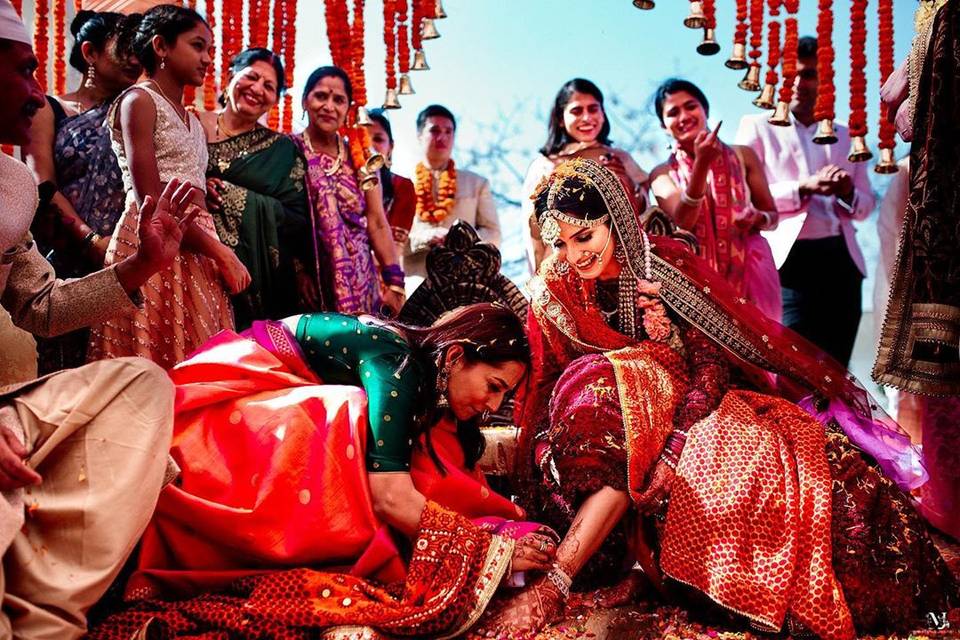 Indian weddings are nothing less than a rollercoaster ride where all the overwhelming emotions, fun stories as well as all the festive ceremonies come together. To tick each box on your wedding to-do list and plan it perfectly feels like the biggest achievement. A perfectly grand Indian wedding is nothing short of a luxurious and exuberant affair. From lavish venues to lip-smacking global cuisine, from trained professional dancers for couple entry to a stunning Sabyasachi lehenga, it is a sight for sore eyes.
But with the current difficult times of Covid-19, surely the scale on which weddings are planned is affected. But it doesn't mean that it can't be a wonderful close-knit affair with your loved ones to be remembered for life. You can now put all your Pinterest-board ideas to test and create a fairytale for yourself, right in the comfort of your home. We understand that in usual circumstances, planning your dream wedding could be challenging and budget restricting, but now you can go all out for your intimate 50 guests wedding!
Our loved ones and family are always there to support us through thick and thin and especially during the wedding. They try their best to give you the happiest day of your life and surely there are many thoughtful ways to express your gratitude for it.
Wondering what that might be? Read on to know more.
Personalised Thank You Notes
If words are your strong suit, this can be a great choice to make your family swoon. From fancy table top cards to quirky personalised thank you cards, there are numerous ways to express your love to your loved ones for organising your 50 guests wedding. Choose your favourite quote or a verse from a heartfelt poem to inculcate all you wish to say. Or go original if you want and choose the art of calligraphy to create something beautiful. It would be a beautiful take-away for your guests from your wedding.
Incorporate Your Parent's Wedding in Your Own
It is a great feeling when you incorporate a keepsake from your parent's wedding on your own. It not only makes you feel wonderful on your wedding day but will make your parents feel so much loved. Be it her mother's saree which Isha Ambani used or a necklace that your mother wore, these heirlooms will make your 50 guests wedding spectacular. Create your #LoveWithLegacy story and make your family feel much special.
A Heartfelt Speech
To make the most of your intimate 50 guests wedding, an open mic or a heartfelt speech is a way to win your parents' and loved one's hearts. You can go original and pour your heart out on a piece of paper or draw inspiration from a Bollywood drama or an emotional speech and create your masterpiece. You can be assured that your audience will have tears of joy. To make the activity more fun, you can have an open mic session after your wedding to include all the guests who wish to say something.
Safety Comes First
As we all are seeing, safety comes first and foremost in current times. While you can go all out to plan your cozy 50 guests wedding, to keep your guest and loved ones safe should be the top priority. Ensure that you are abiding by the government norms of keeping your guest list under 50, while practicing social distancing. Make sure that all your guests are wearing masks and keeping their hands sanitised to avoid any kind of infection. While ticking all these safety check-boxes, your guests will surely be happy knowing their health and safety is at the top of your mind.
Wedding Favours and More
From specially curated gift boxes, to personalised initials-engraved goodies, the list is endless when it comes to selecting the perfect wedding favour. The good thing about an intimate 50 guests wedding is that you can put enough thought into giving your guests the best. Create a box of happiness with some homemade goodies, sanitisers, and masks for each of your guests. While it can be a perfect token of appreciation for their presence and efforts for your wedding, it will surely make them feel loved.
Customise the Menu
We understand that it is your wedding day and everything should be as per your liking. But having a small 50 guests wedding can give you the freedom to upgrade your menu as per your guests' choices as well. Try to create a palette that would cover your favourite dishes as well as something that your guests would enjoy.
Have the Final Wedding Dinner Together
What best way to end your wedding festivities then to have the final dinner with all your guests and family. It would be perfect with a table filled with scrumptious food, good company and fun stories to make memories for life. As it would be a close-knit 50 guests wedding, you would not have to worry about making rounds with the catering staff and your guests to make sure that they are served in a good way. It would be a great way to express your love and gratitude to your family and guests.
Post Wedding Festivities
Who said that the celebrations have to end with your wedding day? It is true especially for Indian weddings where the fun continues even after D-Day. From fun activities like finding the ring in the milk water or the grand reception, your 50 guests wedding can include it all. If your loved ones are staying together, it allows you time to plan something new and fun like game night, brunch day and more to create an aura of happiness around your celebrations.
Go all out or think strategically, you can be assured that your 50 guests wedding would be the best celebration for all times. You can create a true blue Indian wedding with a handful of your loved ones and make them feel all loved and happy with all these tips and tricks.
Do let us know which idea would you choose to express gratitude to your family? Check out our list of amazing planners for inspiring ideas to incorporate in your wedding.
- Words by Queenie Singh