The Groom Dress for Marriage Can Turn Heads and How!
Every state in India has its distinct wedding dresses & traditions. So here are some styles of groom dress for marriage from different parts of the country for inspo!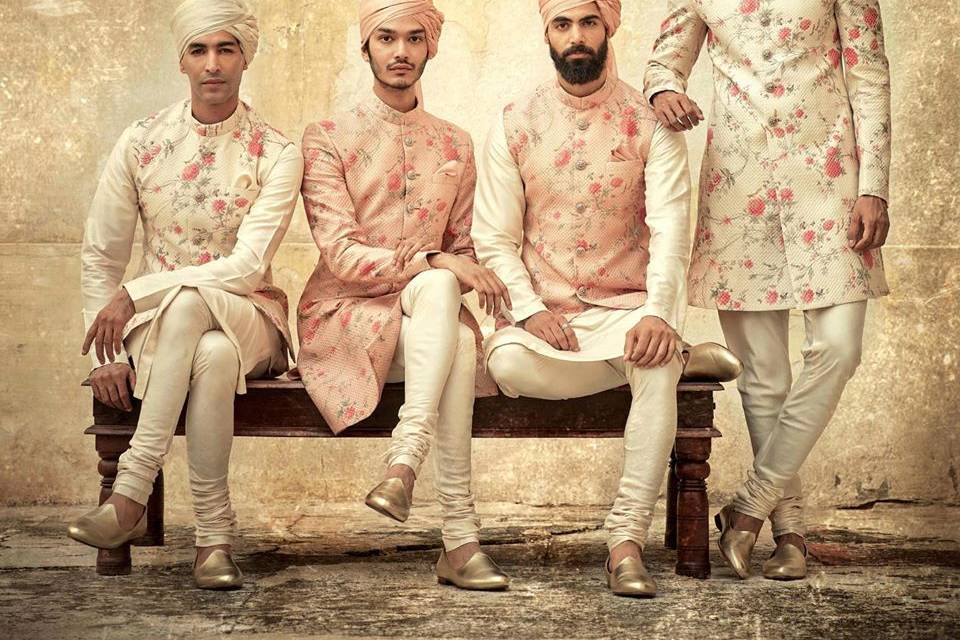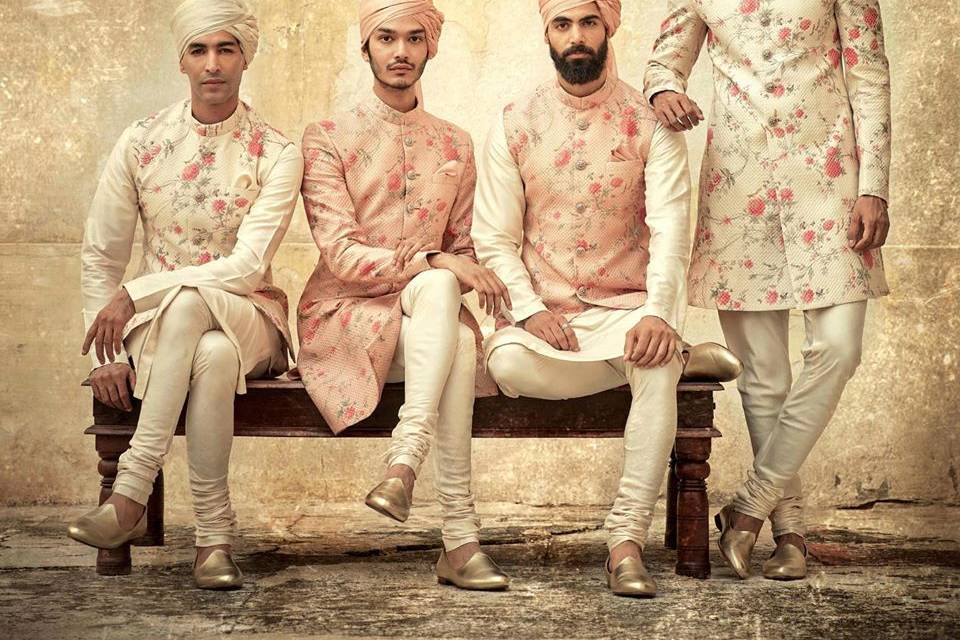 Image Courtesy: Sabyasachi Official
The best thing about any Indian wedding is they are full of colours. Colourful traditions, colourful outfits, colourful moments! And when it comes to a traditional groom dress for marriage, there are so many styles, fabrics, accessories and ways of sporting that are distinct in every single region. From an Assamese wedding to a Kannadiga wedding; or a Gujarati Shaadi to a Kashmiri wedding...every Indian groom dresses up differently in their traditional outfits to look their dapper best!
So, if you're intrigued to know more about some traditional groom fashion from different cultural spheres of India, read on!
Kashmiri Pherans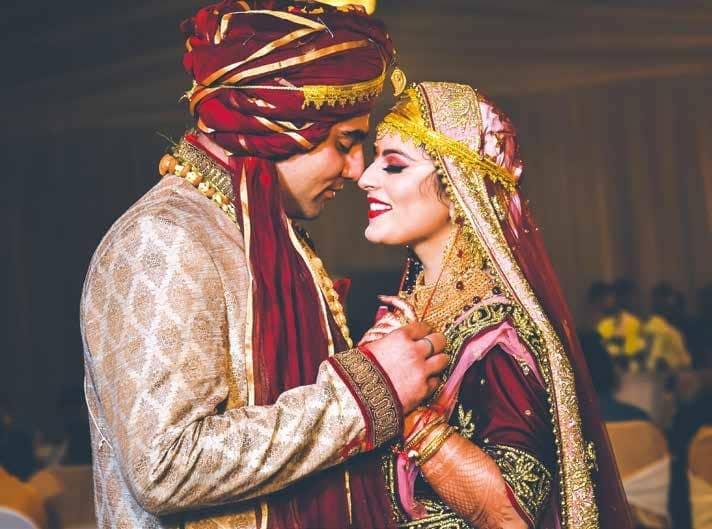 Image Courtesy: Magzter
Pheran is the traditional Kashmiri groom dress for marriage which is an exquisite work of art in itself. A Pheran is a long-sleeved kurta kind of an outfit which is usually made of pashmina. The key reason behind using pashmina as a Kashmiri wedding attire is the cold weather as the soft yet heavy fabric keeps the groom warm. The Pheran usually has embroidery work with stones or mirror. A Hindu Kashmiri groom wears a churidar or tight pyjama with the Pheran whereas a Muslim groom prefers a Patiala salwar with broad pleats.
Accessories: A Kashmiri groom wears a Paazar (their traditional shoe) and a Gordstar or a Pagdi with embellishments.
Bengali Jod-Dhoti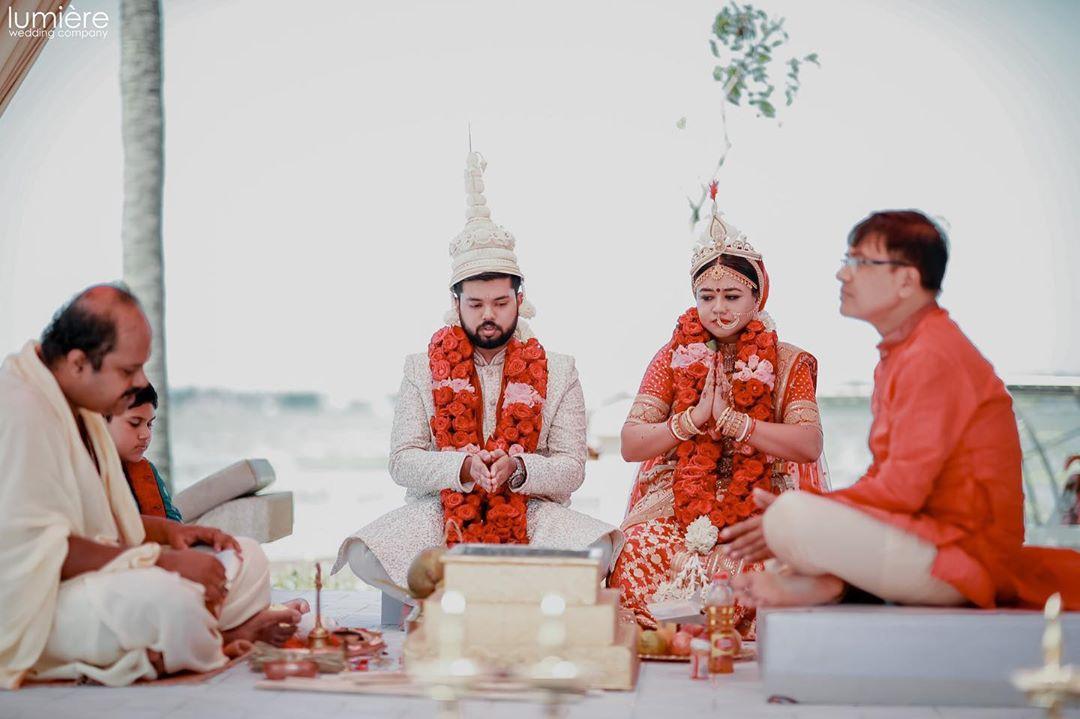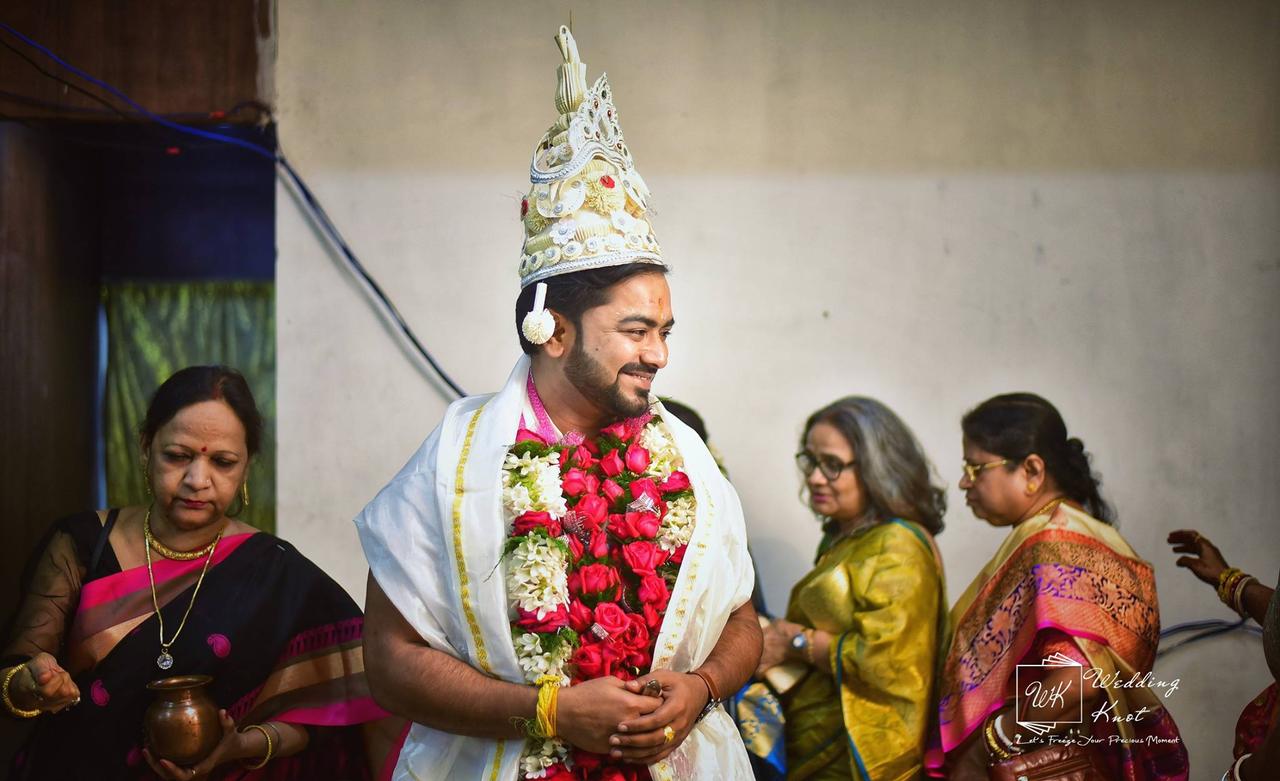 Image Courtesy: The Wedding Knot
Traditionally a Bengali groom dress for marriage is a Jod which is a white silk dhoti paired with a white silk shawl wrapped around the body. The traditional idea behind this simple outfit style is that there can't be any stitches in a cloth in which a groom weds. However, other than the time of Bengali Biye rituals, the groom wears heavily embroidered kurta-pyjama or dhoti kurta in every other pre-wedding and post-wedding rituals.
Accessories: A Bengali groom wears a conical headgear made of shola pith or cork tree known as Topor, Nagrai or Kohlapuri Jutti and a silk shawl.
Punjabi Kurta/Sherwani Pyjama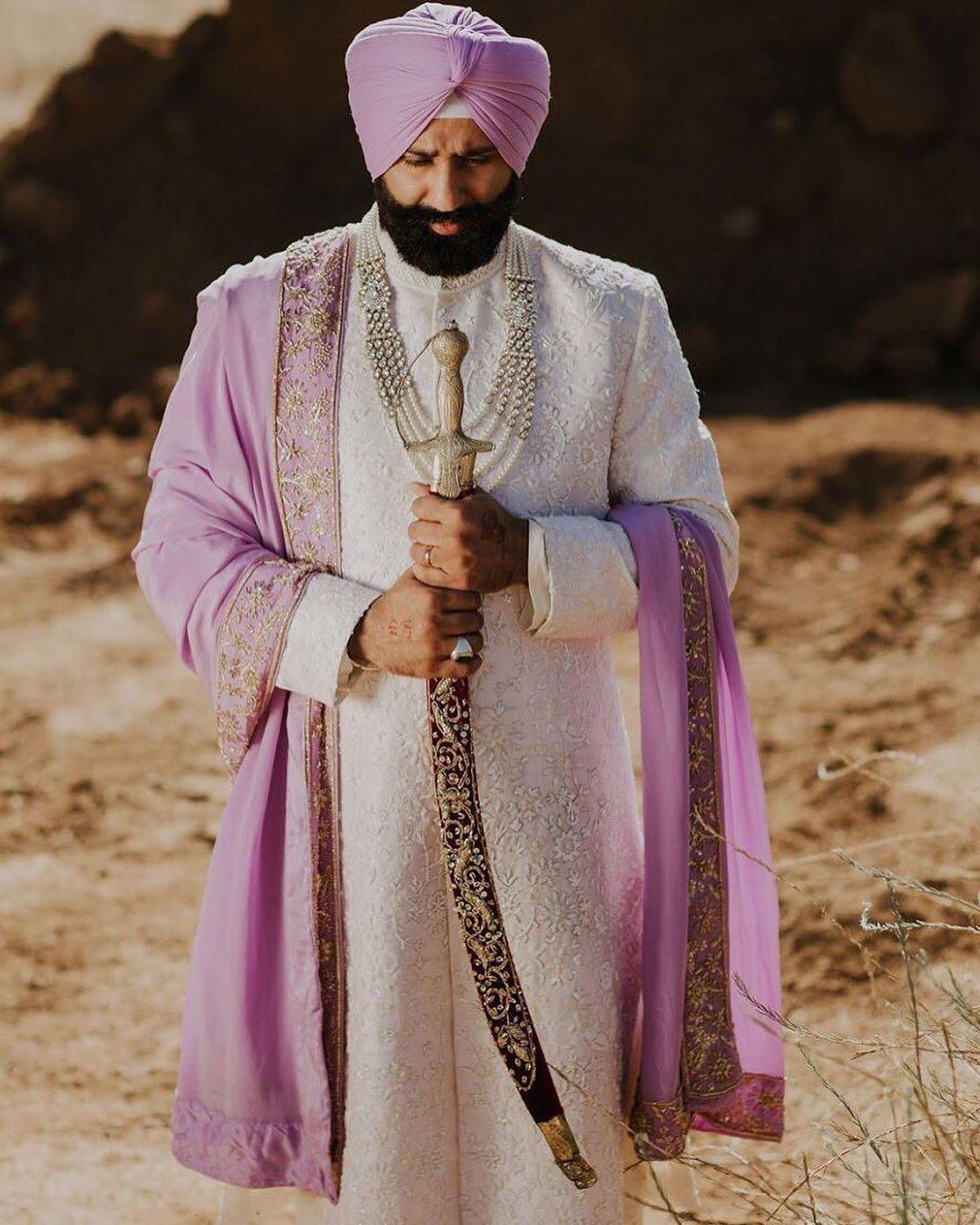 Image Courtesy: Harkiran Basra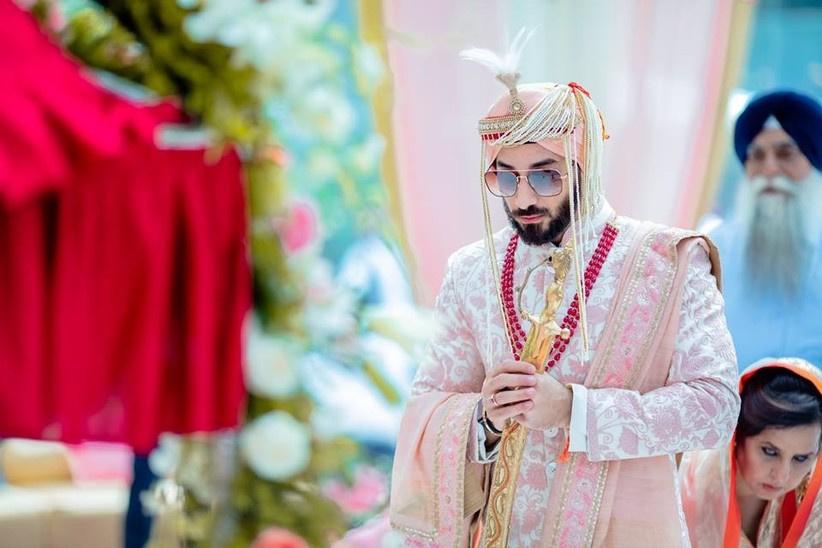 Silk Sherwani heavily embroidered with stones, thread work or mirror work, paired up with a tight Churidaar/Pyjama and a silk shawl- that's a Punjabi groom dress for marriage for you. Traditionally a Punjabi groom used to wear a kurta-pyjama with heavy Zari work on it. The kurta has now been replaced with gorgeous Sherwani designs. The silk shawl is a must especially if it's' a Sikh wedding, the Anand Karaj way.
Accessories: Silk shawl, a fancy turban with precious stones at the centre, a fancy Sehra made of pearl strands or beads covering the face, Kohlapuri juttis and a sword in case of a Sikh wedding.
Rajput Angrakha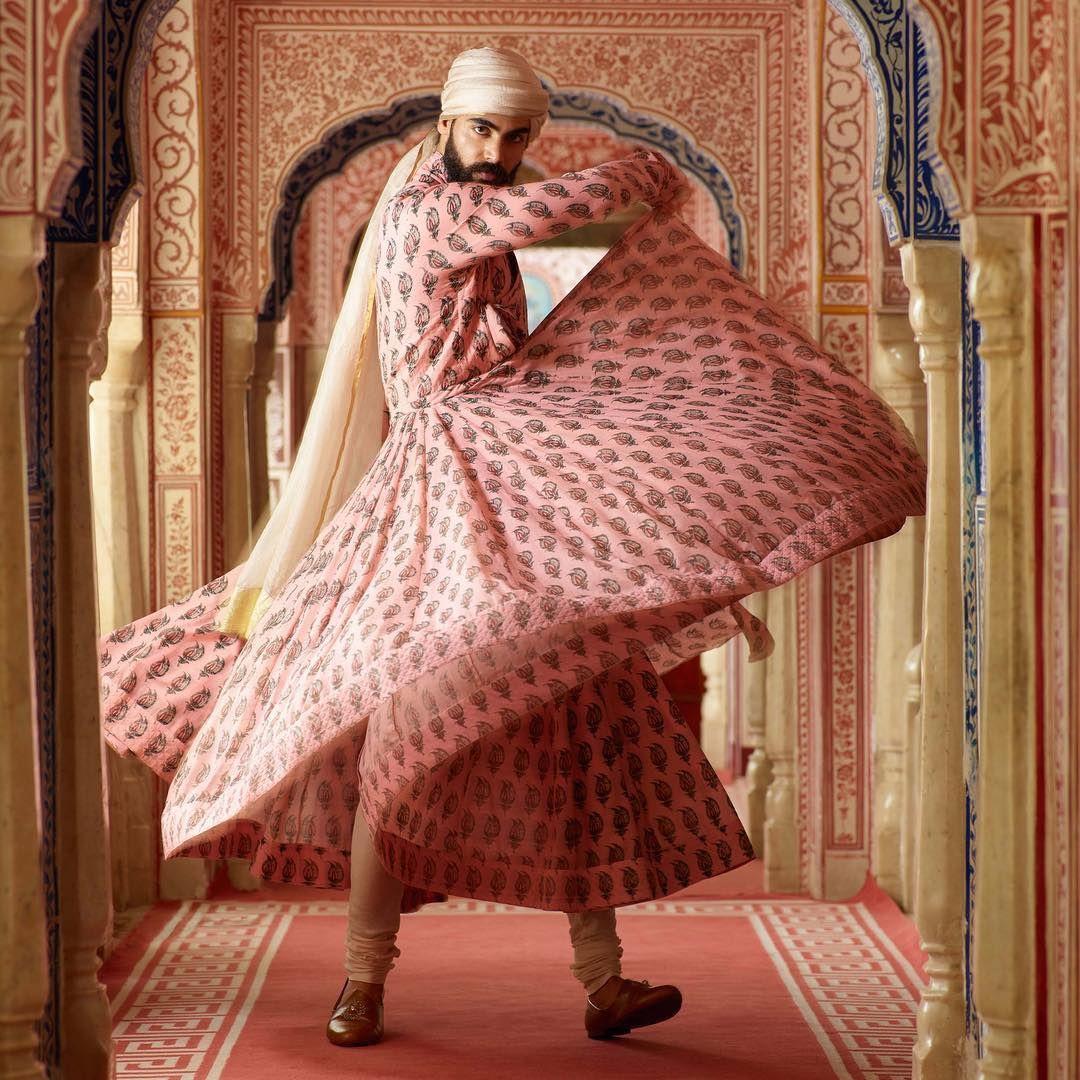 Image Courtesy: Sabyasachi Official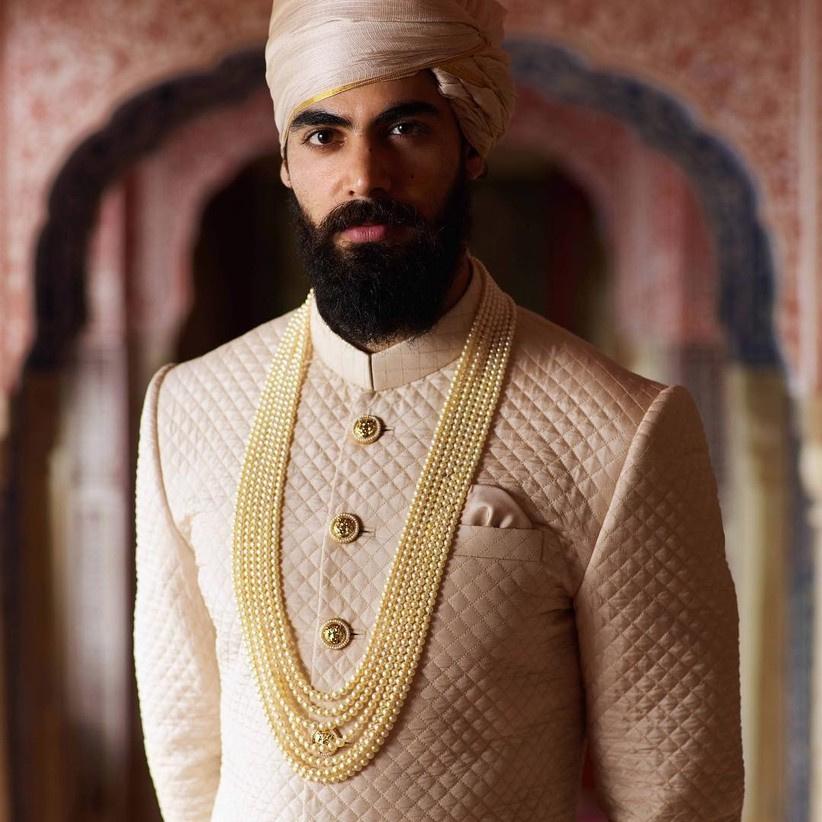 Image Courtesy: Sabyasachi Official
When you see an ankle-length Angrakha in rich fabric, heavy Zardosi work in vibrant colours and a majestic Serpech on the turban, you know you're looking at a royal Rajput groom dress for marriage! The intricate thread work, the grandeur and the regal touch in the whole attire makes a Rajput groom stand out distinctly. The Serpech or the traditional jewellery on the groom's headgear is the identifying element.
Accessories: A prominent jewellery made of gold and precious stones placed on one side of the turban, a sword, pearl necklace with multiple strands and Juttis or Sherwani shoes.
Kannadiga Veshti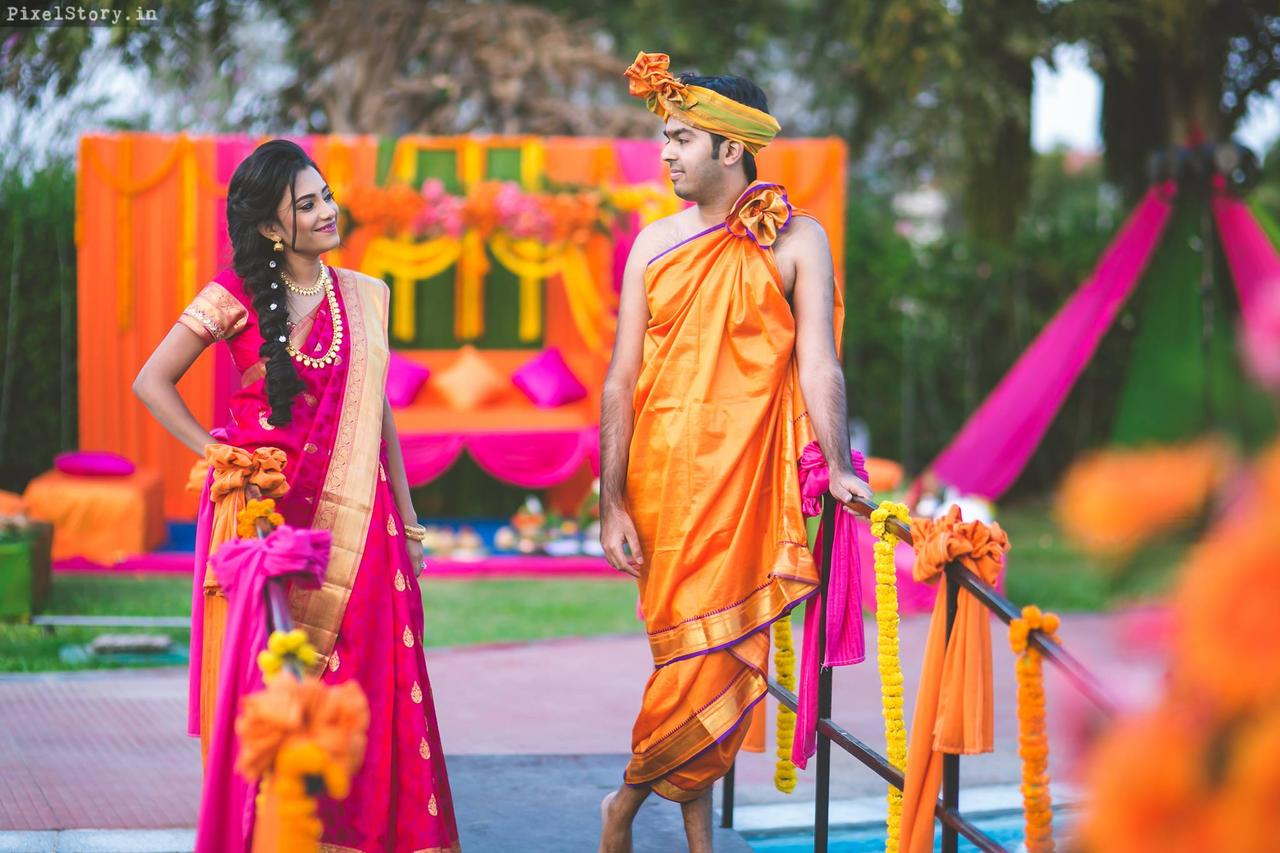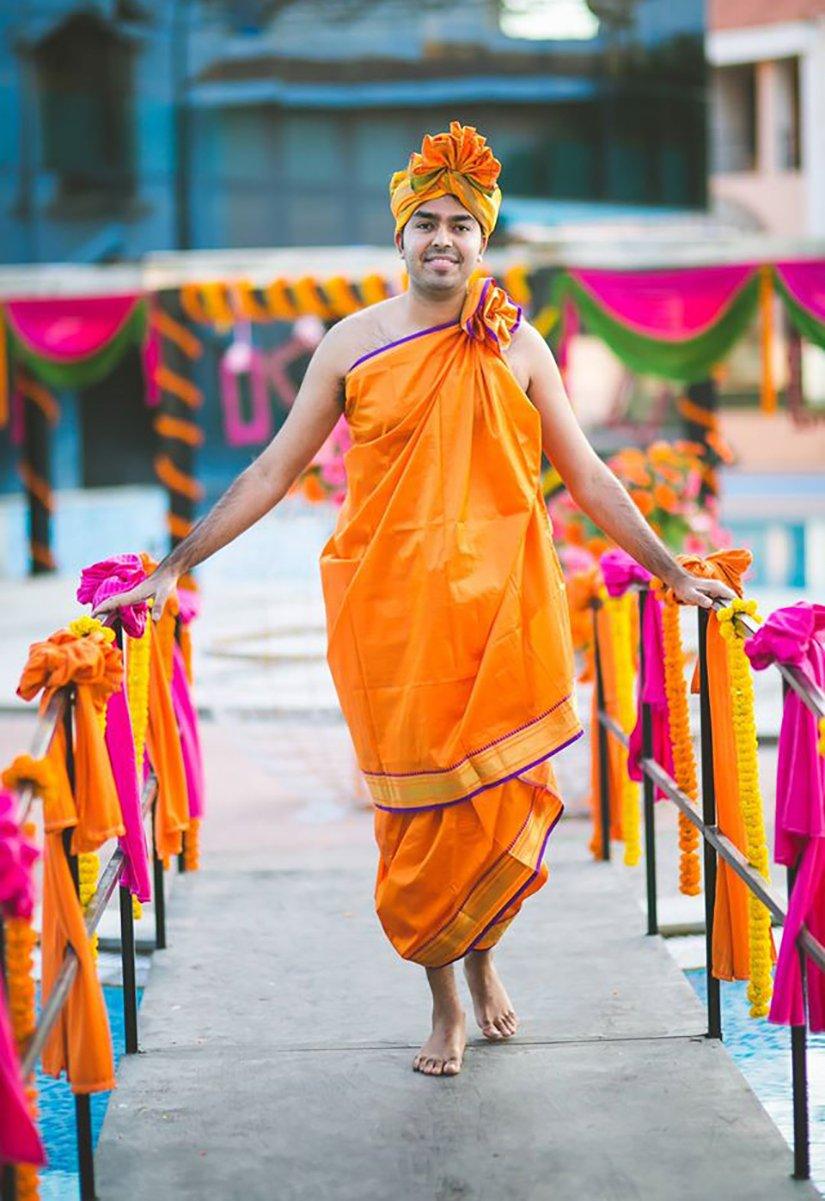 The Kannadiga groom dress for marriage is a simple yet a very crucial part of the whole wedding tradition. The groom wears a white Veshti or a dhoti draped in a typical fashion. This is one of those South Indian wedding traditions where there haven't been many changes over the years in the wedding attire. The Veshti is paired up with a matching coloured silk scarf known as Angavestram. In some parts of Karnataka, the groom wears a matching Valli along with the Veshti with a white shirt.
Accessories: A white or orange colour turban is known as the Pheta or Pitambar.
Malayali Mundu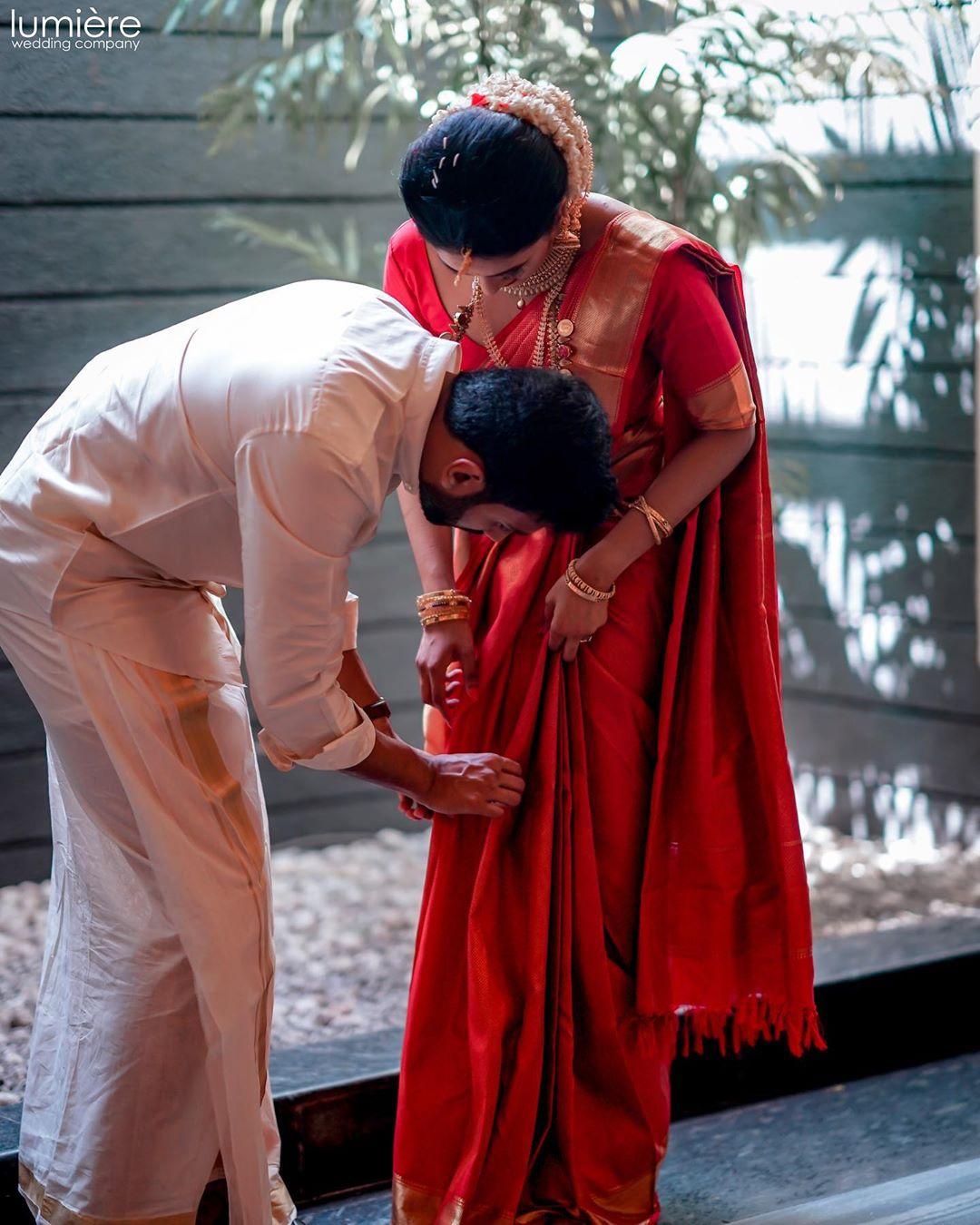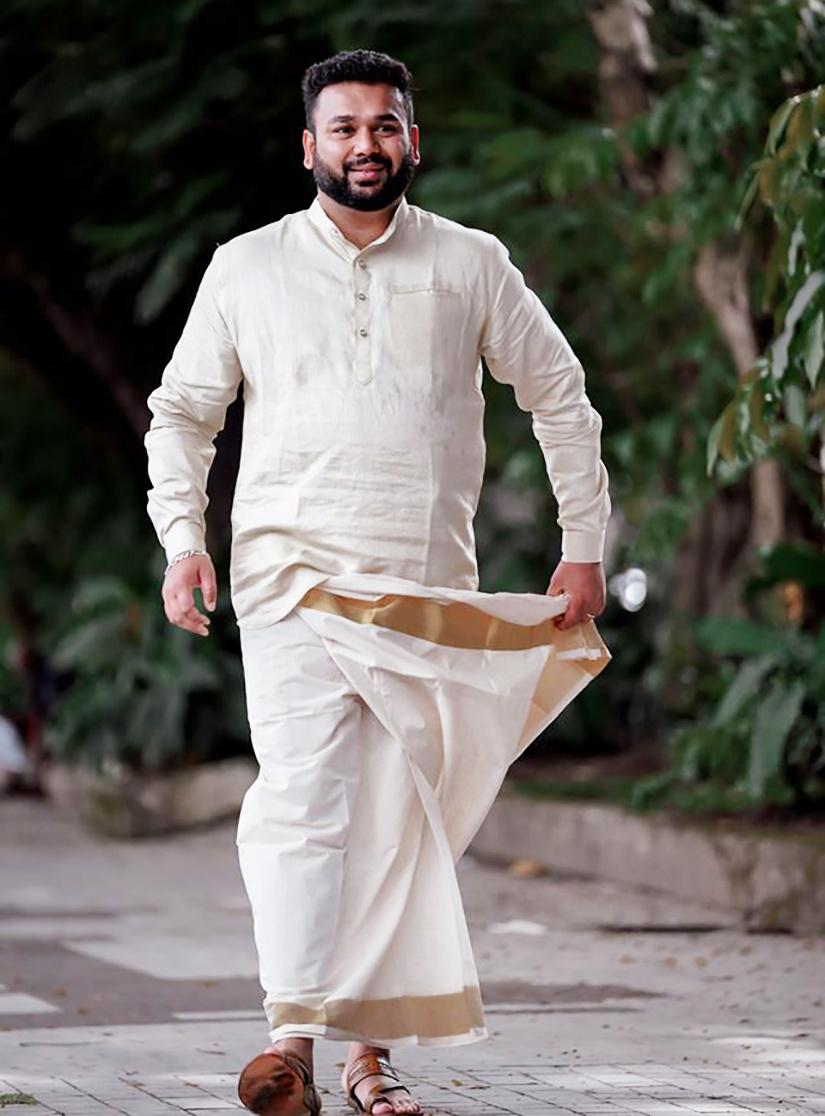 White, being an eminent colour in a Kerala wedding, the groom dress for marriage also involves white. The Kerala groom wears a silk or cotton white dhoti with golden borders known as the Mundu. The Mundu is paired with either a white shirt or a white kurta. These days the grooms also wear colourful sherwani but the Mundu still remains an integral part of the groom attire.
Accessories: Gold chain, gold bracelet and a gold ring are mandatory for any groom as gold is considered auspicious in a Kerala wedding.
Assamese Muga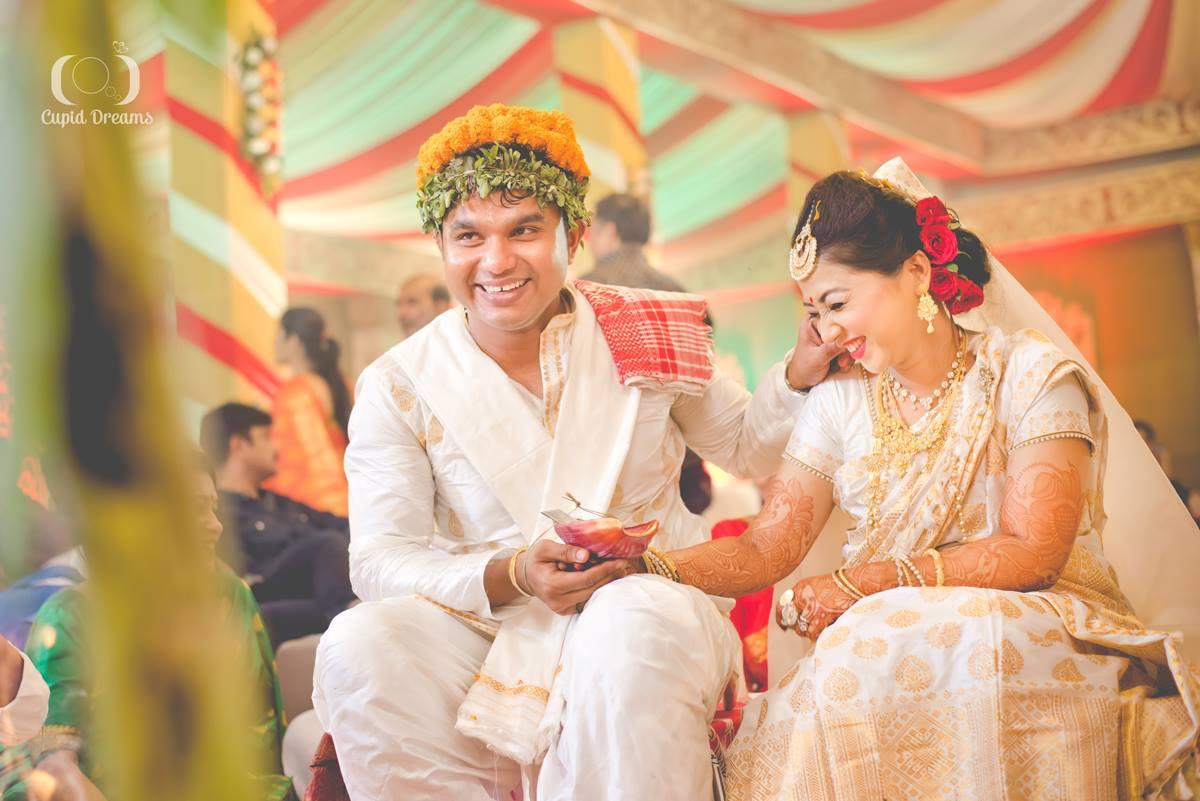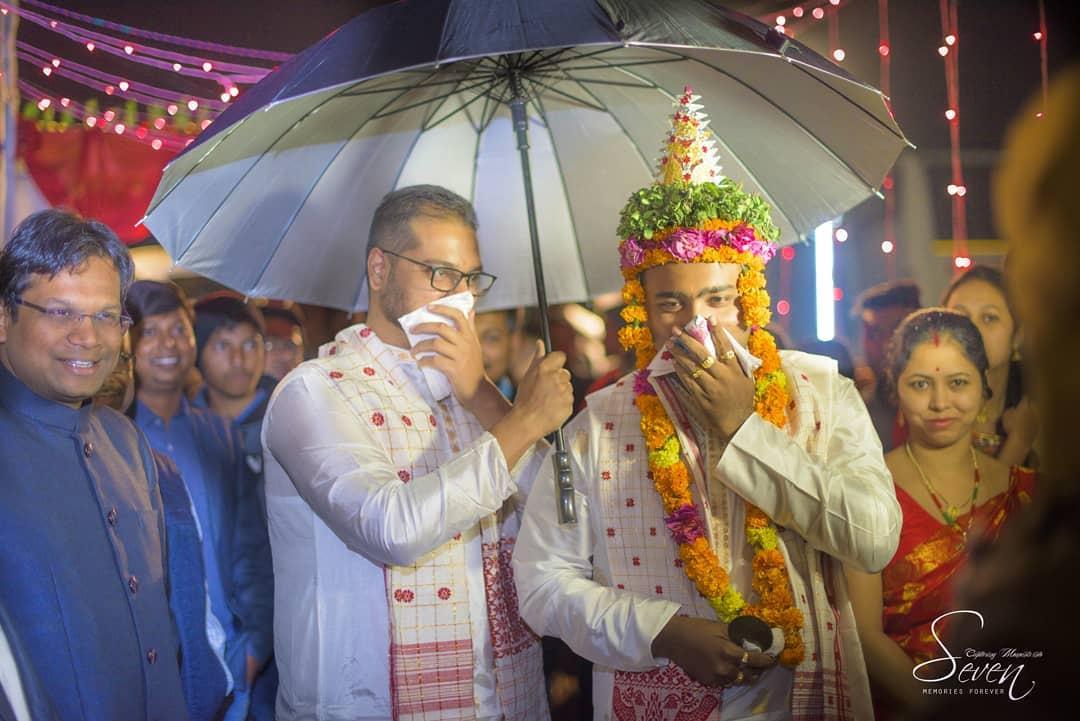 Image Courtesy: Seven Photography Productions
The existence of Muga silk in an Assamese wedding is absolutely inevitable. Therefore even though the basic Assamese groom dress for marriage is quite simple, the kind of fabric used is important. The groom traditionally wears a kurta and dhoti where the kurta is essentially made of Muga silk with beautiful golden and silver thread work. The other thing that's even more important is the Cheleng which is a shawl gifted by the bride's family. A Cheleng marks every significant event, including pujas and of course weddings. It's a white shawl with handwoven red borders and the groom wraps it around his neck.
Accessories: Other than the Cheleng, the groom wears a small floral headgear made of marigold flowers and Indian basil leaves during the wedding rituals.
Choosing a groom's wedding attire is just as much of a task as that of the bride's. Although the styling of groom fashion has changed massively over the years, most of the traditional groom dress for marriage in different cultures still remain the same, especially the ones the wedding rituals are performed in. But having said that, there also has been quite a lot of cross-culture groom fashion happening like a Jodhpuri suit is not just limited to the Marwari grooms or Rajput grooms! Or you will see grooms from almost every part of India sporting Punjabi Sherwani. So go ahead and try something fresh and new on your wedding...maybe mix cultural attires to create new style trends!
Which one of these traditional groom dress for marriage do you like the most? Share your thoughts in the comment section below!