Face Makeup Step by Step Tutorials for Different Looks
Want to look camera-ready at any event you attend? Check out these face makeup step by step tutorials for different looks!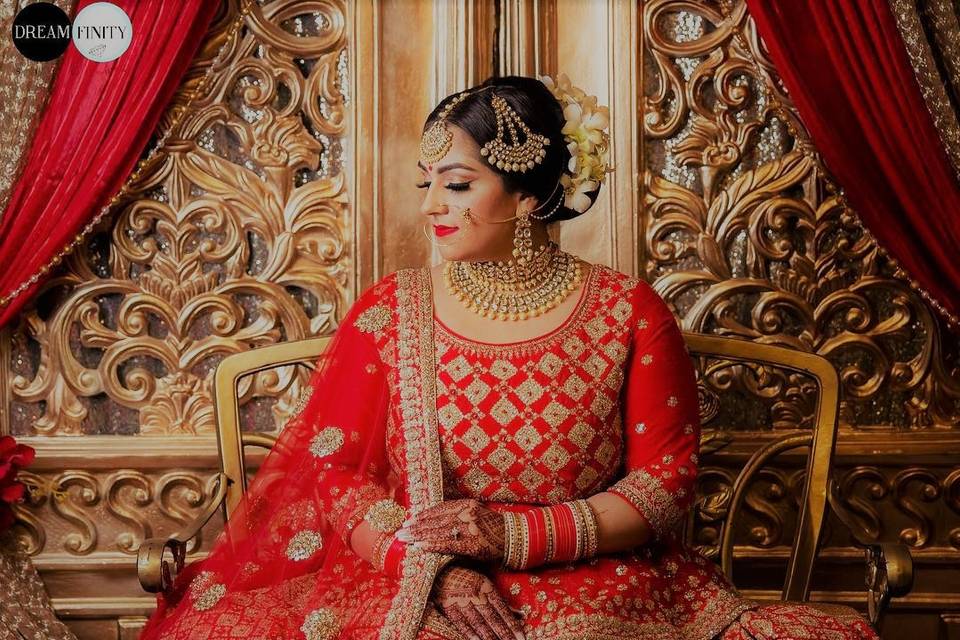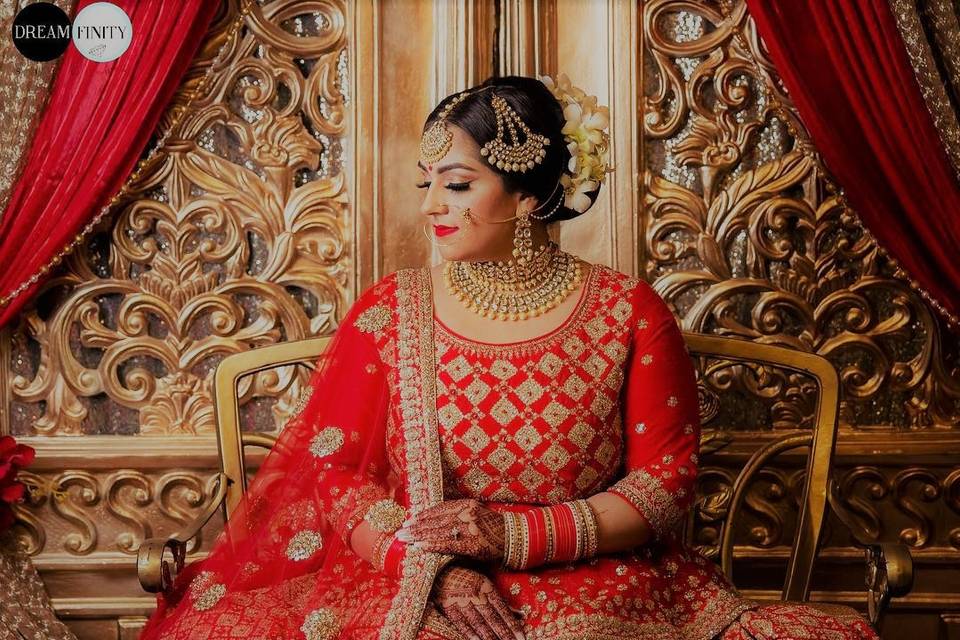 Image courtesy: Dreamfinity Studios
Who doesn't want to look perfect during a wedding? Whether you're the bride or a guest, you're going to end up spending a fair amount of your time figuring out how you want to look, and a major factor that influences your look is your makeup. In this article, we're going to show you how to do your face makeup step by step for different looks that are ideal for weddings!
To create each makeup look we are talking about in this article, you must first:
Start with foundation and then use concealer to brighten the skin under your eyes.
Use a contour shade to carve out your cheekbones and nose, and a highlighter shade to make light hit your face in all the high points – the tops of your cheekbones, the tip of your nose, the chin and forehead.
Start baking under your eyes so that the concealer and contour can set.
Bold Glittery Look for the Sangeet!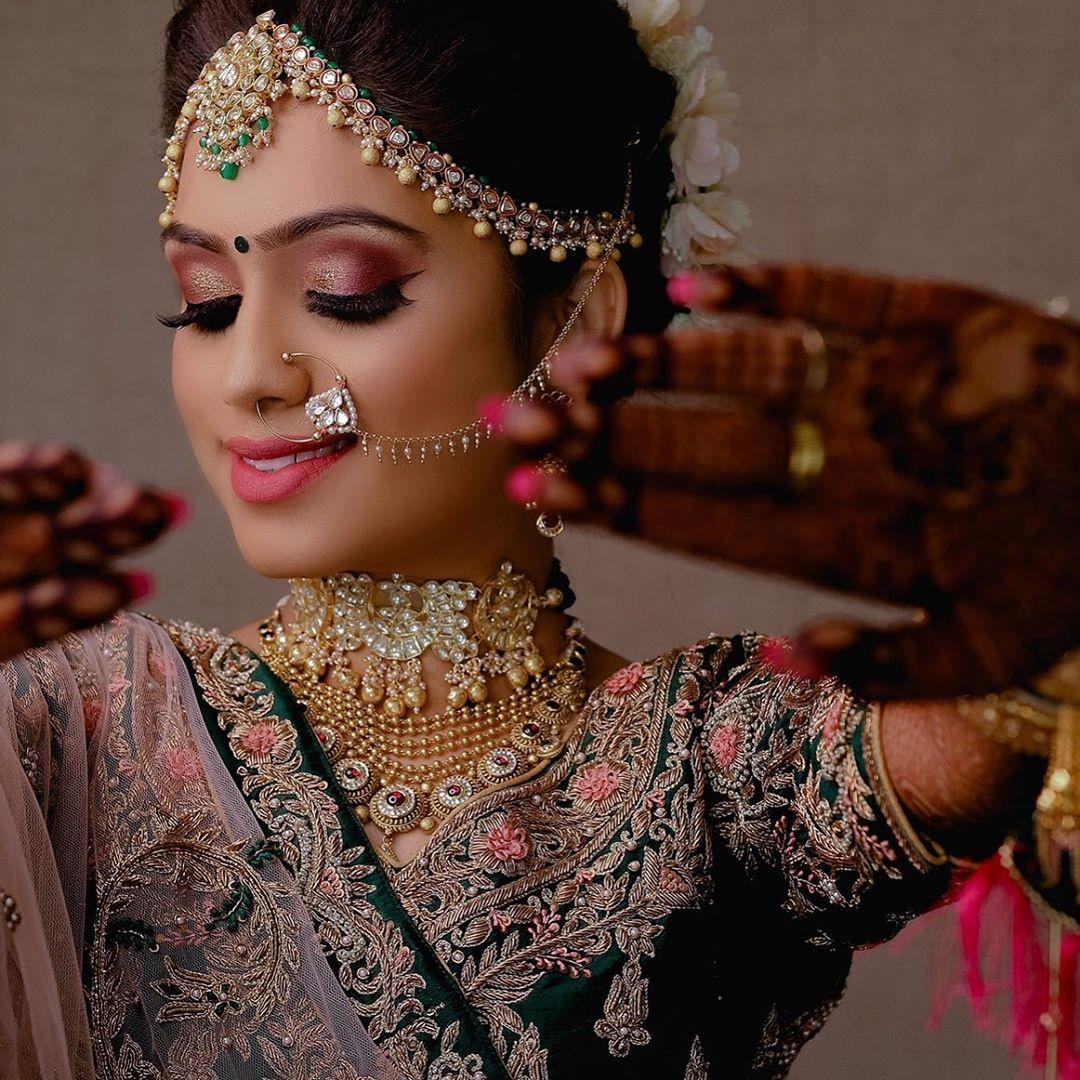 If you have big eyes with huge lids, take advantage of it by making your eye makeup bold and glittery. Such makeup can look great with all types of attires, including engagement gowns, making them right for the Sangeet. Here's how to do this face makeup step by step:
While baking, move onto your eye makeup. Here, the crease has a deep mauve-pink shade. The light pink shade is applied at the inner corner of the lid as well as the centre, with an almost burgundy toned pink shade applied at the outer edges, and the crease as well.
Apply bronze, rose gold or gold glitter onto the centre of the eyelid for a great effect.
Complete your look with pink lipstick!
Multi-coloured Look That's Apt for a Great Instagram Post!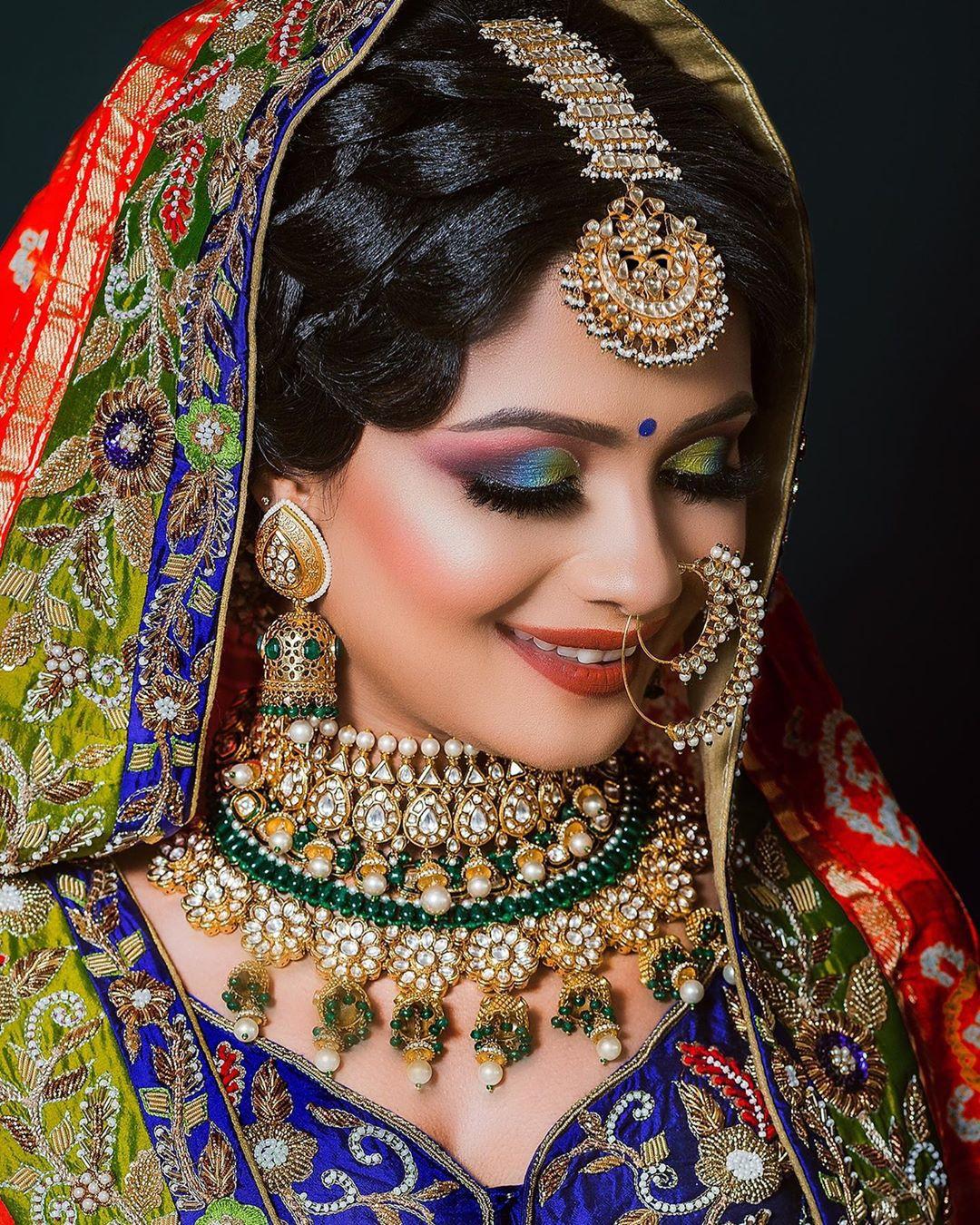 The multicoloured look is great for brides who are wearing bold attire and want their makeup to match. For this, pick matte shades in pastel hues so that the makeup does not overpower your entire face or outfit. Here's how to do this face makeup step by step:
Add a slightly neutral but colourful shade to your crease like pink.
Pick three shades from your palette, with the intention of adding the lightest (and brightest) shade on the inner part of the eyelids, the medium shade on the middle, and the darkest on the outside. Here, the bride has lime green on the inner lid, blue in the middle, and a chalky purple-grey shade on the outer edges.
Blend the edges of the deepest colour into the crease shade to make it seamless.
Use the same shade at your lower lash line, pop on falsies, and apply mascara.
The artist has used silver glitter liner to define the crease a little. This step is optional but will make the makeup pop more.
The last thing in this face makeup step by step tutorial is applying a pink lipstick.
Ombre Sunset Makeup for a Day Event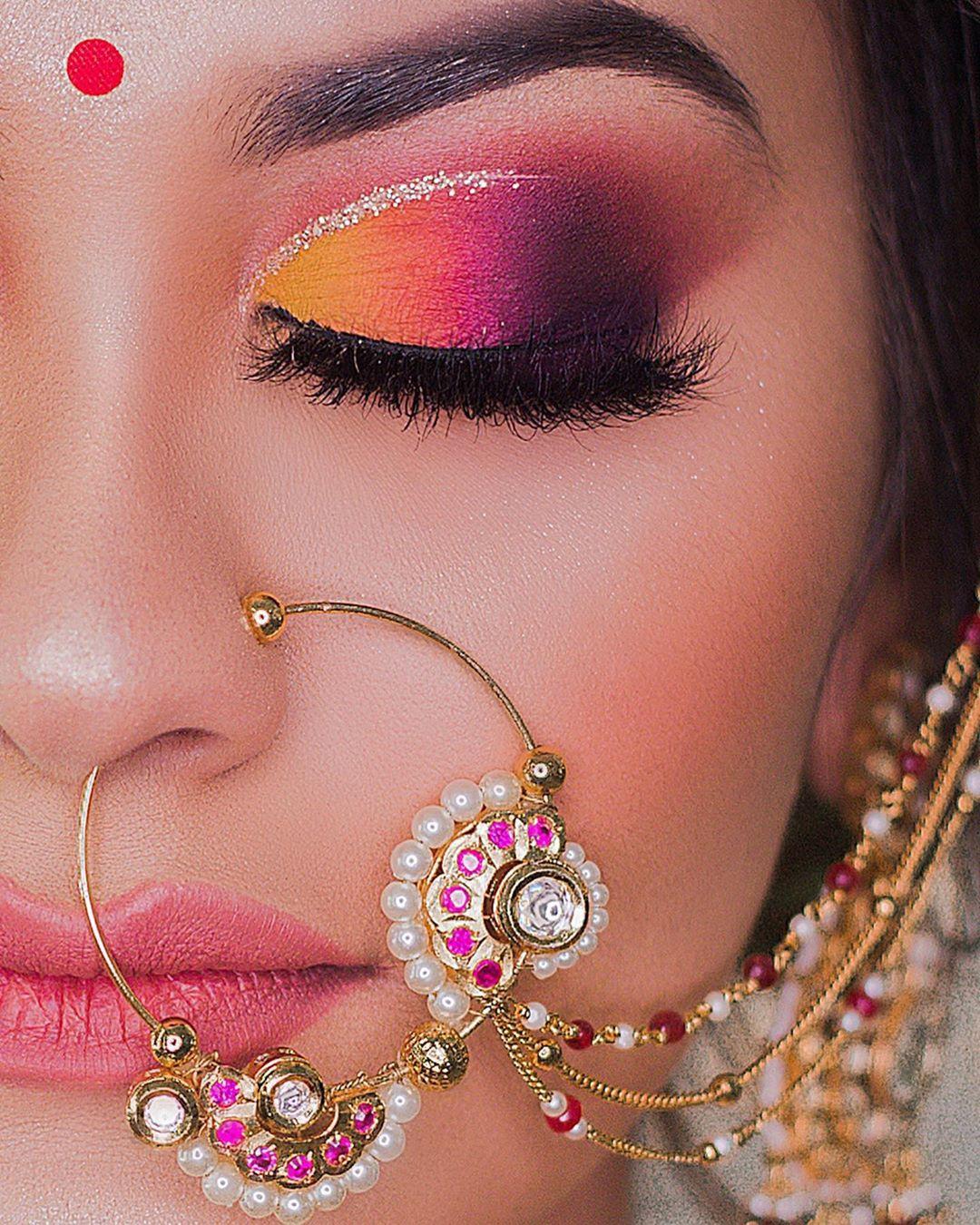 Ombre styles require skill so do practice this look a few times before attempting it on the day of the event. Like the previous one, this uses three distinct colours, however, while the previous has colours placed side by side like blocks, this one has a gradient effect. Here's how to do this face makeup step by step:
Apply a neutral pink toned crease shade
Apply an ochre yellow shade at the inner corner, a vibrant orange shade next to it, deep pink shade and then a purple shade. Once you apply them all, use a fluffy brush to blend out the makeup so that the colours create a gradient.
Apply a deep brown shade to the outer edges to deepen them.
Blend the shades into the crease lightly to make it look almost like a watercolour painting.
Apply a neutral-toned lipstick like pink.
Dramatic Smokey Eyes for the Main Wedding!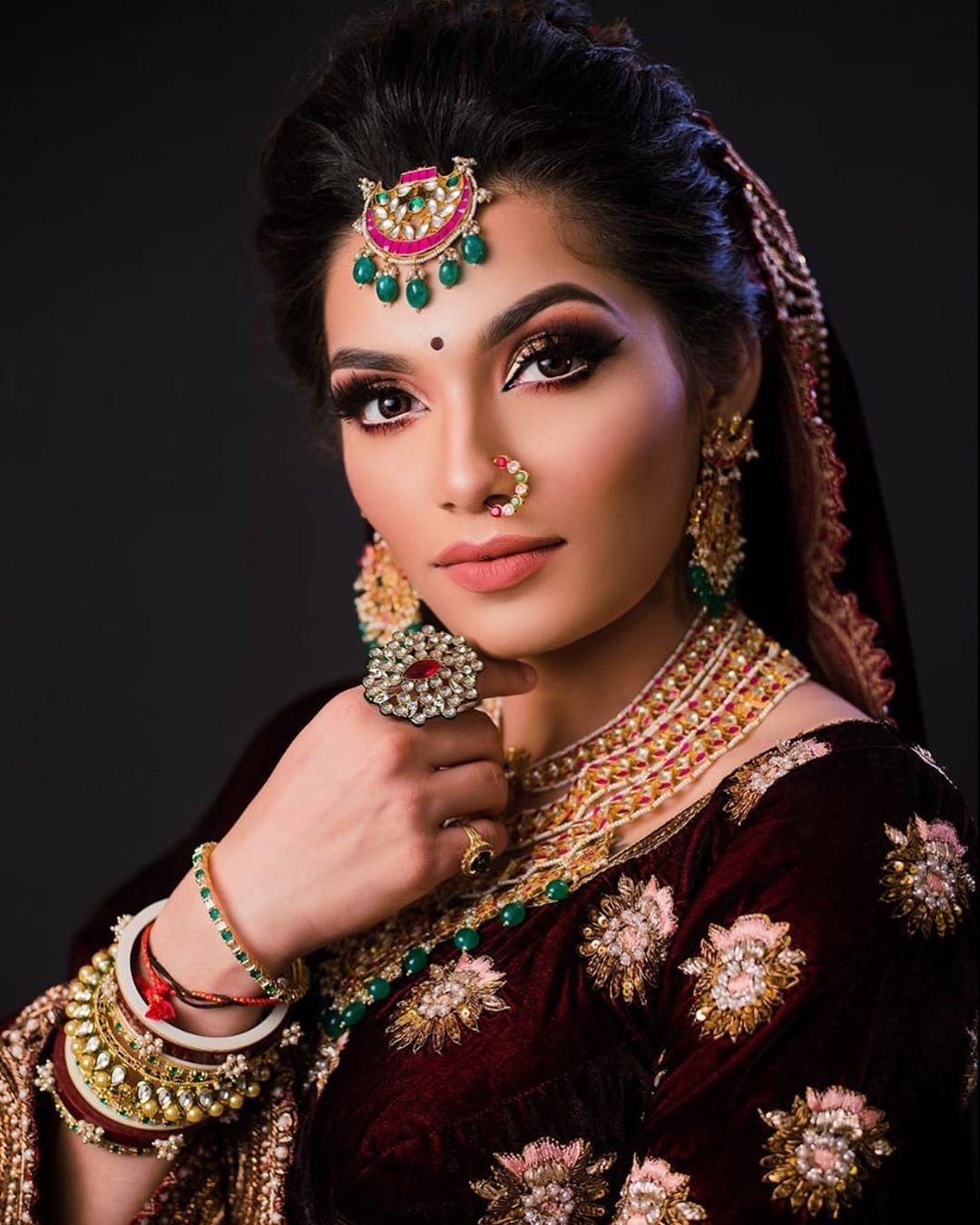 Smokey eyes will forever remain in the heart of every Indian girl, thanks to our collective obsession with Bollywood. The look here isn't the same as a 90s Bollywood Diva look, though. It's more dramatic.
Here's how to do this face makeup step by step:
Start by applying a taupe coloured neutral shade to the crease and inner corner of the lid.
Add a bronze shade to the centre of the lid, then brown as you move towards the outer edge. End it with the deepest brown shade you have (you can add little pops of black to the edges to deepen the brown further)
Blend perfectly but make sure there are no dark shades near the middle of the eyelid.
Use a white liner pencil to line your waterline, and don't forget to use your transition shade on the lower lash line.
Apply mascara that adds volume to your lashes, and pop on falsies if you have them.
Finish this face makeup step by step process with a neutral brown toned lip.
Now that you know how to do your face makeup step by step to achieve different types of looks, it's time to head out and buy all your favourite makeup products like Lakme or MAC cosmetics and so on.
If you don't want to create these looks on your own, just head down to a makeup salon near you!