Very often we look at a particular hair style and love it so much that we try it the very first chance we get. But, has it ever happened to you that a hair style you imagined to look pretty, turned out to be a disaster? Well, the reason that happened has probably got to do with the shape of your face. The fact of the matter is that all of us have a certain face shape, and whether we know it or not there are certain kinds of hair styles that suit us and certain others that don't.
To make a smart decision with your dulhan hair style, it is important for you to understand the shape of your face and the general guidelines that you must follow because of it. The types of face shapes that most people fall under include Oval, Heart, Round, Long, Square and Triangle. This article tells you the basic guidelines that you must remember while choosing a dulhan hair style for your big day.
1. Oval Shaped Face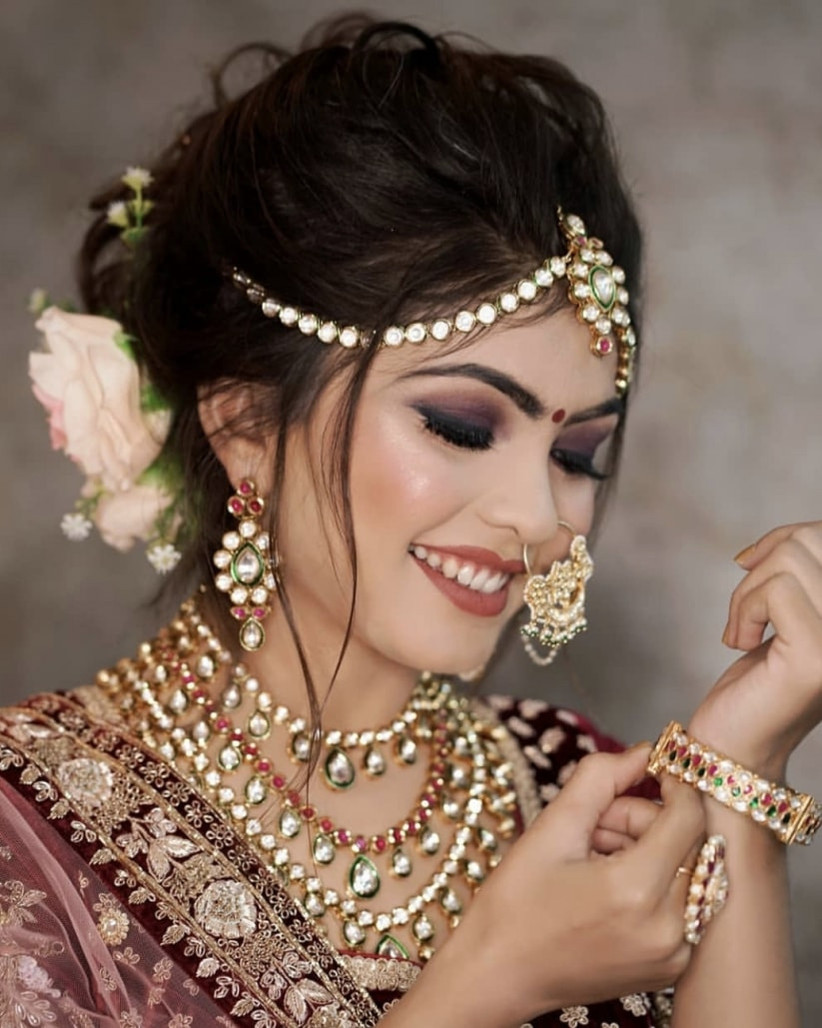 Image Courtesy: Aanalsavaliya
While this is one of the most commonly found face shape in people, it is also known to be the most versatile face shapes which can literally pull off any look. An oval shaped face is one that has a slightly narrower jaw in comparison to the temples and prominent cheekbones. While pulling off any look isn't much of a task for you, low side buns are sure to look gorgeous on your face.
Tip: Since you have a perfect face that gracefully tapers towards your chin, you can go for a dulhan hair style that adds width (volume) to your face, something like wavy out styles would look awesome on you too.
2. Heart Shaped Face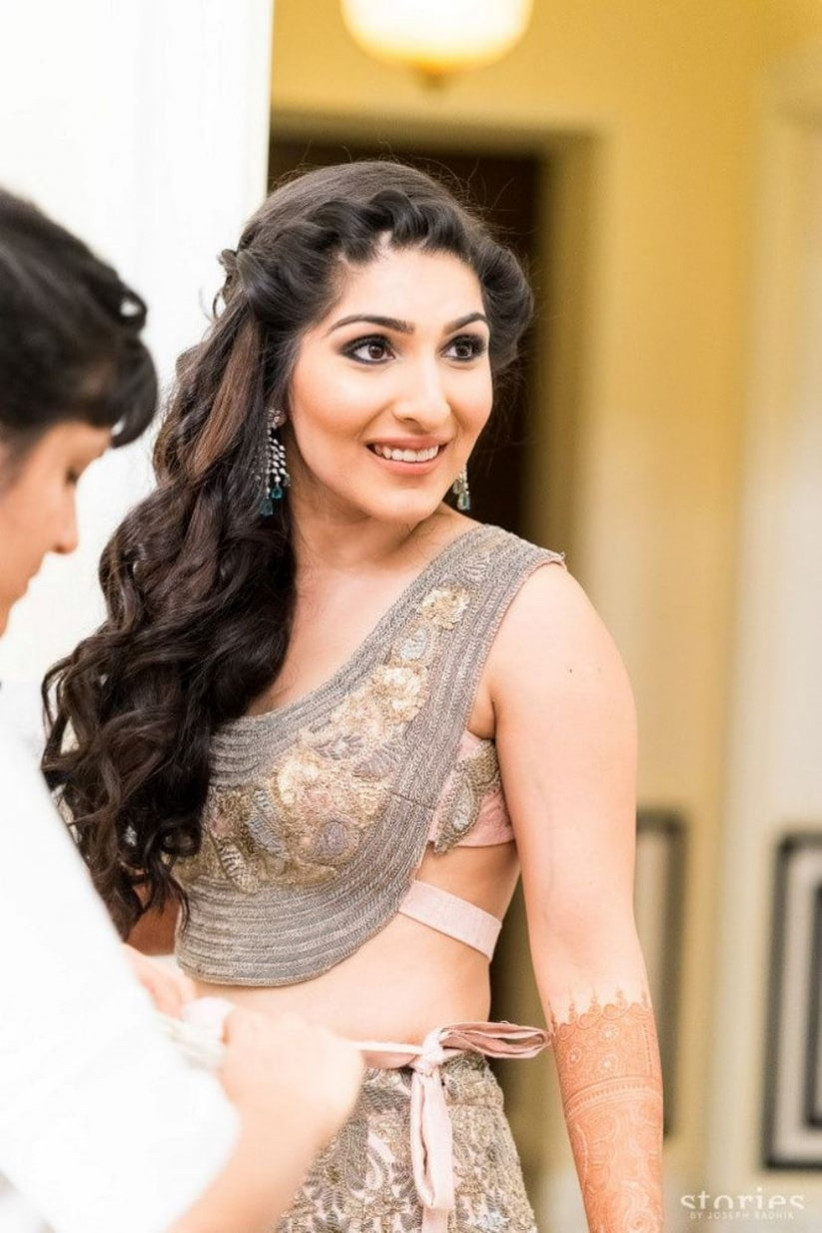 Image courtesy: Stories by Joseph Radhik
Broader forehead, wide temples and a pointy chin is the best way to describe a heart-shaped face. If you're a bride with a heart shaped face then don't worry about your wedding photographs. Yours is one of the most photogenic faces and you must go for a hair style with the focal point on your pretty pointy chin. Whichever dulhan hairstyle you choose, leaving loose curls around your face can help you accentuate your cheekbones and make it look perfect.
Tip: A heart-shaped face can carry off a headpiece or a braided headband like no one else. Position it above your ear or along your hairline to draw attention to your eyes and cheekbones.
3. Round Face
Brides with a round face are always struggling to create less volume around their face and choosing a dulhan hair style that makes their face look longer. A round face is known to be widest at the cheekbones. Look out for something that creates texture to make your face look thinner. Voluminous wavy open hair hairstyle could be your pick, or even side swept fringes can soften the lines and draw attention to your eyes.
Tip: The round shape face has a tendency of looking plump. Therefore you must avoid everything that makes you look chubbier like flat hairdos or a hairstyle with large flower accessories behind your ears.
4. Long Face
If your face is elongated in shape and features, you, my dear, fall under this category. Choosing a dulhan hair style that can balance your thin and long face with some volume on the sides will be a perfect idea. You can go for buns that create an upstyle at the mid-section of the crown.
Tip: Flatter hair styles can make your face look even longer and therefore must be avoided. Fringes or middle parting hairstyles, on the other hand, can work well for your face.
5. Square Shaped Face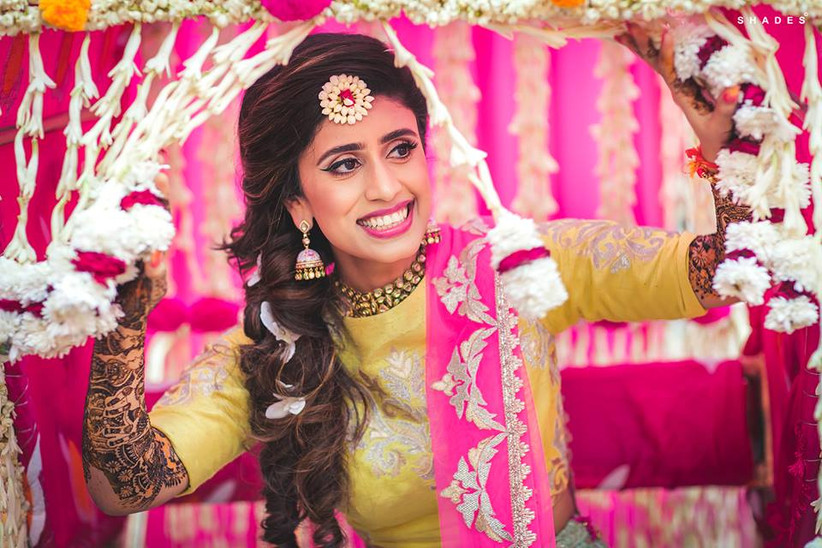 Image Courtesy: Shades
Recognizing a square face is extremely easy. Square shaped face often has an angular jaw that is wider than the temples. Dulhan hair style for square faced brides must always have lots of texture, waves or curls to add length and create an asymmetrical detail to soften the lines.
Tip: Wide headbands are a perfect way to create a round line and break the width of your face, while tight top knots or ballerina buns does not flatter your face and puts the focus on your broad jawline.
6. Triangle Shaped Face
This face shape is one of the rarest and the easiest way to describe is that it is just the opposite of a heart-shaped face. Brides with a triangle shaped face have a dominant jaw line that narrows at the cheekbone and temples. Any dulhan hair style you choose must narrow your chin and widen your forehead. Layered hairstyles will help you balance and soften the lines, therefore style them with layers that taper at the jawline to make it look more flattering.
Tip: You can go for a big headpiece that you can wear near the temple so that it draws attention away from your chin.
7. Diamond Shaped Face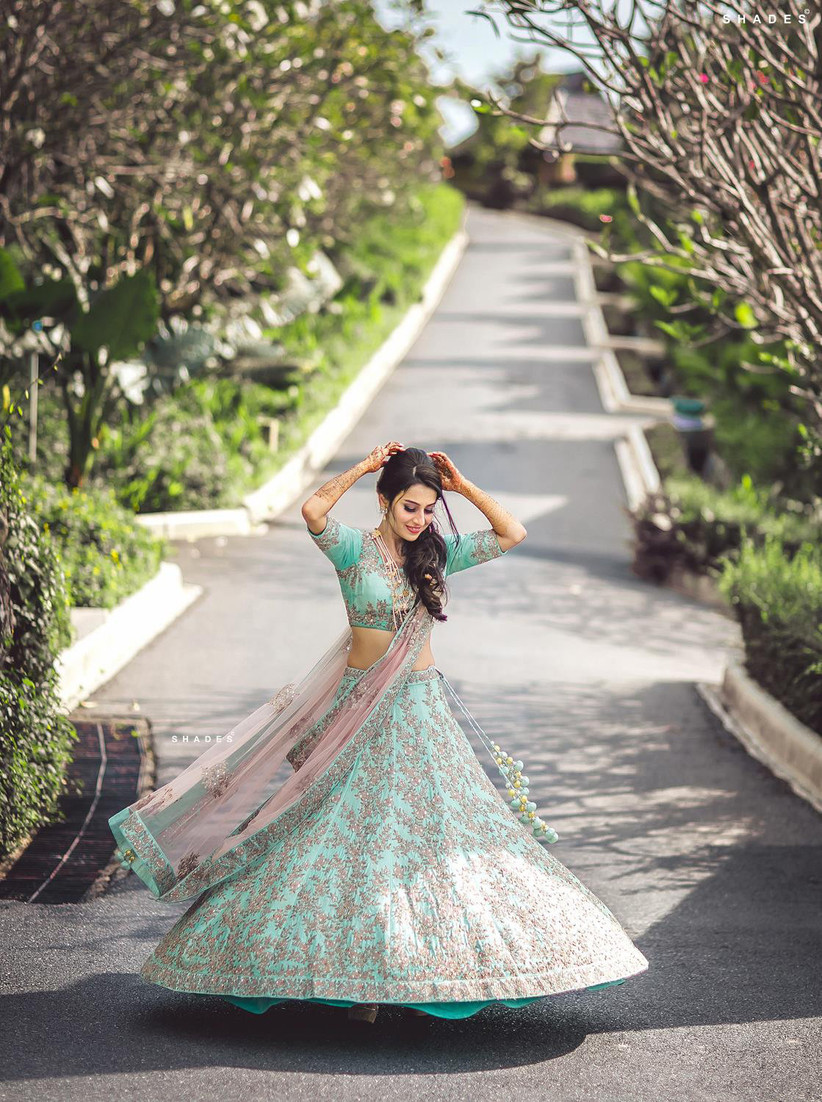 Image Courtesy: Shades
A diamond faced shaped is a highly angular face that is the widest at its temple. It is obvious that this one is a rare face shape too with a small pointed chin, wide cheekbones, and a narrow forehead. The forehead is an important feature to take into consideration when choosing a dulhan hairstyle with a diamond-shaped face. To fill in the hairline, short wispy bangs or side swept bangs can soften the forehead making it look less narrow. The side-swept bangs of the hair style should have less volume cover the cheekbones giving the face a slender look as well.
Tip: Hair left loose looks better on diamond-shaped faces than wearing it up. Yours is a combination of square and heart-shaped faces, so keep the luscious locks open to complement the killer cheekbones that you have.
Have a fair idea about the shape of your face now? Everyone's face is unique, so categorizing the shape of yours can seem daunting. But once you've figured it out it can be a great start to understanding dulhan hair styles and what they can do to make your face look better.
In today's day and age, the promise of stunning wedding pictures motivates many brides-to-be to go all in with their choices of clothes, jewellery, makeup and hair. In such a time, it is only fair for you to make a more informed decision about the dulhan hair style understanding how it can make you look better or worse on camera.
While we are sure that your hair stylist knows her job well, we'd still hope for you to be putting forth your own ideas and discussing how to make them work keeping the shape of your face in mind. Pick something that not just flatters your face but also matches your taste.
Which dulhan hair style do you think will work for you? Comment below because we can't wait to know your choice.