Celebrate this Pride Month with WeddingWire India #OnlyLoveIsReal - Real Couple Stories
Three impeccable love stories of couples from the Pride Community that will surely make your hearts melt. Scroll on, and get some tissues too, its going to get emotional.
Call it cliched, but we want to start this with a quote. Richelle E Goodrich said, "Love conquers all. I do not mean the exhilarating, spell-bound sort of love that temporarily intoxicates us. I mean the profound, unconditional, Christ-like sort of charitable love that endures forever. That love conquers all." Bringing to you the heart-melting love stories that conquered all, stories that will make you dream of your favourite movies and novels, WeddingWire India is here with the #OnlyLoveIsReal tales.
From their first Hellos to their happily ever afters - hear the 3 couples narrate their journey at WeddingWire India.
Agniva & Priyanjul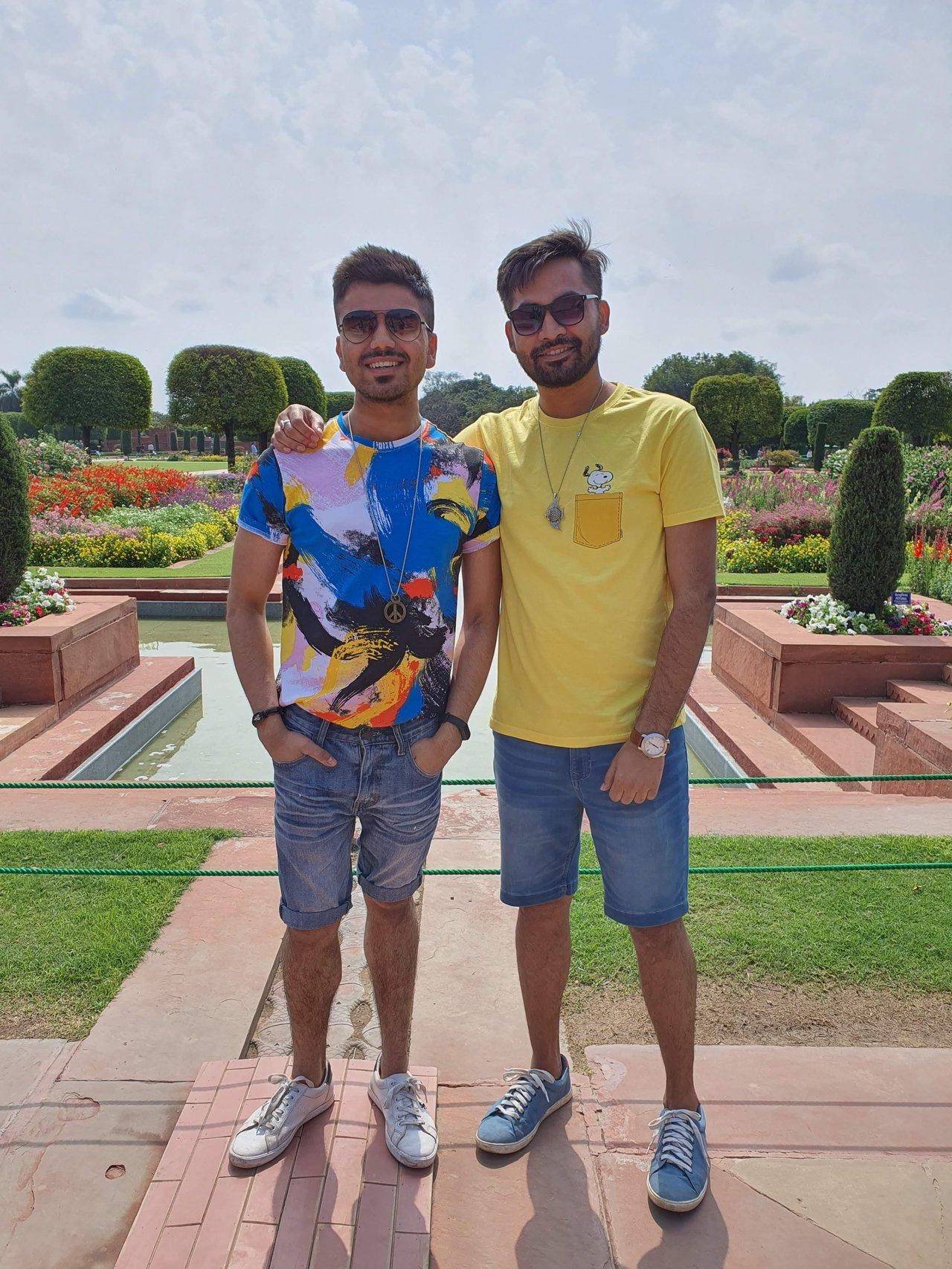 Agniva and Priyanjul met each other in Bangalore. It was at a common friend's place where Agniva and Priyanjul had their first encounter. Recalling that day, Agniva says, "Priyanjul is the best friend of this common friend who is also my friend. When we met at his place we kind of started off on the wrong foot. Priyanjul had approached me for a casual thing and I was super offended immediately - so I started showing him a bad attitude."
Priyanjul, "Before we move on, in my defence, I would like to tell you why I approached him on that foot. I was very young and circumstances were very different in Bangalore back then. I was not even looking for a partner to settle with before I met Agni. Plus Agni was going through a difficult phase with someone else, so I was strictly instructed by our mutual friend to not approach Agni for anything romantic and to avoid cheesy lines. Now that I think of it, approaching Agni for a casual hookup was also a terrible idea."
Agniva, "Cut to the day I saw a picture of Priyanjul on his profile - he was wearing a three-piece suit for his college farewell. Like a tuxedo. I found him pretty decent in the photos and texted him Hi. That is how we started talking. And then talking for an hour every day after we had our dinner became a ritual until we decided to meet in a mall in Bangalore."
Priyanjul chips in, "The thing that made us accept each other, even as friends, was that even while talking casually we shared our secrets & struggles that we had never said out loud before. We came to each other as a safe space that we had never felt before. Then we decided to meet at a mall in Kormangala. Before this meeting happened, Agni constantly kept reiterating that it is JUST a platonic meeting and nothing more. Now if I think about it, it was his past trauma that made him question the situation. But that day I wanted to Dunzo a legal bond paper that said YES, IT IS JUST PLATONIC. A sad part of the LGBTQIA+ community is that getting good friends is a tad bit difficult. So I and Agni found a friend in each other before every thing else."
Agniva adds, "On the 1st of July, Priyanjul had proposed to me at Lalbagh Botanical Garden. He asked me if I wanted to be his boyfriend. I started crying immediately - I am very emotional. That is the day we had our first kiss!"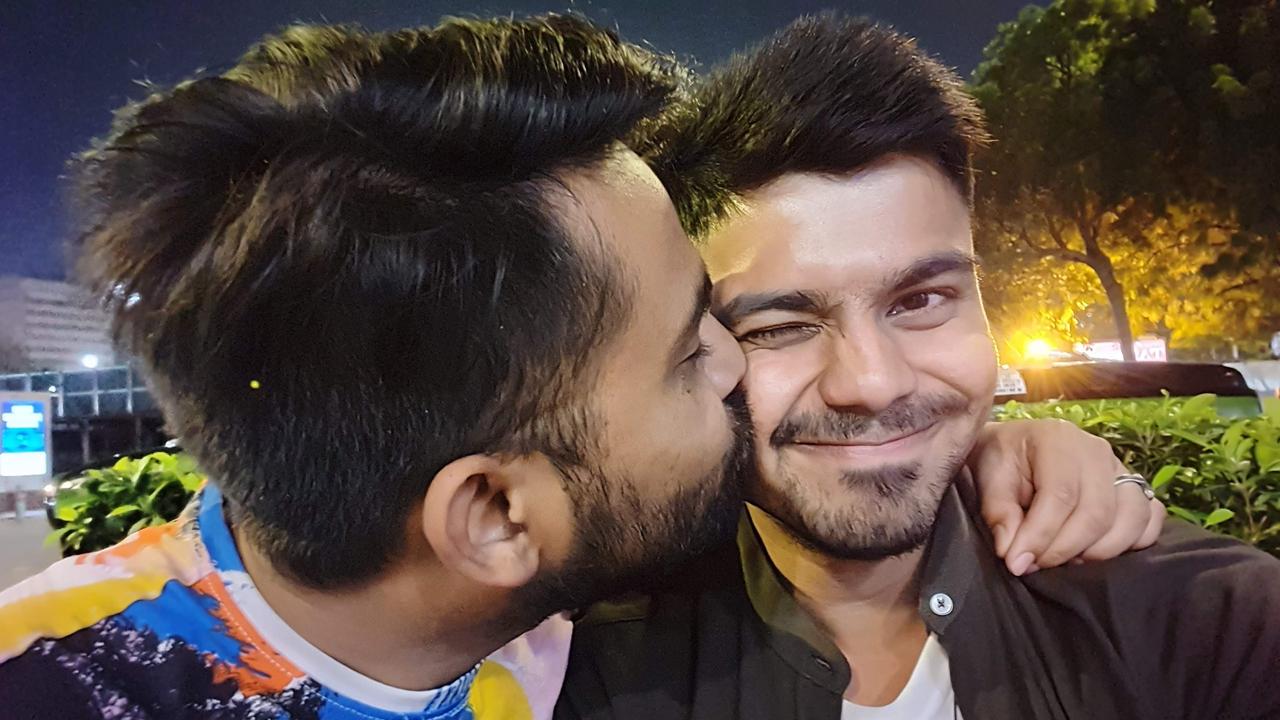 Priyanjul continues, "So I will tell you why the proposal - things with Agni were moving very fast - I am not complaining about the pace because it was the good kind of fast. I did not meet anyone before Agni with whom I wanted to be in a relationship. Basically, I was jobless in Bangalore for a month at that time & I was going for a job interview that day. So I thought if I get this job, I will get to stay in Bangalore - I will propose to him and if not, I'll have to go back to my hometown (Noida). Since this would be my very first relationship, I was not going to do a long-distance. Unfortunately, I did not get the job, but when I went to tell him about this, I could not close the chapter anymore. So I just held his hand and asked him, 'Do you want to be my partner?' He said, yes! Looking back to that day, it was very unromantic. I am very unromantic in general I believe."
Agni says, "But I'm a die-hard romantic - I not only watch romantic movies but I also know how to romance! So we kind of balance each other like the missing pieces of a puzzle."
Priyanjul adds, "From December 2020 to April 2021 we were in a long-distance relationship. In the month of April Agni invited me to his home for the Bengali New year celebration. While I was staying at Agni's hometown (Bardhaman), I got a call from my flatmate (who is also my cousin) that there might be a lockdown again so he is leaving for home. I immediately asked Agni to come to stay with me in the flat because everything might become ambiguous with the looming lockdown. Agni had to convince his mom and we came back to Noida together - just like that we were in a live-in relationship in NCR. Ironical thing, we did not come out till Pride Month actually. We would never post on social media - or post cryptic photos that only people who knew us would know."
Agni says, "I started coming out to my close friends first - about my sexuality and my relationship with Priyanjul. Then I came out to my mom in Bengali without using the words gay, transgender, lesbian or queer in English. I did this to communicate the concept of gender & inclination, etc to my mother clearly and make her understand. She was upset initially - there was a point when she thought it can be cured. But she was more upset because even though she was my mother, she was not aware of her son's life. But soon enough she accepted us without any labels because she is seeing us happy together. My sister and my mother are now okay and it was very significant because they played a pivotal role in our life. I work at the Pride Circle as their HR - we work exclusively for the LGBTQIA+ community to get them jobs in corporate, among other things. That is also how I started telling my mum about these things."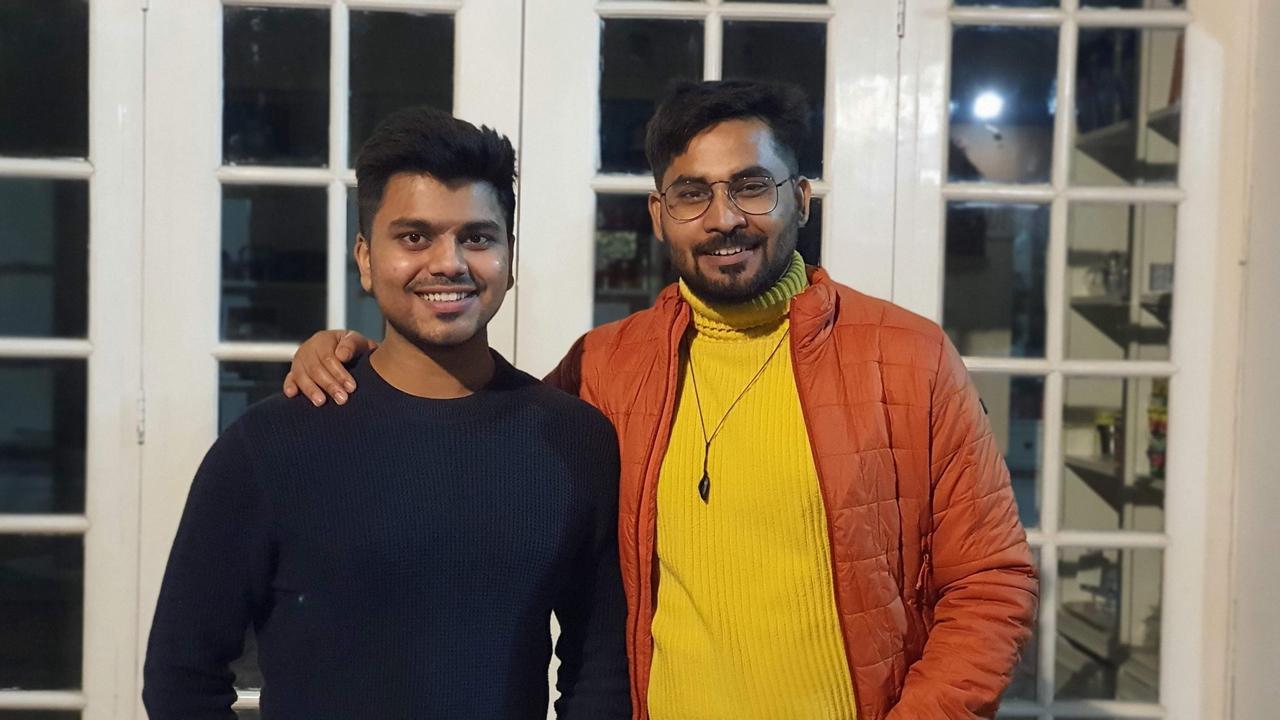 Priyanjul adds on, "After Agni, I came out to my younger brother first & he accepted me immediately. Then I came out to my mom in the summer of 2020. It was a struggle but that is because I could never understand where she comes from & vice-versa. She would often push me for marrying a woman and one day I directly her about the circumstances that would arise in a marriage of convenience - we would be unhappy physically, emotionally and in general. She got more accepting and started showing some empathy. She however suddenly asked me to come out to my dad during Holi. It was not okay to do it on a day of celebration, but then I came out to my dad. There were a lot of discussions…he did not accept me yet. We have not spoken since that day. But it is all a part of the process, and as a queer person I have signed up for this."
Agni adds, "Despite all these, I had gone to Priyanjul's house once, and his dad was very welcoming and warm. He even remembered I like boondi, and got it for me."
Priyanjul says, "By the way, we had a 'so-called' engagement too. We both love jewellery so we bought two rings and we stood outside the East Gate of Mall of India in Noida and exchanged those rings. It is a great inside joke. We even fight a lot, but we have a rule that needs us to resolve the fight over a calm discussion before we go to bed. I mean there was a time when I realised that Agni uses the #genderfluid for his photos on Instagram and I asked him if he even knew the real meaning of this. That is when he told me that he is still exploring his inclination and gender identity - can you imagine the horizons that a queer person can explore in his relationships as well? Life has been full of ups and downs - but always so fulfilling!"
Their journey has been impeccable and now, Agniva has a piece of beautiful yet helpful advice for the people out there who are still struggling to disclose their story or come out. He says, "If you want to come out to your family, come out to yourself first. People think the idea of coming out is solely telling people about your inclinations - NO. First and foremost you need to understand your own identity, gain knowledge about yourself and the community. This helps you be ready with your answers because parents will have certain questions that you will need to clarify. NEVER go on Google to search the process to come out - there is no said process, they are your people and ONLY you will know how to do it right for you. You must not expect them to accept you as you are immediately or probably anytime soon also - that is not how it works. You yourself took so long to accept yourself, it is only obvious that they will take time to accept you. There are times when people come out of one closet and go inside another closet. Their discomfort to say their identity out loud makes them say things like they are not interested in a heterosexual wedding, or they are asexual. So do not come out by force, only do it if YOU really want to."
Priyanjul concludes the conversation by saying, "Building on what Agni is saying, the self-acceptance part is very valid. Because we know of couples who are still in the closet who are very happy together or being a part of the spectrum, they will avoid any conversation when it comes to these things. Sometimes, this also creates a lack of confidence in their relationship that complicates everything for everyone involved with them. This is why being absolutely clear of your inclination is of utmost importance before coming out to the world. Because of all the adversities that the LGBTQIA+ community has faced for so long, we tend to think coming out is a battle we have to win, but coming out is about confidently accepting your own existence. Coming out is about standing strong despite the storms. I say this because I was one of them - I used to think coming out meant I will have to fight the world, prove people wrong, prove myself right. No matter you are gay or not, life is about being comfortable and confidence in the way we exist."
Also Read: A Tale Of Two Hearts - A Gay Indian Wedding That Will Make Your Day! 🏳‍🌈
Sumitro & Pardeep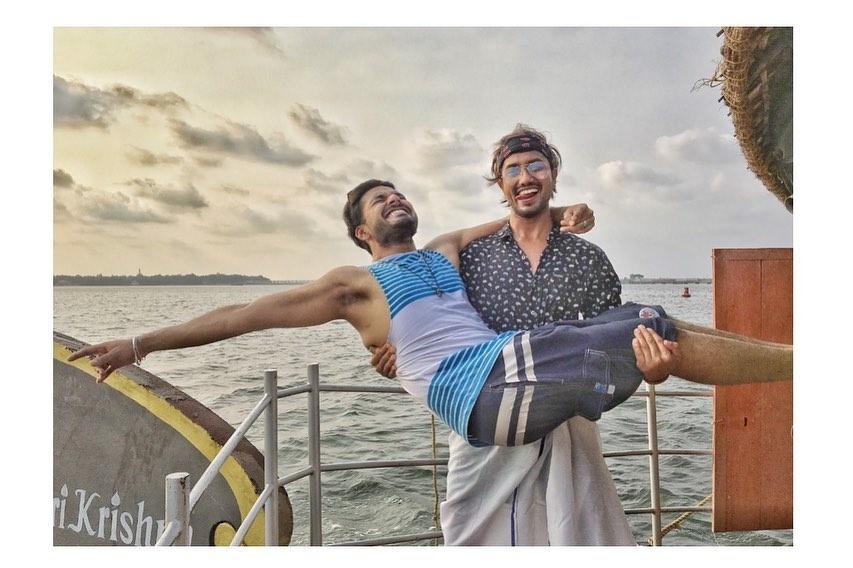 In another conversation, Sumitro tells us about their straight-out-of-a-Bollywood-script love story. Sumitro and his partner Pardeep met in the city where dreams come true - Mumbai. They were both building their dreams when the universe had a quirky way of crossing their paths.
Sumitro starts with how they met. He says, "I had shifted to place in Lokhandwala, Andheri West and was sharing this flat with 3 other people. After a couple of months, a new guy was moving in with us to the other bedroom. This marks the entrance of Pardeep - he came as a replacement in our flat. I am a people person and I would often host small gatherings in my house for my colleagues who are also my friends. During one of those house parties, I happened to realise that we were supposed to get our new flatmate that day. So I walked into this other room, and opened the door to check on the "new flatmate." As soon as I saw this cute man in white shorts sitting there fidgeting with his phone, without saying any Hi, Hello or Namaste - all I said was "wow." I still don't know why - it wasn't a Greek God moment nor am I a cheesy person! I wonder if it was the alcohol - one peg down? He looked stunned. He looked very upset too (later I found out that he was misled by the person who was subletting the apartment and he ended up in the wrong room - basically conned). That day is on my mind like a vivid picture."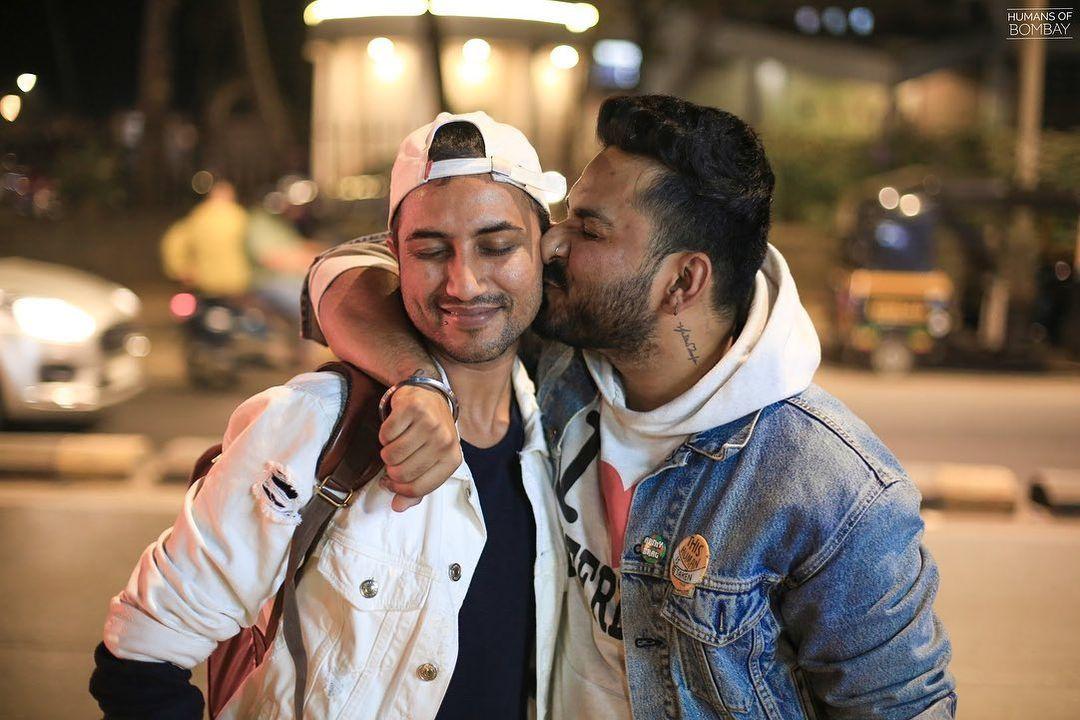 He continues to tell, "I sat there and introduced myself and like the people person I am - I started chatting with him. He introduced himself too. Then I happened to ask him if it was okay for me to have people over because he was the new flatmate after all and I needed his consent. He happened to be okay with it, so I asked him to come over and join us. He denied the offer and I left his room. Though I was chilling with a lot of people around me, my mind stayed in that room. So I went to his room - AGAIN, but this time I knocked. I asked him to join us again, but he rejected me twice by then! As a 24-25 y/o, in my mind then, if someone offered me free drinks at a party, I'd never say no - I might reject that now, but then it was my motto. Eventually after persuading him for a while, he came to the room where I introduced him to my colleagues/friends."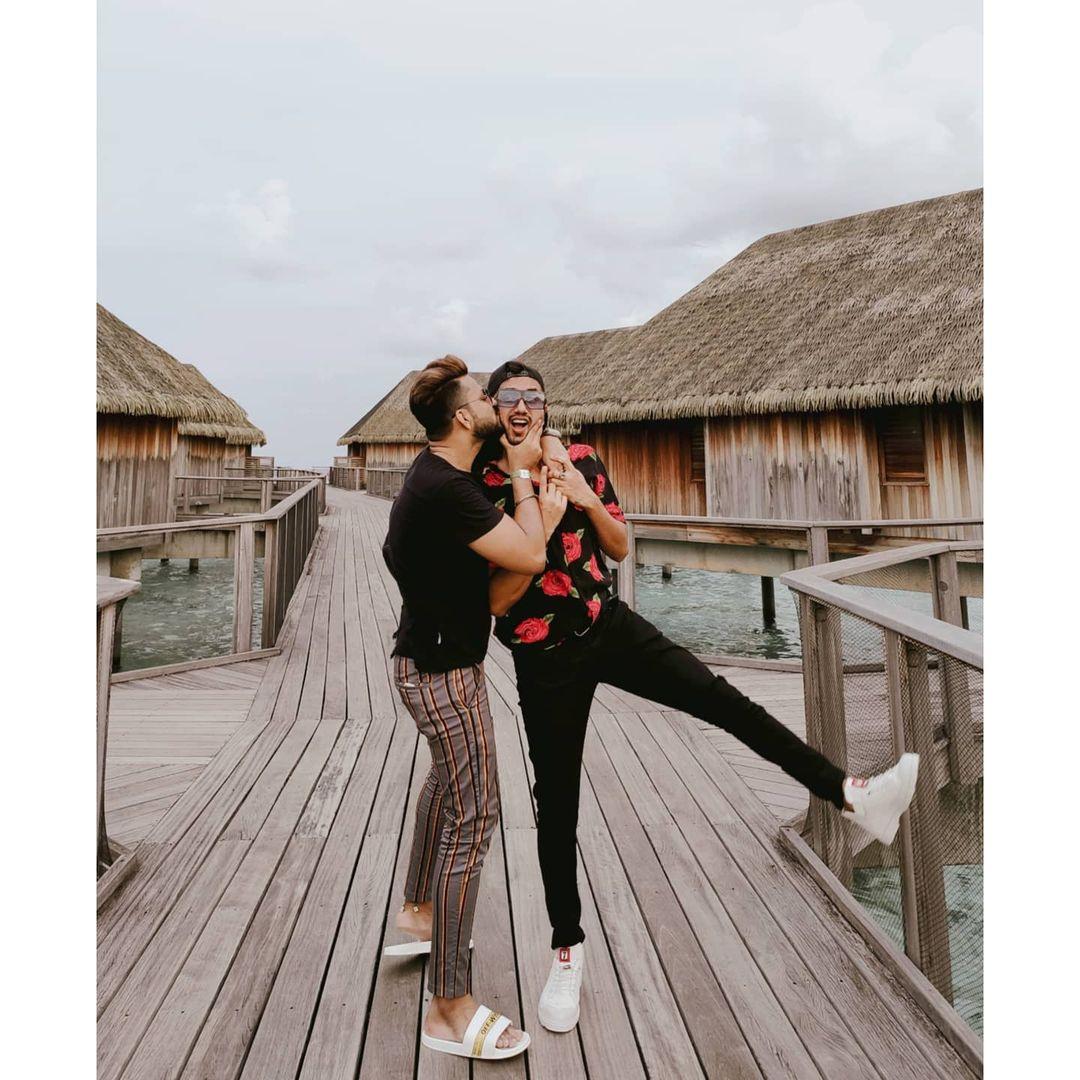 "This is when I offered him my whiskey, which is by the way very precious to me and his reply to that was, 'Beer nahi hai?' My exact reply was, Beer kaun peeta hai? (I thought to myself oh, so there are people who drink beer). He made a face and settled down with the glass. He took the drink & sat on the floor - our eyes locked. There was a strange eye contact which we could not withdraw. We immediately knew it was something. Later that night, I walked into his room with two plates of dinner and candidly started to feed him with my own hands. So I've been fed by many people in my life - my mother, my grandmother and even friends. But for Pardeep it was his first - a very big deal for him. Though we were not open about our inclinations - there was a spark. We also consensually kissed that night (ofcourse, after he did the dishes)! I can visualise the entire thing all over again."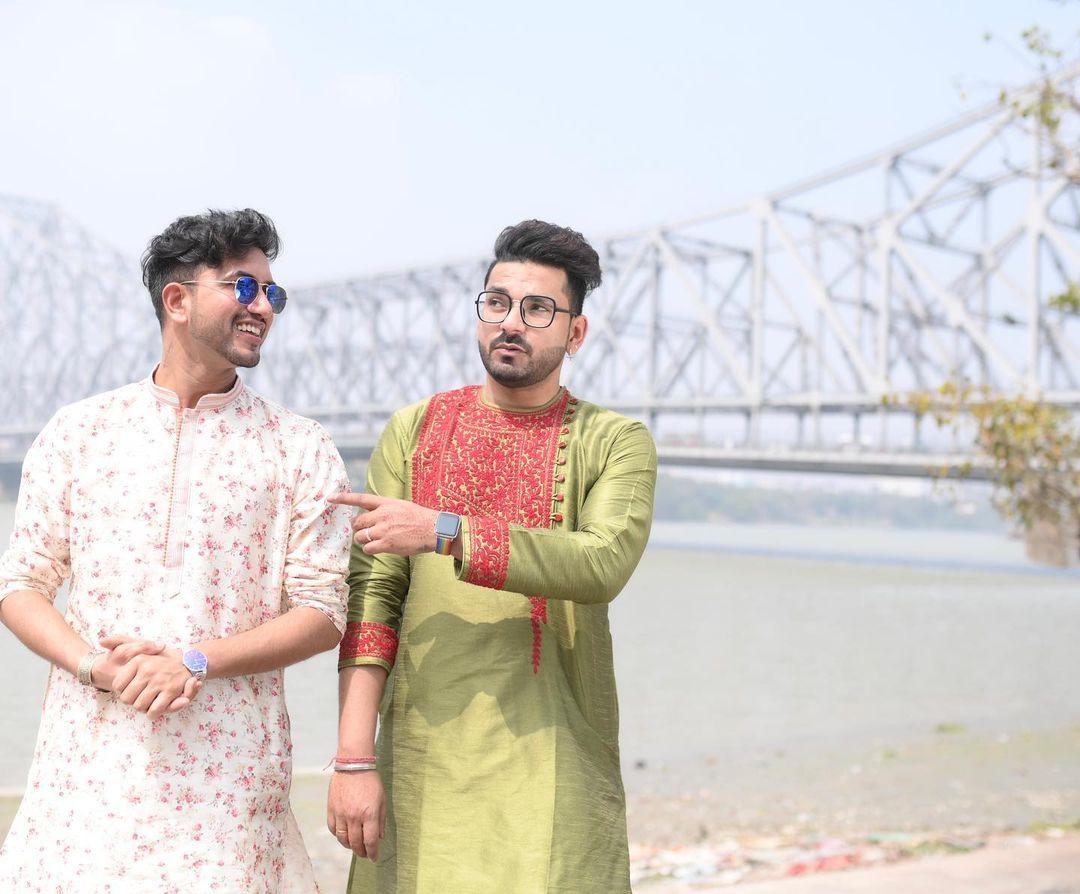 They gradually started knowing each other, and when asked about the day he realised it was love, Sumitro says, "I fell in love with him on my birthday. There was a huge party that evening - there always is at my birthday. A guest list of 15 turns to 25 all the time in Mumbai especially. But that morning, Pardeep got dressed early and woke me up with a kiss wishing me happy birthday. He also picked out clothes for me (he actually does that even today)! We both left for the Isckon Temple in Juhu to start the day with blessings - a first for me. I have never known a birthday like that before. Soon after he went with me to pick things for the birthday and at that party, I made sure there was beer! That party was also when he got happy drunk and went around telling my friends that he loves me. Honestly when I got to know about it, I was ecstatic - like oh really?"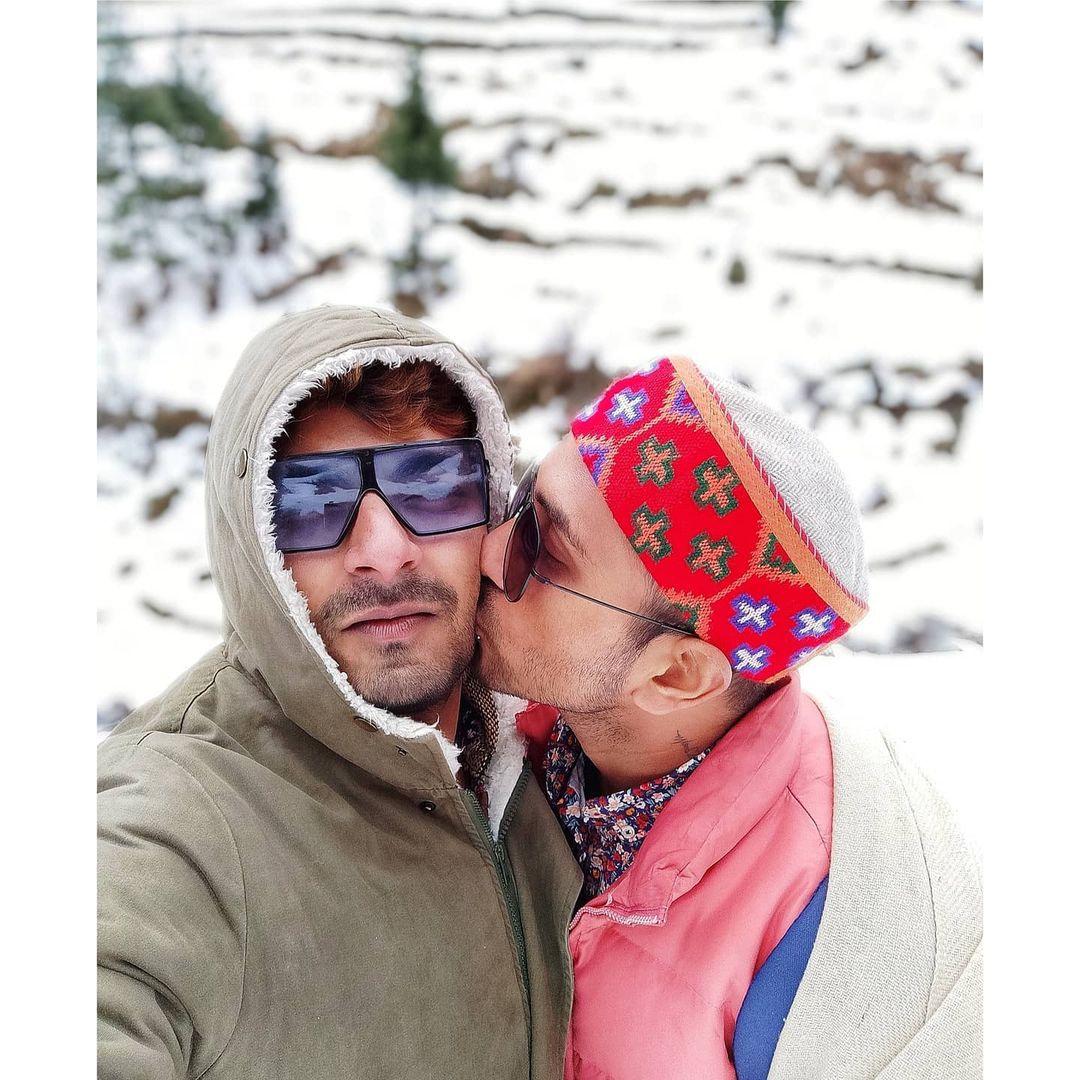 It is never all butterflies and highs in a relationship and the duo had their arguments. Sumitro adds, "Due to commitment issues and certain circumstances, I was still not sure about a relationship. We had an argument following which he had moved out of the apartment because staying as just a roommate was not enough. Well, he anyway had to leave the house because he was not liking it since the start. But when he left, I had a quick realisation - HOW CAN YOU LEAVE ME! I immediately moved in with him and told him - 'You cannot leave me, because I want to wear your clothes.'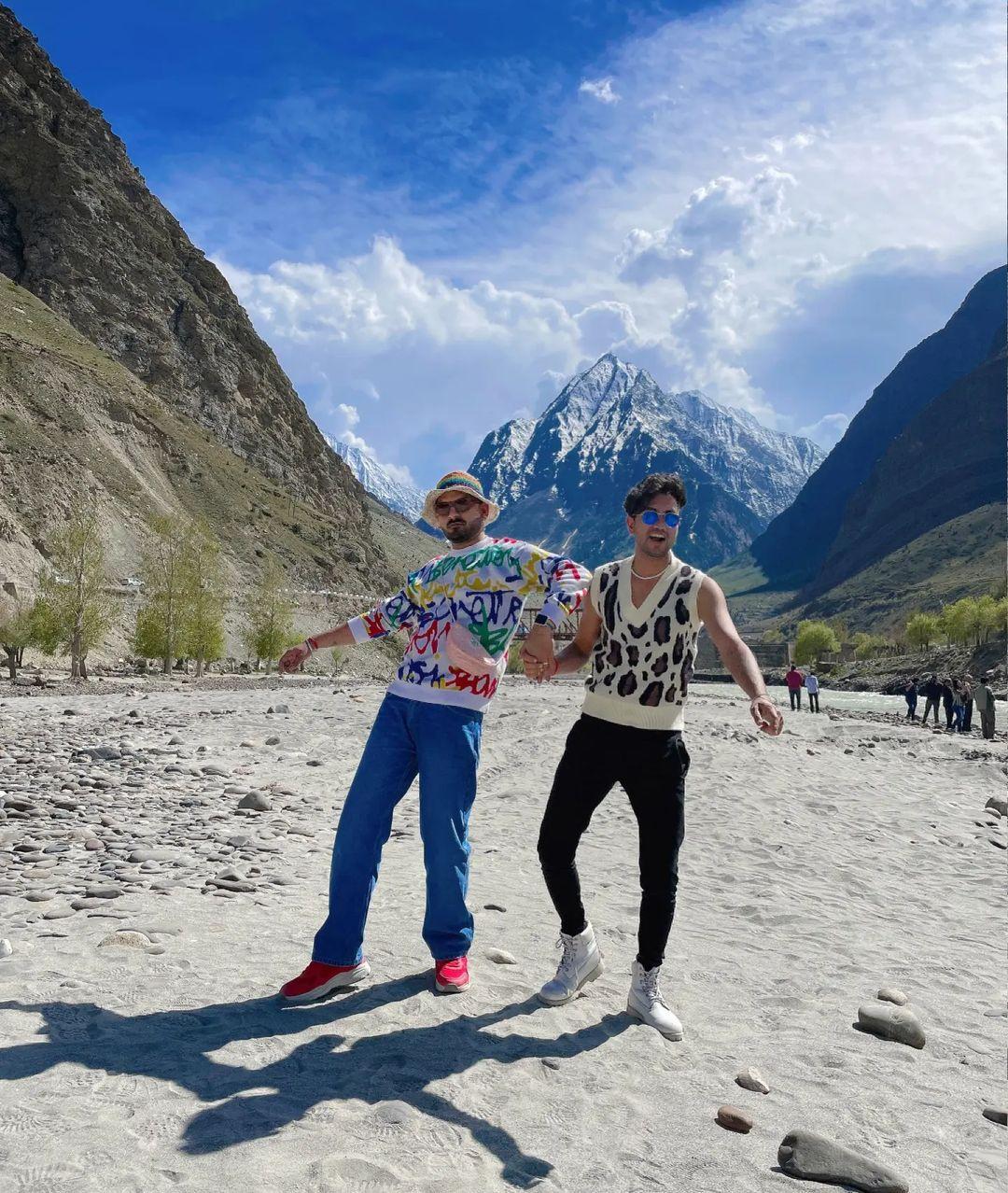 Sumitro continues to say, "When I moved in with him, I took him home to Pune. My mother was still serving in the army and I introduced him to my mom as a friend. I told her 2-3 years later that he is my partner. It went well! Then I took him to my favourite cafe - The French Window, Koregaon Park. I bought 2 sapphire rings, a ribbon and a card. Ordered my favourite cheesecake because I didn't know what his favourite was (later I found out it was fruit cake). Since I did all of it, I asked Pardeep to go down on his knees and propose! He did it and I went down on my knees and said yes, of course. Later in January next year, when we visited his hometown in Himachal we met the whole village - his family and everyone. Then we went on a hike (where I cribbed to return from because it was cold and I was tired already). In these hills, there was a Shiva temple, where the village people got married. We stood there and we exchanged some vows - made-up vows because we didn't know the apt Hindu vows. It was only both of us, we took our pheras there. All that jazz with nobody around - I was on cloud 9."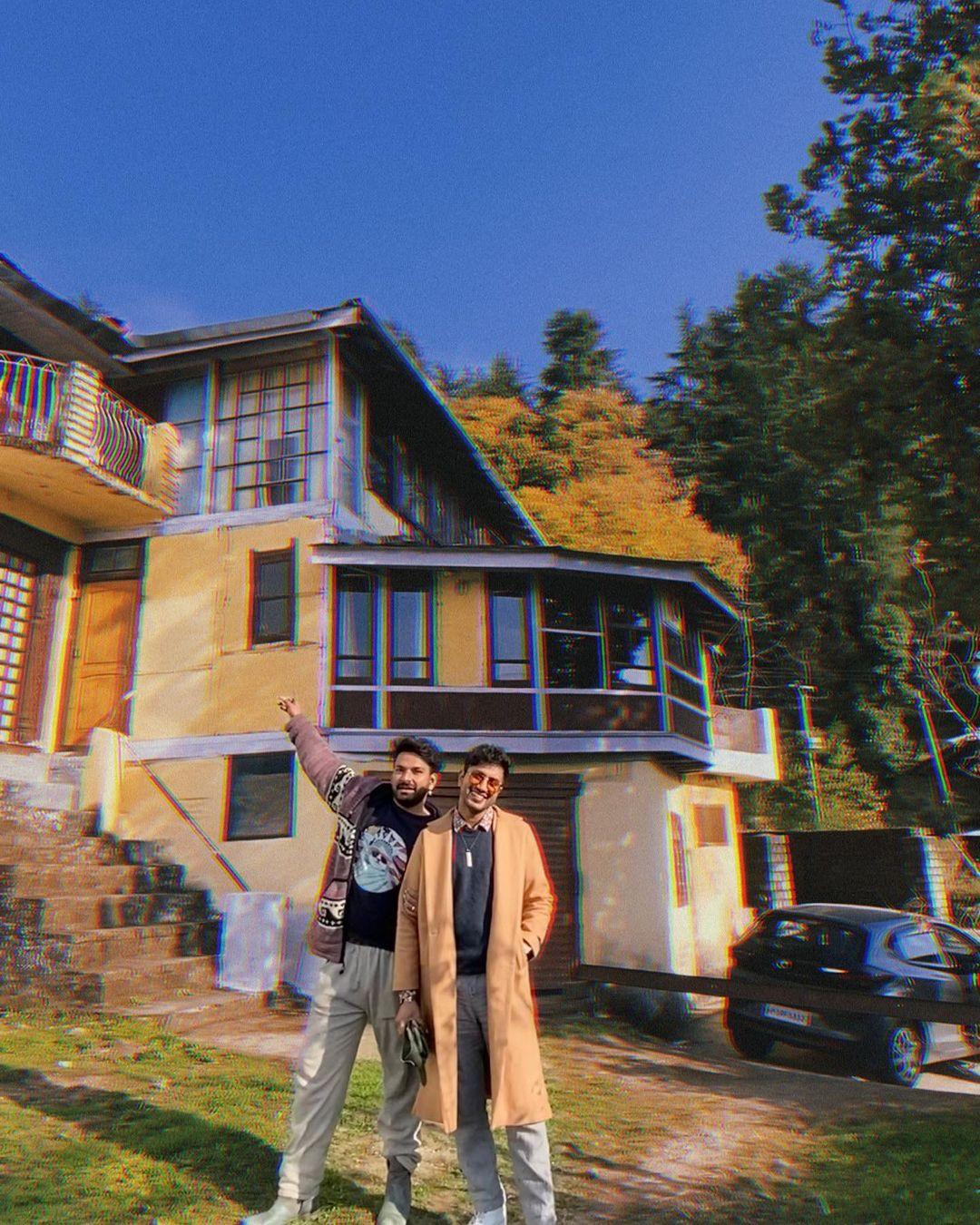 Speaking of their families and their role in this journey Sumitro says that their cousins and extended family accepted them with open arms the very first year of our dating. He adds, "In 2021, when we were already staying in his house in Himachal as friends, Pardeep decided to tell his parents. During Diwali 2021, he came out to his parents. While we expected his father to react to it in a certain way or get upset - his father surprised us by being patient and trying to grasp the concept of homosexuality and queer life. He gave the space to Pardeep and heard him through and through. His mother was upset initially, but she was accepting of us both soon. We did not have to just explain the relationship, but also the whole process and concept of this. It was an open and healthy discussion and they figured it out. Durga Puja happened just after 10 days from that when we went to visit my mother. We were having dinner and wine when I came out to her and introduced Pardeep as my boyfriend. My mom said, 'Yeah, I know.' And I asked her 'That's it?' That is when we both went into a discussion of the whole spectrum and what is what. Both of our parents were very supportive, they gave us a safe space. We did not expect Pardeep's family to be so understanding given the whole village was involved, but they are superstars! In fact, when I took Pardeep to my workplace and introduced me to my colleagues and friends that this is my partner, they all started celebrating immediately. Nobody approached me with any questions about my inclinations or anything - they were just super happy. While people might have expected that they would have a lot to ask, they simply celebrated with me in my love."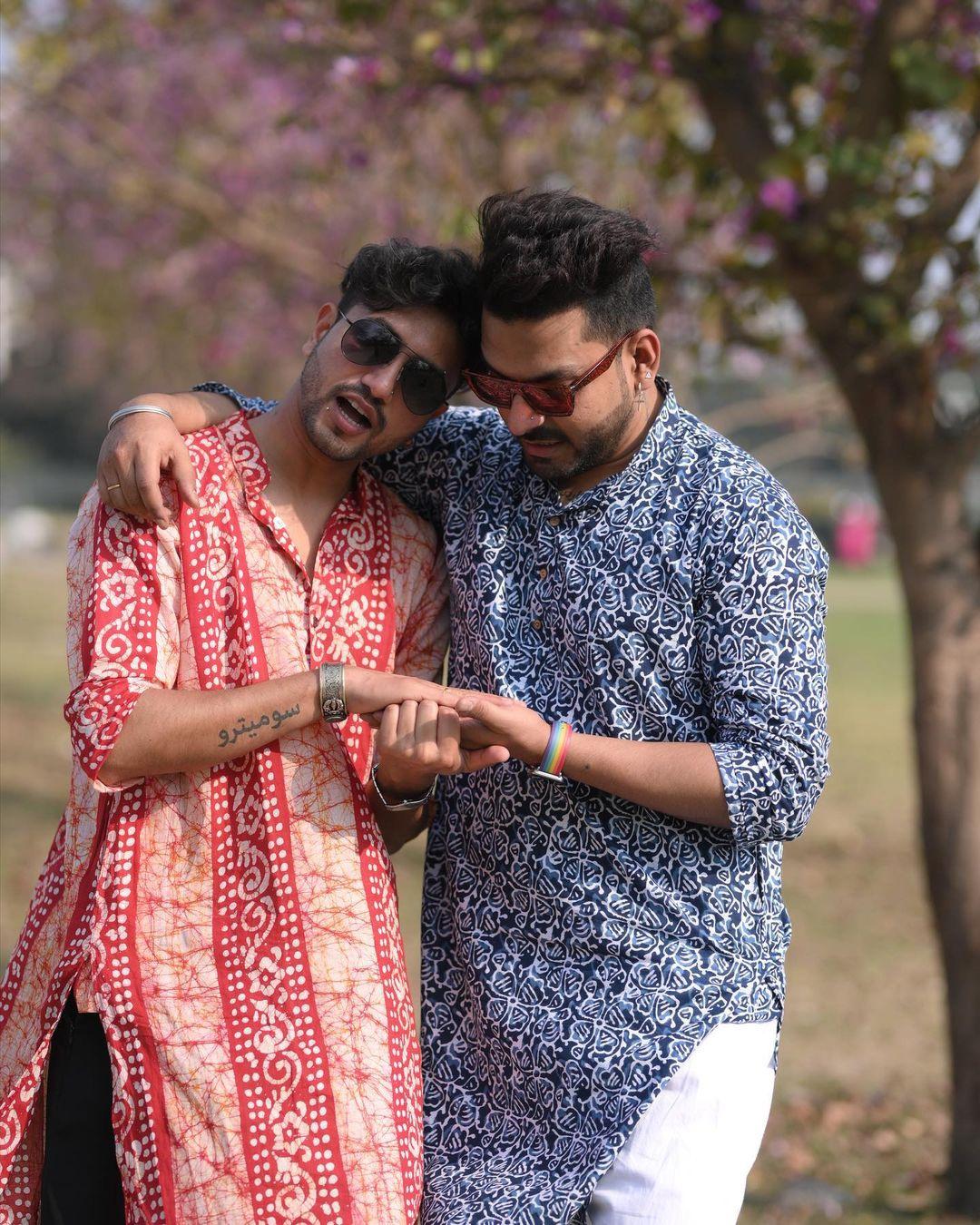 A piece of advice that Sumitro says is important in life for the people who have not come out yet, "Do not come out in any pressure. Come out only when you are ready and have accepted yourself. There are many people who hate the community simply because they have not been able to accept themselves. I often get abuses from fake profiles on social media and certain conversations have led me to understand the root cause - acceptance is the key. Whoever you are whatever. you identify as, go and understand your sexuality. Study, research and be confident to accept yourself. Your sexual identity, your gender identity and your pronouns - are three very important pillars of acceptance. Call people, reach out to us if needed but understand and have a real conversation about these things to be crystal clear. My request to the people from the community who are not yet out, study about it, get to know, understand your sexual needs and then come out when you are ready. And secondly, please make sure you are financially independent when you come out. You never know what the surroundings will be when you come out even though the world we reside in today is much more progressive, you need to be sure. Thirdly, take the help of someone you trust or you are comfortable with - be it your friends, family or anyone from the community or outside the community. You will need one support."
So from a small place in Mumbai where they were flatmates to moving into a beautiful house in Himachal together - it's only love for Sumitro and Pardeep! Their story is a fairytale indeed.
Garry and Pranay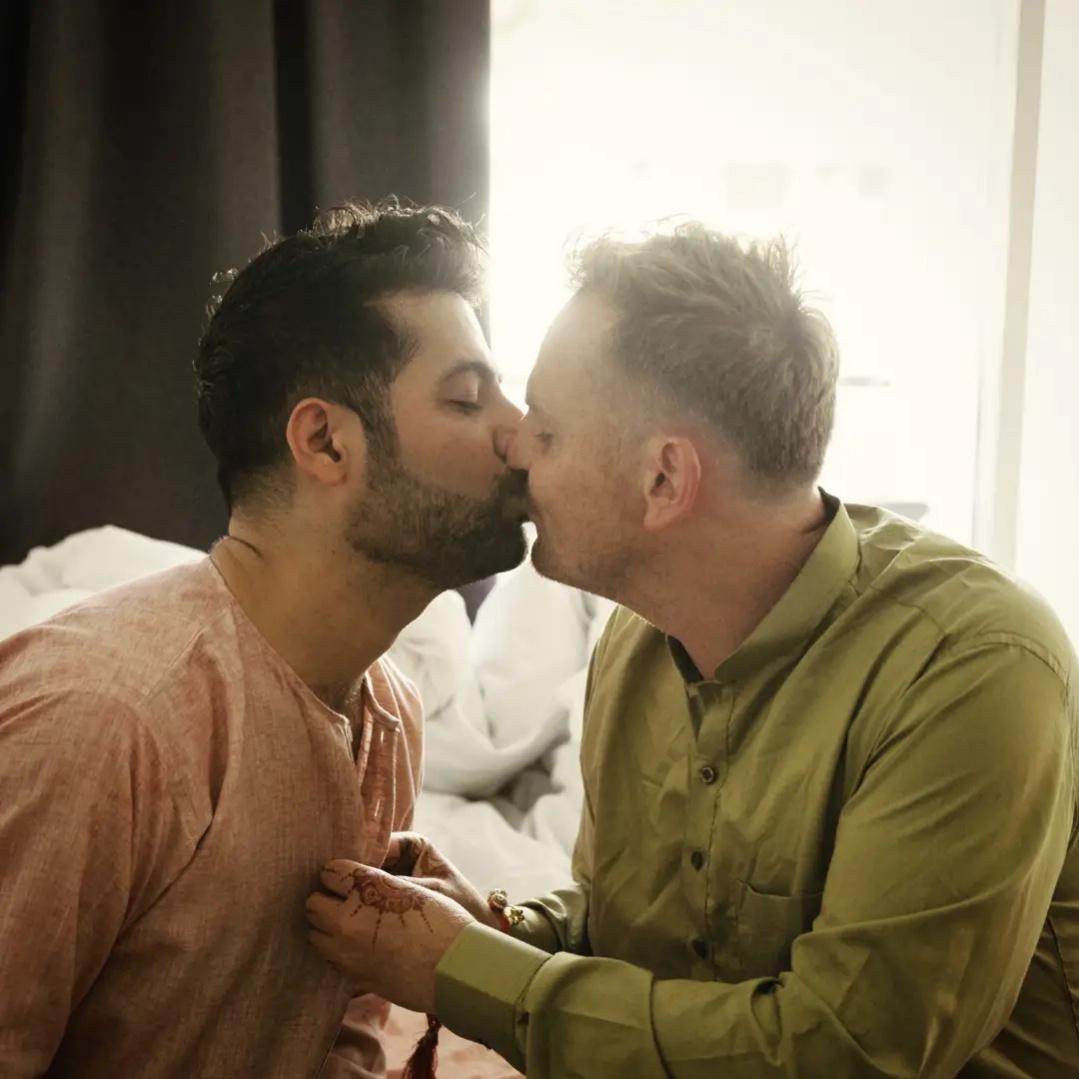 Garry and Pranay share their mesmerising story with us, and we cannot help but smile at the dreamy duo. Here is how it went.
Gaurav starts by saying, "We are Garry & Pranay. We have been together for 5 years and recently we moved to Amsterdam from Warszawa. I (Gaurav Arora) am from Delhi and Pranay (Przemek Pawlicki) is from Poland. We met through Grindr while Pranay was travelling to India. Our first date was in Hauz Khas Social where I almost broke up with him because of the long distance."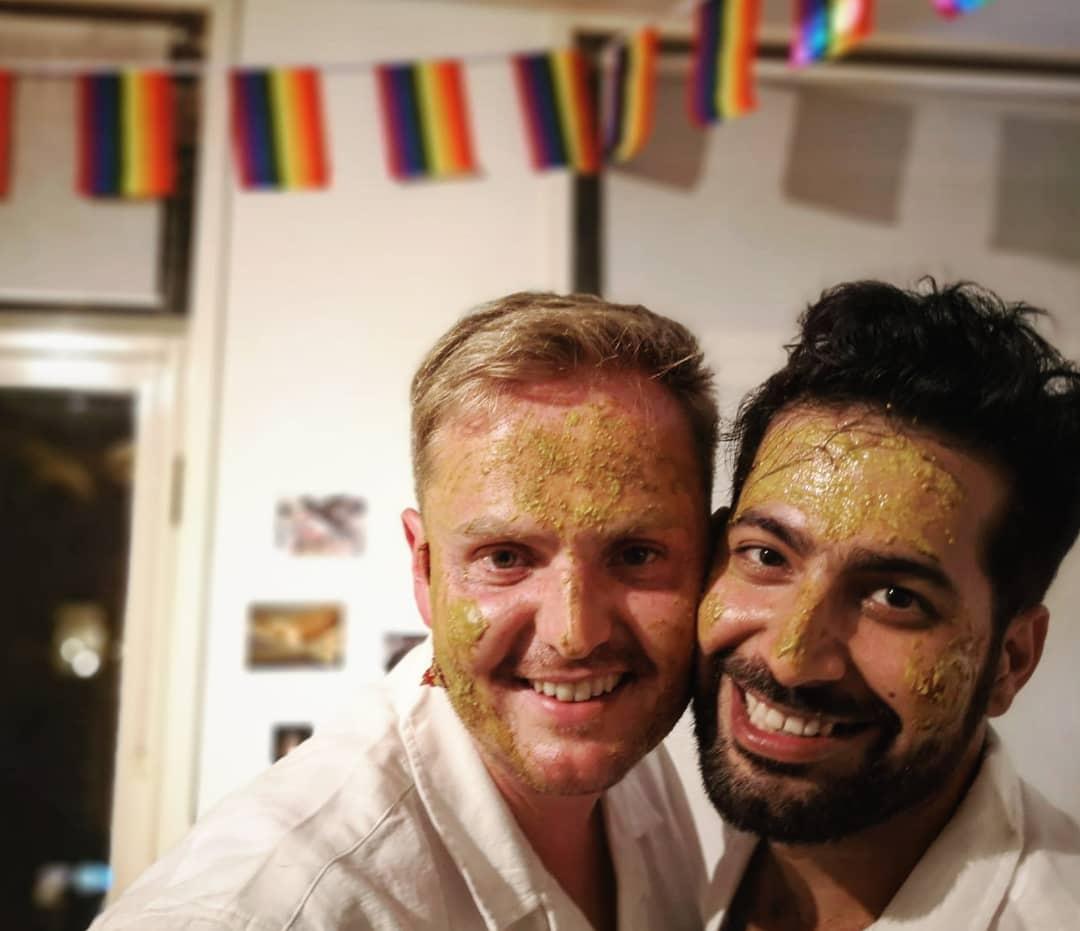 Garry continues to add, "He was living with me for 10 days in Delhi and on the last day, Pranay promised me that he will send me an invitation for Christmas, to celebrate with his family. So the day arrived & I flew to Poland. We both were then living together in Poland for four & a half years. When I first met Pranay's family, it was like love at first sight. Pranay felt the same way with my family too, especially with my Mom. Our friends became common friends & a big part of our lives. And then, there was a proposal on Valentine's week, It was Propose day and we were coming back to Warsaw from Pranay's hometown in Opole. On the train back, he proposed to me & I immediately said 'Yes'."
He states, "Our wedding was just perfect. We drove to Denmark (Aabenraa) with our Polish friend, Ania. Our friends who are making a documentary about us came from Poland & we had two more friends from Denmark who wrote an article about us for the Politiken newspaper. Earlier we had bought suits but in Amsterdam, we changed our minds because the sherwanis that we had ordered from India had arrived 3 days before the wedding. We had Mehndi and Haldi ceremonies with our friends as well."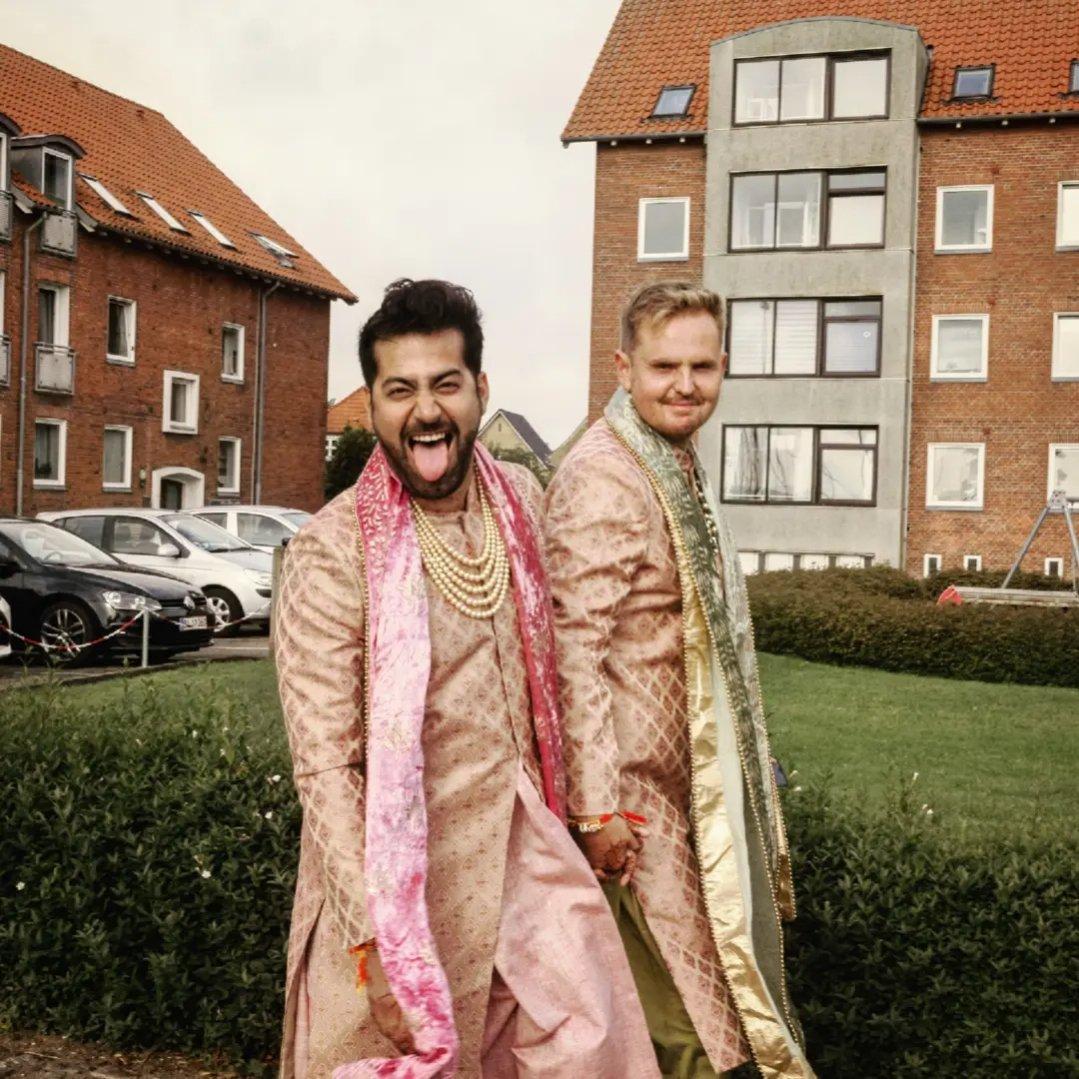 Garry adds, "There was a moment during the wedding ceremony when we both cried. We just both felt we had been through a lot. In Poland, it was just impossible to think about same-sex marriage. We had amazing friends & families who donated for this day. We are thankful because we have received so much love & wishes from everyone."
Concluding the conversation with one piece of advice for the people who are still struggling to come out, Garry says, "One piece of advice? Yes, just be yourself. Take your time as much as you want because coming out isn't easy for everyone but also do not wait your whole life. Love yourself, which is more important than anything else. Don't listen to society, relatives or any kind of pressure."
These stories are each beautiful in their own ways - romantic to the T too, but most of all, their stories are an inspiration. For the years of struggle that is resulting in a welcoming world for every gender and every community, these are the three beautiful stories that hopefully give you the affirmations that it is going to be alright and your story is going to be as beautiful too.
Note: All images have been provided by Agniva & Priyanjul, Sumitro & Pardeep, Garry & Pranay respectively.
Do you have an inspirational story to tell too? Write to us or leave a comment below.
Top Blogs on WeddingWire India