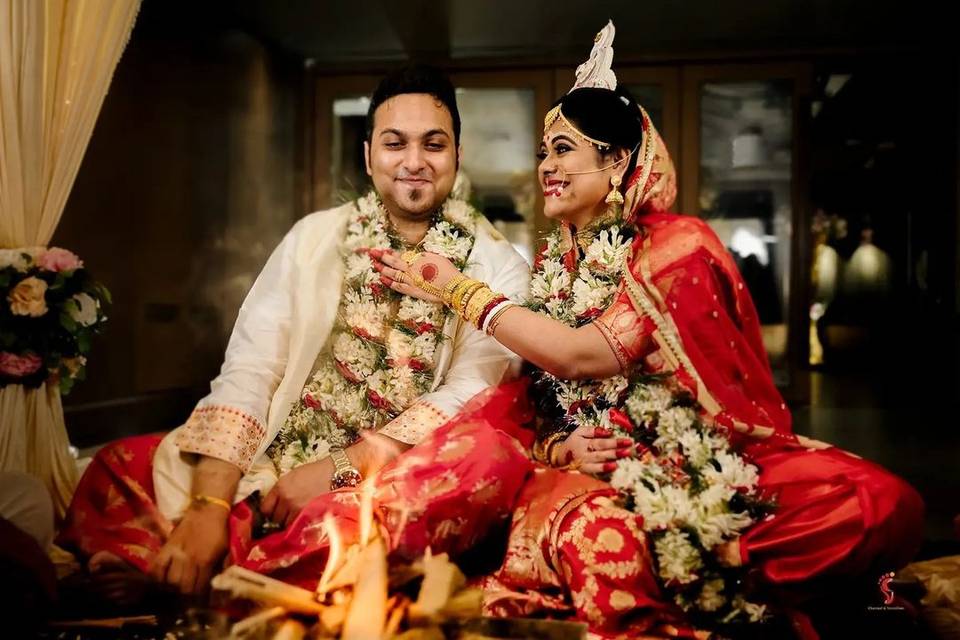 Image Courtesy: Charcoal & Vermillion
Even all these years later, traditions lie in the heart of our existence. While many couples believe that the timing of the marriage is not so significant, many others rely on the calendars of their respective cultures before picking a marriage date. There is a Tamil wedding calendar for the Tamilian weddings in the southern peninsula and there is also a Hindu wedding calendar that contains dates of religious significance for the couples to get married on. We are here with the best wedding Shubh Muhurats specifically for the Bengali brides and grooms to pick the perfect date from the Bengali wedding calendar 2022.
2022 is going to be that year that will see a lot of boom in the wedding industry in general - from an increased number of weddings to newer themes and out of the box celebrations. While we lay our bets on 2022 for being a good year for weddings, there are couples and families out there who are deciding on the appropriate wedding dates and timings to let the couple tie the knot in an auspicious hour. To mark the beginning of a happily married life right from the Aashirbaad to the Gaye Holud to the Kanyadaan, you have to make sure that the dates on which the wedding is fixed are pious as per the Bengali marriage dates for 2022.
As per the Panjika - the auspicious book that foretells the pious dates and timings of any pious occasion or a traditional ceremony for the Bengalis, here are some of the top dates for hosting a Bengali wedding in 2022.
January (Bengali Dates: Magh, 1428)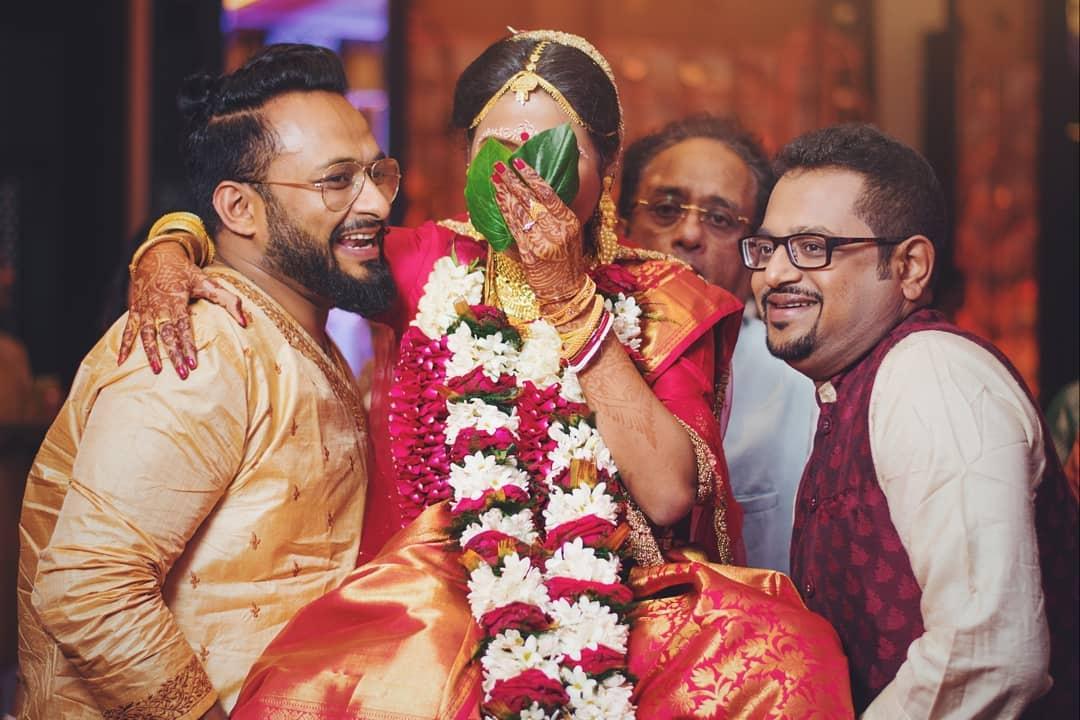 Image Courtesy: Little Stream Films
The 14th of April on the regular English Calendar marks the beginning of the Bengali Year and the 14th of April is also celebrated as Pohela Baishakh. However, one must be mindful that the year 2022 will contain marriage dates for the Bengali years 1428 and 1429 - January to mid-April being 1427 and post-April comes in 1429. The month of Maagh starts from January 15 till February 12th and is one of the most auspicious months for Bengali marriages. Take a look at the dates and times for January:
January 22, Saturday - 06:52 pm to 04:47 am (23rd January)
January 24, Monday - 06:44 pm to 10:11 pm, 11:50 pm to 05:41 am (25th Jan)
February (Bengali Dates: Magh to Falgun 1428)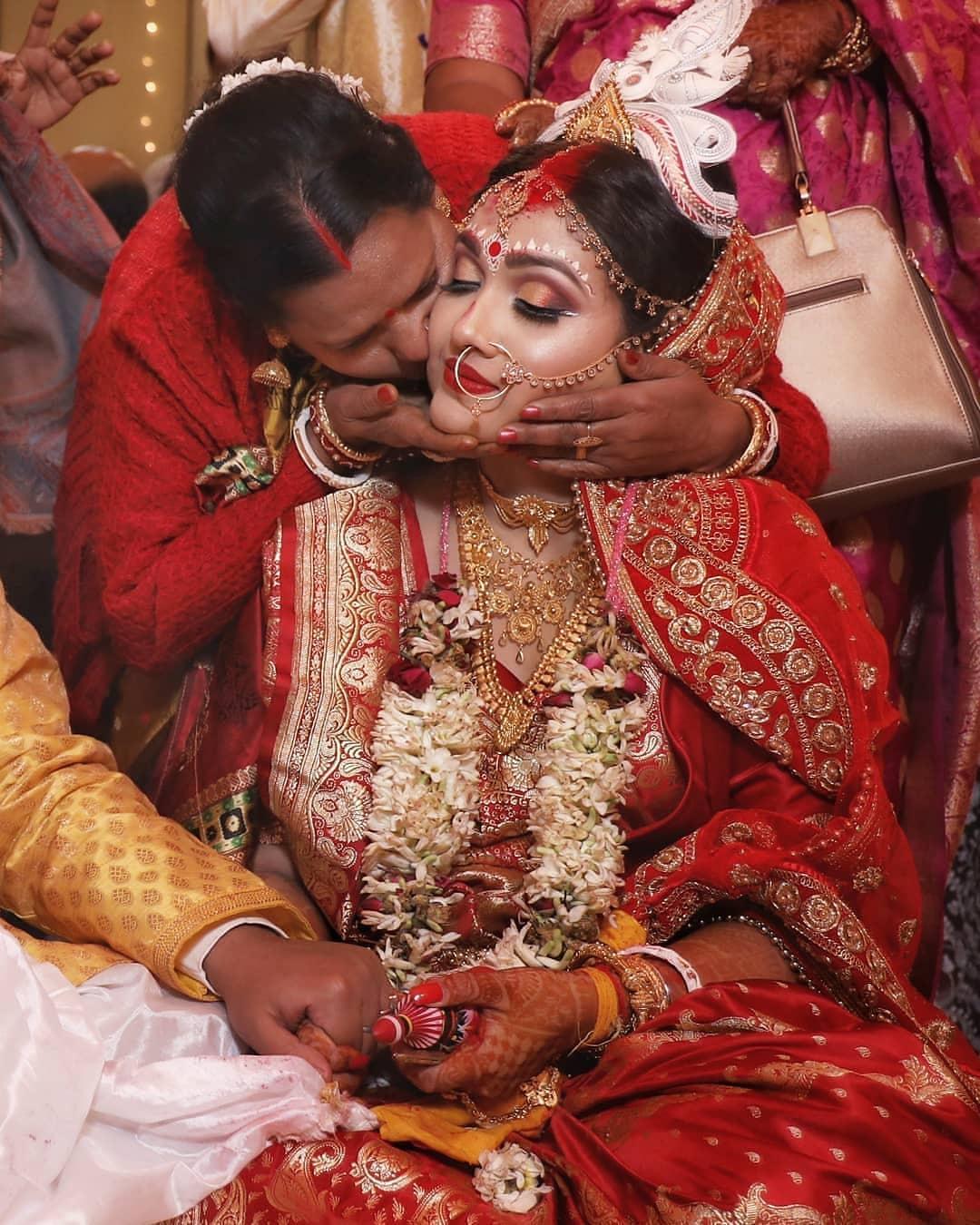 Image Courtesy: Pinterest
February is the month of love. Not just because of Valentine's Day, but also because February is the month when Bengalis celebrate the Saraswati Puja - when all the women come out in their sarees flaunting yards of elegance and the men wear traditional kurta pyjamas and celebrate the Bengali version of Valentine's day. Apart from that, February is also known to be one of the most pleasant times of the year. With the heavy fog cloaked winters reducing in the country and the nice breezy romantic weather stepping in - most couples favour February for hosting their weddings. To fulfil these wishes of a Feb winter wedding, here are some of the dates that February has in store for you:
February 02, Wednesday - 06:09 pm to 07:55 pm
February 05, Saturday - 07:00 pm to 04:44 am (06 Feb morning)
February 07, Monday - 05:49 pm to 09:54 pm
February 16, Wednesday - 11:44 pm to 03:03 am (17th Feb)
February 18, Friday - 05:30 pm to 08:41 pm, 10:16 pm to 04:02 am (19th Feb)
February 19, Saturday - 10:13 pm to 03:58 am (20th Feb)
February 20, Sunday - 09:09 pm to 01:27 am (21st Feb), 03:02 am to 03:55 am (21st Feb), 05:42 am to 06:11 am (21st Feb)
Also Read: All About Traditional Bengali Bridal Jewellery & Where to Find Them
March (Bengali Dates: Falgun to Chaitra 1428)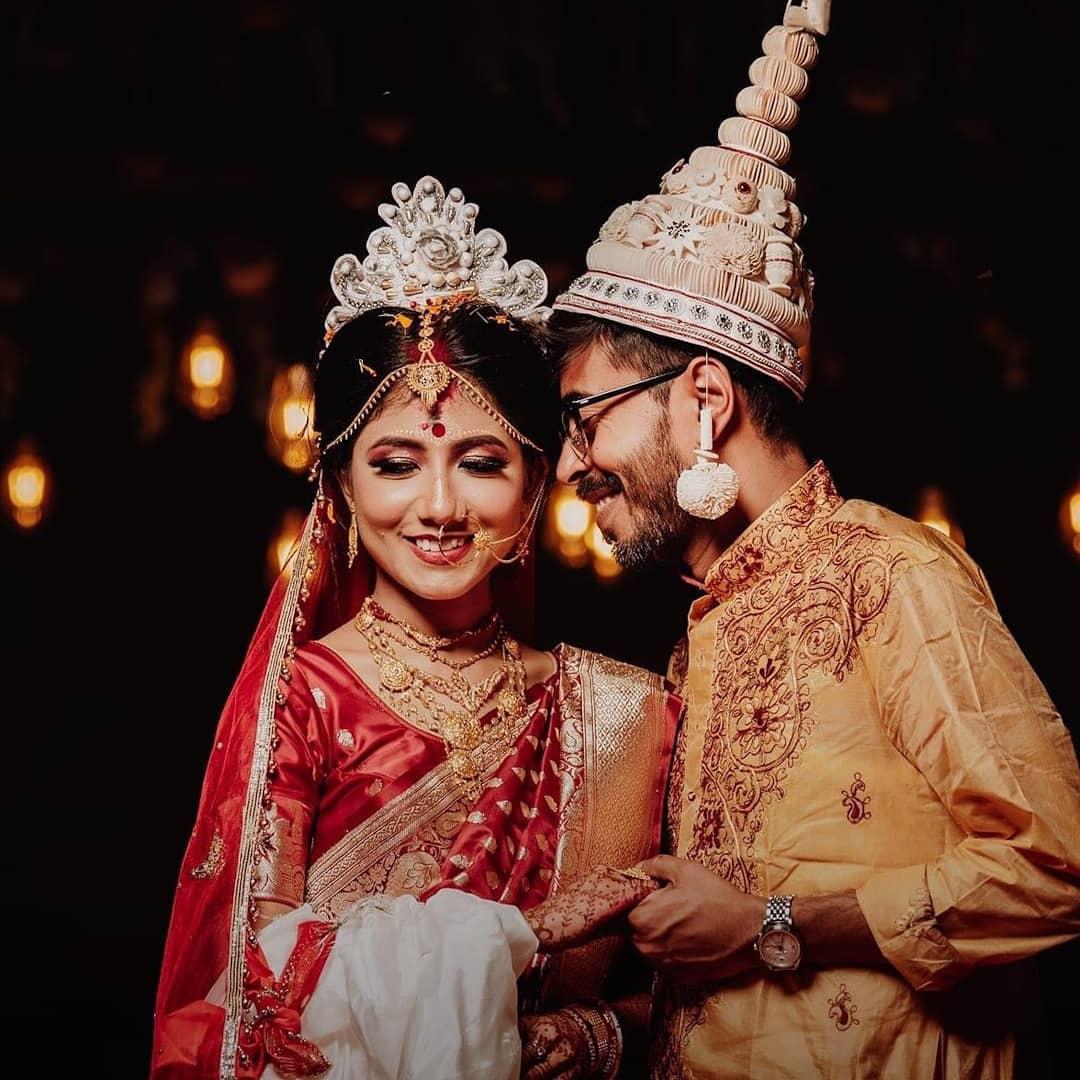 Image Courtesy: Makes My Wedding
March is just a continuation of the pleasant weather and therefore if you are the bride who is looking forward to flaunting a red Banarasi saree for your wedding, then March has numerous auspicious dates for you to pick from. In fact, the onset of spring in March opens up opportunities for you to pick the best florists in your city and deck up your wedding venue with amazing floral decorations and foliage decor too.
March 03, Thursday - 03:12 am to 06:02 am (04 Mar)
March 04, Friday - 06:23 pm to 08:43 pm, 10:17 pm to 01:03 am (05 Dec), 03:08 am to 06:01 am (05 Dec)
March 05, Saturday - 07:11 pm to 09:47 pm
March 06, Sunday - 10:28 pm to 12:55 am (07 Dec), 03:01 am to 05:14 am (07 Dec)
March 10, Thursday - 09:26 pm to 11:48 pm
Also Read: Trending Bengali Wedding Cards for the Classic Biye Invites
Bring the families together to be able to discuss the pros and cons of the dates available on the Bengali Wedding Calendar 2022 and finally pick one that fits your requirements. Do not forget to consider the weather, the duration of the muhurats on certain dates and of course the convenience of the elder family members given most Bengali wedding muhurats continue through the night. You can also speak to your family Pandit/Purohit for guidance or maybe even consult your astrologer in case you want to be doubly sure of the decision you make.
The second half of the dates for 2022 will be published very soon (say by November), so if you need any guidance before that, feel free to write to us in the comments below!
Read More -
Mehndi Design | Proposal Lines | Simple Finger Mehndi Design | Arabic Mehndi Design | Propose Day Quotes for Boyfriend | Wedding Anniversary Wishes for Sister | Change Aadhar Card Name after Marriage | Tamil Wedding Calendar | Simple Mehndi Design | Pre Wedding Quotes | Engagement Anniversary Wishes | Funny Wedding Wishes for Bestfriend | Blouse Design | Rangoli Design | First Night Tips for Bride | Wedding Anniversary Wishes