Shimmer & Sheen! Bengali Makeup Inspirations You Must Check out for an Authentic Bong Bride Look
Have you always wanted to perfect an authentic Bong look for your wedding events, but confused about where to begin? We have assembled some gorgeous images of brides who aced the Bengali Makeup. Read, take notes and get inspired!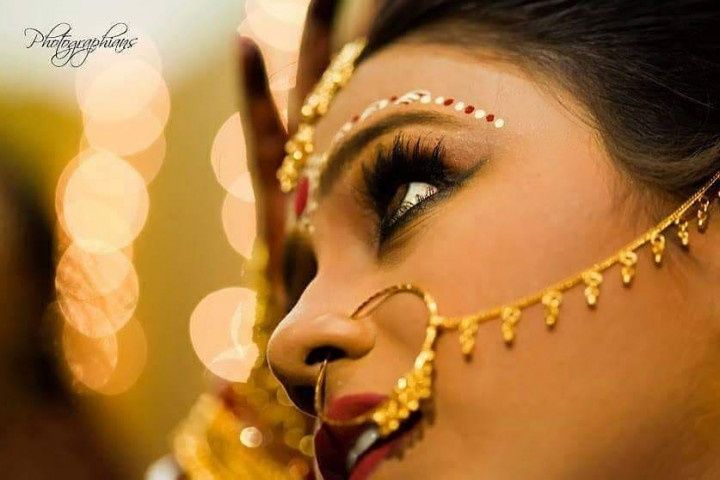 Remember how we all totally swooned over the gorgeous Aishwarya a.k.a Paro in her red Banarasi saree, large kohl eyes, red Sindoor Bindi and a complete authentic Bengali bridal look? From sporting traditional Bengali jewellery to doing a perfect Bengali makeup, we just can't get that picture out of our minds, even after almost two decades! So are you ready for some more of that? Let's take you on a Bong beauty trip with some breathtaking photos of brides who simply rocked it! Enjoy the ride and you can thank us later!
1. Hint of blush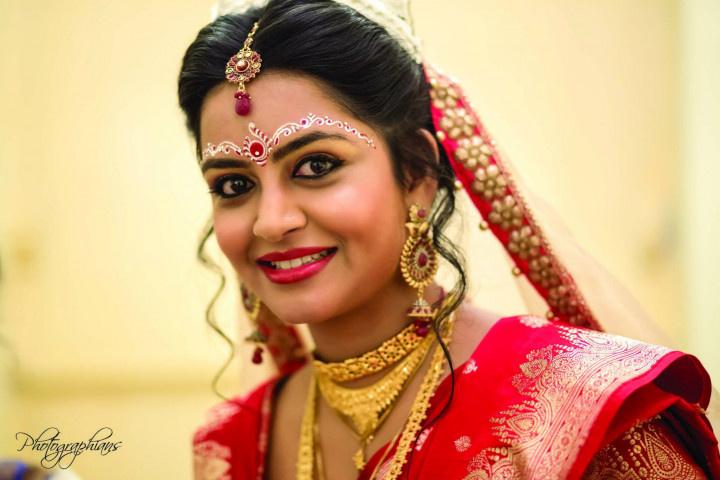 The classic blush is everyone's favourite kind of Bengali makeup. And if you're going for a blood red Banarasi saree with golden Zari work, go all the way with your red based makeup. But make sure you don't overdo it. Use a very light shade of crimson as your facial hue with blood red lips and neat eyeliner and kajal.
Jewellery: Keeping in line with the "red" go for Kundan jewellery with red or maroon stones. You can choose to mix up your kinds of jewellery. For example, opt for a traditional gold necklace but Kundan Chandbaalis and Maang tikka.
Whom to call: Makeup Artist Suparna Anand (Kolkata), Amit Karmakar MUA (Kolkata), Ananya Bengali MUA (Kolkata).
2. The Red & White Chandan Art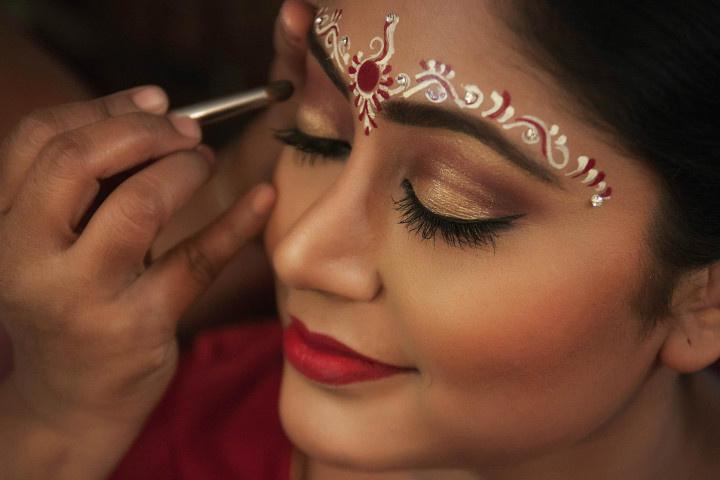 One of the eminent features of Bengali makeup is the spectacular Chandan art on the forehead without which, a Bengali bridal makeup isn't really complete. Choose your MUA carefully who has experience in this particular form of art. You could also take some ideas from Mehndi designs especially the ones with vines, and use them on your Chandan bindi. Match the red shade of your kumkum with the Bindi and lipstick for a dramatic effect.
Jewellery: If you plan to go for an elaborate Chandan art on your forehead, choose a modest Maang tikka or Matha patti to highlight your Bindi. Some brides get Chandan designs done on their cheeks as well. In that case, avoid over-crowding with a heavy Nolok or Nath design. In fact, you can ditch your Nath completely or just go with a stud or nose-pin.
Whom to call: Kajalrekha (Kolkata), Sudipa Guha (Kolkata), MUA Mainak (Kolkata).
3. Blue & Golden Combo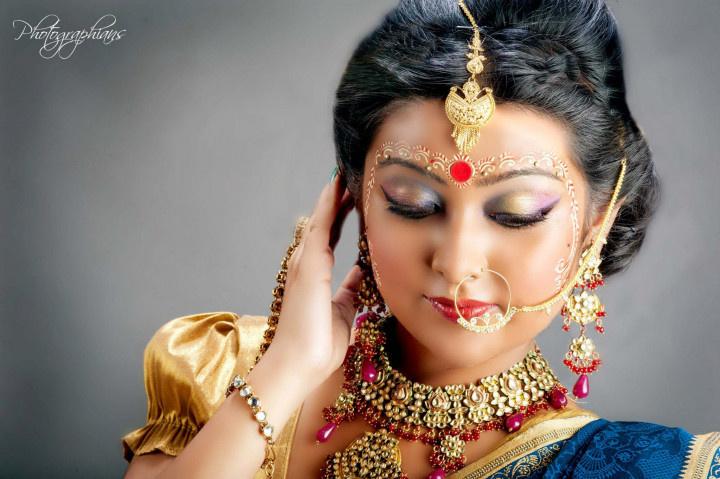 Dazzle your reception night event with this stunning combination of blue and gold that can almost never go wrong. Coordinating with your blue saree and golden blouse pattern, choose your Bengali makeup with a similar combination. Go with a subtle golden or bronze tinge for your face, highlighting the cheekbones and contours. Choose a darker shade of blue for your eye shadow, mixing it up with pale golden. Paint your lips with either dull red or deep magenta.
Jewellery: Adorn yourself with Jadau jewellery embellished with red or dark pink stones.
Whom to call: Bridal makeup by Priyanka (Kolkata), Makeup by Srishty (NCR), Pooja Sethi (NCR).
4. Subtle Purple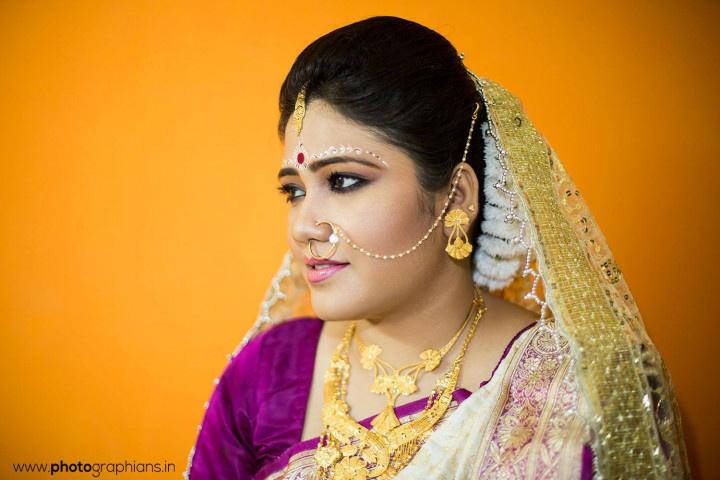 Just like you have assigned different bridal outfits for different wedding events, you need to have variation in your makeup too. If you're considering a typical Bengali makeup for your engagement night or Ai Buro bhaat, we suggest you go purple! Go easy with your makeup if you're draping a silk saree with heavy embroidery or Zari work on it. Just a hint of purple on your cheekbones and temples making it look like the saree's reflection would be just about enough to create the magic. Go with shimmery dull purple lips, kohl eyes and soft purple eye shadow.
Jewellery: Traditional light gold jewellery with floral designs. You can opt for imitation jewellery for your Nolok and Maang tikka.
Whom to call: Nikita Gaur Makeovers (NCR), Bobby Bridal Makeover (Kolkata), Pink Orchid Studio (Kolkata).
5. The Ravishing Fuchsia Bride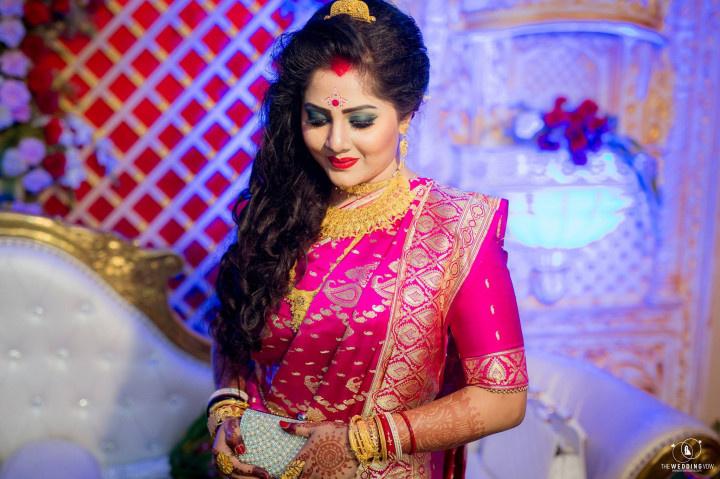 What do you see when you look at this lovely bride clad in a fuchsia Banarasi? Elegance, magnetism and poise! And her charming Bengali makeup is just the perfect touch enhancing her whole bridal outlook. The stark blue eye shadow and blood red lips and extended Sindoor are adding loads of drama.
Jewellery: Heavy gold Bengali jewellery including the little golden Mukut or crown for the ideal Bodhu look.
Whom to call: Swarup MUA (Kolkata), Mousumi Professional MUA (Kolkata), Arpita Ganguly (Kolkata).
Take notes from the Indian makeup article before you start exploring the world of Bengali makeup. Get a mock makeup dry run of your makeup and hairdo before the actual event to avoid any surprises. Try different kinds of hairstyles and makeup for Haldi, Mehndi, pre-wedding photo shoot, wedding, reception and every other function. Research real well before finalising your MUA. Read online reviews, feedback and look for awards and certifications. Let your artist know about your skin and if you have any sensitivities or allergies. Keep your body and skin hydrated weeks before the event and avoid using chemicals. Go for homemade face packs and treatments as much as possible and most importantly, stay happy and stress-free!
If you're looking for hair and makeup experts for your pre-wedding events, take a look at our vendor's list.